GENESIS LEAGUE SPORTS - Game Update & My Current $GLX, $SPS Stake with Plan Ahead...
Hey All,

So we have an update here from the Genesis League Goals (GLG), team with regards to Card Leveling & Combining. The details of the post can be found Here but the crux of the post it that sooner or later players will be able to combine their in game assets cards for leveling up and when you stake the cards it gains XP. All regular foil cards start on level 1 and whereas the Gold Foil cards will start on level 10 (combine star 2). Therefore if you have Gold Foil cards keep them with you and expect a higher trading price for them. The same is reflected in the internal market; where we see Gold Foil Cards being traded at a higher price as opposed to the regular foil cards.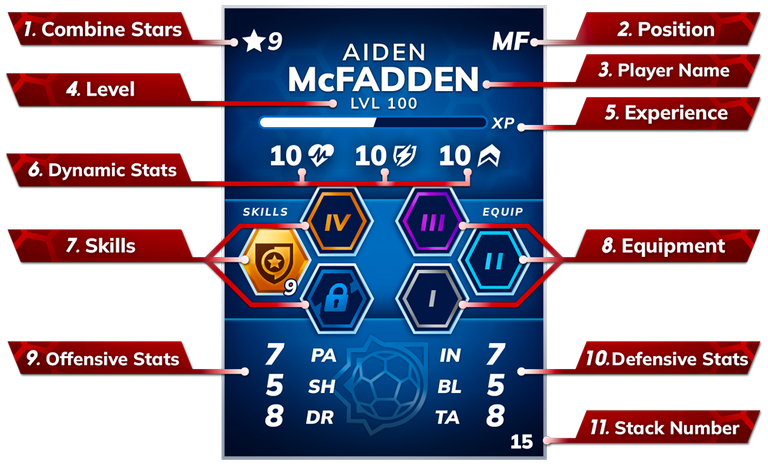 In total, I have 266 cards and out of which 47 are Gold Foil Cards. I am happy that I didn't sell any of my cards and as the strategy was to HODL the cards until the game becomes fully functional. Here is the snippet of the GOLD Foil Cards that I HODL::

most of them are coach, Goal keeper, Mid fielder & Striker. Overall happy with the variety of cards that I am HOLDing at the moment. Sadly, with this news coming out Yesterday we didn't see much of an action in the price of $GLX token and it continues to trade around less than a cent; precisely it is trading at - GLX Price:$0.008. Speaking of other number associated to $GLX token circulating supply and token staked here is the information::
Total Supply: 182,326,079
Total Liquid: 66,974,223
Total Staked: 115,351,856
Good to see a heft amount of $GLX staked and at the moment staking is giving an APR of above 90%; with 160 days remaining for the staking rewards to be given out. So how much $GLX tokens; I have staked so far and what is my plan ahead lets' talk about it...
My Current $GLX Stake with Plan Ahead - Stake $SPS More...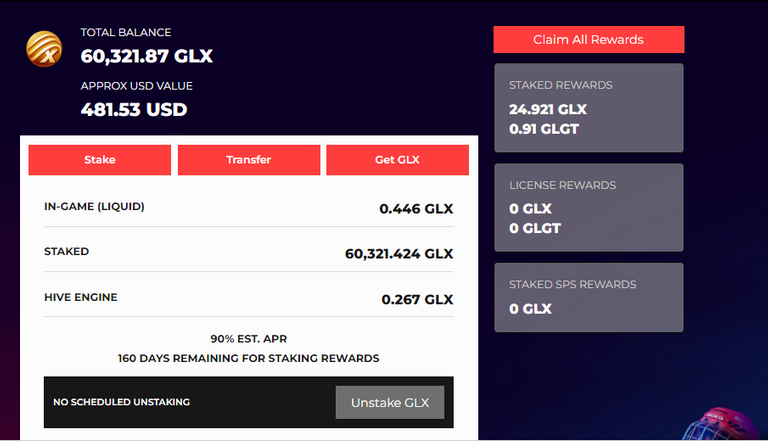 Happy to see my progress and share that I have reached a decent milestone of having 60K+ $GLX tokens staked. Along with close to 1K+ GLGT tokens in my kitty as well. To honest, I am getting close to 300+ GLX tokens daily via the staking rewards and staked $SPS rewards as well. One of my strategy to get more $GLX was to have a higher chunk of $SPS staked. At present, I am having more than 243K+ $SPS staked and continue to stake $SPS on a daily basis...my GOAL for $SPS stake is 300K+ tokens staked by the end of this Year..so this I would be definitely achieving..

For $GLX; I want to get to a point of having 100K+ $GLX staked before the staking rewards ends. I still have 160 days to get there, which means I need another 40K+ $GLX tokens. A rough math here with the $GLX that I am getting daily;
300 * 160 = 48K
Ideally, if I do not mess up and stick to my plan then I should be easily
able to achieve my $GLX GOAL. Also considering my $SPS stake and if untouched then I should be able to get to 100K+ $GLX stake much earlier, I guess maybe 20 days much earlier. Anyways, I am going to stick to my plan and Build my $SPS and $GLX stake... BUILD & HOLD is the strategy that I would be following; no panic selling...All these investments are for long term and hence I am in no rush to sell any of these tokens. Also, incase $GLX falls even further from here then I have my plans to buying $GLX in bulk as I have been doing in past. What, I'll need to do is redirect some of my regular passive income stream here on the Hive Blockchain to buying $GLX..so a fall in price of $GLX here could mean more buying opportunities for me..lets hope we don't see further fall in price and see some what recovery from here on...$GLX & $SPS tooo the moooon...cheers
Have Your Say on $GLX...
GENESIS LEAGUE SPORTS - My Strategy with $GLX token - 60K+ Staked & Compounding....Staking more $SPS to get more $GLX airdropped and looking for opportunities to buy $GLX for cheap. Can $GLX token make a come back with its price rising or are we to see more all time lows created. Let me know your views on the $GLX token overall; in the comment box below...cheers
#glx #sps #rewards #Splinterlands #SPS #Stake #rewards
Image Credits:: hive-engine, genesisleaguesports, splintercards
Best Regards
Posted Using LeoFinance Alpha
---
---