Hive Game :: Rising Star - My Journey & Strategy Ahead...
Hey All,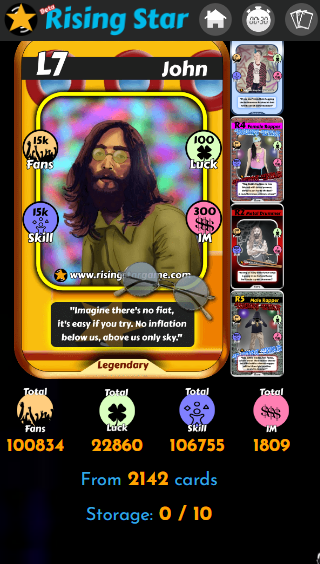 Yes, I do HOLD one of the best legendary card aka JOHN of the game Rising Star which is built on Hive Blockchain. Just glance over its stats with Fans 15K, Luck 100, Skill 15K and IM $300. Its one of the rarest legendary card in the game and currently is out of print.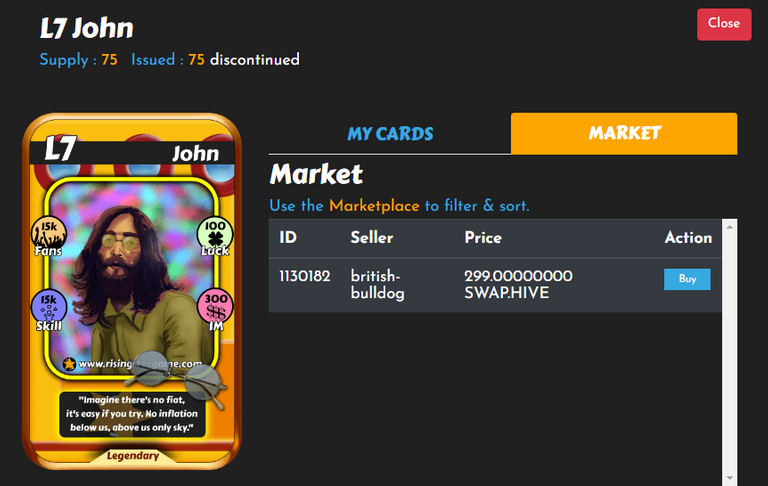 There are only 75 Johns on the game and I HODL one of them. If we see the price of it in the internal market. Then its being sold for close to 299 HIVE at the moment. I was one of the lucky player to pull this legendary card during the early days of the game and since then had been HOLDing it.
My Rising Star Collection - Stats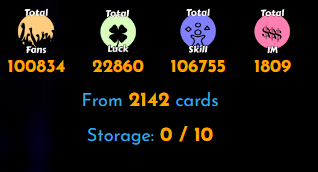 Here is the picture of the total assets/card that I HOLD in the game. A total of 2.1K+ cards and with a decent total for fan, luck, skill and IM. Unfortunately, I do not have Storage card and hence its showing zero as I didn't find it to be that worthy to include in my collection of cards as of now.
LEVEL 890 & Counting

So far I have reached level 892 and counting. I am regularly do some of the missions without fail and the one to call out is the
Starbits Millionaire mission. In order to the Starbits Millionaire mission players need to have 1 Mil. Starbits which is the in game currency in their acount.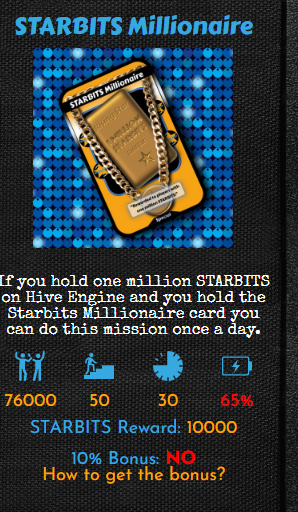 So ideally they should HOLD 1Mil. Startbits tokens in their account to do the Starbits Millionaire mission and once you complete this mission you get 10K Startbits tokens which is worth 0.80+ HIVE. We can only do 1 Starbits Millionaire mission a day and this should not take more than 30 minutes. You could also start this mission and do other works so you need not wait for 30 minutes ideally. Just start the mission and your are good to earn 0.80+ HIVE for just doing one mission.
Ranking and Plan Ahead
Here is my rank in the game. Placed at 259, there was a time when I used to be in top 100. But now this has dropped drastically and landed me here. The best way to increase ranking is to do more missions and HOLD as many unique cards in the game. Currently, my cards collection unique percentage is 40%. So my plan is to increase this percentage and make it close to 50% and see how my rank increases. I am going to buy some cards from the internal market to get my unique percentage card count increased. Also, I am planning to Buy some packs. Its been a long time that I didnt buy any new packs. Hence would be trying my luck in opening new packs and see if I can get some legendary and rare cards here as well. Finally, I am happy with the over all investment made in the game and the returns that I am getting is satisfactory. There is no regrets at all. Plus I am looking forwards to build my cards collection. There are no plans of selling any of the cards that I HOLD in the game Rising Start...
Hive Game :: Rising Star - My Journey & Strategy Ahead...
Image courtesy:: risingstar
Best Regards
---
---