Splinterlands:: Governance token SPS - Why I continue to Buy & Stake SPS...
Hey All,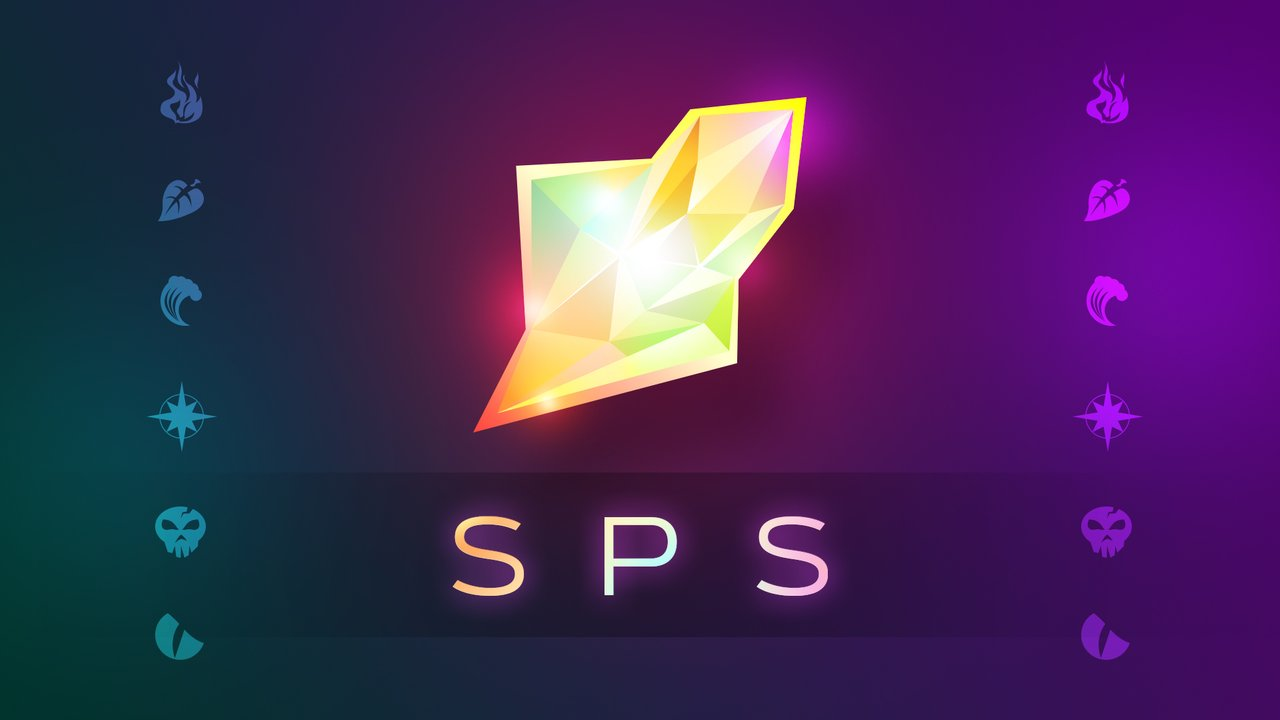 Incase you are not aware of SPS token, then let me tell you that SPS is the governance tokens of No. Blockchain game Splinterlands. I invested into the game during the beta sale and since then continue to invest in the game. Honestly speaking my investment in this game has given me 10x returns and it continues to grow exponentially. I was fortunate to buy Land Tract [Land with 100 plots] at the right time before the prices for the land skyrocketed. Currently, 1 Land Tract on WAX blockchain is being sold for close to $40K+ and whereas I had bought in under $1.5K. I continue to HODL the land as its gonna have more utility in the game as it progresses/grow in near future with land expansion plans.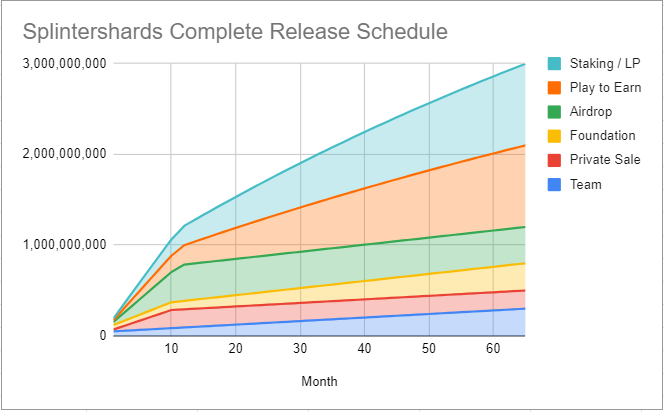 Based on the SPS Whitepaper there will be only 3Bil. SPS tokens in circulation. And the above graph showcases the split between the team, private sale, airdrops and other factors. Recently, the 10th and final SPS private sale investor distribution finished. Which means that there would be 20M less SPS minted per month.
The 10th and final SPS private sale investor distribution was sent out yesterday, which means that going forward there will be 20M less SPS minted per month which is gonna bring the total monthly SPS mint amount down to an extent.

Also with the SPS airdrop coming to end in another 70+ days the SPS minting would further go down. As of writing this article the SPS total circulation is 759+Mil and out of which 380+Mil is staked which is giving out close to 23+% APR. Following is my status with regards to SPS staked.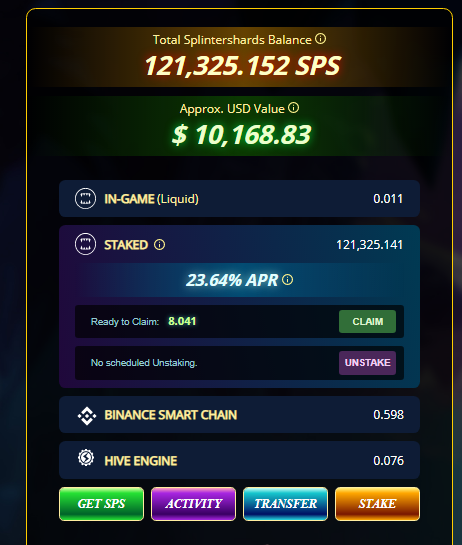 When, I started staking SPS - I had this GOAL to have 100K+ SPS staked. And stop there to convert SPS to HIVE. But since the price of SPS tanked, I thought it wouldn't be a good strategy to sell SPS cheap and rather I continued staking all my SPS coming via the airdrop. I did rather take opportunities in between to buy in cheap SPS and staked all of them.

At the same time, I have provided LP for PKM-SPS pool on BeeSwap and am converting all the rewards to SPS and staking them all. With this strategy to grab as many SPS, I can. Now, I am targeting to have 150K+ SPS staked. If you see, if I remove the liquidity from BeeSwap I would easily achieve my GOAL. But that's not the point, as I want take advantage of the rewards being giving out for providing the PKM-SPS pool; the current APR is greater than 66%, which gets me close to $5 rewards daily.
So far all good, my investment in SPS and all being staked. You can see that I have solid plans to grab as many SPS as I can before it starts to show its magic and be out of reach for many folks. There was time when we saw SPS traded for $1 as well and now when its being traded for just $0.08+ cents its just a pity.

The SPS Validator Node Licenses round the corner and this release brings in further utility for SPS token. Where we would be seeing the SPS token burn kicked off with all the sale proceeds of SPS will be burnt. The private sale investor distribution ended have already reduced the minting rate of SPS.
80% of the SPS tokens and 100% of the VOUCHER tokens spent on node licenses will be burned and the remaining 20% of the SPS tokens will be put into the SPS foundation and be reserved specifically to be used to continue to incentivize SPS validator node operation when the 3B SPS token cap is reached after roughly 5 years.
With all the reasons listed above, I am confident that SPS token is gonna surge in near future. With token burn mechanics being added and SPS foundation funds coming into picture that would further incentivize SPS HOLDers - I see no point staking SPS at these all time low prices...
Image Courtesy:: splinterlands,

Best Regards
Posted Using LeoFinance Beta
---
---