When a complimentary service turns into a burden - Credit Card Story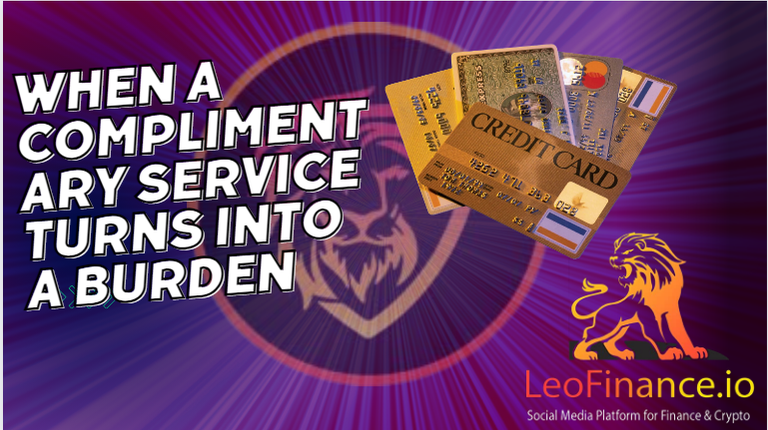 When I resided in the western region of the country, my preferred mode of travel was by air due to its time-saving advantages. Airfares were also quite affordable when booked two months in advance, and various online booking platforms offered additional discounts. I distinctly recall a particular instance when I secured air tickets at the same price as a second-tier train fare for the same route.
During my travels, I had a fondness for airport lounges, as they provided an excellent dining experience and a pleasant atmosphere for passing time before boarding my flight. I typically chose early morning or late-night flights, making the airport lounge facilities ideal for breakfast and dinner. It's astonishing that one could enjoy such a fine dining experience and ambiance for less than $0.30, sometimes even less. This incredible deal was made possible through the use of a credit card that offered discounted access to airport lounges.
Initially, only a few credit cards provided complimentary access to airport lounges, usually with a quarterly usage cap. Most of them also allowed a second person to accompany you if you were traveling with a companion, although this would count towards your quarterly limit.
---
At first, this service was exclusive to a select few credit cards, which imposed substantial annual fees or joining charges. However, over time, this offering evolved into a compelling feature that attracted numerous credit card users. Credit card companies began using it as a promotional highlight, enticing customers with the promise of both national and international complimentary lounge access upon card selection.
The surge in air traffic within India has been remarkable in recent years. According to a study, airport security has experienced an annual growth rate of approximately 15 percent. This substantial increase in domestic air travel within India underscores the escalating demand for air transportation.
---
Attraction become Burden
What was once a customer attraction and a standout feature offered when promoting credit cards has now become a burden for credit card companies. Banks and credit card issuers are beginning to discontinue these lounge access benefits, even for their existing customers.
I've noticed long lines and crowded lounges at busy airports like Mumbai and Delhi, and the primary reason for this congestion is the complimentary lounge access offered by banks and credit card companies. Initially, these companies provided this perk, but now they are feeling the financial strain. On one hand, they've expanded their customer base, but on the other hand, they must cover the costs associated with lounge access. To alleviate this burden, they have negotiated lower fees, and in some cases, certain cards are reducing or eliminating the lounge access benefit altogether.
To address this issue, some banks and credit card issuers have introduced minimum spending requirements for eligibility. Only cardholders who meet these criteria will qualify for complimentary airport lounge access. Unfortunately, this change has led to disappointment among many cardholders.
---
How the Bank offers the Complimentary lounge access
I was also curious about how banks cover the cost of providing airport lounge access. Let's say I'm using the facility and enjoying airport lounge access, and I've paid minimal or no fees, but the bank has to foot the bill on my behalf. The airport lounge typically charges between Rs. 800 to Rs. 2500 (which translates to USD 10 to USD 30) without the credit card offer, and these prices can vary based on the location.
Through my research, I discovered that companies primarily use two methods to offer free airport lounge access. The first method involves a partnership between the bank and a card network. For instance, if your card is associated with the MasterCard network for issuing credit cards, the bank collaborates with MasterCard and pays them a per-visit fee to provide free airport lounge access to its customers. In this scenario, the card network partner has affiliations with various airport lounges worldwide.
The second approach involves an aggregator company, where the bank directly partners with an aggregator like PriorityPass or Dreamfolks. In this case, the bank also pays a per-visit fee to the aggregator company. The bank purchases lounge visits in bulk from the actual airport lounge providers and extends this service to its customers. So, it's clear that it's not entirely free, as the banks cover the per-visit charges to either the network partner or the aggregator. The exact amount they pay for per-visit charges depends on the bank's negotiations, bargaining power, and the location of the airport. According to one online report I found, banks typically pay between Rs. 200 and Rs. 1,000 per visit, depending on the location and their negotiating leverage. It's worth noting that international lounges may incur higher costs, especially if they offer alcoholic beverages.
---
Final Words
In the initial days (around 2017-18), access to airport lounges was a privilege limited to premium credit cardholders. However, as time went on, this benefit began to capture the attention of customers, prompting banks to extend it to mid-level cards as well in order to expand their customer base. The free airport lounge access became a major selling point for these cards. During the COVID-19 pandemic, banks even went so far as to offer this benefit to entry-level cardholders. Consequently, there was a surge in the number of people using airport lounges, and the increase in entry-level and mid-range cardholders with lounge access benefits became a significant reason for the crowded airport lounges.
A considerable number of mid and lower-level cardholders were enjoying the lifetime benefit of lounge access, contributing business to the banks. However, from the bank's perspective, they were not profitable customers, which led some banks to discontinue the facility altogether. Others opted to reduce the quarterly visit limits, and some even imposed minimum spending prerequisites to be eligible for the benefit.
---
What are your views let me know in comment section.
---
Let's Connect
Hive: @guurry123
Twitter: https://twitter.com/guurry123
Discord: guurry123
---
Posted Using LeoFinance Alpha
---
---