Always Choose To Fightback When Life Is Getting Rough.
Nothing is easy in our life in this world, you have to fight especially when you stumble.
---
These past few days, I can say that everything has not been easy, I can also say that everything has not been difficult. Sometimes you just have to look for the reason why you want to fight, why you still choose to wake up with a smile on your face, and why you still choose to look at positive things as long as you avoid being negative. Often when I wake up, I look at my partner and think that she is tired from her work, but she still manages to laugh and be happy. It's amazing especially when you're surrounded by people who, even though they're tired, they're still very positive about life.
I was born having this negative thoughts since then, maybe because I am an only child and stress from the roles in life and duties at home were eating me. But even though I am so consumed by stress, I always think that there are people out there who have almost nothing to eat and are suffering a lot but they are still doing their best to continue. Other people become more motivated for us, especially when we are in the middle of our problem and we see that there is someone who has more issues and life but still they can smile and laugh, they are amazing aren't they?. For the reason that we will say, "We have different experiences, why should I compare myself to them?", Friend, it should not be like that.
You see other people were stuck between giving up and holding back,they are stuck on how to fix everything around them, especially the stress they feel. Sometimes, they even cry secretly, just don't let others notice because they don't want them to think that they are weak, which is super emotional, right?
What we hear a lot from others is that why do we compare them to others, they say they are not the same person, some people like to compare someone to others but that does not mean that they are comparing them, bt instead they just want us to be alarmed that we should be thankful somehow. Others don't have companion with them but somehow you are still very lucky because behind the trials, there are still people who choose to guide you and help you whereas other people who have problems, the only thing they have is themselves. Whether we admit it or not we all know the feeling of losing hope.
Sometimes, I am also filled with questions, I am filled with what ifs and my mind become negative to the point that I break down because of my mindset. But, I realized, why I am getting myself into this? I mean, I didn't need to think this way since I got to this point already and I was able to overcome my previous problems. So what is the used of thinking this things?
When it comes to the point where I don't understand myself anymore, I am just closing my eyes, and taking a deep breathe, and after that I can feel the heaviness inside me that were slowly fadinf.
It's like we are boxers in the life problems we face, you can't hide the pain and you can't just give up. If you can still stand if you can still fight, we should continue the fight, we should continue the challenge of life. Think, you are the rain that is too full. Almost because of the weight of your feelings, you will explode, that's how we are in our battles.. we can explode but we can't give up.
Often in life some things sometimes remind us that everything is not easy, and sometimes some things seem to be easy but there are also things that we can't understand why it's easy.. it's because you've been there already and you know how to handle it correctly. Sometimes, it's the part where we think we don't deserve these things. You will feel that you want to cry, and you will feel that you are so hurt until you come to the point that you will feel that you are not happy at all.
Life in the world is like a battery, if you are full, energetic, and happy you can use all of it. But it gets to the point where you need to rest for you to be able to recharge. Life in the world is like paper aslo, write until there is no more space. It's like us that when life is filled with problems, the problem consumes the space you have in your mind. Sometimes, it's like a pencil that like us, when we run out, we need someone to show us that everything is possible.
Sometimes, I think why don't we just give up? But I suddenly remember that's why should we give up if we still have dreams? Why should we lose if we still want to reach something? There is nothing wrong with dreaming and achieving it, there is nothing wrong with being tired but you will still fight for your dream. The only bad thing is, you're still alive and kicking but you're not doing anything to reach what you want in life. The only thing you expect from your friends, and your family is that they will give you something when you ask. That they will give you when you want something, you don't think we have to work hard. .not for other people but also for our welfare.
There is also nothing wrong being a fighter, that's the only chpice that we had and that's the only thing that we need to chose.
No matter how hard everything is, be a fighter of your own life. Surpass everything, keep thinking that the end was so far from beyond.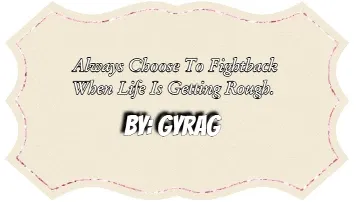 ---
---