Battle of Thermopylae! | Digital Painting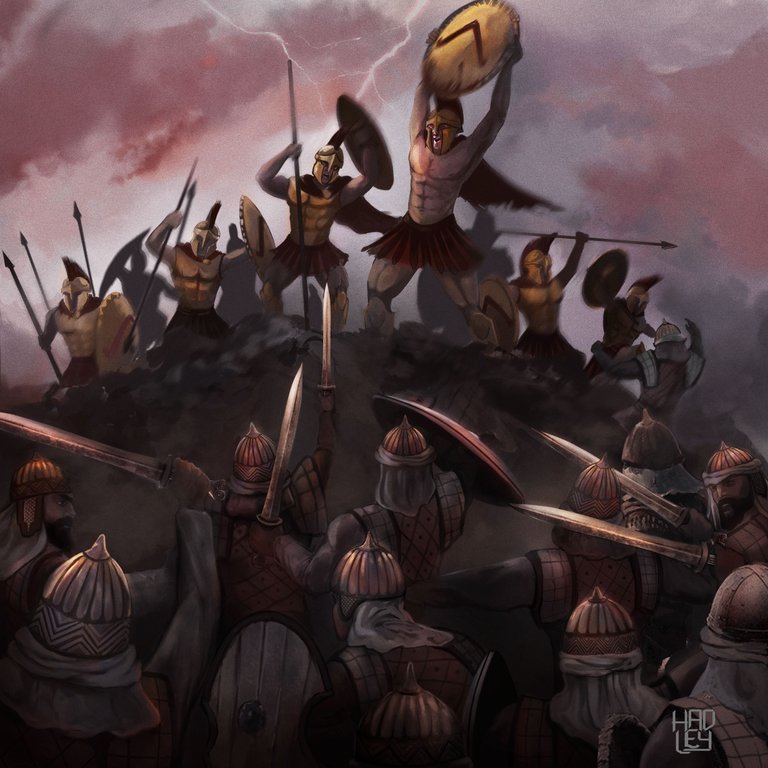 ---
This is one of the hardest things I've done so far
And I'm serious, I've done realistic portraits on paper with graphite, powerful characters for Splinterlands, crazy things out of my head, but I've never had to do so many characters in a single scene, you don't know how challenging it was just thinking about it.
But first! Hello my friend how have you been? glad to see you here again, I'm back to show you the second illustration I was commissioned for a project of ancient wars, if you don't remember or never saw the first one, here's a link to take a look at Alexander the Great
For this second illustration I was commissioned to illustrate the battle of Thermopylae, or as it is better known: the battle of the 300, yes, that legendary battle that today is a pillar in the history books for the heroism of 300 Spartan soldiers who held the massive Persian army in the pass of Thermopylae, no one survived, but their effort was not in vain and their act of bravery will never be forgotten.

Tools:
Gaomon S620
Photoshop
Brushes courtesy of Imad Awan: Download here
🔰Process🔰

-Step 1:
The client gave me complete creative freedom to make the scene, he had confidence in me and I didn't want to let him down, so beyond making many characters fighting each other, I wanted there to be some element that would make this scene memorable, and I focused on that Spartan who unleashes his fury with only a shield in his hands.

-Step 2:
Battlefields are not shiny places where everything is beautiful, green and where birds sing, no, they become arid places, with dark environments where destruction and chaos predominate, that's why I went straight to apply a dirty color palette, alternating warm and cold colors, but all very close to gray.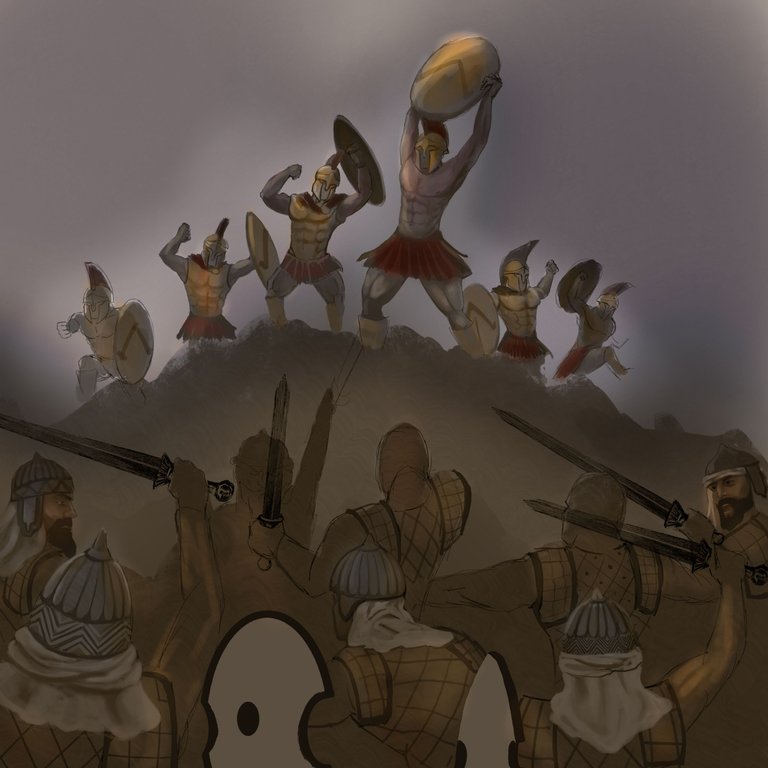 -Step 3:
I continued working on the characters and giving them more details, which became a bit difficult since I couldn't get caught up in making too many details for just one man, there were many more that needed to be worked on and also the time I had to do this commission was limited, so I was always working in layers where I added general details to all the soldiers.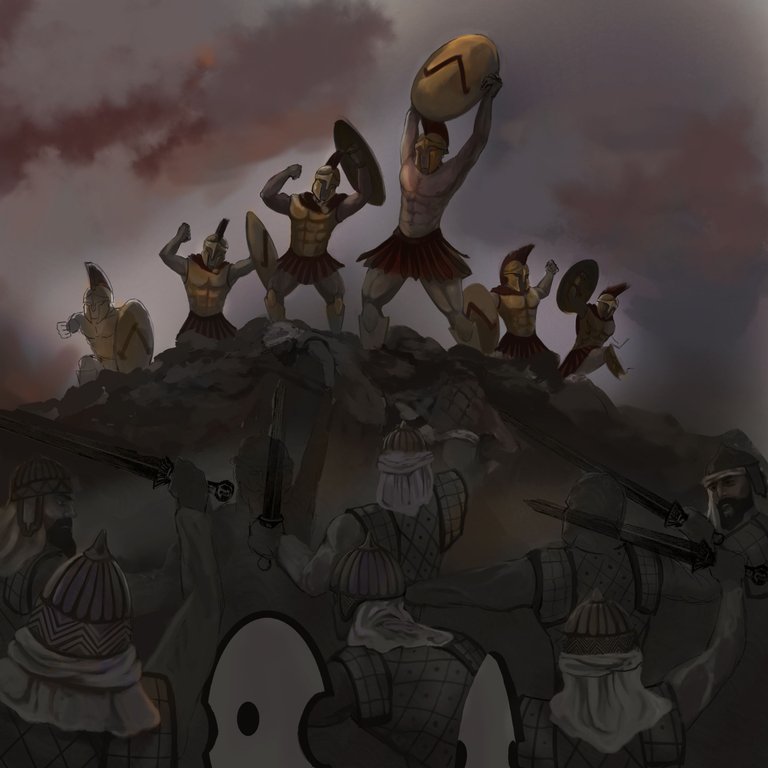 -Step 4:
The story always focuses on the heroism of the Spartan soldiers, so they are the protagonists here, so I wanted to make a clear distinction between armies, and I gave a more muted color treatment to the Persian soldiers, but with some color variations in the metal of their helmets, it was a detail that I personally liked.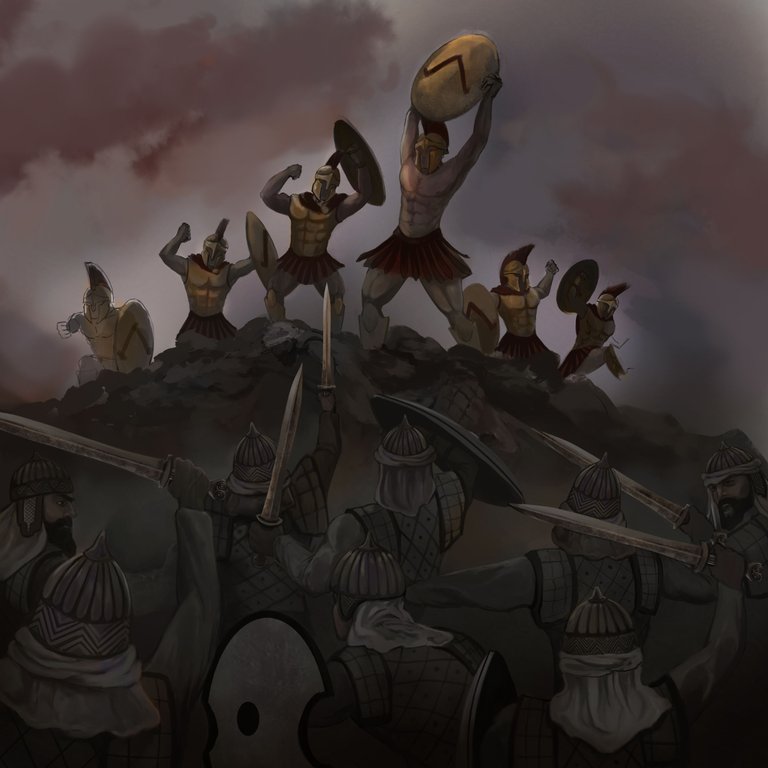 -Step 5:
But I could not completely leave the Persian soldiers in the shadows, as I needed a bit of depth in the battle scene, so I shone their helmets and swords but without stealing gold prominence from the Spartan soldiers.
Then I made a general color adjustment to the illustration with a more pink shade, to maintain harmony with the sky and because I wanted to further highlight the fury of the battle with a lightning bolt right over the Spartans and finally to add dynamism in the battle and try to disguise a little the multiple errors of anatomy that are everywhere, I added a motion blur and a noise filter.
---

I will leave you a GIF with the whole process on it, so you can better appreciate the illustration process.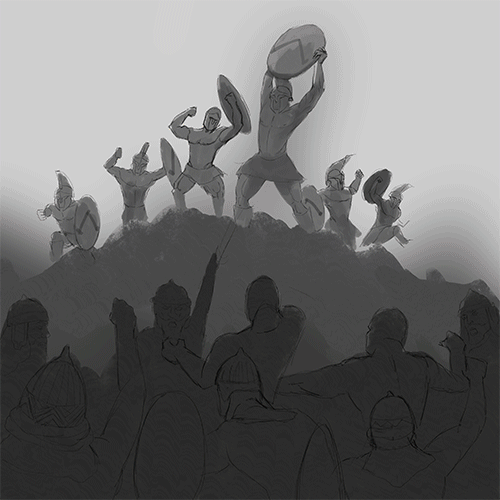 Tell me in the comments that you imagine when you see this illustration.

---
---
See you in a future post!
Thank You for Supporting My Artwork
TWITTER | GHOSTMARKET |TERRA VIRTUA |NFT SHOWROOM | INSTAGRAM | FACEBOOK
⬆️ Follow ⬆️

---
---