Jared Scar | Splinterlands Fan art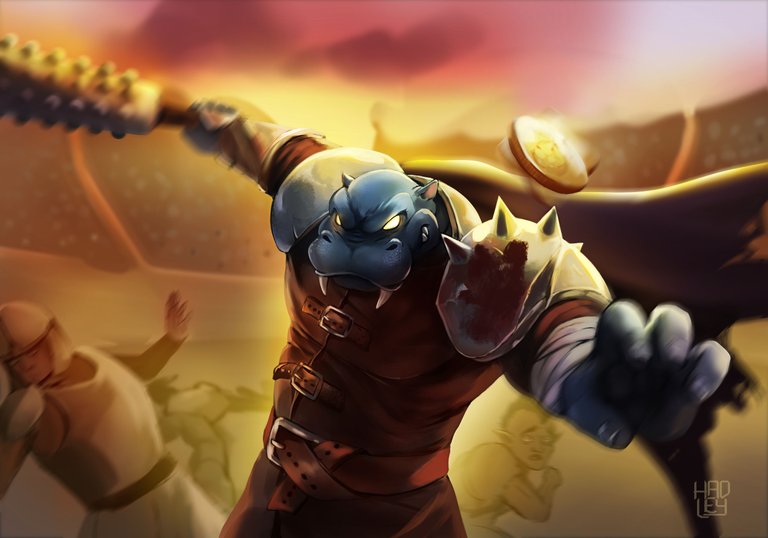 ---
I am alive!
You don't know it, but I was sick for a couple of days and how horrible it is to have fever and chills, it even reminded me how old I am because even my knees hurt, but I still have a great immune system, because I am completely recovered and I want to draw a lot.
And since I missed it last week, it was unthinkable to miss again the Splinterlands weekly contest, because since it came out, I've been wanting to make some fanart of Jared Scar, the new card of the game that I liked a lot, because they even made a video with music to show his story, it was an incredible presentation, very good there Splinterlands team.
By the way, for a moment I forgot that Jared is half vampire and I almost made the scene with a beautiful blue sky shining, one of those that kill vampires with a simple sunbeam🤣


Tools:
Gaomon S620
Photoshop
Brushes courtesy of Imad Awan: Download here
🔰Process🔰

-Step 1:
The first idea I had was an aerial scene where Jared would fight in the middle of the arena while the coin was spinning in the air. Because I imagine the character throwing the coin in the air, defeating all the enemies and finishing in time to catch the coin again before it hits the ground. But in the end I thought I couldn't detail the character as I wanted, so I discarded it, maybe I will make this scene in the future (tell me in the comments if you want me to do it).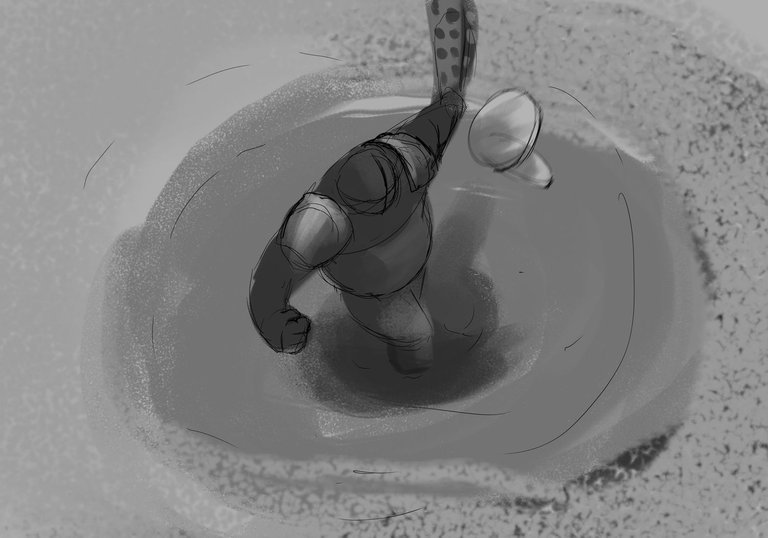 -Step 2:
Since the first idea was discarded, I proceeded to establish a new pose, for this I was looking at baseball batters to make Jared use his iron mallet with all his strength, and since I made a lot of sketches, I thought it was a good idea to compress them into a GIF for you to see them, I know you love GIFs.


-Step 3:
It's time to detail in grays to establish the shadows and highlights, this time I didn't detail the outline too much (I never really do that) but I did try to keep as much as possible to create art with a little more edges and strong lines.

-Step 4:
And here come the colors, for this I used a layer in the "color" blend mode to gently add more saturation to the scene, and as I said before, I was about to paint the sky in a beautiful glowing blue, but I figured that this would affect Jared, maybe not kill him but surely weaken him a little, so to see it in its maximum splendor I made the sky in a reddish tone as if it were a sunset.

-Step 5:
I was looking for a way to make Jared stand out, since he is the main character of the illustration and the other fighters I painted have no relation with the game, so after a while I decided to make Jared shine, yes, with a strong yellow light, it was the perfect way to keep a harmony in the colors and a beautiful contrast between the sky and Jared's clothes.
Also I used to zoom out the artwork as much as possible to make it look like a miniature, and wow it looked beautiful the silhouette of the character against the lighter background, it is certainly one of the fan arts that I really liked how it turned out.
---

I will leave you a GIF with the whole process on it, so you can better appreciate the illustration process.
Tell me in the comments that you imagine when you see this illustration.

---
---
See you in a future post!
Thank You for Supporting My Artwork
TWITTER | GHOSTMARKET |TERRA VIRTUA |NFT SHOWROOM | INSTAGRAM | FACEBOOK
⬆️ Follow ⬆️

---
---