Water Caller | Faces of Splinterlands #1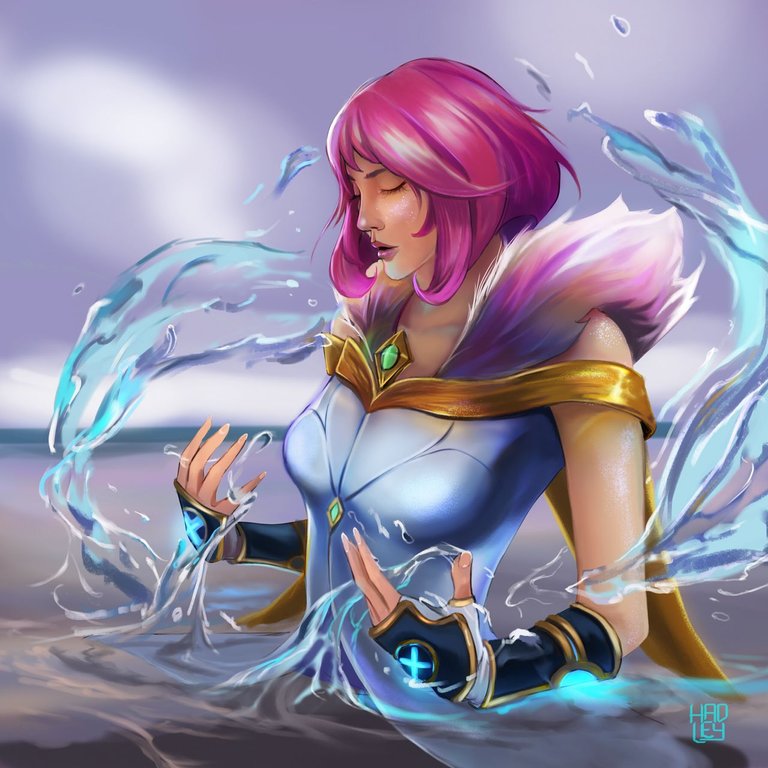 ---

New weekly illustration series in sight!
It's no mystery that I'm a fan of doing illustrations for Splinterlands, but in some weeks I find myself with the incognita of whether to do something like a splash art or something more like my Onis for the Splinterlands weekly contest, so I decided to do a new weekly series focused of course on the Splinterlands characters, but in more casual or intimate situations, leaving the epic action for my entries in the contest where I try to achieve my goals in terms of scenarios and dynamism in the characters.
As I just said, here you will find a more personal and mundane side of each character, maybe without showing powers or magic, but them being themselves. That's why I've started with Water Caller, a girl who controls the water through her chant (I think it's something like that), but instead of showing her in battle destroying enemies, I thought it was ideal to see her in the middle of the water meditating and controlling her powers calmly.

Play Splinterlands Now❕

Tools:
Gaomon S620
Photoshop
Brushes courtesy of Imad Awan: Download here
🔰Process🔰

-Step 1:
Of course I started with the sketch, here I established the pose of the character, I already said I wanted the character to be meditating, that's why I have focused her hands towards herself, in a way to represent that the calm and control to handle her power comes from inside her.

-Step 2:
When I don't use grays to detail and I want to go straight to the color, what I do is to delimit the main shapes of the character with the pen tool, in this case I have worked in different layers the shapes of the clothes, the skin and the hair, and yes, I was also a little scared with the base colors I used, because that violet is too vivid, but I immediately started to soften it with the colors of the girl's clothes, and the main reason to use that violet was to balance the blues of the color palette in the card because I didn't want a result with blue all over the place.

-Step 3:
Something that I should not forget was to integrate the gold of the gem and the upper part of her clothes, since this would be a very highlighting element and I had to integrate it progressively. Also something I want to tell you is that at the time of detailing the face, I thought to make her have a gesture of singing a sad song, that's why I was looking for artists singing soft songs, but many of them stick their mouths to the microphone to whisper into it and without the microphone, there really is not much that can assure you that they are singing something soft or sad other than open their mouths a little and tighten the eyelids, so I had to keep the facial expression that I had sketched.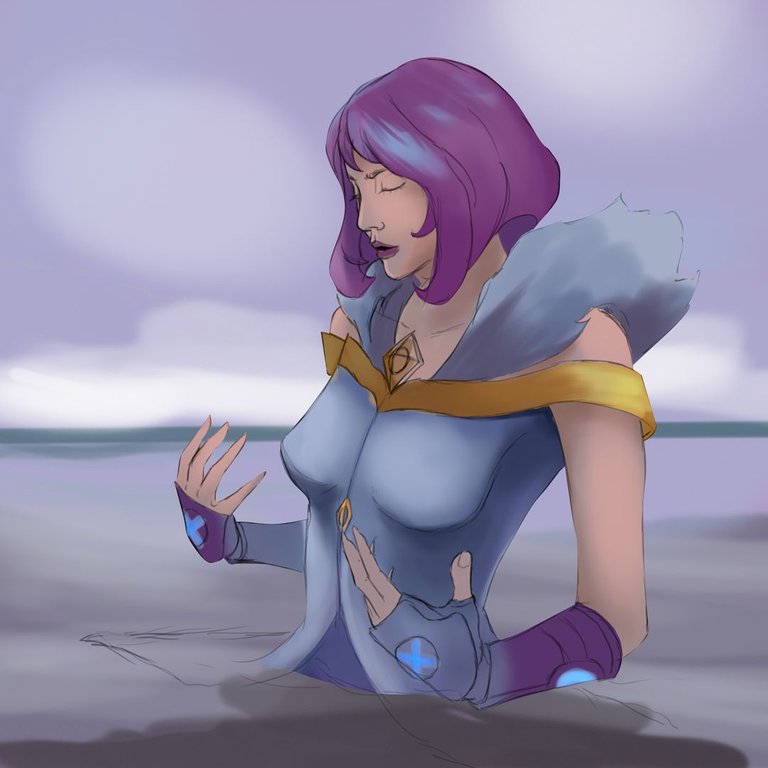 -Step 4:
I don't really know what that hairy thing is called on her shoulders, it's something like what winter jackets have, but no idea what her name is, anyway, this was originally blue, but I didn't want to have blue in the sky, in the water, in the clothes, in the armor of her arms and also here, so I added other shades of color and only left a small bluish reflection in between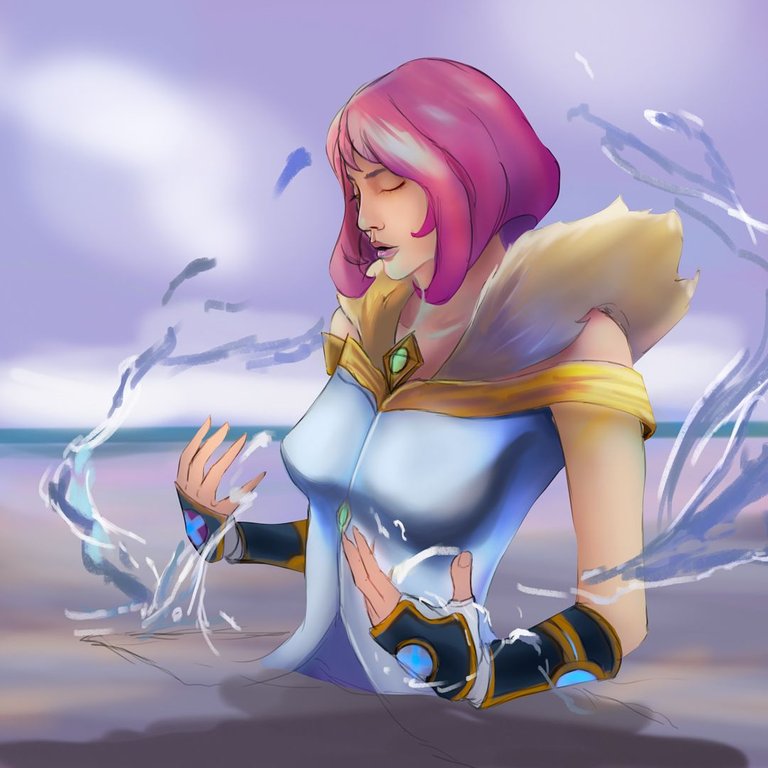 -Step 5:
My reference for water is the art of Kan Liu, he does Maginific things with water and I have tried to do something moderately decent seeing his paintings, but not to spend hours and hours drawing the flow of water, I decided to give more emphasis to clothes and hair, and of course the golden elements, which are those that bring balance to the color palette and maintain a nice contrast in the character, my congratulations to the artist who designs the characters of Splinterlands, I would really like to know who is to follow more of his work 😍
---

I will leave you a GIF with the whole process on it, so you can better appreciate the illustration process.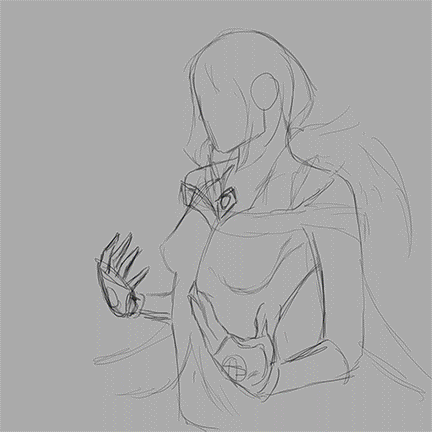 Tell me in the comments that you imagine when you see this illustration.

---
---
See you in a future post!
Thank You for Supporting My Artwork
TWITTER | GHOSTMARKET |TERRA VIRTUA |NFT SHOWROOM | INSTAGRAM | FACEBOOK
⬆️ Follow ⬆️

---
---