[ESp-ENG] 🎉 Les presento mi ciudad natal: En el marco de su cumpleaños 470 👏 🎂 // 🎉 I present to you my hometown: On the occasion of its 470th birthday 👏 🎂
Hello dear hive community! 😉
¡Hola querida comunidad de hive! 😉
---
Qué alegría resulta para mí poder hablarles sobre mi ciudad natal que precisamente hoy se encuentra cumpliendo 470 años de fundación. Barquisimeto es la cuarta ciudad más importante de Venezuela, es la capital del estado Lara y a su vez del municipio Iribarren; se encuentra ubicaba en el centro occidente del país y es conocida por ser la ciudad crepuscular y musical de Venezuela.
What a joy it is for me to be able to tell you about my hometown, which today is celebrating its 470th anniversary. Barquisimeto is the fourth most important city in Venezuela, it is the capital of the state of Lara and the municipality of Iribarren; it is located in the center west of the country and is known for being the twilight and musical city of Venezuela.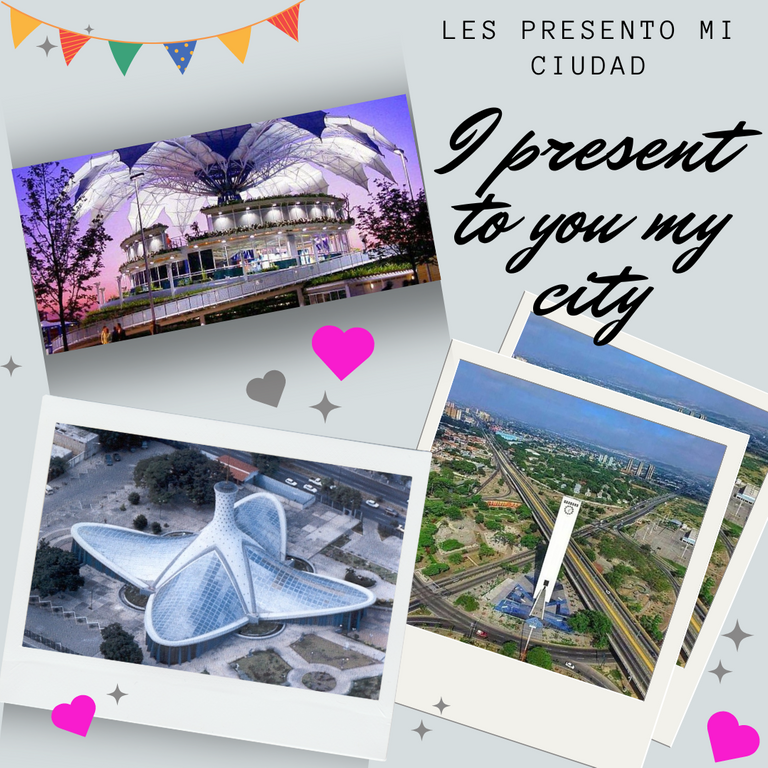 Imagen realizada con la página web de diseño gráfico y composición de imágenes Canva // Image made with the graphic design and image composition website Canva.

Esta hermosa ciudad se caracteriza por ser pionera en desarrollo cultural y musical, cuna de grandes artistas como músicos, pintores, entre otros. Fue fundada por Juan de Villegas el 14 de septiembre de 1552 con el nombre de Nueva Segovia de Barquisimeto, el cual tiempo ms tarde paso a solamente Barquisimeto; a su gente se le conoce en el interior del país como guaros.
Los barquisimetanos poseemos un lenguaje bastante particular, que ha logrado trascender nacional e internacionalmente; una de las expresiones que nos caracteriza es el Na`Guara que sinceramente no sabemos explicar que significa, pues resulta ser una expresión que se utiliza cuando estas alegre, emocionado, sorprendido, triste o molesto. Sin embargo esta no es la única expresión que tenemos los guaros, otras como ah mundo, guará, adiù, vacié, vacié carajo, cónchale.
This beautiful city is characterized by being a pioneer in cultural and musical development, the cradle of great artists such as musicians, painters, among others. It was founded by Juan de Villegas on September 14, 1552 under the name of Nueva Segovia de Barquisimeto, which later became just Barquisimeto; its people are known in the interior of the country as guaros.

We Barquisimetans have a very particular language, which has managed to transcend nationally and internationally; One of the expressions that characterizes us is the Na`Guara which we sincerely do not know how to explain what it means, as it turns out to be an expression that is used when you are happy, excited, surprised, sad or upset. However, this is not the only expression that we guaros have, others like ah mundo, guará, adiù, empty, empty damn, cónchale.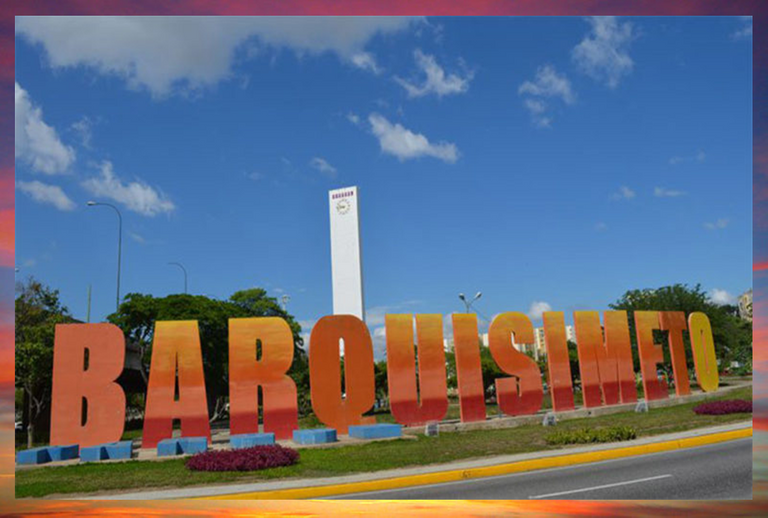 Source
Por otra parte, tenemos nuestras comidas típicas unos platos típicos que nos caracterizan y que si en algún momento vienes a ésta ciudad no puedes dejar de probar. Obviamente el predominante es el pabellón criollo, que consta de caraotas o frijoles negros, carne mechada, arroz, tajadas o plátano frito, huevo y queso. Otras comidas autóctonas del estado Lara son el queso e`mano, suero, crema de leche como embutidos; cómo plato fuerte el mondongo de chivo y la cachapa con queso e mano y como dulces o postres nos definen las exquisitas catalinas y pan de Tunja. No obstante, resulta propicio acotar que en nuestros desayunos, almuerzos y cenas no puede faltar nuestra embajadora ante el mundo, la popular AREPA.
On the other hand, we have our typical meals, some typical dishes that characterize us and that if at any time you come to this city you cannot stop trying. Obviously the predominant one is the Creole pavilion, which consists of caraotas or black beans, shredded meat, rice, slices or fried plantain, egg and cheese. Other native foods of the Lara state are cheese and `mano, whey, milk cream such as sausages; As a main dish, the tripe of goat and cachapa with cheese and hand and as sweets or desserts define us the exquisite catalinas and Tunja bread. However, it is appropriate to note that our ambassador to the world, the popular AREPA, cannot be missing from our breakfasts, lunches and dinners.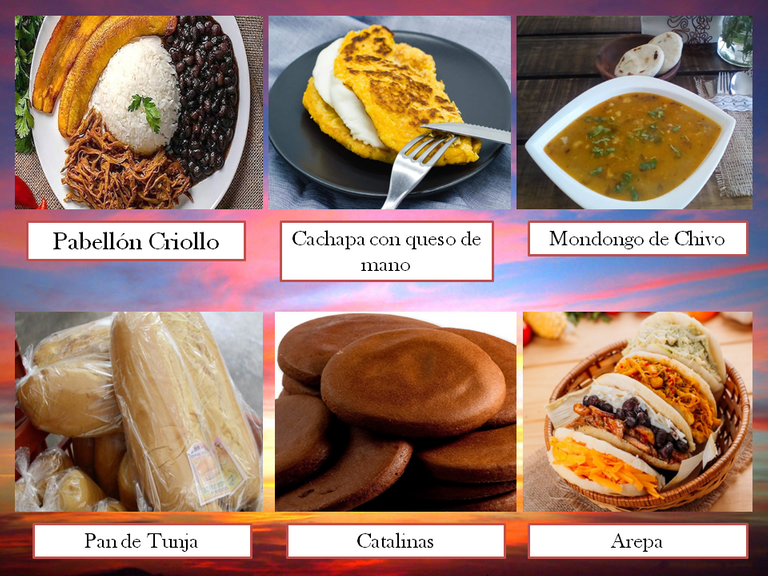 Source 1
2
3
4
5
6
De igual manera Barquisimeto tiene infinidades de sitios de interés, que te invito a conocer cuando vengas de paseo por la ciudad; entre los centros comerciales están el C.C Metrópolis, C.C Trinitarias y C.C Sambil que no son los únicos pero que son los más grandes y ofrecen diferentes tiendas, actividades recreativas y lugares de diversión para los más pequeños de la casa.
In the same way, Barquisimeto has countless places of interest, which I invite you to visit when you come for a walk through the city; Among the shopping centers are C.C Metrópolis, C.C Trinitarias and C.C Sambil, which are not the only ones but are the largest and offer different shops, recreational activities and places of entertainment for the smallest of the house.

Source 1
2
3
Entre los lugares históricos, religiosos y representativos se encuentran el Museo de Barquisimeto, la Plaza Bolívar, El cuartel General, El monumento al Sol, El Obelisco, La Catedral de Barquisimeto (que es una obra arquitectónica impresionante) Santa Rosa y el Monumento Manto de María.
Among the historical, religious and representative places are the Museum of Barquisimeto, Plaza Bolivar, the General Headquarters, the Monument to the Sun, the Obelisk, the Cathedral of Barquisimeto (which is an impressive architectural work), Santa Rosa and the Manto de Maria Monument.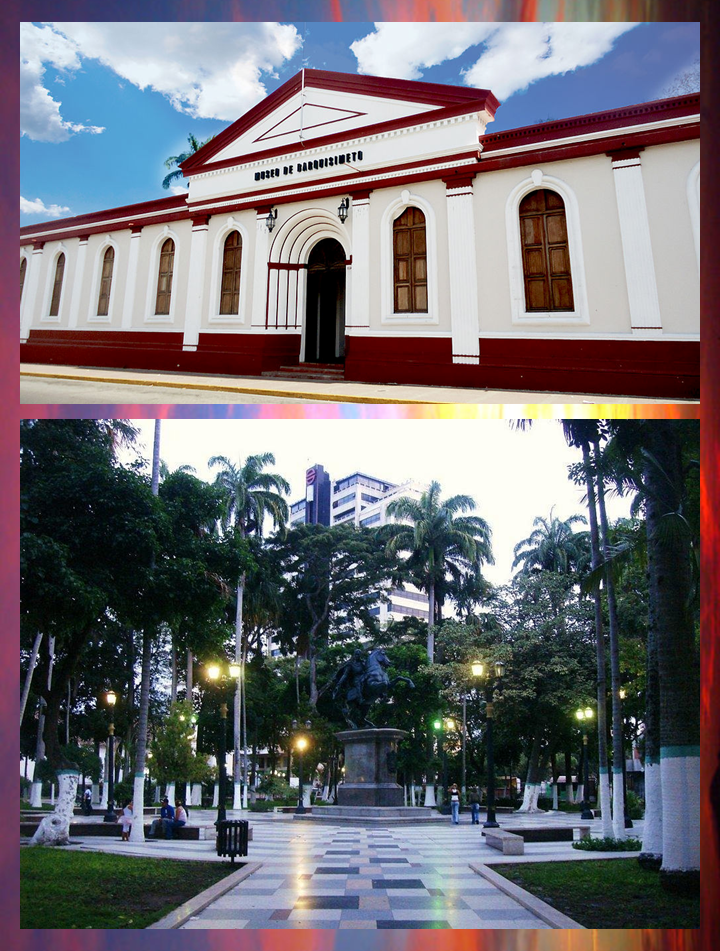 Museo de Barquisimeto // Plaza Bolivar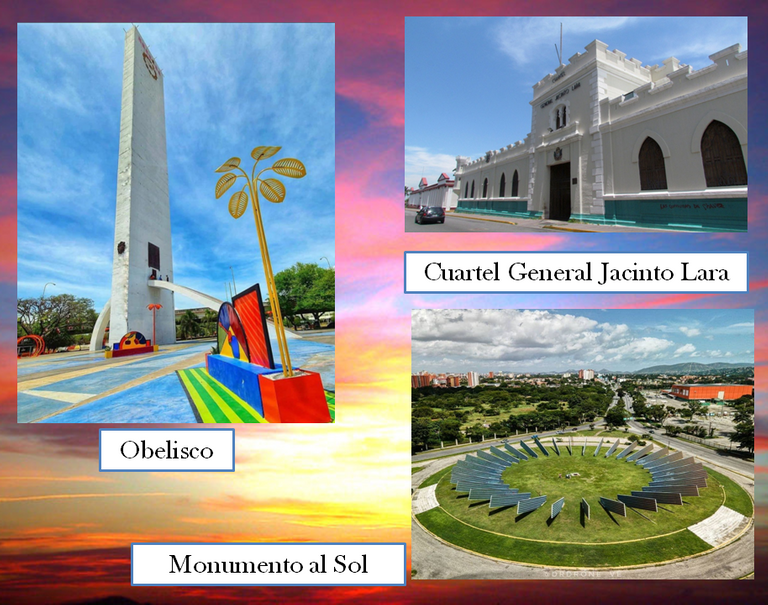 Obelisco // Cuartel // Monumento al Sol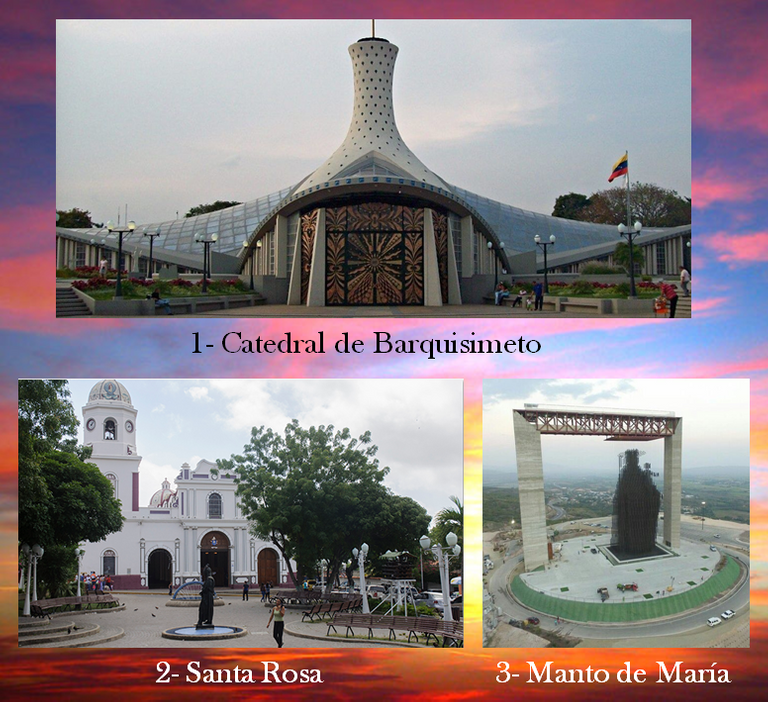 Source 1
2
3
Otro aspecto que caracteriza a los guaros es su pasión por el beisbol, por lo que si te encuentras en la ciudad entre los meses de Octubre a Enero no puedes dejar de visitar el Estadio Antonio Herrera Gutiérrez cuna de nuestro equipo campeón el CARDENALES DE LARA que según datos oficiales para la temporada 2019-2020 justo antes de la pandemia el estadio de Barquisimeto fue el que más entradas vendió durante toda la temporada convirtiendo a los barquisimetanos como la mejor fanaticada del país. Porque existe un meme que es muy cierto y es que… Guaro que no es del Cardenales de Lara no es gente.
Another aspect that characterizes the guaros is their passion for baseball, so if you are in the city between the months of October and January you cannot miss visiting the Antonio Herrera Gutiérrez Stadium, birthplace of our champion team, the CARDENALES. DE LARA that according to official data for the 2019-2020 season just before the pandemic, the Barquisimeto stadium was the one that sold the most tickets throughout the season, making the people of Barquisimeto the best fan base in the country. Because there is a meme that is very true and it is that… Guaro that is not from Cardenales de Lara is not people.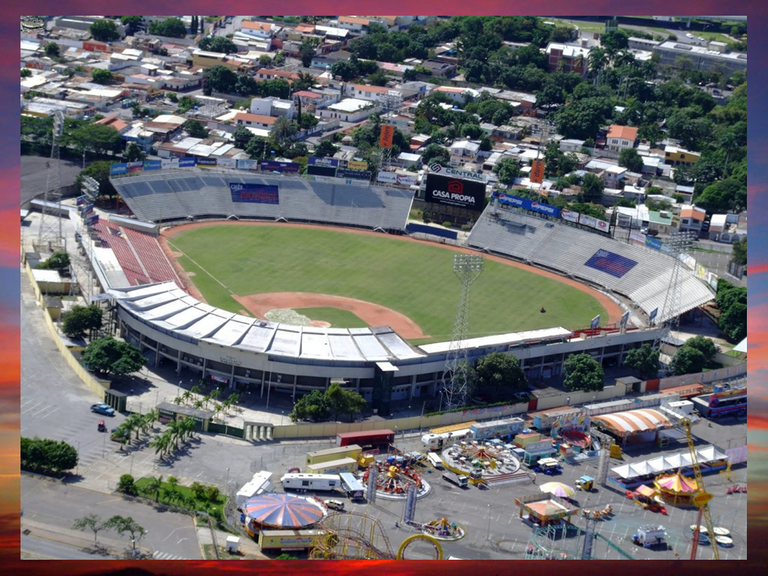 Source
Finalmente quiero despedirme resaltando que son innumerables las virtudes que tienen Barquisimeto y su gente, pasaría más de diez mil palabras para lograr expresar todo lo lindo de mi ciudad, solamente quería hacerle un pequeño homenaje a la tierra que me vio nacer porque hoy es día de todos los guaros y quise festéjalo dedicándole una pequeña publicación, ahora no me queda más que decir:
🎉 Feliz Cumpleaños Barquisimeto 🎉
¡Ah Mundo Barquisimeto! la ciudad más linda que jamás vieron mis ojos 😍
Finally, I want to say goodbye, emphasizing that there are innumerable virtues that Barquisimeto and its people have, I would spend more than ten thousand words to express all the beauty of my city, I just wanted to pay a small tribute to the land where I was born because today is the day of all the guaros and I wanted to celebrate it by dedicating a small publication to it, now I have nothing left to say:


🎉 Happy Birthday Barquisimeto 🎉
Ah Mundo Barquisimeto! the most beautiful city my eyes have ever seen! 😍


Traductor Deepl
Translator Deepl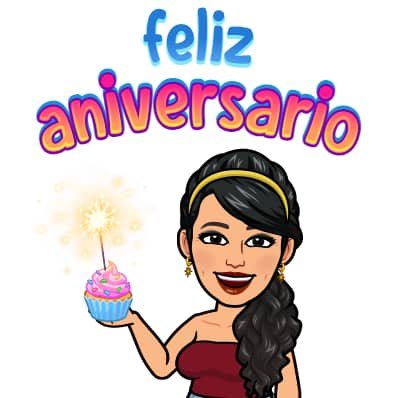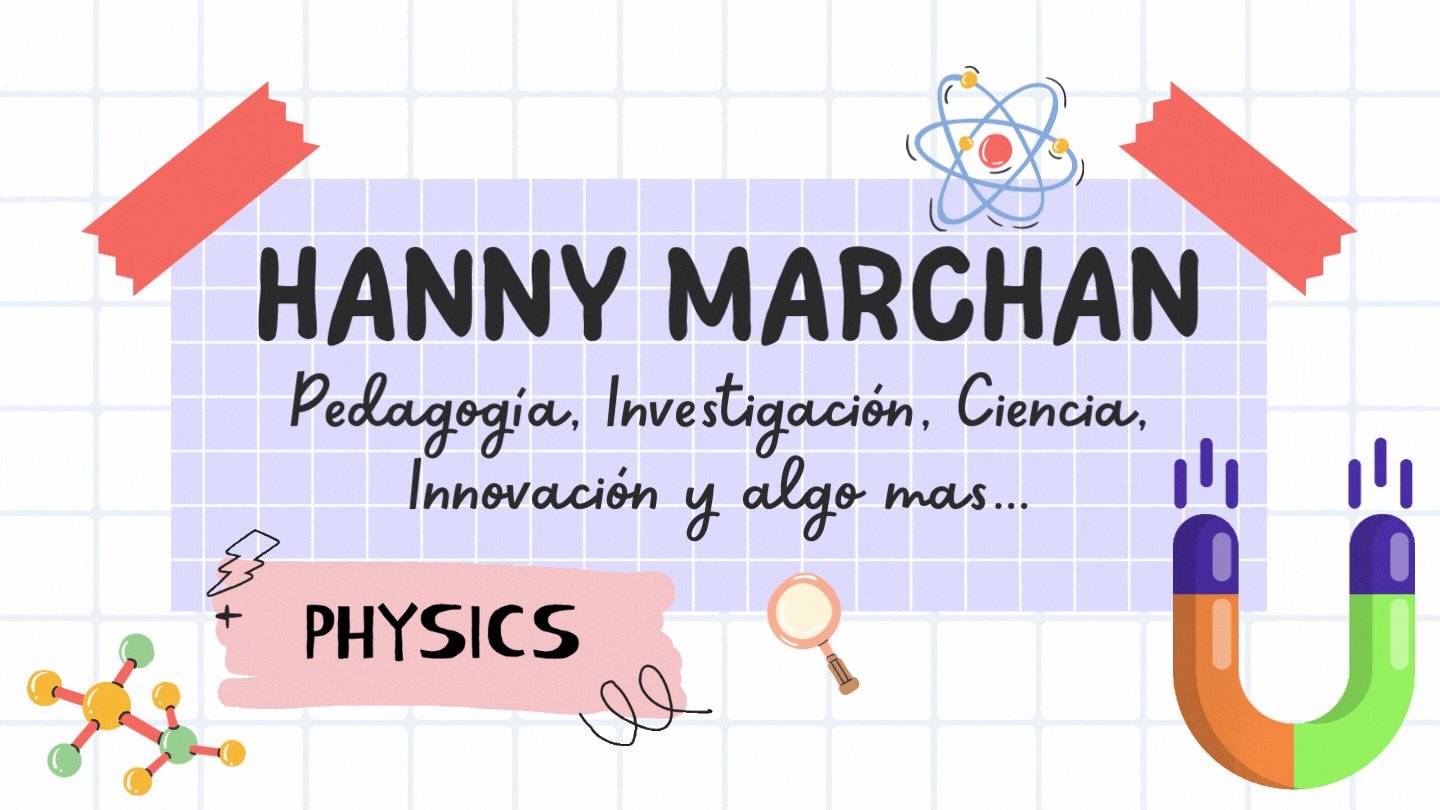 ---
---