#WeeklyMotivation:Find Your Purpose | encuentra tu propósito [ENG-ESP] ]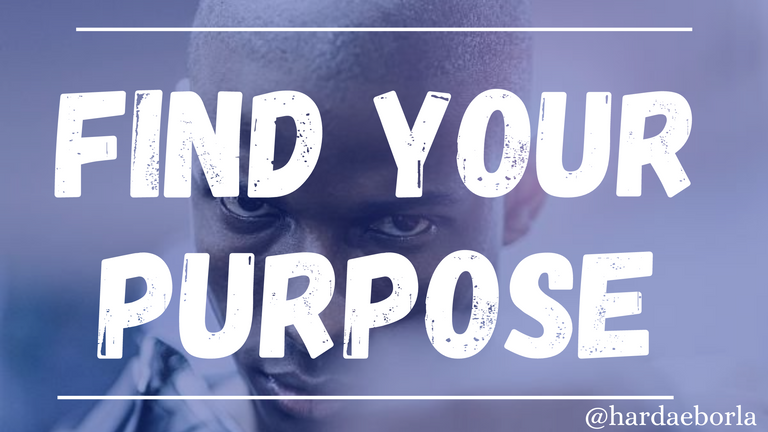 ¡¡¡Hola a todos!!! Espero que la estés pasando muy bien por allá? Es muy agradable verte visitar mi blog hoy y debo decir que estoy muy feliz de tener una gran personalidad como tú visitando mi blog hoy 😊. Gracias una vez más 💕
Hello Everyone!!! I hope you are having a great time over there? It's really nice to see you visit my blog today and I must say I'm really happy to have a great personality like you visiting my blog today 😊. Thank you once again 💕
Como todos saben, hoy es otra hermosa semana nueva y estoy bastante seguro de que todos saben lo que hago en semanas nuevas como esta. Esta es en realidad una parte de la semana en la que publico contenido motivacional solo para alegrar tu día de la semana y espero que definitivamente te sientas motivado después de leer esto.
As you all know today is another lovely new week and I'm quite sure everyone of you know what I do on new weeks like this. This is actually a part of the week I post motivational content just to brighten your day for the week and I hope you'll definitely feel motivated after reading this.
Una de las decisiones más difíciles que tendemos a tomar en nuestra vida es descubrir quiénes somos realmente. En realidad, no hay duda de que cada uno de nosotros tiene un don o posee una forma especial de talento de una forma u otra, aunque esto difiere y varía de un individuo a otro. Lo bueno es que algunas personas son capaces de identificar los dones y tienden a utilizar su don positivamente, lo que ha agregado más a su nivel de éxito. La peor parte es que algunos de nosotros somos muy dotados, pero realmente no conocemos nuestro talento, por lo que nos resulta muy difícil reconocer nuestro propósito y don en la vida.
One of the most difficult decision we tend to make in our life is to find out who we really are. There's actually no doubt that everyone of us gifted or possess special form of talent in one way or thee other even though this differs and varies from individual to individual. The good part is that some people are able to identify gifts and they tend to utilise their gift positively which has added more to their level of success. The worst part of it is that some of us are highly gifted but we really don't know our talent such that we find it very difficult to recognise our purpose and gift in life.
You Are Not Alone||No estas solo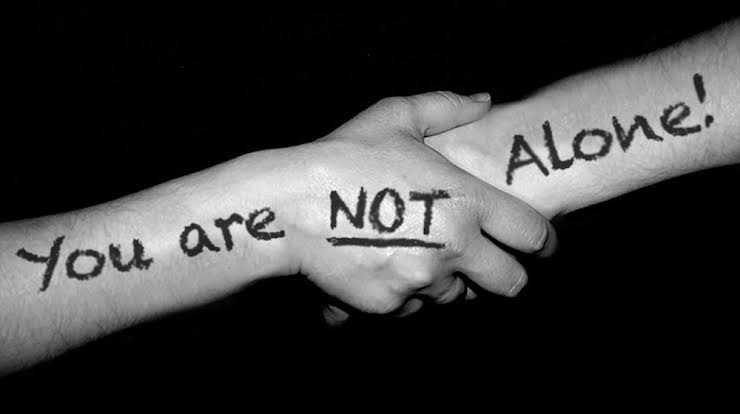 img src
¿También caes en la segunda categoría de personas a las que les resulta difícil conocer su don especial y propósito en la vida? Bueno... El hecho es que no eres el único que está experimentando esto. Yo también caigo en esta categoría y, al mismo tiempo, estoy haciendo todo lo posible para explorar mi don o talento oculto. Realmente solo quiero saber mi propósito en la vida de la misma manera que tú también estás pensando en conocer el tuyo.
Do you also fall under the second category of people who find it difficult to know their special gift and purpose in life? Well... The fact is that you are not the only one experiencing this. I also fall into this category and I am also at the same time trying my best to explore my hidden gift or talent. I really just want to know my purpose in life the same way you are also thinking of knowing yours.
Durante mi búsqueda y búsqueda de conocer mis dones especiales, tuve que expresar mi dolor a uno de mis profesores que resulta ser muy cercano a mí porque estaba entre los mejores estudiantes de mi departamento en ese momento. Soy un poco introvertido y algo tímido, por lo que realmente me resulta difícil socializar o relacionarme con la gente, pero tuve que armarme de valor para explicarle mis dolores ocultos.
During my search and quest for knowing my special gifts, I had to voice out pain to one of my lecturer who happens to be very close to me because I was amongst the top best students in my department then. I am a bit introverted and somehow shy, so I really find it difficult socialising or relating with people but I just had to summon the courage to explain my hidden pains to him.
Mi profesor me recibió en su oficina y tuvimos una conversación muy larga sobre mi problema. Hizo una cita que nunca podré olvidar cuando dijo "Todo el mundo tiene dones, pero se necesita tiempo para descubrir tus talentos y dones especiales porque este es un regalo que Dios te ha dado y solo tú puedes utilizar tus dones de la mejor manera".
My lecturer welcomed me into his office and we had a very lengthy conversation as regards my issue. He made a quote which I can never forget when he said "Everyone is gifted but it takes time to discover your special talents and gift because this is a gift God has given you and only you can utilise your gifts the best way".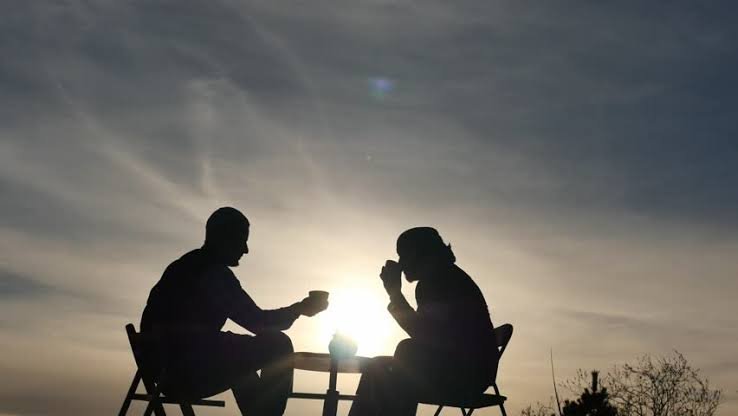 img src
Me sugirió que debería preguntarles a mis padres, hermanos o amigos sobre cuáles creen que son mis dones o talentos especiales. De hecho, sonreí al principio al escuchar eso porque mis amigos siempre me dirán que soy muy bueno en educar/enseñar a la gente a pesar de que mis padres son maestros de escuela y siempre pienso que obtuve la habilidad de enseñar a la gente naturalmente de mis padres ya que eso es lo que hacen. Realmente no clasifico mi habilidad para enseñar o educar a la gente como un don o talento especial.
He gave me a suggestion that I should ask my parents, siblings or friends about what they think my special gifts or talents are.. I actually smiled at first on hearing that because my friends will always tell me I'm really good at educating/teaching people even though my parents are school teachers and I always think I got the ability to teach people naturally from my parents since that's what they do. I don't really classify my ability to teach or educate people as a special gift or talent.
Desde que no pude obtener la respuesta perfecta, hay momentos en los que simplemente me sentaba solo y comenzaba a meditar sobre mi vida. Comienzo a desarrollar ese pensamiento sobre cómo pasé mi infancia quizás de ahí podría obtener la respuesta que necesito pero todo parece inútil. Esto es lo que me llevó a la gran pregunta ¿Cómo puedo realmente conocer mi Don Especial y Mi Propósito en la Vida?
Ever since I couldn't get that perfect answer, there are times I would just sit alone and start meditating about my life. I start to develop that thought about how I spent my childhood maybe from there I could get the answer I need but everything seems to be futile. This is what led me to the big question How can I really know my Special Gift and My Purpose in Life?
Answering the Big Question||Respondiendo a la gran pregunta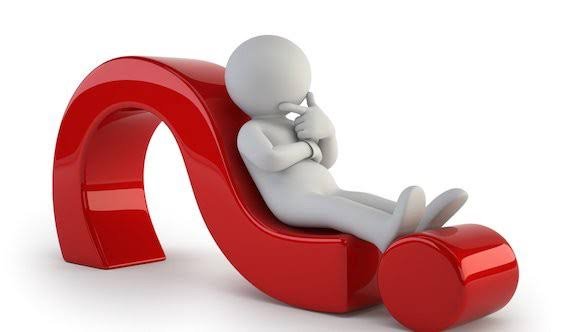 img src
Después de varias investigaciones en Internet y algunas entrevistas personales que realicé con algunas personas que pudieron encontrar su propósito, descubrí que encontrar el propósito de uno es realmente un viaje continuo por el que tenemos que pasar hasta que llega la muerte. Algunas personas están en sus tumbas viviendo con remordimientos como resultado de no cumplir con su propósito en la vida, mientras que algunas personas mayores también están profundamente arrepentidas porque no pudieron vivir esa vida de satisfacción, probablemente porque desperdiciaron sus días de juventud sin encontrar su propósito. . El hecho es que todavía tienes esa posibilidad u oportunidad de vivir una vida con propósito.
After several researches on the Internet and some personal interview i conducted with some people who were able to find their purpose, I discovered that finding one's purpose is really a continuous journey we have to pass through until death comes. Some people are in their graves living with regrets as a result of not fulfilling their purpose in life, while some old people are also in deep regret because they couldn't live that life of fulfilment probably because they wasted their youthful days without finding their purpose. The fact is that you still have that chance or opportunity to live a purposeful life.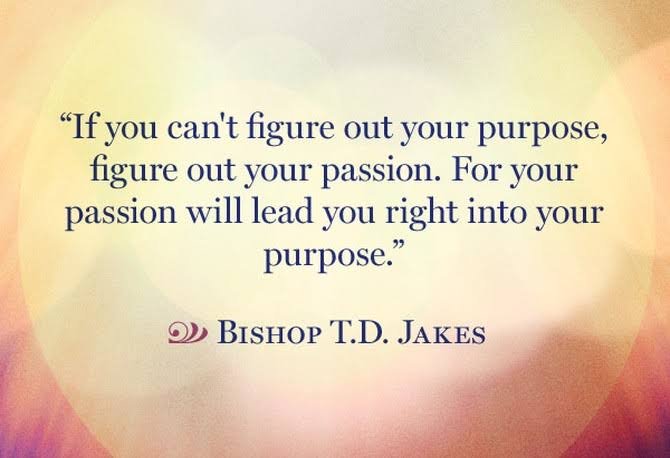 Uno de los principales beneficios de vivir una vida con propósito es que tiendes a impactar positivamente la vida de los demás. Esto también te hace servir como medio y fuente de inspiración para otras personas. Siempre asegúrese de descubrir su don o talento y, a partir de ahí, podrá descubrir su propósito. Esto está de acuerdo con la declaración del obispo T. D Jakes que establece que "Si no puede descubrir su propósito, descubra su pasión. Porque su pasión lo llevará directamente a su propósito".
One of the major benefit of living a purposeful life is that you tend to impact the lives of others positively. This also makes you serve as a means and source of inspiration to other people. Always ensure you discover your gift or talent then from there you can discover your purpose. This is in accordance with the statement of Bishop T. D Jakes which states that "If you can't figure out your purpose, figure out your passion. For your passion will lead you right into your purpose".
Tips to Help you Discover your Gift/Passion||Consejos para ayudarte a descubrir tu don/pasión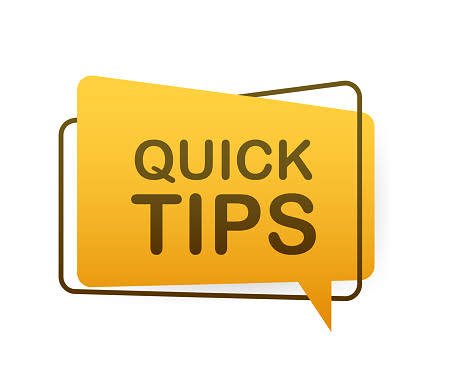 img src
Sugiero que los siguientes consejos pueden ayudarlo a descubrir sus talentos o dones ocultos. Pude descubrir algunos de mis propósitos a través de estos consejos.
I suggest the following tips may help you discover your hidden talent or gifts. I was able to discover some of my purpose through this tips.
#1 FAMILY AND FRIENDS||FAMILIA Y AMIGAS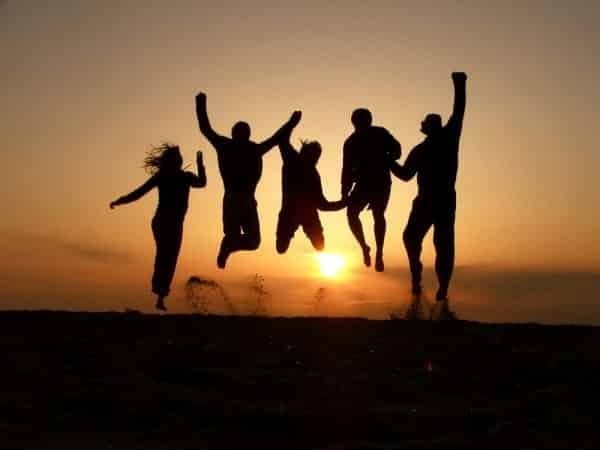 img src
Una de las mejores y más rápidas formas de ayudarlo a descubrir su don o pasión es preguntarle a personas muy cercanas a usted, como su familia y amigos cercanos. El hecho es que las personas más cercanas a ti pueden ver algunas cosas que tú no puedes ver. Trata de preguntar a tus tutores o padres sobre el tipo de dones o talentos que posees, estoy bastante seguro de que tendrán algo que decir sobre ti ya que ellos son los que te dieron a luz y también saben mucho sobre ti más que nadie. .
One of the best and fastest way to help you discover your gift or passion is by asking people who are very close to you such as your family and close friends. The fact is that the people closer to you can see some things you can't see. Try to ask your guardians or parents about the kind of gifts or talents you posses, I'm quite sure they will have something to say about you since they are the ones who gave birth to you and they also know much about you than anyone else.
#2 YOUR REACTION TOWARDS THINGS||TU REACCIÓN HACIA LAS COSAS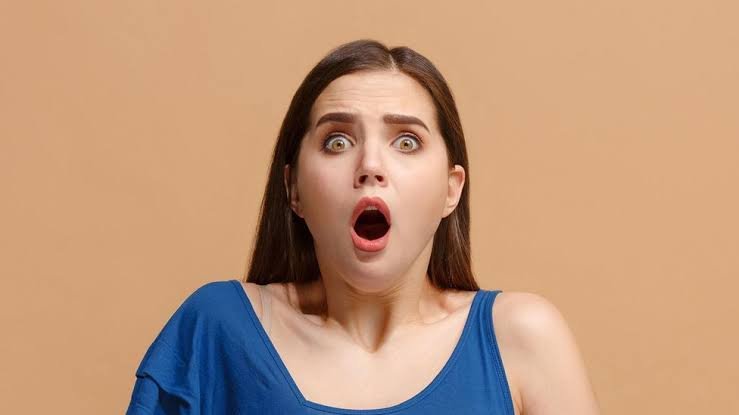 img src
Otro gran consejo que puede ayudarte a descubrir tu don o talento es cómo reaccionas ante ciertas cosas que la gente está haciendo mal. El hecho es que siempre te sentirás incómodo y, a veces, enojado o frustrado cada vez que veas que las personas toman lo que amas con falta de seriedad o ligereza. El mismo sentimiento que experimentas cuando las personas se equivocan o bromean con tu amante o tus seres queridos, así es exactamente como te sientes a veces. Siempre que esto surja, implica que tal vez esté muy interesado en tal talento o don, que también puede ser su talento.
Another great tip that can help you discover your gift or talent is how you react towards some certain things people are doing wrongly. The fact is that you will always feel uncomfortable and sometimes angry or frustrated whenever you see people taking what you love with unseriousness or levity. The same feeling you experience whenever people mess up or joke with your lover or loved ones, that's exactly how you tend to feel sometimes. Whenever this arises, it implies that you maybe highly interested in such talent or gift which may also be your talents.
#3 BEING HAPPY||SER FELIZ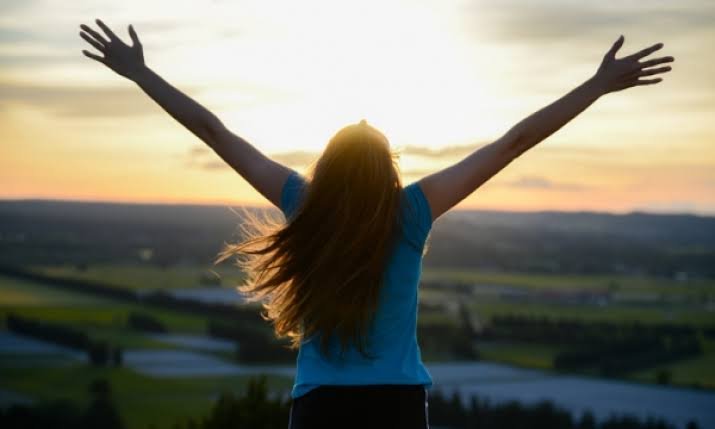 img src
Otro consejo es que siempre estés feliz haciendo lo que amas. Cada vez que encuentre alegría o felicidad en cualquier cosa que haga, existe una alta probabilidad de que desarrolle un interés especial en tales actividades. En este tipo de situación, tiendes a hacer esas cosas de una manera única o especial bastante diferente a los demás, de modo que eres el jefe en ese aspecto. Todos siguen buscándote para resolver cualquier dificultad o problema relacionado con lo que haces y definitivamente siempre encontrarás posibles soluciones y siempre lo haces con alegría y felicidad.
Another tip is that you are always happy doing what you love. Whenever you find joy or happiness in whatever you do, there's high chance that you may likely develop special interest in such activities. In this kind of situation, you tend to do such things in a unique or special way quite different from others such that you are the boss in such aspect. Everyone keeps looking for you to solve any difficulty or problems related to what you do and you will definitely always come up with possible solution(s) and you always do this with joy and happiness.
#4 ADD YOURS||AÑADE EL TUYO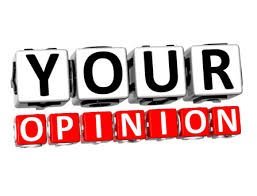 Como aprendiz voraz, también me encantará aprender desde su punto de vista al compartir su opinión sobre cómo las personas pueden descubrir sus dones o talentos únicos. Siéntase libre de compartir algunas de sus experiencias, ya que esto servirá como un medio de aprendizaje para todos.
As a voracious learner, I will also love to learn from your point of view by sharing your opinion about how think people can discover their gifts or unique talent. Feel free to share some of your experience(s) as this will serve as a means of learning for everyone.
Thank You for your time and I hope you have a great day ahead with love from @hardaeborla||Gracias por su tiempo y espero que tenga un gran día por delante con el amor de @hardaeborla
💕❤️💕❤️💕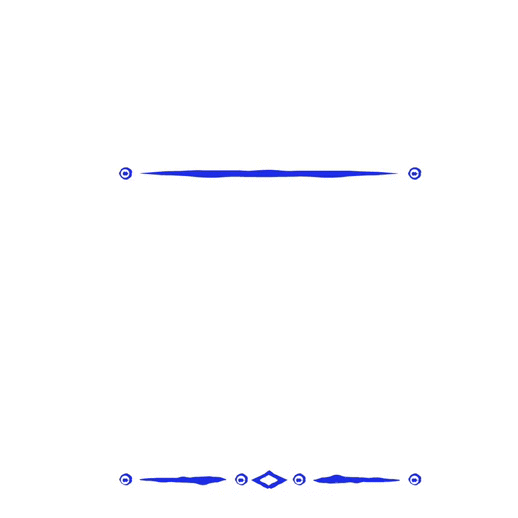 ---
---