Climbing to fame #week 33-34 (24 pack opening; Got Epic + Legendary¡) [Rising Star game] Eng-Esp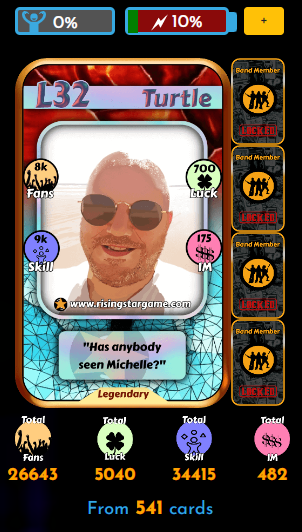 Greetings to all the Rising star gamers, the best vibes for all of you, I have been reporting my progress in this incredible and addictive game for some time now.
Saludos s todos los Rising star gamers, las mejores vibras para todos ustedes, hace tiempo ya que reporto mis avances en este increíble y adictivo juego.
---
The last Progress Report was;
El último Reporte de progreso fue;
Fans: 14767 / Skill: 22563 / Luck: 3685 / IM: 274
Updated report,
Reporte actualizado,
Fans: 24452 / Skill: 34415 / Luck: 5040 / IM: 482
---
24 packs packs opened and it's time to review how we did.
24 paquetes abiertos y llegó la hora de revisar cómo nos fue.
| Total packs | Total cards | Total Fans | Total skill |
| --- | --- | --- | --- |
| 24 | 72 | 9470 | 10530 |


The amount of Fans and skill in this opening is huge and totally juicy thanks to two cards in particular, one epic and one legendary. certainly august came with many instruments in the packs but with these results there is no room for complaints
La cantidad de Fans y skill en esta apertura es enorme y totalmente jugosa gracias a dos cartas particularmente, una epica y una legendaria. ciertamente agosto vino con muchos instrumentos en los packs pero con estos resultados no hay espacio para quejas



But images talk better, so let´s take a look
Pero las imágenes hablan mejor, así que echemos un vistazo
---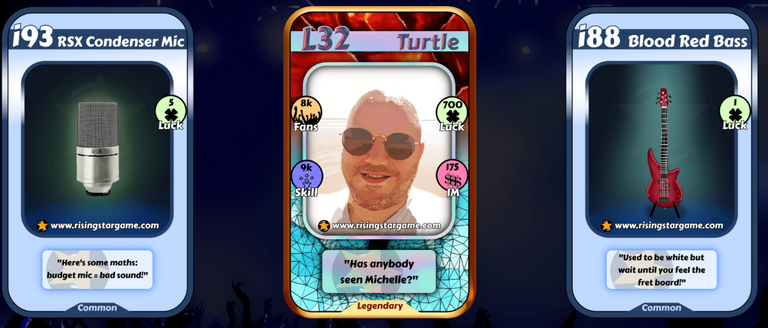 ---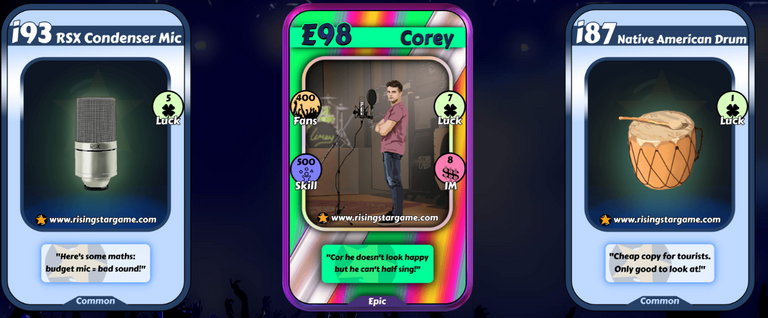 ---


With this stroke of luck my stats have exceeded my expectations and I have to rethink new goals. My hobby of opening packs pays off.
Con este golpe de suerte mis stats han superado mis espectativas y debo repalntearme nuevas metas. Mi manía de abrir packs rinde sus frutos.

---
MY STAST TODAY
Mi estado hoy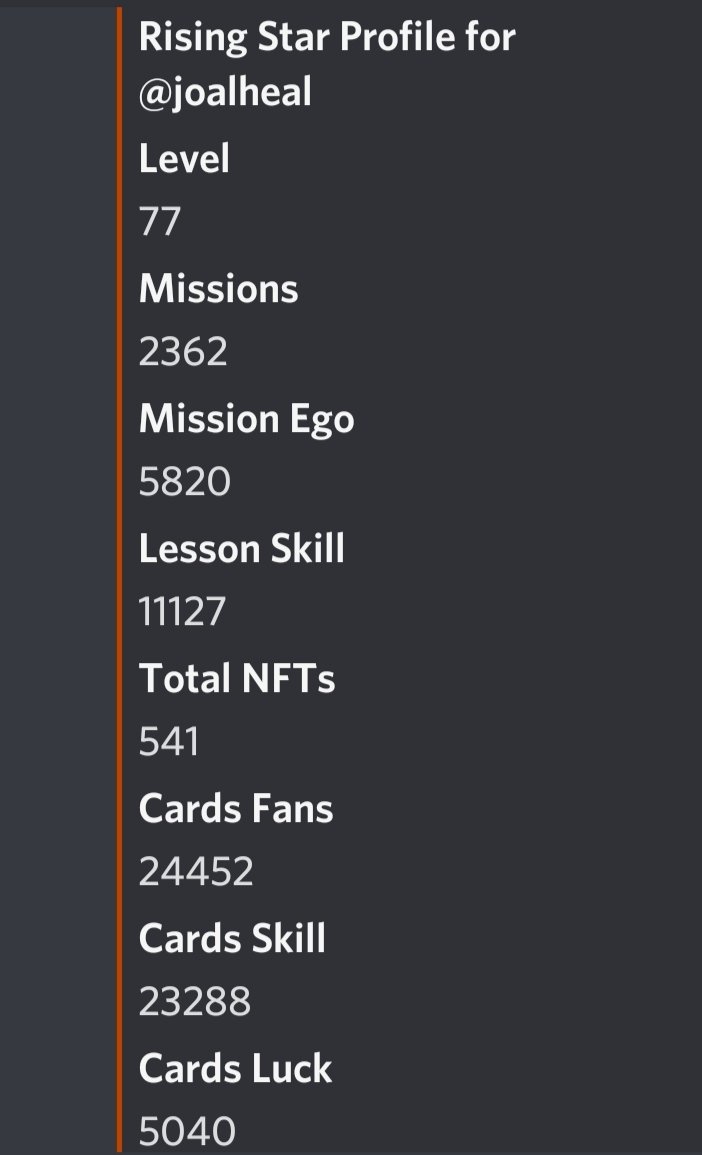 ---

---
... And The Most Wanted
... La Más buscada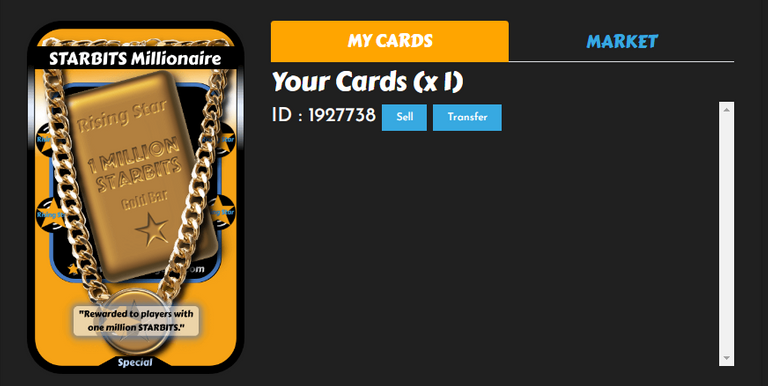 You know, don't be a fool! Only the millionaire card provided by the game will allow you to do the mission. So if you are interested in getting it and you already have at least level 50 in the game check the conditions and terms, collect or buy 1 million starbits and save them in your hive engine, go to the Rising Star Discord server and request it in the appropriate channel. Ah ! you must be patient and don't spam with requests, it takes about 7 days on average thanks to the wonderful work of @Julie-RisingStar.
Ya lo sabes, no seas tonto¡ solo la carta millonaria proporcionada por el juego te permitirá hacer la misión. Así que si te interesa obtenerla y ya tienes al menos el nivel 50 en el juego revisas las condiciones y términos, reúne o compra 1 millón de starbits y guárdalos en tu hive engine, dirígete al servidor de Discord de Rising Star y solicítala en el canal apropiado. Ah¡ debes tener paciencia y no spamear con solicitudes, tarda unos 7 días en promedio gracias al maravilloso trabajo de @Julie-RisingStar
---

---
SOME ADVICES TO YOU
Algunos consejos
If you are starting out in the game you should invest in a couple of slices of cold pizza and two empty boxes, this will allow you to advance faster. As you progress you get more and so you will always have energy.

Get Fans, by buying single cards, trading or buying packs (the offer of 12 packs is juicy) There is no fame without fans.

The game requires a balance between fans and skills. The more fans you have the more skills you need, you can buy cards that have skills or instrument cards that allow you to improve your music lessons, you must make at least a couple a day.

Specialize in one of the music missions, buy those cards or trade them with other players (remember that the changes must be proportional) and do not allow any extra advantage to any player.

Remember that if you repeat a mission many times it will increase the Ego it gives and at the same time reduce the starbits you can win, rotate the missions daily until they are reset.

The most important recommendation is to HAVE FUN, Rising Star game is a great game so you have no excuse not to do it.
Si estas comenzando en el juego deberías invertir en una par de rebanadas de Pizza fría y dos cajas vacías, esto te permitirá avanzar mas rápido. A medida que avances consigues más y así siempre tendrás energía.

Consigue Fans, comprando cartas sueltas, cambiando o comprando packs (la oferta de 12 packs es jugosa) No hay fama sin fans.

El juego exije un equilibrio entre fans y skills. Mientras más fans tengas más skill necesitas para eso puede comprar cartas que tengan skill o cartas de instrumentos que te permitan mejorar tus lecciones de música, debes hacer al menos un par al día.

Especialízate en alguna de las misiones de música, compra esas cartas o cámbialas con otros jugadores (Recuerda que los cambios deben ser proporcionales) y no consentir alguna ventaja extra para ningún jugador.

Recuerda que si repites una misión muchas veces esta aumentara el Ego que da y al mismo tiempo reduce los starbits que puedes ganar, rota la misiones a diario hasta que se reseteen.

La recomendación más importante es DIVIERTETE, Rising Star game es un gran juego así que no tienes escusas para no hacerlo.
---

---
If you are not yet playing Rising Star game I invite you to use my link to join us in the race to fame.
Si aun no juegas Rising Star game te invito a usar mi link para unirte a nosotros en la carrera hacia la fama.
---

---

---
---