Want some PGM!? (Giveaway 10 PGM #03)

Logo by @darkflame
Greetings Hivers! I have decided to start this giveaway because it seems to me that PGM is an interesting token with many uses,I start my way to achieve 2500 PGM in stake and I want you to join me!
Saludos Hivers! He decidido empezar este giveaway porque me parece que PGM es un token interesante y con muchas utilidades, comienzo mi camino para lograr 2500 PGM en stake y quiero que me acompañen!
The actual participants are:
@osomar357, @danideuder, @blitzzzz, @adysscheryl, @imfarhad, @henruc, @kryptofire, @davideownzall, @pulubengdugs, @thebighigg, @vaynard86, @alovely088,
Remember the keyword PGM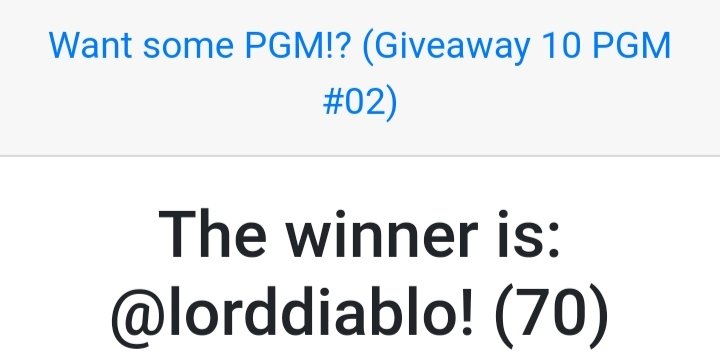 Our fabulous PGM winners are:
The dynamics will be the following from 0 - 15 Participants, I will draw 5 PGM ; more than 15 I will award 5 more PGM
La dinámica sera la siguiente de 0 - 15 Participantes sortearé 5 PGM; más de 15 entregaré un segundo premio de 5 PGM
Read carefully
The rules are simple just write in the comments the word PGM.

I will use Hive tool picker

Follow me, if you want to know about my giveaways

Voting or tipping is not required but support is always welcome.

Have fun and good luck!
Las reglas son simples solo escribe en los comentarios la palabra PGM

Se usará Hive tool picker

Sigueme, si quieres, para que te enteres de mis sorteos

Votar o dar propinas no es necesario pero siempre son bienvenidos los apoyos.

Diviértete y mucha suerte!
Special mention: (just say if you want to be mentioned or not)
Mención especial: (sólo di si quieres ser mencionado o dejar de serlo)


@ydaiznfts @addie44 @fredd99 @dotz132 @lorddiablo @trentonlundy @jfang003 @ricardoeloy @cursephantom @zpnohad @henruc @rafa1272 @adysscheryl @eddqq @tengolotodo @pregosauce @lundall @sacra97 @vaynard86 @henruc @alovely088 @melinda010100 @zpnohad @amigareaction @psalm111 @danideuder @bitandi, @mariela53 @yole @criptosectadepit @eliasg85, @bandada, @imfarhad, @treefrognada,
@lorddiablo, @pulubengdugs, @jfang003, @henruc, @daethical, @freed99, @osomar357, @imfarhad, @blitzzzz, @vaynard86, @davideownzall, @lukasbachofner, @thebighigg, @ricardoeloy, @bitandi, @alovely088, @ydaiznfts,
This Post is posted from #ecency
---
---
---