Live attendance - Nightfall
On Saturday ten days ago (November 13th) we've had the opportunity here in Athens Greece to finally be able to attend a live gig in a closed venue after many months of uncertainty and cancellations the pandemic has brought upon the world of music and not only. Those of us who like to go to gigs and concerts had really missed the live atmosphere and myself hadn't really realised this until I was there and felt this feeling of joy when you really have a good time and the band(s) performing give the best of them to have agood time and make the crowd have a good time as well. So I was mentally set to be there although at first work seemed to spoil it for me, but thought to not miss it even if I had to give up my good night sleep. Fortunately I was able to give my shift hours to a collegue and do hers.
I was a bit worried about the closed space I would be inside along with other people, I knew that at the entrance our vaccine or negative test documents would be checked and that made it easier for me to feel better.
I drove to the venue, bought my ticket, showed my vaccine certificate along with id and entered.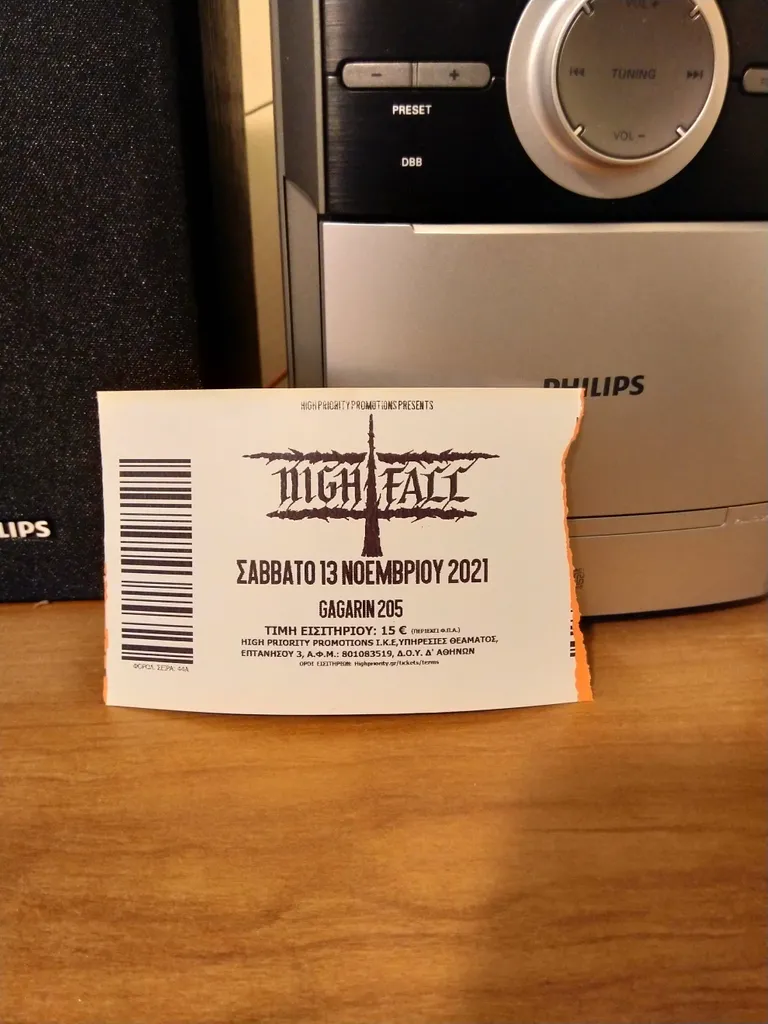 The schedule included the band Project Renegade to open this gig, a band I didn't know, I had only heard a little something from them from before knowing that they would open the show. Their frontwoman was all in for their appearance and prepared the ground quite well for what would follow. Also their drummer was fun to watch, wearing a full mask on his face and playing all in too.
Next on schedule were a band that I know and wanred to see live for the first time On Thorns I Lay. This band has been active since 1995, but I've only listened to their music in their last two albums. They've gained a new fan and was more than happy to see them live. They climbed the stage and there the frontman appeared, but that's not the same person I was expecting. Indeed there was a different man. Different vocals, different style, I was bemused. Lately the reason was officially announced in the social media that their frontman I was expecting to see and hear is no longer the singer of the band for personal reasons. I've recorded two songs from ther live set, only the original atmospheric doom death metal sounds like it's hardcore style because of the vocals.
I wasn't prepared for that, but things happen, nothing we can do about it. Finally, it was about time for the headliners Nightfall to enter the stage. This band is among the first bands in Greece to make a name internationally since 1992, but I've just known them from their last album, an album revolving around the frontman's Efthimis Karadimas state of deepression he's been into, dealt with it and has returned stronger and healthier. Also their current lineup includes the return of two previous members on guitars as well as the introduction of a woman bassist to take over the bass from Efthimis and last but not least a well known and very talented drummer from another greek extreme metal band Septicflesh.
The overall performance of Nightfall was well worth that night, it covered everything we had seen before them. The venue was quite full with people, probably not as full as it could have been if it weren't for the attendance restrictions. We were all so hungry for this that bands and crowd enjoyed ourselves as much as we could.
Below you can see the opening song of their set from their current (At Night We Prey) [2021] album
Next video of a song that their label published a year ago they perfermed live in studio, taken from an older album of theirs, that video I had seen and grew the desire in me to see them first chance I had.
They played songs from their new album as well as older songs and we were all quite satisfied I reckon and the performance reached the encore
When the live ended I was happy with what I had witnessed, I'm happy that this band is alive and kicking and I believe that metal music is life. In 2022 there are some scheduled more live gigs, I just wish we won't be in a restrictions mode, lockdowns and cancellations, just measures in place like numbered tickets to avoid big number of people in a closed venue.
---
---