Movie Review: Cruella (The one with two personalities)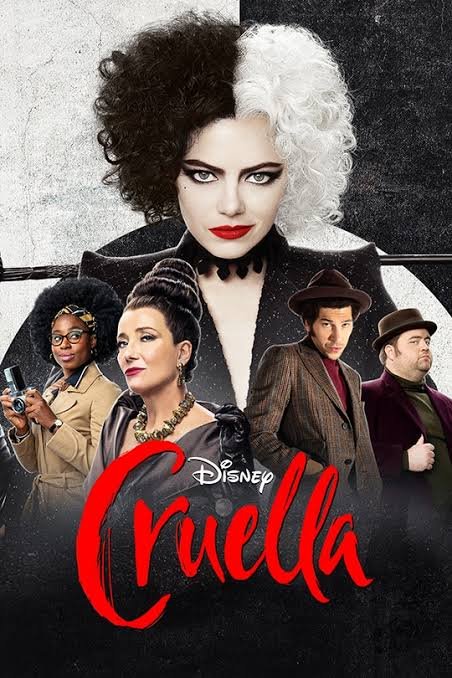 Good morning everyone. I am someone who is very kin on watching Netflix movies and hardly watch movies that are not on Netflix. When my sister got a hard drive with so many movies on it that are not on Netflix, I was somewhat hesitant
to try them but I later did and saw this movie called Cruella. What attracted me to this movie was the presence of one of my favorites actress of all time namely Emma Stone. I'm a huge fan of hers and love almost all her movies like Croods, The Amazing Spider-Man and Easy A. Seeing her in Cruella kind of gave me the assurance that the movie wasn't going to disappoint.
PLOT
The movie is about a young girl named Estella who loved fashion and had an unusual hair of white and black which signifies her two personalities which are her normal one and her trouble making and stubborn self Cruella. Her mother decided to move them to london and on their way, she made a stop at a fashion party hosted by a rich woman. Estella out of curiosity sneaks into the party but ended up being chased by the three dalmatians of the rich woman. Unfortunately during the chase, the dogs ended up knocking her mom off the bridge.
Upon seeing this, she felt that her mother's death was her fault. She ended up on the street where she met two thieves jasper & Horace and she followed them to their hideout where they added her to their group. She later decided to dye her hair and said good bye to cruella. Ten years passed and the three friends expanded their stealing business and became rich. On her birthday she was giving a gift by Horace and jasper to work at her dream place. She began working there as a cleaner but one day she saw a dress then make some changes on it. The following day a famous and rich woman called the baroness who is a fashion icon visits the place and saw Estella's display and was impressed. She then gave Estella a card to come work at her place.
Estella goes to the baroness company and began working as a fashion designer and came up with beautiful designs which the baroness liked. One day Estella sees her mother necklace which her mother gave her to remember her by on the baroness neck and she made up her mind to take the necklace back with the help her friends. At the baroness next party which had a black and white dress she appears as cruella in a red flashy dress and steals the show from the baroness thereby distracting the baroness. Meanwhile her friends were already trying to steal the necklace at that moment. Unfortunately the necklace is on the baroness's neck. The baroness then calls her dog to go after Cruella and at that moment, she realizes that the baroness is the rich woman whom her mother was speaking to and that she was the one who killed her mother. One of the dalmatians ate the necklace and cruella escapes from the mansion with her friends.
With this new discovery she realized she wasn't the one that killed her mother but the baroness which made her more furious. She then makes it her life mission to take revenge on the baroness. She meets Artie another fashion designer and she ask him to come work with her. They both creates outstanding designs which Cruella used to steal the attention away from the Baroness. She started appearing at the baroness shows with her incredible designs and she becomes more and more famous and a competition for the baroness. She also kidnaped the baroness dogs and trains them while working as Estella during the day. But started caring less. Later on the baroness discovered her identity as being Cruella and Estella. She then burn down the house with her in it and blamed it on her friends.
Fortunately for her. she is rescued by the baroness assistant who tells her a shocking secret that the baroness is her mother. He tells her that the baroness didn't want children so she gave Estella to him to kill her. After hearing this Cruella rescues her friends and apologizes. She goes to another baroness party lure her outside to the same place her mother died and tells her that she's her child. The baroness apologizes and tells Cruella to come home. Meanwhile jasper and Horace tells the whole party to come outside so as to witness what was about to happen. The baroness hugs Cruella and then suddenly pushes cruella off the cliff. Unknown to the baroness cruella had a parachute and survived. Everyone witnessed what happened and gasped, that was when the baroness turned was shocked because she didn't notice them there. She was arrested and with the certificate of birth, Estella wished all her fortune to cruella and they lived happily ever after.
REVIEW & RATINGS
For those who don't know, Cruella is a live adaptation of the 101 dalmatians by Disney. Cruella is one of Disney best project and it's so much better than the cartoon. This is one of those movies you can say that the live adaptation is better than the cartoon. One thing I also appreciate about this love adaptation is the fact that they gave Cruella a happy ending. Her story was told in a different light than the villain we knew her to be just like the Maleficent live adaptation movie made us see another side of Maleficent.
The acting was incredible and I love the story and dynamic between Estella and cruella. Another thing that was amazing and fascinating to watch was the costume. I have to give it to the person who designed them. That fella must be really talented and creative. I also love the display of friendship between Cruella, Jasper and Horrace. The latter took her in when they saw her and support every of her endeavors. That kind of friendship is hard to come by I must say. The kind that brings you back up when you're down. The background music was okay and I love how they found music that has this 80s vibe.
This has got to be one of Emma stone best movies because she slayed this movie effortlessly. I appreciate the way the way they capture this 70s settings the environment, cars, cameras. Even though the movie drifted away from the cartoon I don't even mind cause it made it better.
The movie got nominated and won best movie costume which was very much deserve. It had a budget of 100-200 million dollars And had a box office 233.5 which again is very much deserved. I want more of this movie and I think it deserves a sequel. In conclusion this movie was incredible and I loved it very much.
I rate it a 10/10
THANKS FOR READING MY POST AND DO HAVE AN AMAZING DAY.
---
---