CCC's Street Art Contest #104, Caratoes, Montreal
Here is my entry for this week's edition of the CCC's Street Art Contest #104 with a beautiful mural done during the last edition of the Mural Festival by the artist Caratoes right next to the Palais des Congres in Montreal :
Voici mon entrée pour l'édition de cette semaine du CCC's Street Art Contest #104 avec une magnifique murale faite durant la dernière édition du Mural Festival par l'artiste Caratoes tout près du Palais des Congrès à Montréal :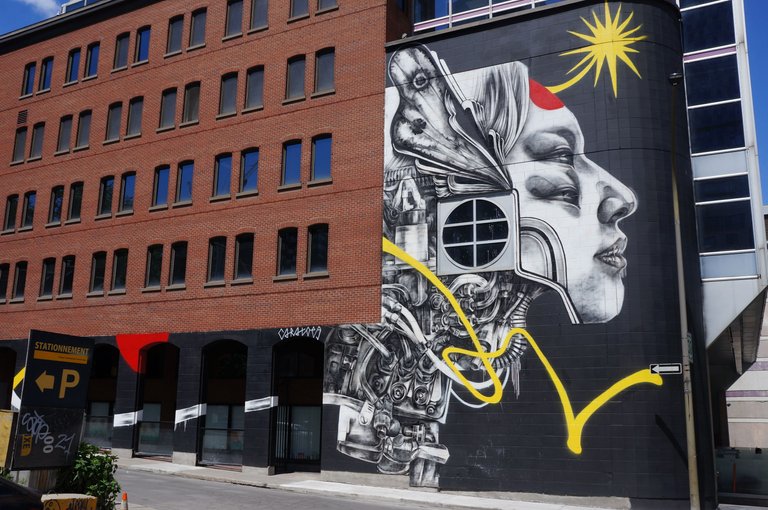 Mattress /Maestra of your mind, Caratoes, 2022, Montreal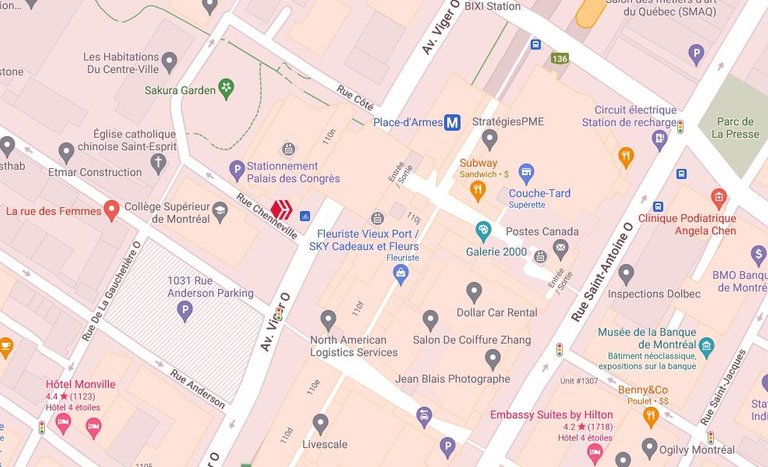 Caratoes
---
Caratoes was born in Belgium to Chinese parents. After graduating in game design, she moved to Amsterdam to work as a 3D artist. She also discovered Street Art in this city and started to paint her first walls. She decided to move to Hong-Kong to rediscover her roots. She explains in an interview the role of HK in her work :
"Moved here to understand my roots, which somehow led me to frantically painting murals in the dark alleyways by myself, counting coins to buy a rare spraycan, pushing my dreams & fighting demons." - Caratoes on yellowmenace.net
Now she's an internationally recognized artist and does murals and other commissions all over the world. She was in Guam before coming to Montreal and now in Europe. So if you see one of her murals, don't forget to share the photos on Hive. 😀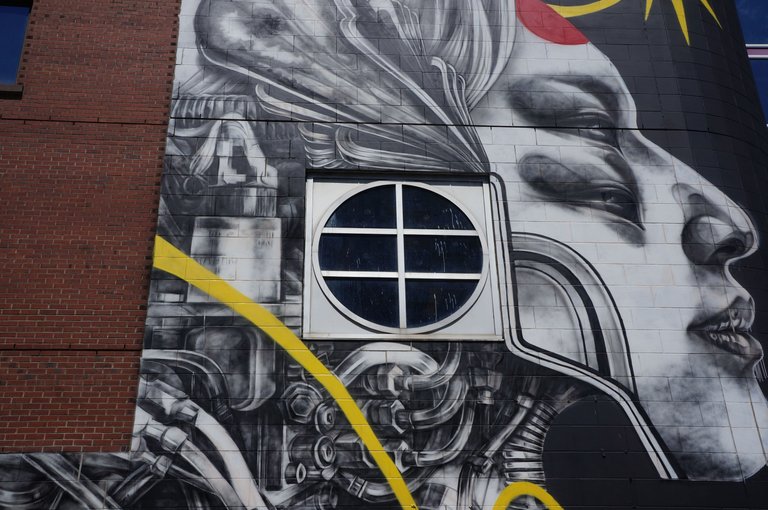 Caratoes est née en Belgique de parents chinois. Après avoir eu son diplôme en game design, elle s'installe à Amsterdam pour travailler comme artiste 3D. Elle y découvre aussi le Street Art et commence à peindre ses premiers murs. Elle décide de s'installer à Hong-Kong pour redécouvrir ses racines. Elle explique dans une interview le rôle de HK dans son travail :
"J'ai déménagé ici pour comprendre mes racines, ce qui m'a amené à peindre frénétiquement des murales dans des ruelles sombres, à compter l'argent pour acheter une bombe aérosol, à pousser mes rêves et à combattre des démons." - Caratoes dans une interview yellowmenace.net
Maintenant elle est reconnue dans le monde entier et réalise des murales et autres commandes partout dans le monde. Elle était de passage à Guam avant de venir à Montréal et maintenant en Europe. Alors si vous voyez une de ses murales, n'oubliez pas de partager les photos sur Hive. 😀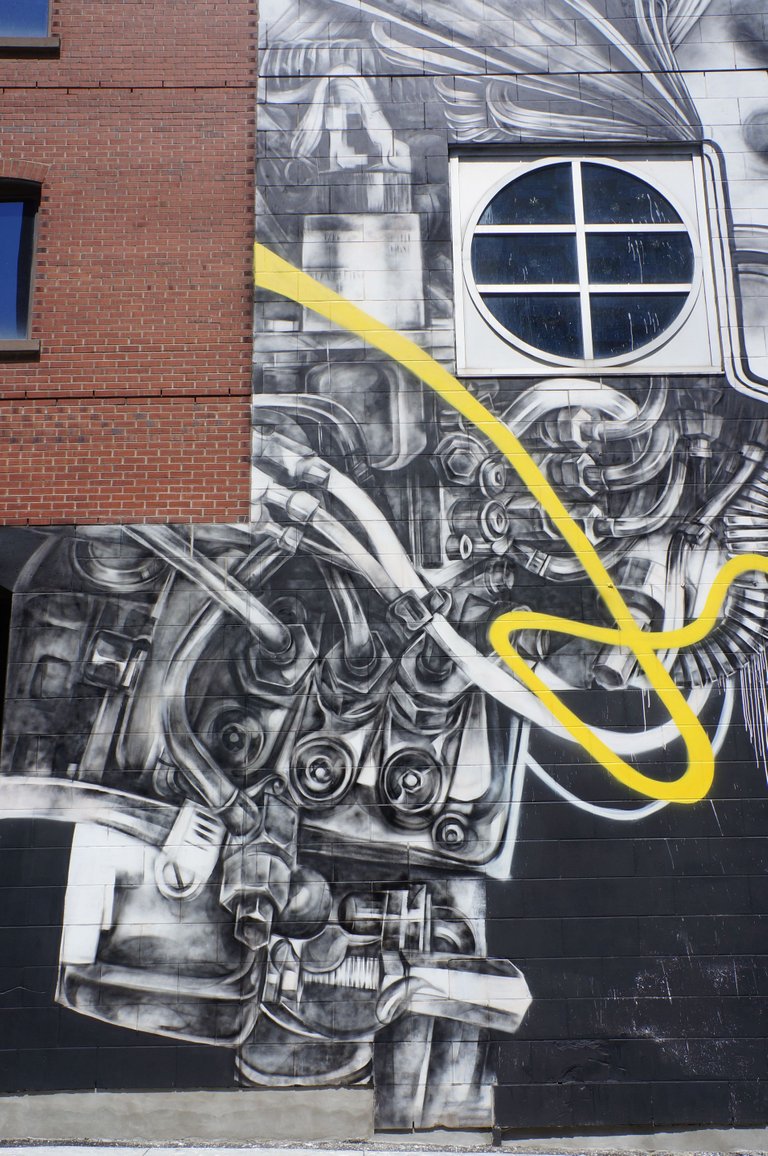 Other photos to admire the details and the integration with the architectural elements of the building. It's difficult to find a meaning in this work. But is it really useful? Just admire and the mural will tell us about itself, right?
Quelques photos pour admirer les détails et l'intégration aux éléments architecturaux du bâtiment. Difficile de trouver une signification à cette œuvre. Mais est-ce vraiment utile ? Juste admirer et la murale nous parlera de elle-même, non ?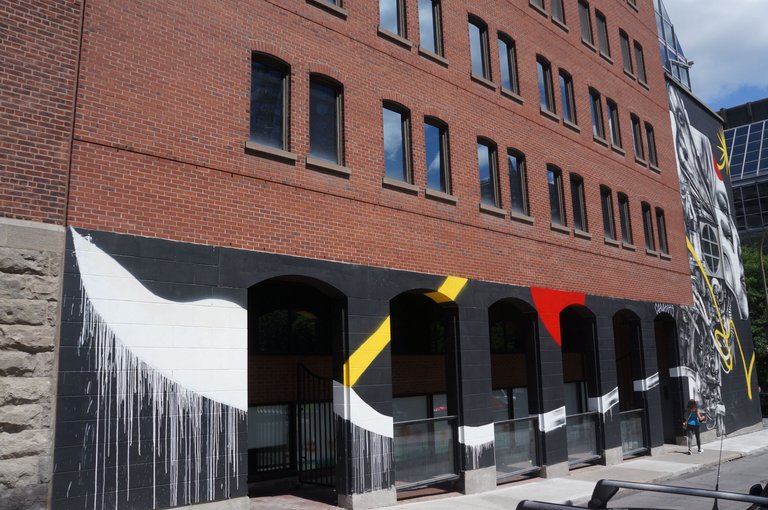 Thanks @digi-me to host this contest and all success to all participants / Comme toujours un gros merci à l'organisateur et bonne chance à tous
---
---