CCC's Street Art Contest #75, Richard Morin, Montreal
Hery my entry for CCC's Street Art Contest #75 with a beautiful mural done by Richard Morin in 2011 on the walls of the École nationale de théâtre du Canada (ÉNT) (National Theatre School of Canada) on Laurier Street in Montreal.
Voici mon entrée pour la 75 ème édition du CCC's Street Art Contest avec une superbe murale faite par Richard Morin en 2011 sur les murs de l'École nationale de théâtre du Canada (ÉNT) sur la rue Laurier à Montréal.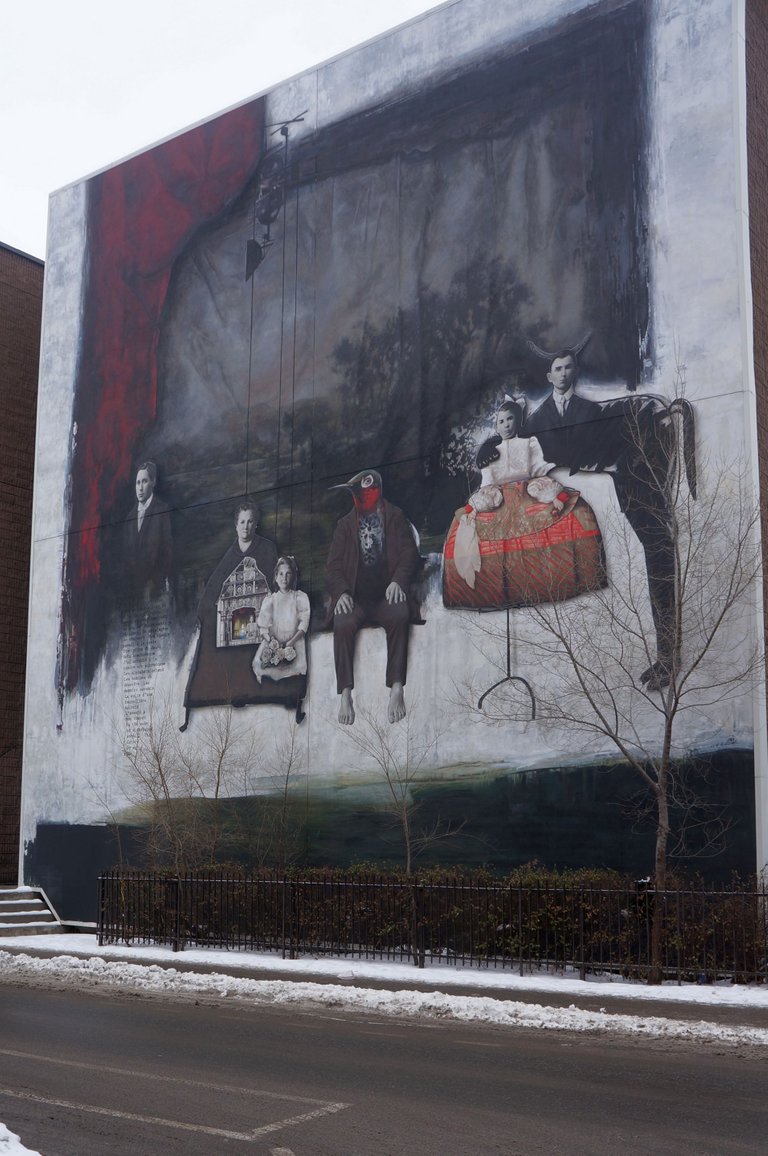 Les Conteurs, 2011
Richard Morin
Richard Morin is a painter from Montreal. He graduated in media arts and technology, then in scenography at the ÉNT in 1988 (where this mural is painted). After his studies, he collaborated with the Cirque du Soleil and with some theaters for the creation of sets. Now, he devotes himself exclusively to painting and runs his own painting school Couleur d'Art in Montreal.
Richard Morin est un peintre de Montréal. Il a été diplômé en arts et technologie des médias, puis en scénographie à l'ÉNT en 1988 (là ou cette murale est peinte). Après ses études, il collabore avec le Cirque du Soleil et avec quelques théâtres pour la création de décors. Maintenant il se consacre exclusivement à la peinture et dirige sa propre école de peinture Couleur d'Art à Montréal.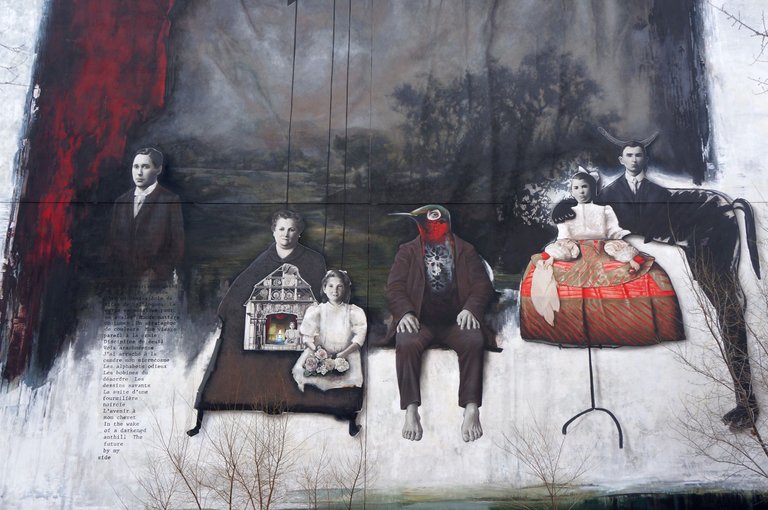 *Richard Morin created this mural, called "The Storytellers", in 2011 to celebrate the 50th anniversary of the National Theatre School. This is his first mural (and I don't think he has done any others, check). On a dark background, the mural represents the 6 characters that characterize the Theater with from left to right: the author, the character of the mother omnipresent in the theater, the young girl for the future and the students, the bird man for the actor, the woman with the dress for the costumes and the centaur for the director. The background with the gears, the curtain... reminds the theater set. Very beautiful work filled with reference...
Richard Morin réalise cette murale, appelée les Conteurs, en 2011 pour célébrer les 50 ans de l'École nationale de théâtre. C'est sa première murale (et je ne pense pas qu'il en a réalisé d'autres, à vérifier). Sur un fond plutôt sombre, la murale représente les 6 personnages qui caractérisent le Théâtre avec de la gauche à la droite : l'auteur, le personnage de la mère omniprésent au théâtre, la jeune fille pour le futur et les étudiants, l' homme oiseau pour l'acteur, la femme avec la robe pour les costumes et le centaure pour le metteur en scène. Le fond avec les engrenages, le rideau... rappelle le décor de théâtre. Très belle œuvre remplie de référence...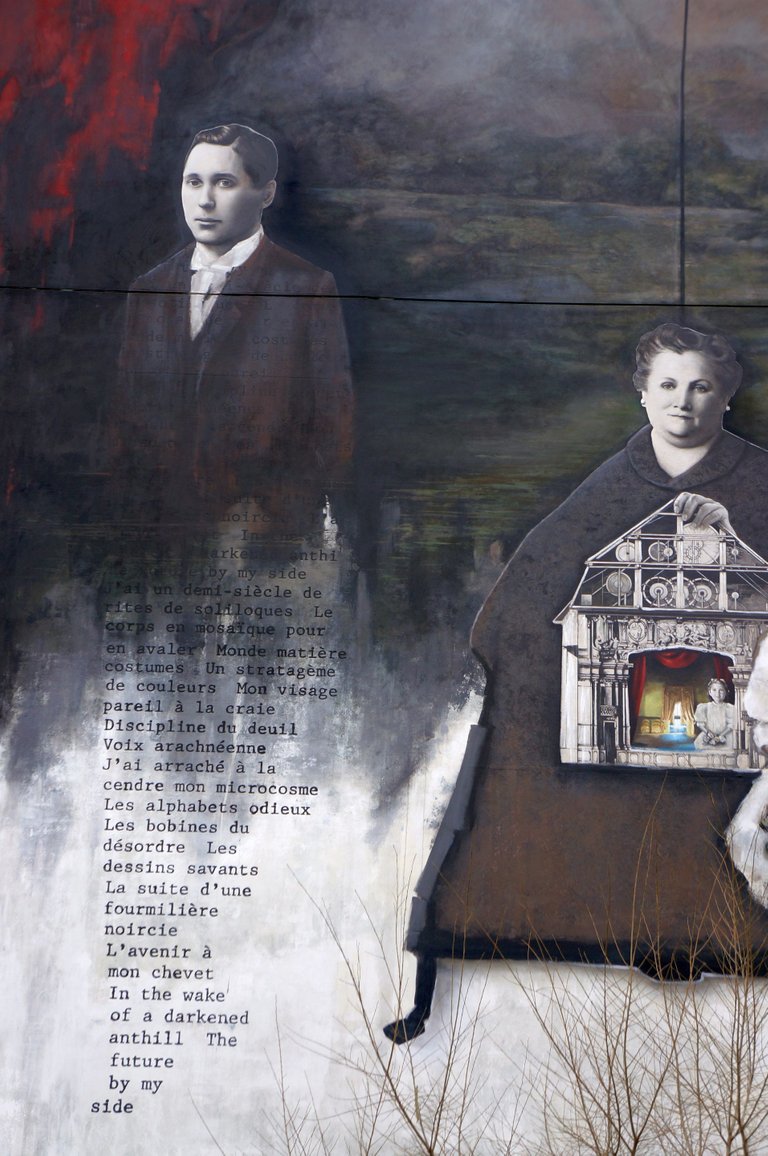 Interesting information due to the historical character, the mural could not be painted directly on the walls. A self-supporting steel structure was built to support the concrete panels on which the characters were marouflaged. The different panels are clearly visible on this picture. Impressive.
Info intéressante dû au caractère historique, la murale ne pouvait pas être peinte directement sur les murs. une structure autoportante en acier a été construite pour soutenir les panneaux de bétons sur lesquels ont été marouflés les personnages. On voit bien sur cette photo les différents panneaux. Impressionnant.

Thanks @digi-me to host this contest and all success to all participants / Bonne chance à tous et toujours un plaisir de participer à ce concours
---
---