Street Art #539 Stare, Montréal
It's Stare week on my Street Art series 😀. But I wanted to talk about the artist's exhibition that took place in early September in the luxury store Oglivy in Montreal. Stare had decorated a part of the 5th floor to exhibit his painted works. I was curious to see this. But first I present you a superb lettering on Laurier street in Montreal.
C'est la semaine de Stare sur ma série Street Art 😀 . Mais je voulais parler de l'exposition de l'artiste qui s'est déroulée au début du mois de septembre dans le magasin de luxe Oglivy à Montréal. Stare avait squatté une partie du 5ème étage pour exposer ses œuvres peintes. J'étais curieux de voir cela. Mais pour commencer je vous présente un superbe lettrage sur la rue Laurier à Montréal.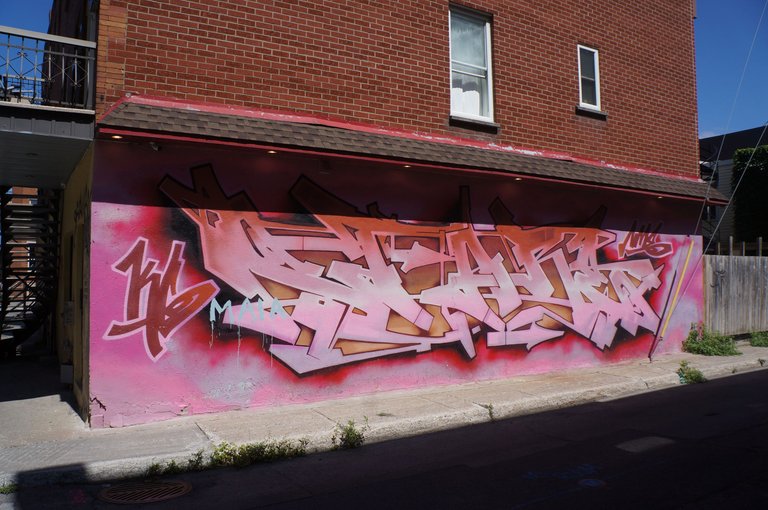 WHERE

At the corner of Laurier and Le Jeune streets in Montreal, Canada.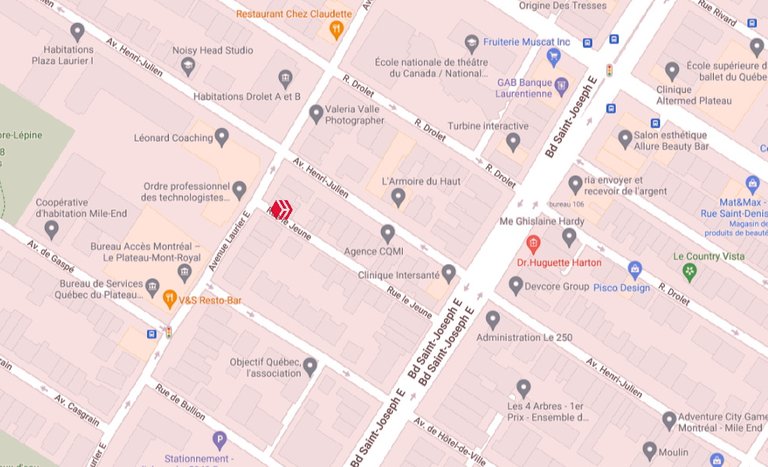 Au coin des rues Laurier et Le Jeune à Montréal.
🗺️ Position on Google Maps
WHO

Stare
---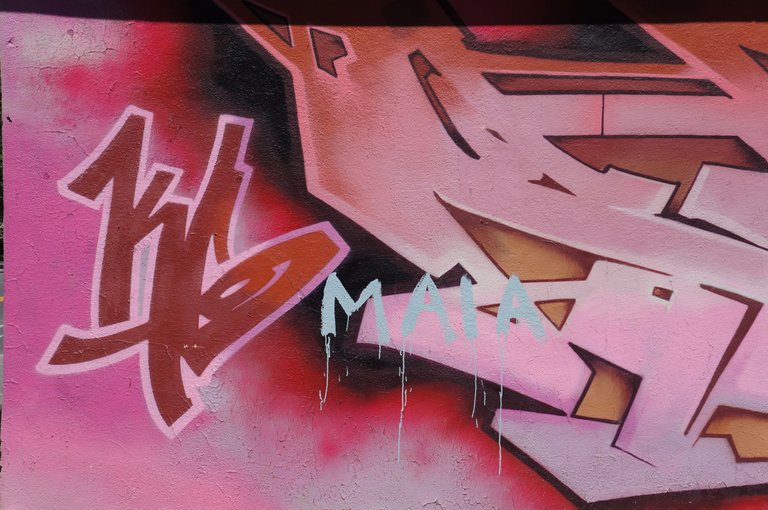 As this is not the first post made on Stare, the bio is a copy and paste. But for the newbies, here is a brief bio. Stare is a Montreal based artist known for his always different and innovative style. He started graffiti in 1996 as a writer because he is passionate about typography and calligraphy. He founded the NME collective (Nous Menaçons l'Ennemi : We Threaten the Enemy). You can see his works in different cities around the world: Paris, Miami, Barcelona, Toronto, Sao Paolo, Taipei...
Comme cela fait plusieurs cette semaine que je parle de cet artiste, en plus habitué de la série Street Art, sa biographie n'est pas nouveauté pour les lecteurs réguliers. Stare est un artiste basé à Montréal connu pour son style toujours différent et innovant. Il a commencé le graffiti en 1996 en tant que writer car il est passionné par la typographie et la calligraphie. Il a fondé le collectif NME (Nous Menaçons l' Ennemi). Vous pouvez voir ses œuvres dans différentes villes autour du monde : Paris, Miami, Barcelona, Toronto, Sao Paolo, Taipei...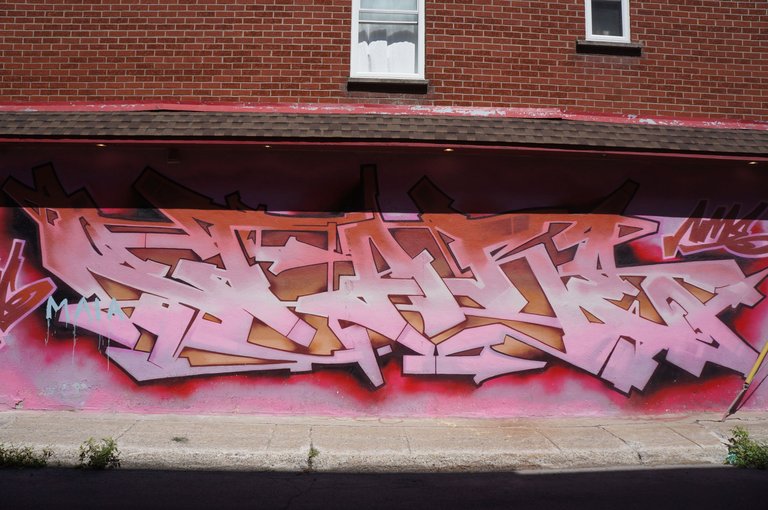 Great lettering in this rather unusual color palette. I also went to see the exhibition in a store in downtown Montreal. It was really interesting to see the style of Stare on canvas.
Superbe lettrage dans cette palette de couleur, plutôt inhabituelle. Je suis aussi allé voir l'exposition qui s'est dans un magasin du centre ville de Montréal. C'était vraiment de voir intéressant de retrouver le style de Stare sur une toile.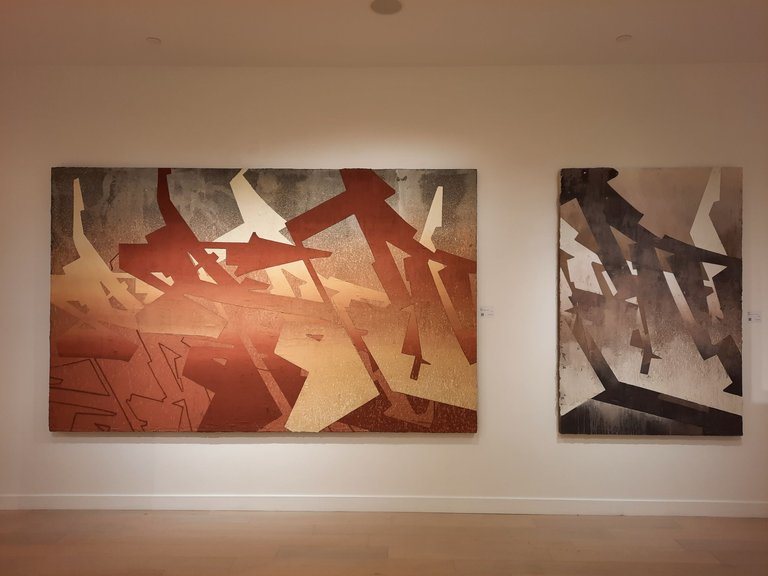 Peintures exposées, j'adore son style.
This exhibition follows a trip to northern Senegal earlier this year. Stare** was chosen to paint the 4 facades of the auditorium and the cultural space of Dagana. From this experience, he brought back techniques and materials from Senegal to apply in his works such as Teranga, pieces of metal cut by hand or mineral pigments from the Sahel. You can see this palette in his paintings. Really cool.
Cette exposition fait suite à un voyage au nord du Sénégal au début de cette année. Stare a été choisi pour peindre les 4 façades de l'auditorium et de l'espace culturel de Dagana. De cette expérience, il a ramené des techniques et du matériel du Sénégal pour les appliquer dans ses œuvres comme les Teranga, morceaux de métal taillés manuellement ou alors des pigments minéraux du Sahel. On voit bien cette palette dans ses peintures. Vraiment cool.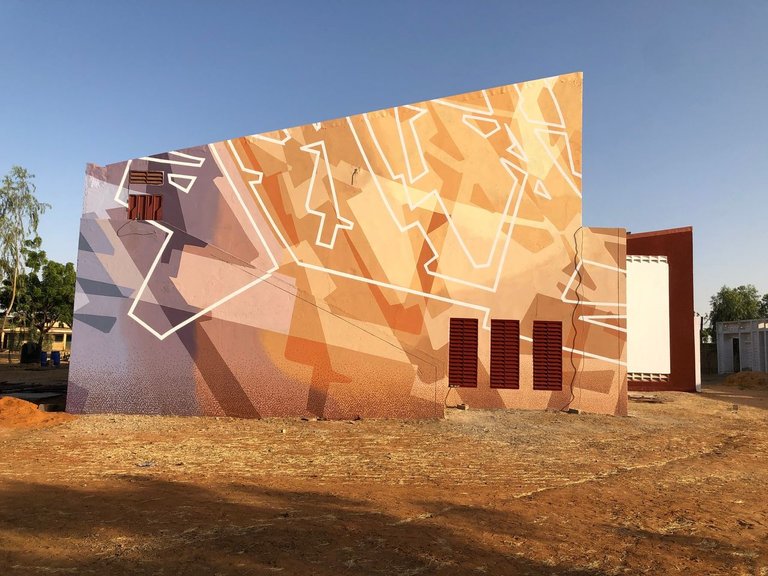 I don't like to post pictures that I didn't take. But the work done is really stunning so... (source: Facebook). With the prices displayed, we can see that Stare is a recognized artist on the art scene and not only in Street Art. For your information, square works like the two below were around $6,000 CAD and large paintings around $12,000 CAD.
Je n'aime pas mettre des photos dont je ne suis pas l'auteur. Mais l'œuvre réalisée est vraiment époustouflante alors je n'ai pas pu m'en empêcher (source : Facebook). Avec les prix affichés, on voit que Stare est un artiste reconnu sur la scène artistique et pas seulement Street Art. Pour information, les œuvres carrées comme les deux en dessous étaient aux alentours de 6,000 $CA et les grandes peintures vers 12,000 $CA.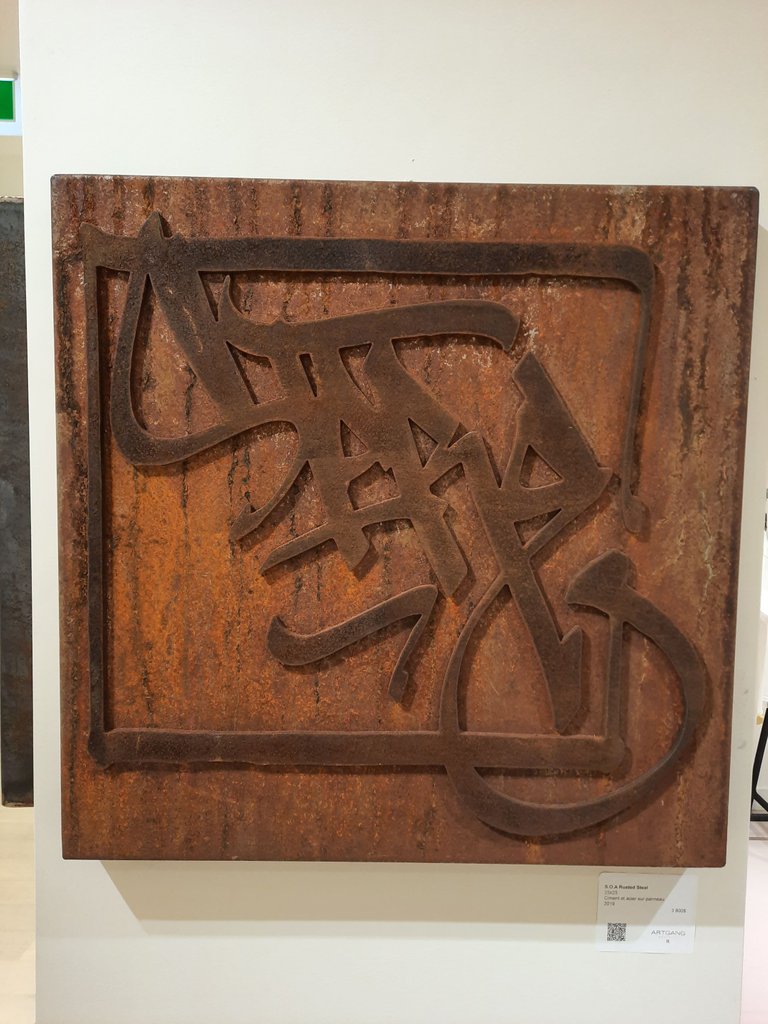 S.O.A Rusted Steel, Cement and steel on panel / 🇫🇷 Ciment et acier sur panneau.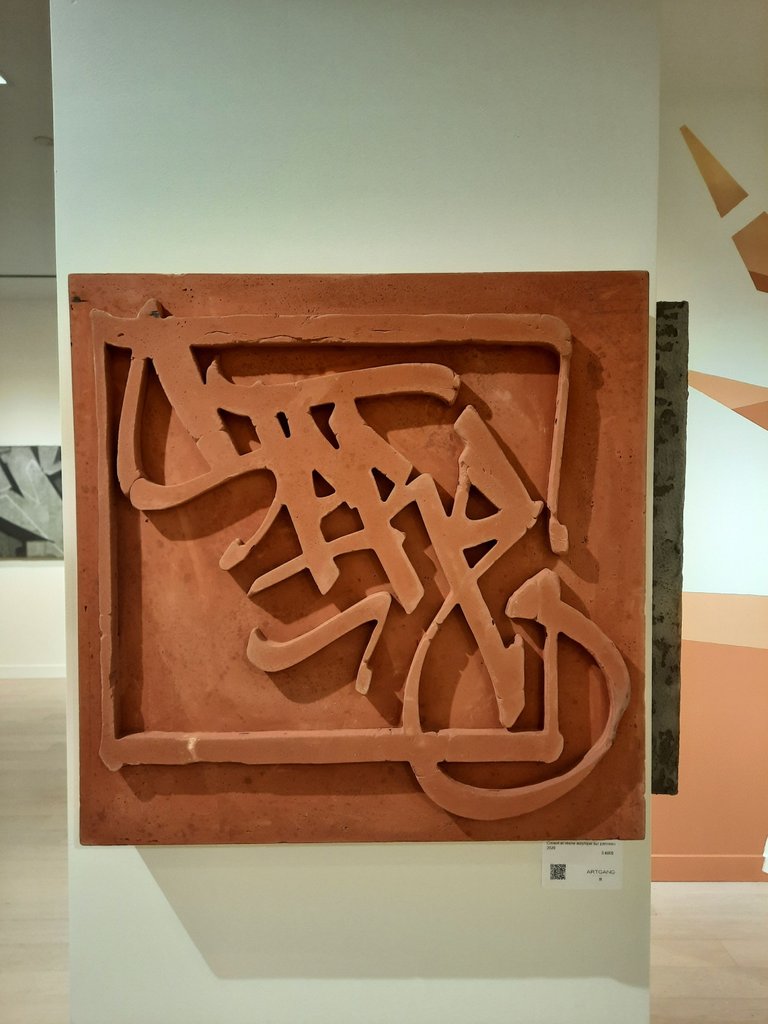 ^ S.O.A Suède Cement and acrylic resin on panel / 🇫🇷 Ciment et résine acrylique sur panneau
If you want to see more of Stare's work in Montreal, here is the list of murals already presented / Si vous voulez voir plus d'œuvres réalisées par Stare à Montréal, voici la liste des murales déjà présentées :

WHEN

Sources

artgangmontreal.com about the installation
Instagram :
Stare
My Previous Posts about Street Art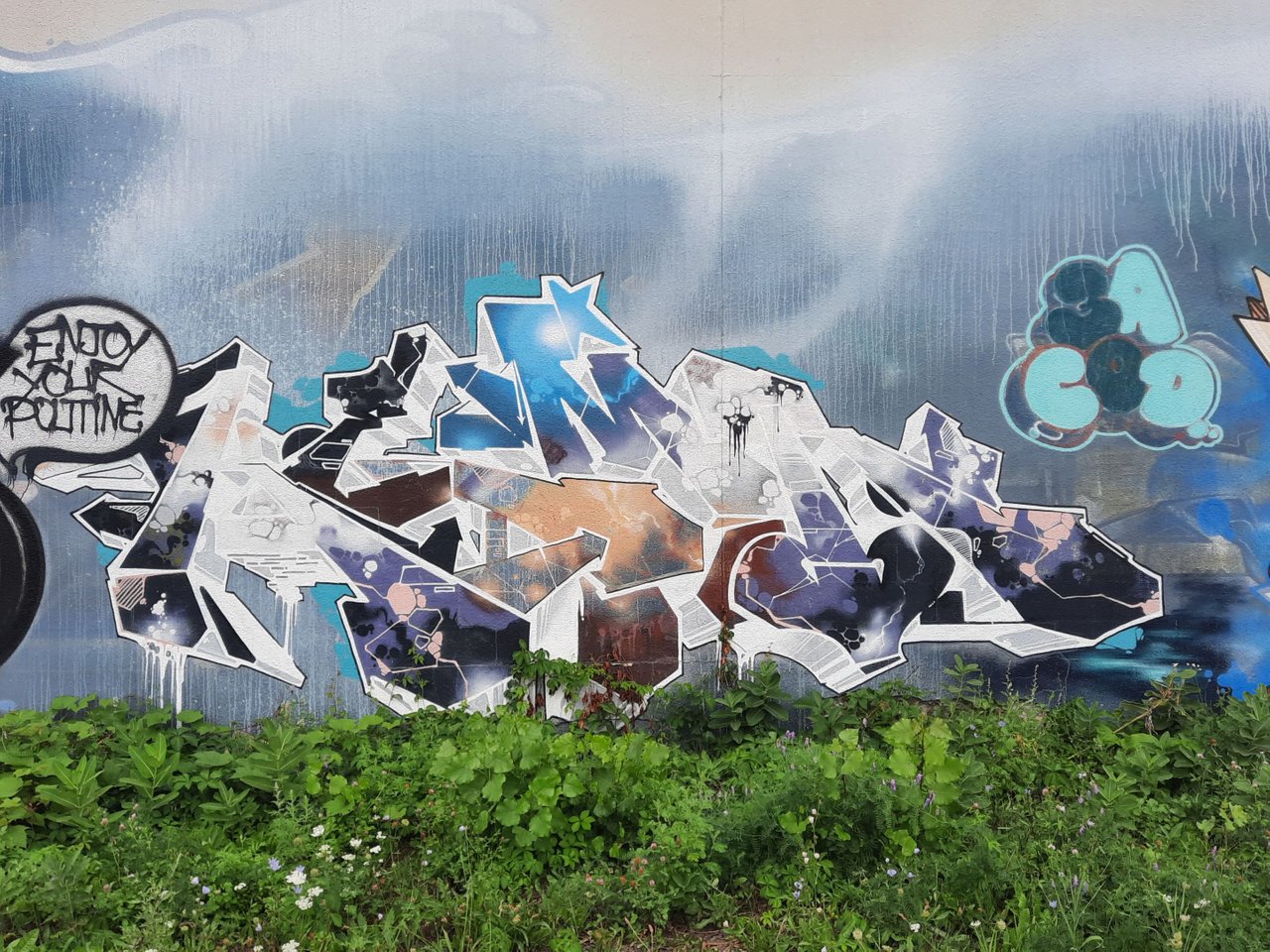 #538 Scien, Stare & Scan, Montréal >
#537 Bacer, Stare & Scan, Montréal
#536 Maylis Dudu, Montréal
#535 Frog, Montréal
#534 Legal Wall Rouen (May 2022), Montréal
#533 Mural Festival 2022 Dalkhafine
#532 Cemz, Zek, Senck & Snipes, Montréal
#531 Stikky Peaches, Montréal
#530 Tribute Scan (Part II), Montréal

Have a weekend full of Street Art / Très bon weekend à tous
---
---