Weekly StreetArt #027 (🎁 : 1 HBD for the 3 best posts of the week)
Like every monday, the Weekly Street Art offers you a selection of new posts to start the new week, the best of Street Art on Hive. We have traveled through many countries to admire beautiful street art: murals in Cyprus or South Africa (but not only), painted tiles in Germany, collages in Paris ...Thanks for your pics and posts about these Street Art works 🙏.
---
Comme chaque lundi, le Weekly Street Art vous propose une sélection d'articles pour bien commencer la semaine, le meilleur du Street Art sur Hive. On a parcouru de nombreux pays pour admirer des œuvres Street Art magnifiques : des murales à Chypre ou en Afrique du Sud (mais pas que) , des tuiles peintes en Allemagne, des collages à Paris... . Un gros merci pour vos photos et articles sur ces chef-d'oeuvres. 🙏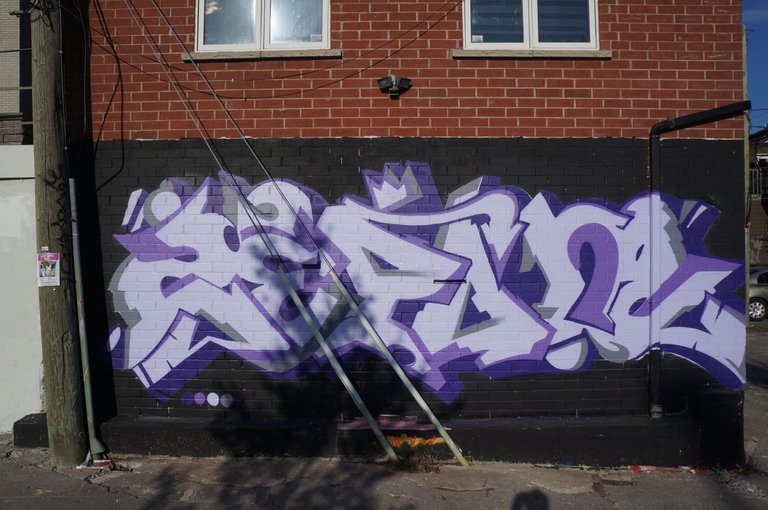 A lettering by ZepOne done at the entrance of Masson street in Montreal. But a few days later, on the artist's Instagram account, I saw that it was not finished (see on Instagram). And since this work is located in the Vieux Rosemont neighborhood, it's the perfect opportunity to tell you that I'm going to write a series of posts about my (very family friendly and accessible) Montreal Street Art Festival Canettes de Ruelle. The last edition took place the first weekend of September in the alleys near to Masson Street.
Un lettrage réalisé par ZepOne fait à l'entrée de la rue Masson à Montréal. Mais quelques jours plus tard, sur le compte Instagram de l'artiste, j'ai vu qu'il n'était pas terminé (à voir fini Instagram). Et comme cette œuvre est située dans le quartier du Vieux Rosemont, c'est l'occasion parfaite de vous prévenir que j'allais faire une série de posts sur l'édition de mon festival Street Art de Montréal (très familiale et accessible) Canettes de Ruelle qui s'est déroulé le premier weekend du mois de septembre.

Here are the 3 articles selected this week, always subjective because there are many very interesting posts. I remind you that I put the pictures in black and white just to give you an idea. It's worth going to see the original photos on the post (and at the same time, you can upvote) 😀.
🇫🇷 Voici les 3 article sélectionnés cette semaine, toujours subjectif car il y a de nombreux posts très intéressant. Je vous rappelle que je mets les photos en noir et blanc juste pour vous donner un aperçu. Cela vaut le coup d'aller voir les photos originales sur le post (et en même temps de faire un upvote) 😀 :
---
@deska89 - Tim Topalov - Burgas (Bulgary)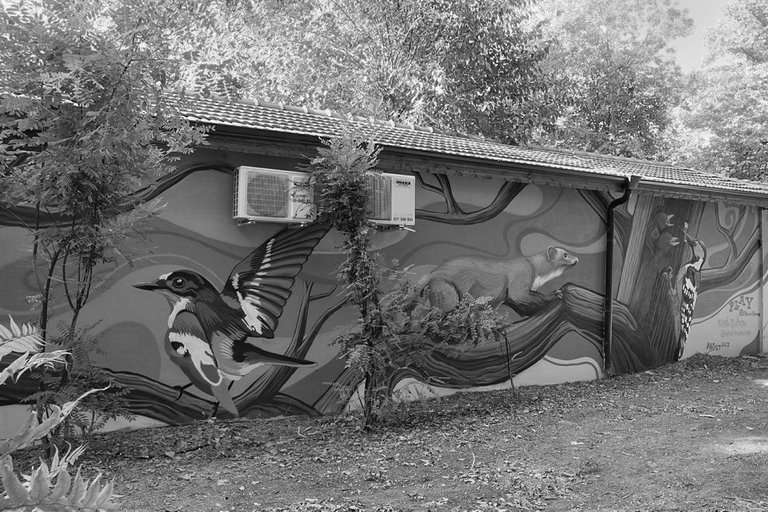 We start our Street Art world tour of the week with the city of Burgas in Bulgaria with this beautiful wall made by Tim Topalov, artist and graphic designer based in San Diego. With this work, we find ourselves immersed in the heart of nature, just perfect for the artist's message for the preservation of biodiversity. A big thank you @deska89 for all these pictures 👍.
---
On commence notre tour du monde de la semaine par la ville de Burgas en Bulgarie avec ce superbe mur réalisé par Tim Topalov, artiste et designer graphique basé à San Diego. Avec cette oeuvre, on se retrouve plonger au cœur de la nature, juste parfait pour le message de l'artiste pour la préservation de la biodiversité. Un gros merci @deska89 pour toutes ces photos 👍.
📰 Forest Graffiti 2022 by Tim Topalov

@wazza84 - Andre Haazes - Ede (The Netherlands)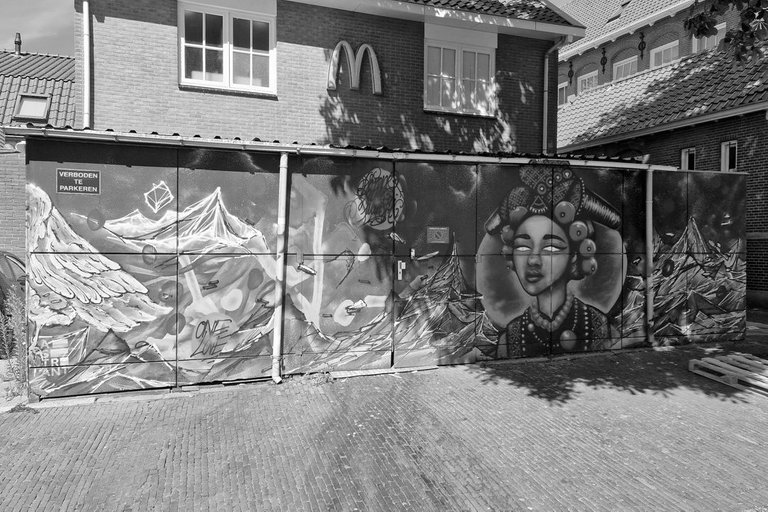 We now make a stopover in Ede in the Netherlands to discover this work done by Andre Haazes. @wazza84 specify us that it's not the singer (that I don't know, never heard about him... 😀 ) but the street artist active in Belgium and in the Netherlands. Great mural named Sivanski to be seen in the original post to admire it in color. It's worth a look.
---
On fait maintenant une escale à Ede au Pays-Bas pour découvrir cette œuvre faite par Andre Haazes. @wazza84 nous précise bien qu'il ne s'agit pas du chanteur (que je ne connais pas 😀 ) mais du street artiste actif en Belgique et au Pays-Bas. Superbe murale nommée Sivanski à voir dans le post original pour l'admirer en couleurs. Cela vaut le coup d'oeil.
📰 StreetArt from home 12: Andre Haazes, Sivanski

@moemanmoesly - Nathan Bowen (?) - London (England)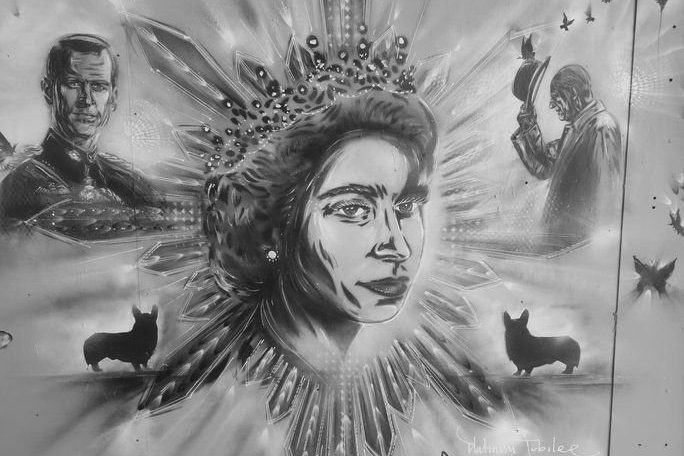 And to finish, we could only stop in London with the death of Queen Elizabeth II last week. And to pay tribute to her @moemanmoesly posted this superb stencil realized (maybe) by Nathan Bowen because the style of Artistic Gangster as he defines himself is completely different. But maybe for this tribute, he wanted to be more realistic.
---
Et pour finir, on ne pouvait que s'arrêter à Londres avec le décès de la reine Elizabeth II. Et pour lui rendre hommage @moemanmoesly a posté ce superbe pochoir réalisé (peut-être)par Nathan Bowen car le style de Artistic Gangster comme il se définit est complétement différent. Mais peut-être que pour cet hommage, il a voulu être plus réaliste.

That's all for this week... The Street Art community welcomed 5 new members for a total of 1,039. A warm welcome to / Cette semaine, la communauté Street Art a accueilli 5 nouveaux membres pour un total de 1,039. Bienvenue à :

Again a big thank you for all the posts written in the Street Art community, always a pleasure to read you and discover your photos. So keep up... Have a good week.
---
Encore un gros merci pour tous les posts écrits dans la communauté Street Art, toujours un plaisir de vous lire et découvrir vos photos. Alors continuez... Bonne semaine à tous.
---
---