Weekly StreetArt #029 (🎁 : 1 HBD for the 3 best posts of the week)
For this week, Street Art lovers, I present you a new selection of works from Europe. I noticed this after I made my selection. But with the posts in the Street Art community , we've been all over the world again, from South Africa to Canada and Cuba, Venezuela... A big thank you for making this community so active. 🙏
---
Pour cette semaine, amateurs de Street Art, je vous présente une nouvelle sélection d'œuvres provenant essentiellement d'Europe. J'ai remarqué cela après avoir fait ma sélection. Mais avec les articles postés au sein de la communauté Street Art, nous avons encore parcouru le monde entier, de l'Afrique du Sud au Canada en passant par Cuba et le Venezuela. Un gros merci pour rendre cette communauté si active. 🙏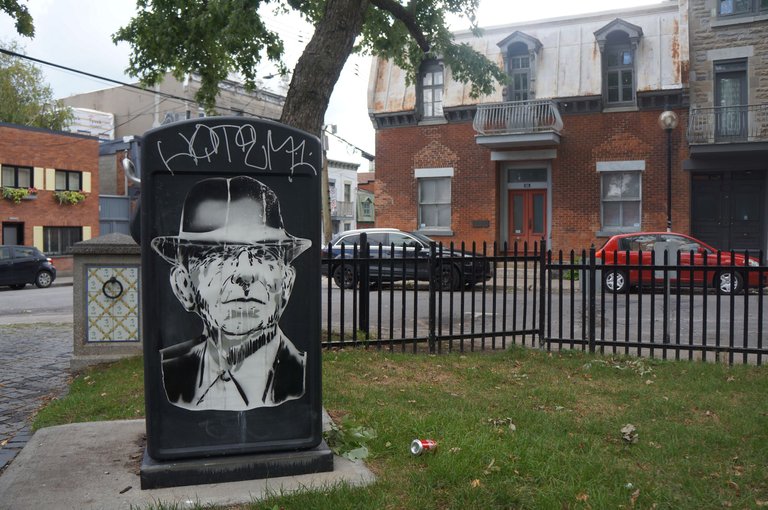 Cool stencil done by Jawk, the Gentleman Tagger, with Leonard Cohen's portrait in front of one of his houses on Le Plateau in Montreal, near Portugal Park. The picture was taken last fall and by chance I finally found the name of the artist. I really like these little victories 😀.
Cool pochoir réalisé par Jawk, le Gentleman Tagueur, avec le portrait de Leonard Cohen devant une de ses maisons sur Le Plateau à Montréal, tout près du Parc Portugal. La photo a été prise l'automne dernier et par chance, j'ai enfin trouvé le nom de l'artiste. J'aime beaucoup ces petites victoires 😀.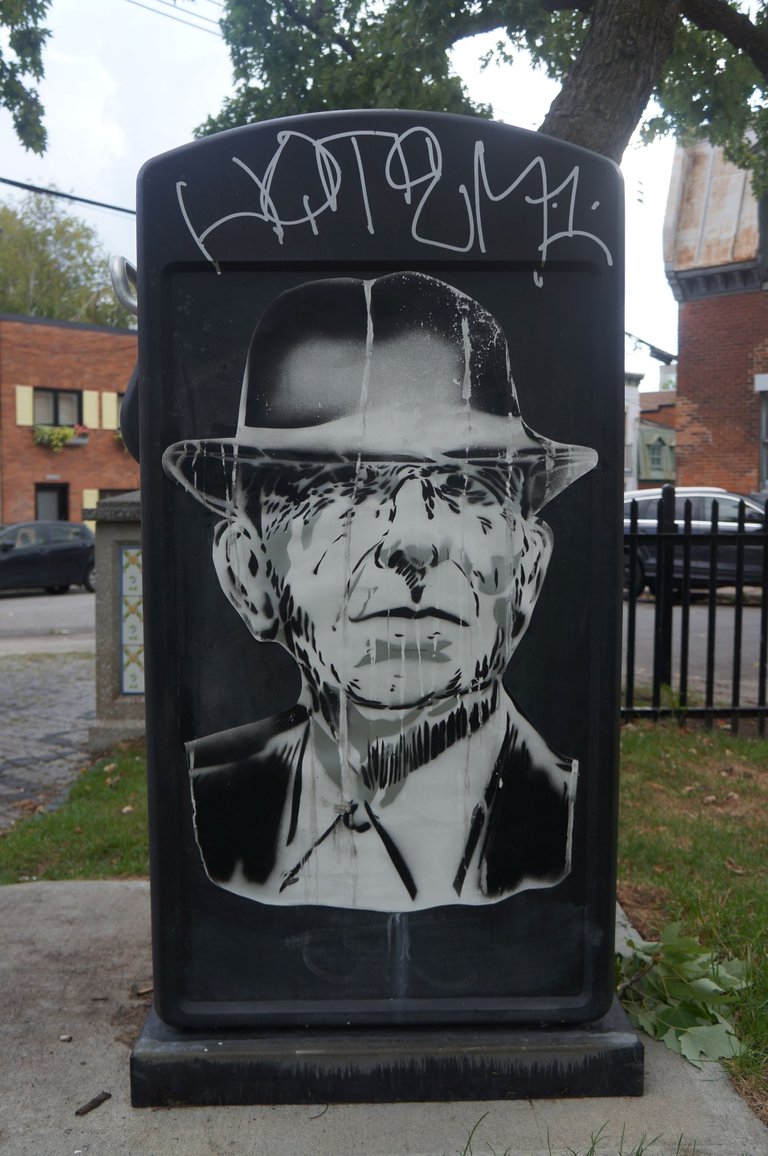 Here are the 3 articles selected this week, always subjective because there are many very interesting posts. I remind you that I put the pictures in black and white just to give you an idea. It's worth going to see the original photos on the post (and at the same time, you can upvote) 😀.
🇫🇷 Voici les 3 article sélectionnés cette semaine, toujours subjectif car il y a de nombreux posts très intéressant. Je vous rappelle que je mets les photos en noir et blanc juste pour vous donner un aperçu. Cela vaut le coup d'aller voir les photos originales sur le post (et en même temps de faire un upvote) 😀 :
---
@wazza84 - Rise One & Sewar... - Dordrecht (The Netherlands)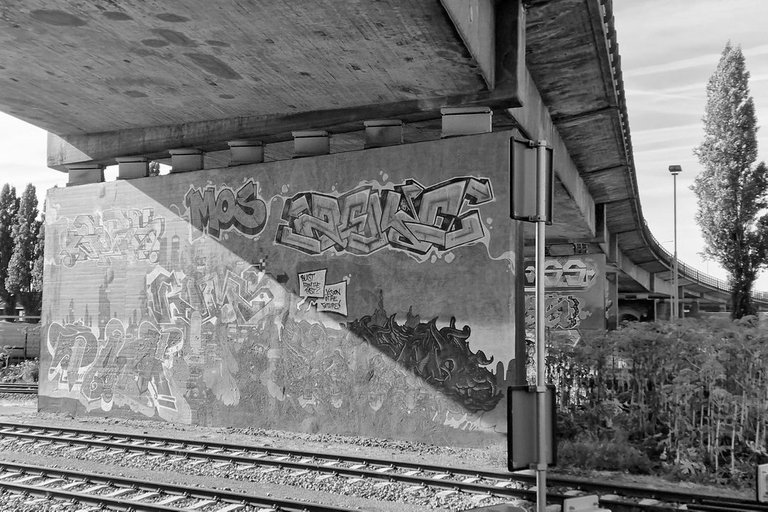 For some time now, @wazza84 has been introducing us to the Street Art of his country, the Netherlands. And last week, he published several posts including this one with great letterings with different styles but always very well done. A big thank you for taking the time to indicate the artists behind each of the letterings, it's really appreciated 👍 . You can also check out this post A StreetArt trip along Dordrecht #16: Bridge over the Oude Maas, it's worth it.
---
Depuis quelques temps déjà, @wazza84 nous fait découvrir le Street Art de son pays, les Pays-Bas. Et la semaine passée, il a publié plusieurs articles dont celui-ci avec de superbes lettrages avec des styles différents mais toujours très bien réalisés. Un gros merci d'avoir pris le temps d'indiquer les artistes derrière chacun des lettrages, c'est apprécié 👍 . Vous pouvez aller voir aussi ce post A StreetArt trip along Dordrecht #16: Bridge over the Oude Maas, cela vaut la peine aussi.
📰 Meeting of Styles #8: Conclusion

@metsaloomad - Painting Monkeys - Pärnu (Estonia)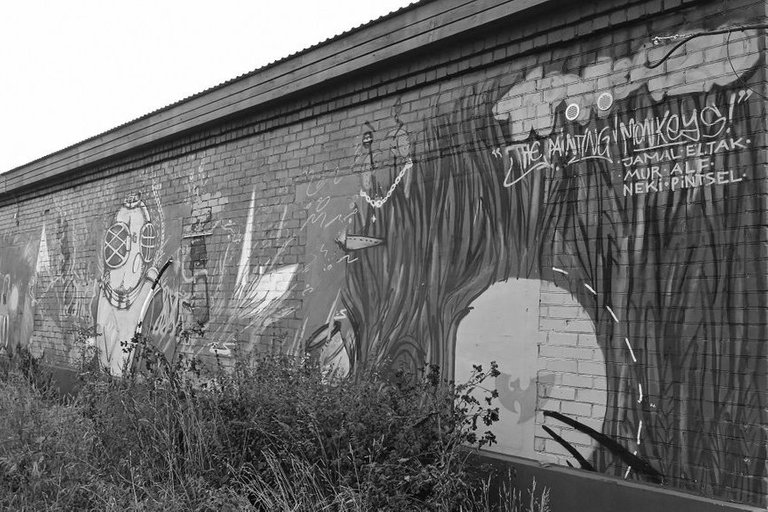 We're heading a little further north in Europe to the city of Pärnu in Estonia, a country full of Street Art, which I discovered thanks to @metsaloomad. Here is a beautiful wall, *Life Under Water done by a group of artists, the Painting Monkeys (I like this nickname) in 2014. No tag on this wall despite the years, respect... You can discover another beautiful wall Keep the streets coloured and full of art.
---
*On se dirige un peu plus au nord en Europe dans la ville de Pärnu en Estonie, pays rempli de Street Art. C'est que j'ai découvert grâce à @metsaloomad. Voici un superbe mur, La Vie sous L'eau réalisé par un groupe d'artistes, les Painting Monkeys (j'aime bien ce surnom) en 2014. Aucun tag sur ce mur malgré les années, respect... Vous pouvez découvrir un autre très beau mur Keep the streets coloured and full of art .

@akida - Simbl... - Lisbon (Portugal)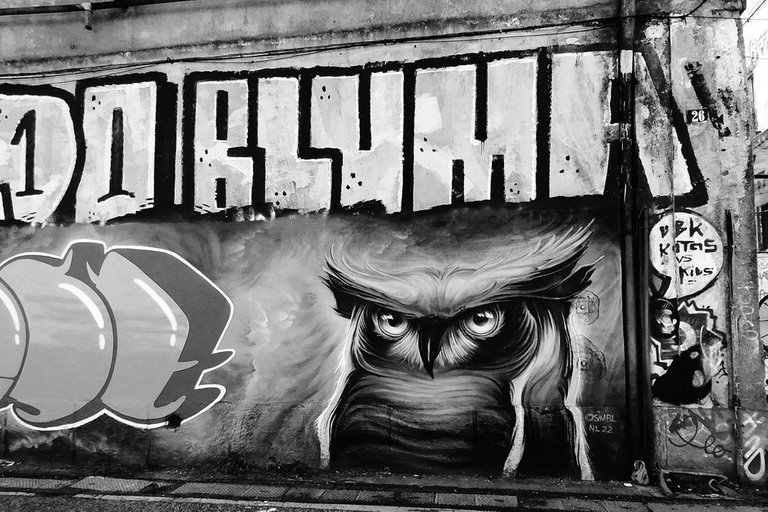 And I end my selection with an article containing 160 photos and a video (I didn't count but I trust @akida* 😀 *) on a Street in the port of Cacilhias in Portugal in front of Lisbon. There is everything, lettering, murals, stickers... and high quality works including this owl painted by Dutch artist Simbl, beautiful. There are still many beautiful things to discover in this post.
---
Et je termine ma sélection par un article contenant 160 photos et une vidéo (je n'ai pas compté mais je fais confiance à @akida 😀 ) sur une rue dans le port de Cacilhias au Portugal en face de Lisbone. Il y a de tout, des lettrages, des murales, des stickers... et des œuvres de grande qualité dont fait parti cet hibou peint par l'artiste néerlandais Simbl, magnifique. Il y a encore plein de belles choses à découvrir dans ce post.
📰 Come with me through Cacilhas: Streetart Tour at the Harbour

That's all for this week... The Street Art community welcomed 6 new members for a total of 1,047. A warm welcome to / Cette semaine, la communauté Street Art a accueilli 6 nouveaux membres pour un total de 1,047. Bienvenue à :

Again a big thank you for all the posts written in the Street Art community, always a pleasure to read you and discover your photos. So keep up... Have a good week.
---
Encore un gros merci pour tous les posts écrits dans la communauté Street Art, toujours un plaisir de vous lire et découvrir vos photos. Alors continuez... Bonne semaine à tous.
---
---