Worked half of my life to be an overnight success, still got me by surprise (weekly crypto updates)

The week is looking good, as we finally have a date for the ETH2.0 launch, even if BTC is not out much on the news these days. Blockchain gaming looks good, with Splinterlands evolving even further, and bringing more rewards to the table. We got more celebrities and big companies joining the NFT train including Sir Anthony Hopkins. What else? Read below:
· Bitcoin: Since March 27, BTC has achieved nine consecutive weekly red candles, the first in its history. Long-term BTC HODLers are sitting on their largest losses since March 2020 and the bear market of 2018-2019.
· Ethereum: Finally good news, Ethereum Ropsten testnet has successfully merged its Proof of Work execution layer with its Proof of Stake Beacon Chain, in a process that will be identically replicated on the Mainnet. The merge still needs multiple tests to be run and observed. We got an estimate for ETH2.0 now, end of August this year. If you need to get rid of the high fees, Layer 2 such as Boba Network is already addressing this issue by leveraging Optimistic rollup technologies to reduce transaction costs and increase the transaction throughput without sacrificing security (it is a model based on UMA Optimistic oracle if I am not mistaken) Of course, the cheapest and safest way to move funds around is by using Across protocol bridge. But I bet you know this already.
· Altcoins: Tron's idea to avoid the collapse of its own stablecoin, USDD, is to overcollateralize, with a 130$ of the total amount of USDD issued being held in reserve (their reserve has 14K BTC, 140M USDT, and 1.9B TRX). Hedera's (NBAR) proposal for Mainnet staking was accepted. South Korean exchanges started to delist Litecoin, after the latest update that enabled greater privacy. The ApeCoin project decided to stay in the ETH ecosystem, instead of moving on its own chain. Thailand's oldest bank is using DEFI platform Compound to generate a fixed annual yield. STEPN – the move2earn app, is dealing with more than 25 million DDoS attacks after they stopped being active in China, and the team is working to defend the servers from the attacks at the moment. Wido is aggregating all the stablecoin yields, letting you deposit cross-chain into any vault without owning the destination native coins needed for gas. Worth a look! Binance Labs announced a strategic investment in the PancakeSwap ecosystem, and no other information was released. Chainlink's (LINK) latest roadmap includes the long-awaited staking feature and is expected to arrive by the end of this year. Solana Ventures created a $100M fund to promote the development of GameFI, DEFI, and NFT projects in South Korea. Tether USDT launched on Tezos, pumping the coin up 12%. And did I tell you about Lido, non-custodial liquid staking for ETH, SOL, KSM, MATIC, and DOT?
· Blockchain games and NFTs: Talking about lucky charms, if you are a DEFI degen like most of us, you may want your Humble Tractors NFT, a fun approach for all the farmers in the crypto world. But you need to hurry, only 80 of them are left. I got mine already (who doesn't like tractors and trains, right?). Big news on Splinterlands, as they already started the VOUCHER rewards on their validator node licenses, with the SPS rewards starting too sometime in August (one license is getting around 8 Vouchers daily, worth around 17$ today). The new Splinterlands ranked rewards were received with mixed feelings, with great potential in Bronze and Silver, as opposed to Diamond and Champion ranks. But the DEC tokens rewards are definitely greater in the highest leagues (we are talking about thousands and even tens of thousands on DEC) and on top of this, the first CL legendary summoner airdrop is getting closer and closer. Did you heard of Alethea AI, an artificial intelligence company that utilizes blockchain to enhance how humans and AI interact, they created the first intelligent NFT (i-NFT) sold on Sotheby's for $478K in June 2021. Gemini, Dapper Labs, Binance, and Mark Cuban invested in it. WAX is the first carbon-neutral blockchain, but this being said, most of the blockchain networks have a smaller carbon footprint than a couple American households, so yeah, well-done WAX! If you were a Perp V2 user, you may have a retroactive airdrop on Optimism, check that out! OP airdrop took us by surprise, being quickly adopted by both centralized and decentralized exchanges (including Uniswap and Crypto.com). Binance is even paying you 5% on OP staking (it says is full, but if you select auto-deposit it will add it for you in the next 24 hours). There are also issues, as a hacker was claiming 20M op tokens faster than the market maker Wintermute, as their Gnosis safe was not deployed on Optimism yet. Keep an eye on Akash web3 native cloud project, this could be a game change (most web3 projects are still using centralized cloud platforms right now, as there is no other alternative). Kanye West filed 17 trademark applications mentioning metaverse and NFTs. Snoop Dogg partnered with Food Fighters universe in order to launch an NFT-themed desert, the restaurant will be located in Los Angeles. And my kind of DAO, a Munich-based brewery is offering voting rights via NFTs, and each NFT entitles you to 100 free cans per year, the funds from the sale being used to purchase and scale the brewery (the name is MetaBrewSociety if you want to search for it). Illuvium sold more than $72M worth of digital land plots on a sale that ended Sunday, 20.000 out of a total of 100K, holders receiving various in-game benefits on its game (available on Windows and Mac later this year). I do not know why, but I think their NFTs are too much overpriced. Budweiser partnered with the NFT horse racing game Zed Run, providing prize money and limited merchandise. Fancy some special brew? Neal Stephenson, the one who inventing the Metaverse concept in his book "Snow Crash", is partnering with Peter Vessenes, the ex-chairman of the Bitcoin Foundation, to launch a Metaverse blockchain called LAMINA1. The cloud-based software company Salesforce is launching NFT Cloud, a new platform to sell and mint NFTs. Then we have Party DAO, a decentralized entity behind Partybid, a platform for groups of users to bid on rare NFTs by pooling their bids together (we got investors like Uniswap Ventures, Dragonfly Capital and a16z joining in). UFC announced a multi-year marketing partnership with VeChain (VET), valued at close to $100M, and they are the 4th company tied to UFC, after Crypto.com, Socios, and Dapper Labs.
· Good news: PayPal is now letting crypto holders on its platform transfer their digital assets to external cryptocurrency wallets and exchanges. This is huge for adoption, I must say, even if I do not like PayPal a lot. 75% of the US retailers are planning to accept crypto or stablecoin payments in the next two years, with more than half spending over $1M in infrastructure to support that right now. The White House Office of Science and Technology is aiming to put out a report on crypto-mining and its environmental impact, as per President Biden's March request. SBI is launching Osaka Digital Exchange 0n June 27, and they will partner with SMBC next year. More than that, Japan passed a bill where stablecoins needs to be fully collateralized, dollar for dollar (or yen for yen, rather). We have 6 crypto-ETF in Australia now, after 2 more were approved, targeting BTC and ETH. BlockFi is raising funds, months after they settled with SEC, reaching a 5B valuation. Citadel Securities (read Ken Griffin) is building a crypto trading market, working with Virtu Financial, Paradigm, and Sequoia Capital to make this happen. Singapore central bank is kicking of its Project Guardian, exploring DEFI and tokenization, UK and India working on similar projects too. Fidelity is doubling its digital asset team, hiring 200 more staff members. Abu Dabhi Investment Office partnered with Unstoppable Domains to offer free crypto domains, decentralized web addresses, and digital identity to every woman in the city.
· Bad news: Traditional and crypto markets alike followed negative movements in May, with SOL being 46% down, ETH 28%, and XRP 28% too. SOL and ADA were the most volatile digital assets, with around 170% volatility each. According to the Federal Trade Commission report, 46.000 people were scammed in 2021, losing over $1B, 60 times more than in 2018. Out of those scams, 70% were using BTC, 10% USDT, and 9% ETH, with more than half starting with a social media link. Social media used was Instagram 32%, Facebook 26%, WhatsApp 9%, and Telegram 7%. Curious thing, I do not see Discord and Twitter in here! The most common was fake investments, followed by romance scams, with business impersonations being third. Be careful out there! My conclusion is that if you avoid social media, chances are that you will avoid scammers too. As we are talking about this, Yuga Labs Discord Hack leads to 200 ETH worth of NFTs being stolen, and a Twitter user noticed the phishing link after BAYC Instagram and discord posted it. US investigates Binance over their BNB ICO, trying to prove that their BNB token sale broke securities rules, while they are also investigating if Binance.US is appropriately separated from its global counterpart. The Osmosis project was halted, after some validators were acting strange, pointing out an exploit. Seems like one of the validators stole $2M in a moment of weakness, they said and they plan to return the funds. And Terraform Labs was ordered to comply with SEC's Mirror Protocol investigation, to see whether they sold unregistered securities representing popular stocks (yes, they did that). Centre Consortium has frozen $1.3M worth of stolen USDC following a court order from NY Supreme Court. You say centralized, I say…
· Joke of the week: Crypto bank Custodia filed a lawsuit against the US Federal Reserve saying that the Central Bank unlawfully delayed a decision on its application for a master account for 19 months, and stated that a master account is critical to its business. The US Feds' own documentation says that a master account decision takes 5-7 business days. Talking about double standards? No, not today.
That's all for today.
All the best,
George
​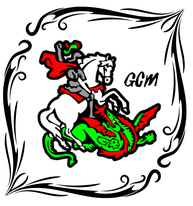 Why not...
...have fun and win rewards on my favourite blockchain games (Splinterlands- Hearthstone-like card game) (Mobox - GamiFI NFT platform) and (Rising Star - Music creators game).
...get the higher rewards for your investments using Blockfi, Hodlnaut and Celsius.network. Get crypto while writing on Publish0x blog, using Presearch search engine to maximize your income with PRE tokens. Use Torum instead of Twitter . I am also writing for crypto on Read.cash and Hive.
---
---