Ladies of Hive, contest #53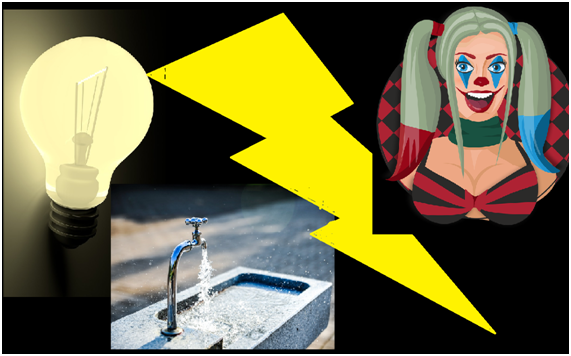 Un saludo y un abrazo a todas las integrantes de
#LOH
, hoy, respondiendo las preguntas del concurso[#53](
https://peakd.com/hive-124452/@ladiesofhive/ladies-of-hive-community-contest-53
) les dejó por acá mis respuestas:
1- ¿Preferirías quedarte sin agua o electricidad durante una semana?
Greetings and hugs to all the members of #LOH, today, answering the questions of the contest #53, here are my answers:
1- Would you rather go without water or electricity for a week?
Las que me conocen y hayan leido algo sobre mí, sabrán que soy de Venezuela, un país muy bello y rico en muchas cosas, pero, lamentablemente, a mi particular punto de vista, adoctrinado por un gobierno en régimen de narcotrafico, ustedes se preguntaran el por qué nosotros como itegrantes de un país no hacemos nada, pero les cuento que un pueblo que está bajo una dictadura, donde no se puede hacer nada más que obedecer a las leyes absurda de un gobierno, porque de lo contrario te mandan a la carcel o en el peor de los casos te mandan a matar, es algo difícil.
Those of you who know me and have read about me, will know that I am from Venezuela, a very beautiful country and rich in many things, but, unfortunately, in my particular point of view, indoctrinated by a government in a drug trafficking regime, you may wonder why we as members of a country do nothing, but I tell you that a people that is under a dictatorship, where you can not do anything but obey the absurd laws of a government, because otherwise they send you to jail or in the worst case they send you to kill, is something difficult.
Traigo todo esto a cotación, porque en marzo de 2019, entre el 7 y el 9 hubo un apagón que abarcó todo el país, hasta la actualidad dicho apagón fue causado por la falta de mantenimiento de las turbinas de la central hidroelectrica del país, sin embargo, el gobierno para no dar su brazo a torcer y cubriendose en que todo lo que en el país pasa es por culpa de un "Supuesto" bloqueo económico que le tiene el Estados Unidos al país, dijeron que este apagón general fue un "ATAQUE TERRORISTA, DADO POR ESTADOS UNIDOS"
I bring all this to quote, because in March 2019, between the 7th and the 9th there was a blackout that covered the whole country, until today this blackout was caused by the lack of maintenance of the turbines of the hydroelectric plant of the country, however, the government to not give their arm to twist and covering themselves in that everything that happens in the country is because of a "Supposed" economic blockade that the United States has to the country, they said that this general blackout was a "TERRORIST ATTACK, GIVEN BY THE UNITED STATES".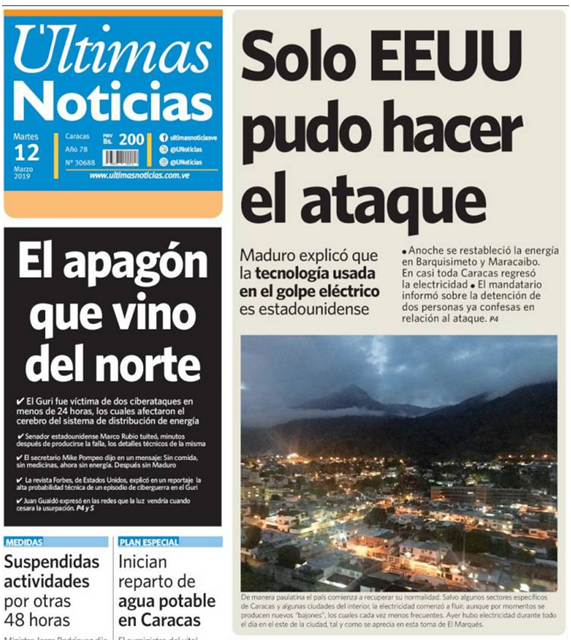 FUENTE
Cabe resaltar que este apagón trajo consigo muchísimas faltas, una de ellas fue la inmediata ida del agua en el territorio nacional, se vio afectada muchisimas personas que viven el día a día con el vital líquido y que a su vez carecen de tener tanques grandes donde se puedan almacenar agua para una emergencia tal cual esta.
It should be noted that this blackout brought with it many faults, one of them was the immediate loss of water in the national territory, affecting many people who live day to day with the vital liquid and who in turn lack large tanks where they can store water for an emergency such as this one.
Fueron muchos días con ambas fallas, el primer día que se fue duramos 3 días consecutivos sin energía electrica, por ende, tanmbien duramos 3 días consecutivos sin agua; no se sabía si iba a llegar la luz en el día, en la noche, en la madrugada, todo era cuentión simplemete de esperar, pero cuando esta llegara (fuera a la hora que fuera) se debía salir cliteralmente corriendo a llenar absolutamente todo lo que se le pudiese colocar agua porque no se sabía si se volvería a ir, al igual que había que ir rapidamente a comprar o a agarrar agua filtrada para poder tomar.
There were many days with both failures, the first day it went out we lasted 3 consecutive days without electricity, therefore, we also lasted 3 consecutive days without water; we did not know if the power would come on during the day, at night, at dawn, it was all a matter of waiting, but when it came on (whatever time it was) we had to run to fill absolutely everything we could put water in because we did not know if it would go out again, just as we had to go quickly to buy or get filtered water to be able to drink.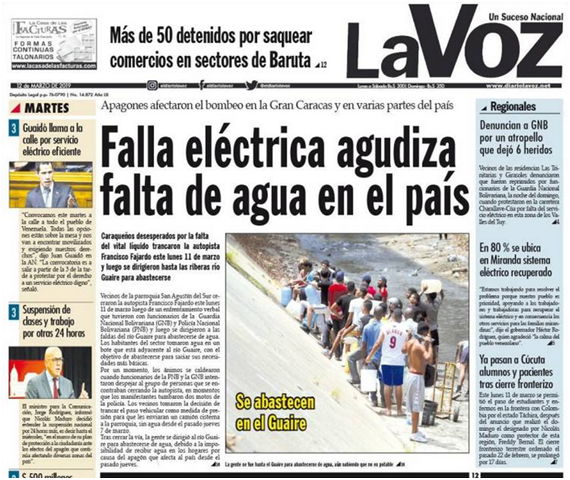 Fueron muchos los afectados con este suceso, tanto así que para el venezolano trabajador se les dañó la comida que tenía en casa por falta de refrigeración, y los comerciantes que trabajaban con comida, fueron muchos los que sufrieron de perdida ante de poder venderla.
Many people were affected by this event, so much so that for the Venezuelan worker, the food he had at home was damaged due to lack of refrigeration, and the merchants who worked with food, many suffered losses before being able to sell it.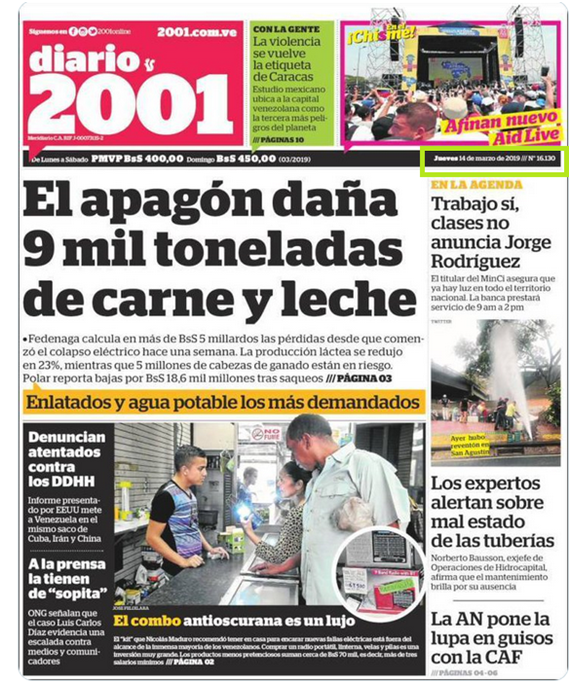 Después de más de 2 años, aún quedamos con las consecuencias, de manera semanal en cada hogar de los venezolanos se va la luz por lo mínimo 6 horas, en mi caso se va 3 horas dos veces a la semana, lo peor de todo es que no tiene un horario fijo para su ida, solo hay que esperar que se vaya y listo, definitivamente no nos ha tocado fácil.
After more than 2 years, we are still suffering the consequences, every week in every Venezuelan's home the electricity goes off for at least 6 hours, in my case it goes off for 3 hours twice a week, the worst of all is that there is no fixed timetable for it to go off, you just have to wait for it to go off and that's it, it has definitely not been easy for us.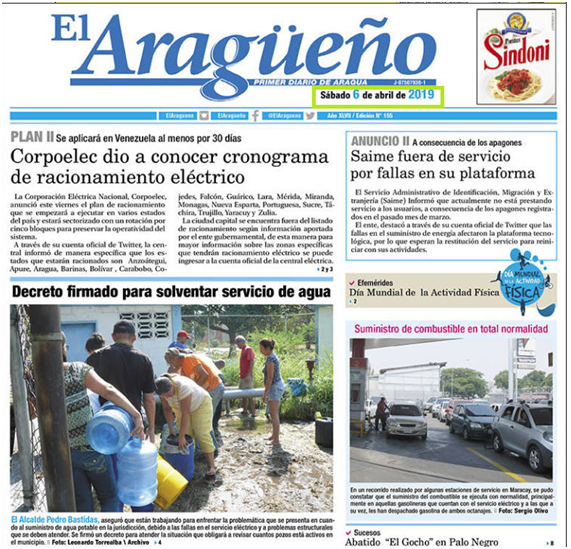 FUENTE
Así que, respondiendo a que preferiría si quedarme sin agua o sin luz, creo que después de esta experiencia preferiría tener ambas, pero respondiendo de manera directa a la pregunta, preferiría quedarme sin agua, ya que con luz, se puede hacer muchísimas cosas, incluyendo buscar agua en otras partes, pero al quedarnos sin luz, automáticamente nos quedamos sin el suministro de agua también.
So, in answer to the question of whether I would prefer to be without water or electricity, I think that after this experience I would prefer to have both, but to answer the question directly, I would prefer to be without water, because with electricity, you can do a lot of things, including looking for water elsewhere, but when we run out of electricity, we automatically run out of water supply as well.
---
2- ¿Qué personaje de ficción te gustaría conocer y por qué?
2- Which fictional character would you like to meet and why?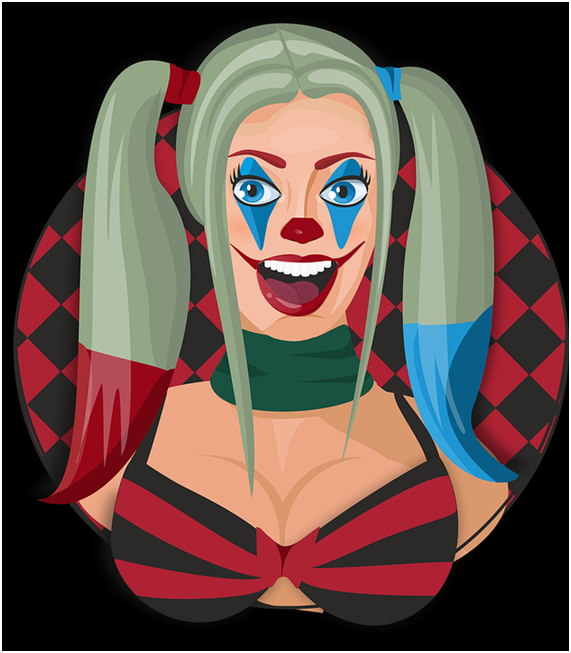 Definitivamente a mi parecer alguien totalmente interesante (aunque sea de ficción) es el personaje de la villana HARLEY QUINN, me parece interesante ver el cambio tan drástico que tuvo, pasó de ser una doctora, psiquiatra de un asilo para personas con enfermedades mentales, a una víctima enamorada del otro villano como lo es el Jocker.
Definitely in my opinion someone totally interesting (although fictional) is the character of the villain HARLEY QUINN, I find it interesting to see the drastic change she had, she went from being a doctor, psychiatrist of an asylum for mentally ill people, to a victim in love with the other villain as is the Joker.
El Jocker manipuló su mente y en conjunto con historias totalmente falsas de desamores que supuestamente tuvo él, la cautivo robándole el corazón y haciendo que se enamorara descabelladamente.
The Joker manipulated her mind and in conjunction with totally false stories of heartbreak that he supposedly had, captivated her by stealing her heart and making her fall madly in love.
Colocándome en su puesto no debe ser fácil ser engañada y vilmente manipulada por alguien malo, que aparte de todo hace que su carrera como doctora termine, ya que ella lo ayuda a escapar del asilo donde él estaba internado por presentar problemas mentales, aunado a ello, termina dejándola sola, haciendo que el amor de ella sentía por él no fuese correspondido, y aislándola y encerrándola en una habitación y colocándola en un cohete para sacarla de órbita.
Putting myself in her position, it must not be easy to be deceived and vilely manipulated by someone evil, who apart from everything makes her career as a doctor end, since she helps him escape from the asylum where he was hospitalized for having mental problems, in addition to this, he ends up leaving her alone, making her love for him unrequited, and isolating her and locking her in a room and placing her in a rocket to take her out of orbit.
Aquí es donde digo, que me parece interesante conocer el hecho de pasar a ser doctora y tratar a personas con enfermedades mentales, a ser la persona que terminó teniendo una enfermedad mental.
This is where I say, I find it interesting to learn about going from being a doctor and treating people with mental illness, to being the person who ended up having a mental illness.
Definitivamente el amor es loco jejejeje.
Definitely love is crazy hehehehehehe.
Gracias por leer parte de mí
Thanks for reading part of me
Les mando un abrazo cargado de bendiciones
I send you a hug full of blessings.
Fotografías y edición: tomadas de páginas cuyo enlace les dejo en cada una, pixabay y editadas en el programa paint.
Photographs and editing: taken from pages whose link I leave in each one, pixabay and edited in paint program.
---
---