UNBOXING: MY NEW LED LAMP, FOR SEMI-PERMANENT NAILS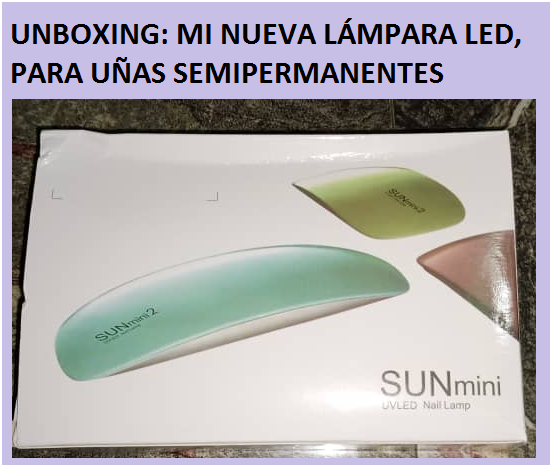 Hola, saludos a cada uno de los hivers que hacen vida en esta comunidad.
En esta oportunidad vengo por acá a compartir mi nueva adquisición, una lámpara LED, para uñas semipermanentes.
Días atrás salí para comprar esmaltes para uñas ya que los pocos que tenían estaban vencidos, habían unos colores bellísimos, pero en esos no me fije ya que no eran la marca que generalmente utilizo, al preguntar por dicha marca la respuesta fue que no había, así que, decidí comprar estos colores bellos de una marca nueva, al llegar a casa, cuando decido arreglar mis uñas llega la tía de mi esposo, quien trabajó por muchos años con productos para la belleza de la mujer, cuando me dice para ella misma arreglarme y me pregunta por la lámpara de UV, es que caigo en cuenta que las pinturas eran semipermanentes, por ende necesitaba de la lámpara para poder lucirlas.
Les cuento que, cuando era más joven, entiéndase que aún no tenía esposo ni hijos una de las cosas de las cuales estaba súper pendiente era de mis uñas, y es que siempre he dicho que, las manos de una mujer siempre debe estar presentable para cada ocasión, desde 12 años aproximadamente he usado las uñas largas, siempre me las arreglaba yo, hasta que comencé a trabajar y ya me podía costear especialista para mis uñas.
Pero, al tener varios hijos pequeños, se me dificulta salir a la peluquería y dedicarme un tiempo para mí, sin embargo decidí hacerlo en mi casa y de nuevo por mí misma.
La decoración de las uñas han variado de un tiempo para acá, y si les soy sincera con los quehaceres del hogar que me toca hacer es muy poco lo que dura pintadas mis uñas, por ende, decidí comprarme mi lámpara para colocarme pinturas semipermanentes, y que así me dure un poco más el arte que hago en ellas.
Realmente no compre una lámpara profesional, ya que no soy manicurista y las quería era para pintarme yo misma las uñas, es sencilla, pesa muy poco y muy fácil de manipular.

Hello, greetings to each of the hivers that make life in this community.
This time I come here to share my new acquisition, a LED lamp for semi-permanent nails.
Days ago I went out to buy nail polish because the few they had were expired, there were some beautiful colors, but I did not look at those because they were not the brand I usually use, when I asked for that brand the answer was that there were not, so I decided to buy these beautiful colors of a new brand, When I got home, when I decided to fix my nails, my husband's aunt, who worked for many years with products for women's beauty, arrived and asked me about the UV lamp, I realized that the paints were semi-permanent, so I needed the lamp to show them off.
I tell you that, when I was younger, understand that I still had no husband or children one of the things that I was super aware of was my nails, and I have always said that a woman's hands should always be presentable for every occasion, since about 12 years I have used long nails, I always did them myself, until I started working and I could afford specialist for my nails.
But, having several small children, it is difficult for me to go to the hairdresser and dedicate some time for myself, however I decided to do it at home and again by myself.


The decoration of the nails have changed for a while now, and if I am honest with the household chores that I have to do is very little that lasts painted my nails, therefore, I decided to buy my lamp to put semi-permanent paints, and so I last a little more art that I do in them.
I did not really buy a professional lamp, since I am not a manicurist and I wanted to paint my nails myself, it is simple, weighs very little and very easy to handle.
---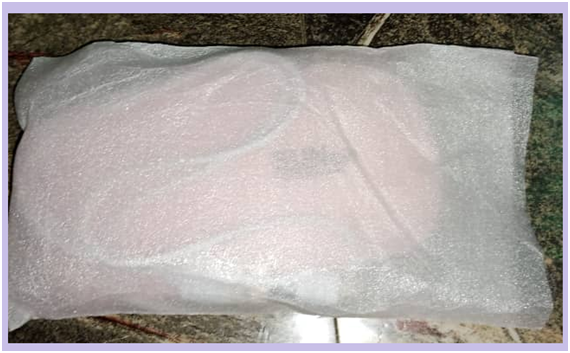 ---
Solo trae consigo un cable USB.
It only comes with a USB cable.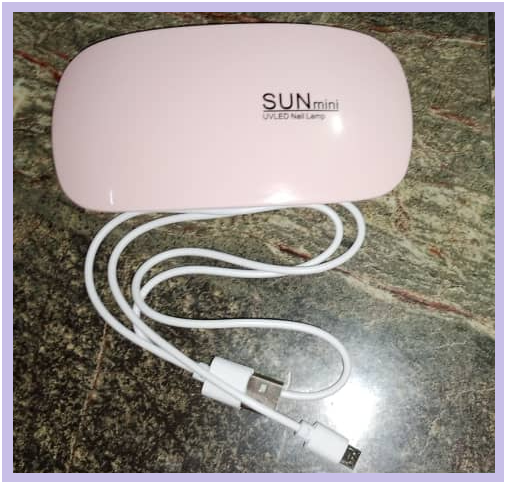 A un lado Tiene un botón de encendido y la entrada del cable para que encienda.
On one side, it has a power button and the cable inlet to turn it on.
---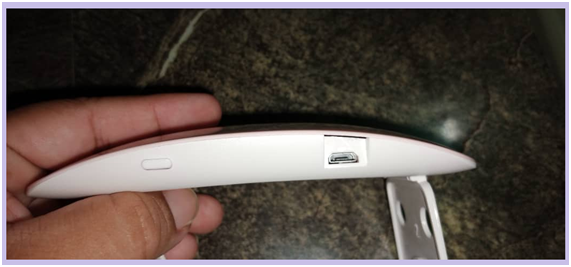 ---
Por la parte de abajo, trae 6 luces ultra violeta, que hacen la función de secar el esmalte semipermanente que se coloca en las uñas.
On the bottom, it has 6 ultra violet lights, which dry the semi-permanent polish that is placed on the nails.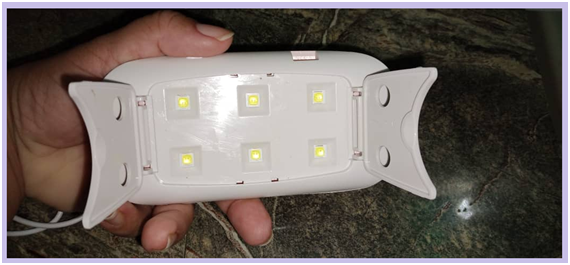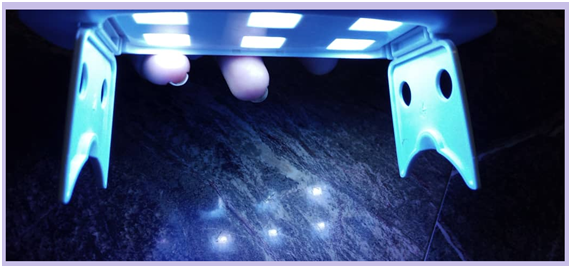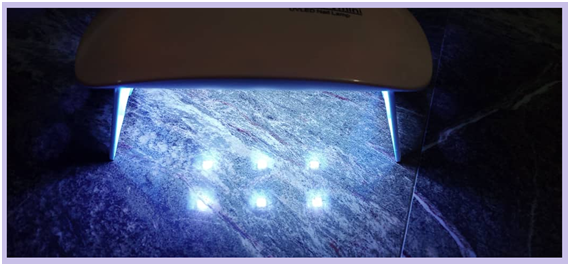 Al encenderla, y colocar las uñas en su parte inferior, la misma tienen una duración de 45 segundos para secar el esmalte, y de ser necesario más tiempo, al volver a encenderla, dura 60 segundos para un secado permanente.
When you turn it on and place the nails on the lower part, it lasts 45 seconds to dry the polish, and if more time is needed, when you turn it on again, it lasts 60 seconds for permanent drying.
---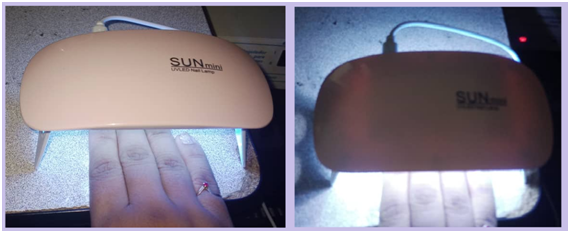 ---
Unas de las tantas especificaciones que trae las instrucciones son:
No usarla por más de 300 minutos de manera consecutiva.
No dejarle caer agua.
No usarla cuando si la entrada del cargador esta fracturada.
En otro post les contaré del primer arreglo a mis uñas estrenando mi nueva lámpara.
Some of the many specifications included in the instructions are:


Do not use it for more than 300 minutes consecutively.
Do not drip water on it.
Do not use it when the charger inlet is broken.


In another post I'll tell you about my first nail care using my new lamp.

Gracias por leer parte de mí

Thanks for reading part of me

Les mando un abrazo cargado de bendiciones

I send you a hug full of blessings

Fotografías y edición: propias, tomadas desde mi teléfono móvil y editadas en el programa paint.

Photos and editing: my own, taken from my cell phone and edited in paint.

---
---