WORRIED ABOUT MY WORK PLACE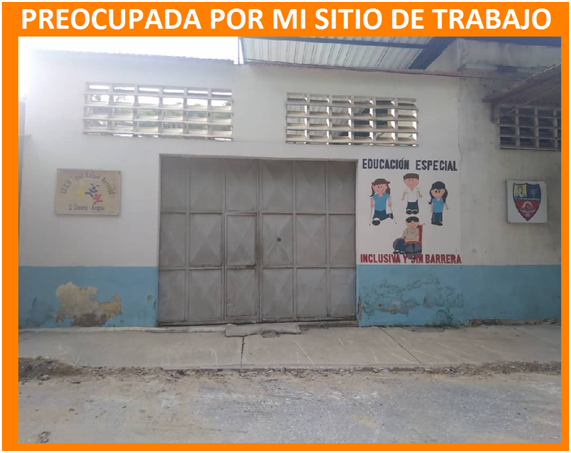 Como les he relatado en varias oportunidades, soy profesora de educaión especial, cuando apenas estaba en el semestre numero 6 de la carrera, se me presenta la oportunidad de comenzar a laborar en un Instituto de Educación Especial, eso fue en el año 2007, a parti de ahí comenzo un hermoso aprendizaje con la práctica diaria de toda la teoría que pude haber visto en la universidad, actualmente tengo 14 años de experiencia laboral. DIOS mediante el 22 de octubre cumplo los 15 años.
Somos una institución que brinda atencion integral especializada a niños, niñas y adolescentes en edades comprendidas entre 6 y 15 años, con Retardo Mental y condiciones asociadas, potenciado las diversas áreas del dearrollo humano, con el fin de lograr su independencia e inclusión social.
Para resumirles el cuento de mi sitio de trabajo les cuento que es una casa, que donó la alcaldía en el año 2006, para atender la población de niños y jóvenes con Necesidades Educativas Especiales de la comunidad, para conocer dicha población se realizó un censo y se verificó que para aquel entonces había más de 40 niños con diversas condiciones que necesitaban de una educación especializada, y fue así que comenzó todo.
La casa que donaron es grande, aún en la actualidad la escuela funciona allí, cada uno de los cuartos se adaptaron para que fueran salones, con entregas de cartas para diferentes donativos fuimos ubicando muho material que se pudiese utilizar a favor del avance de los estudiantes, tales como: pelotas, colchonetas, pizarras acrílicas, mesas con silas para los salones, en fin una series de cosas que, para el comienzo estaba más que bien.
Con el pasar de los años y ¿Por qué no mencionarlo? El pasar de los diferentes entes gubernamentales se nos ha hecho más dificil conseguir recursos tanto económicos como de materiales para seguir trabajando en darle una educación más digna a nuestros estudiantes, cabe resalta que nuestra escuela NO ES PRIVADA, es nacional, por ende dependemos netamente del Ministerio de Eduación, cosa que, en otro país imagino que este ente responde por cada una de las escuelas asignadas, lamentablemente en mi país no.
Para el año 2010, nos dirijimos con una carta de donaión para una empresa privada importante , pidiendo para la escuela un TRANSPORTE ESCOLAR, esto con la finalidad de hacerle un tranporte solo a los estudiantes de la institución, así ayudar a sus padres con el ahorro del pasaje y resguardando a su vez la seguridad de ellos, ya que solo se montarían estudiantes de nuestras escuela, para nuestra sorpresa en menos de 6 meses la carta fue aprobada, no solo eso, sino que, el dinero que aprobaron para el transporte al comprar el mismo sobró, así que todo eso fue comprado en materiales que le sirvieran a nuestros estudiantes para su independencia a futuro, todo esto maenejado de manera legal por la empresa UNICÓN.
Dichos materiales fueron: maquinas de coser, batidoras, licuadoras, bandejas para pan, bolw, video beam, computadoras, aires acondicionados, sonido, entre muchas otras cosas, realmente nuestra escuela fue bendecida.

As I have told you on several occasions, I am a special education teacher, when I was just in the 6th semester of my career, I had the opportunity to start working in a Special Education Institute, that was in 2007, from there began a beautiful learning with the daily practice of all the theory that I could have seen at the university, I currently have 14 years of work experience. GOD willing, on October 22nd I will be 15 years old.
We are an institution that provides specialized comprehensive care to children and adolescents aged between 6 and 15 years, with mental retardation and associated conditions, enhancing the various areas of human development, in order to achieve their independence and social inclusion.
To summarize the story of my place of work I tell you that it is a house, which was donated by the mayor in 2006, to serve the population of children and youth with special educational needs of the community, to know the population was conducted a census and it was verified that by then there were more than 40 children with various conditions that needed a specialized education, and that's how it all began.
The house that was donated was large, even today the school is still operating there, each of the rooms were adapted to be classrooms, with delivery of letters for different donations we were locating a lot of material that could be used for the advancement of students, such as balls, mats, acrylic boards, tables with chairs for the classrooms, in short a series of things that, for the beginning was more than good.
As the years went by and why not mention it? The passing of the different governmental entities has made it more difficult for us to get resources both economic and materials to continue working on giving a more dignified education to our students, it should be noted that our school is NOT PRIVATE, it is national, therefore we depend entirely on the Ministry of Education, which, in another country I imagine that this entity responds for each of the schools assigned, unfortunately not in my country.
For the year 2010, we addressed with a letter of donation to an important private company, asking for a SCHOOL TRANSPORT for the school, this with the purpose of making a transport only to the students of the institution, thus helping their parents with the saving of the passage and safeguarding in turn the safety of them, since only students of our school would be mounted, To our surprise in less than 6 months the letter was approved, not only that, but the money that was approved for transportation to buy it was left over, so all that was bought in materials that would serve our students for their independence in the future, all this legally managed by the company UNICON.
These materials were: sewing machines, mixers, blenders, blenders, bread trays, bolw, video beam, computers, air conditioners, sound, among many other things, really our school was blessed.
---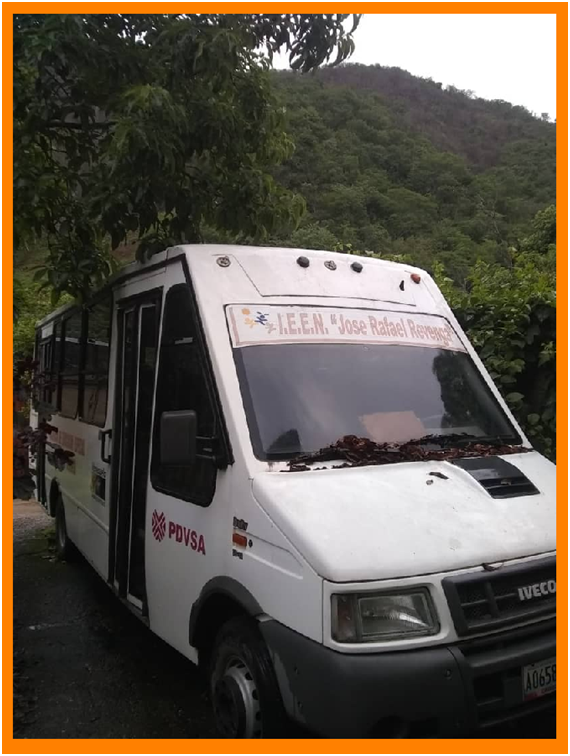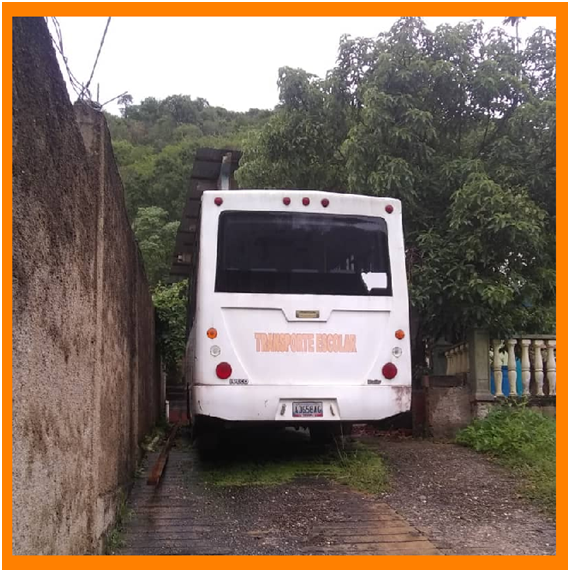 ---
En la actualidad nuestros transporte escolar no está operativo, le falta la batería y reparar el radiador, no lo podemos tener en la escuela porque no cabe en el garaje, sin embargo se le alquilo el patio de la casa a una señora para que lo estacionemos ahí mientras podemos solucionar su falla, mi persona pasó una carta de donativo pidiendo la batería a una empresa que siempre ha colaborado con la institución, pero sabemos que la economía no está en su mejor momento por ende aún no nos han dado respuesta a la misma.
En el año 2011 en las vacaciones de diciembre a primeros de enero, mi escuela fue robada, muchos de lo que nos habían donado se lo llevaron de la peor manera, los niños se quedaron sin sonido para sus actos culturales, sin batidoras para aprender a ser sus tortas, sin video beam para mostrarles a las demás escuelas que la educación especial si da frutos, y sin una serie de cosas que nunca dieron con ellas, sin embargo nosotras como profesoras resolvíamos, en cada acto se conseguía prestado un sonido, para enseñarlos a hacer tortas las batidoras la llevábamos de nuestras casas y así un sinfín de cosas.
Aquí en Venezuela las vacaciones escolares se dan el agosto, y al salir de vacaciones me vine pendiente, triste y preocupada por mi sitio de labores, más allá de todo lo material que se pudo haber perdido, la infraestructura está muy decadente y lo peor de todo es que no hay ente gubernamental que nos pueda o quiera ayudar.
La entrada de la escuela está deteriorada, al igual que la rampa de accesibilidad, el acceso de los niños con discapacidad motora y los que usan sillas de rueda se les dificulta de una manera increíble por las grietas y los huecos que están en ella.
Currently our school transportation is not operational, it lacks the battery and repair the radiator, we can not have it in the school because it does not fit in the garage, however we rented the courtyard of the house to a lady so we can park it there while we can fix its failure, my person passed a donation letter asking for the battery to a company that has always collaborated with the institution, but we know that the economy is not at its best time therefore we have not yet been given an answer to it.
In 2011, during the vacations from December to the beginning of January, my school was robbed, many of the things that had been donated to us were taken in the worst way, the children were left without sound for their cultural events, without mixers to learn how to make their cakes, without a video beam to show the children how to make their cakes, without a video beam to show the other schools that special education does bear fruit, and without a series of things that were never given to them, however we as teachers resolved, in each act we could borrow a sound, to teach them to make cakes we took the mixers from our homes and so on and so on and so forth.
Here in Venezuela school vacations take place in August, and when I came out of vacation I was pending, sad and worried about my place of work, beyond all the material that could have been lost, the infrastructure is very decadent and the worst of all is that there is no governmental entity that can or wants to help us.
The entrance of the school is deteriorated, as well as the accessibility ramp, access for children with motor disabilities and those who use wheelchairs is incredibly difficult due to the cracks and holes that are in it.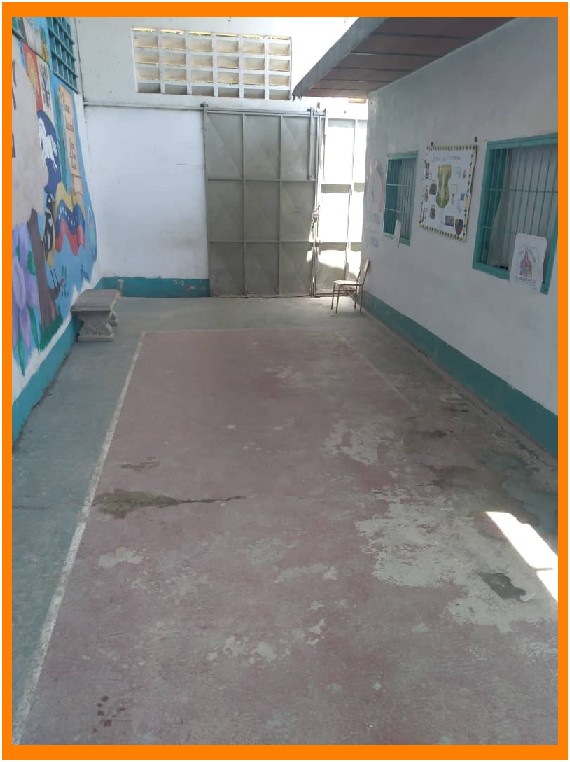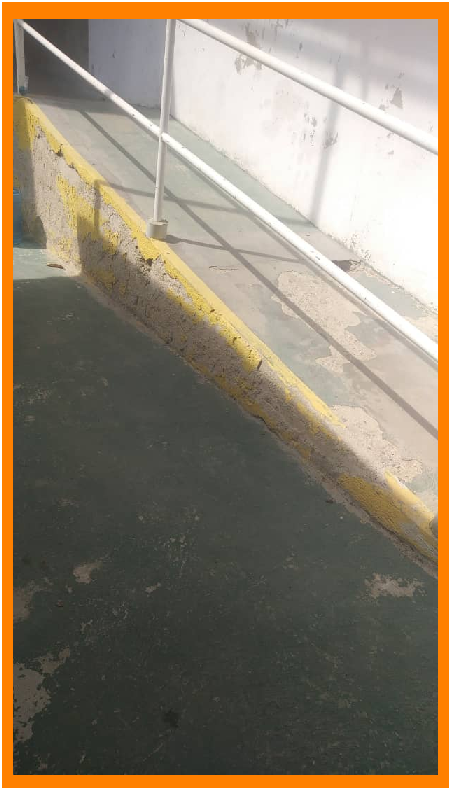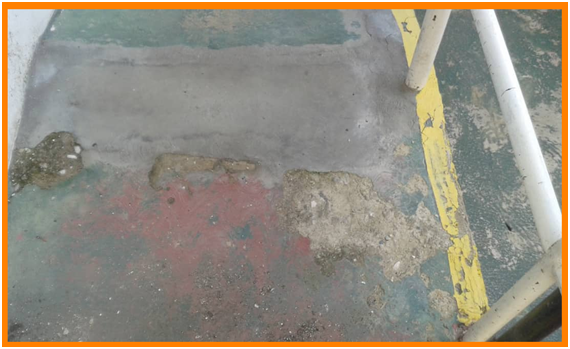 Las paredes de toda la escuela al igual que el techo están sufriendo de una humedad increíble, esto ha afectado a los estudiantes de 2 maneras:
La primera nos hemos visto en la necesitad de suspender clases para medio tapar esas paredes, cosa que hicimos 3 veces en el año escolar, ya que se hace de una manera momentánea por no contar con los recursos económicos, se ha realizado gracias a la colaboración de los representantes, unos traen un poquito de arena, otros un poquito de cemento y así…

La segunda es que por la gran cantidad de humedad tanto estudiantes como algunas docentes le han causado enfermedades a nivel respiratorio.
The walls of the entire school as well as the ceiling are suffering from incredible humidity, this has affected the students in 2 ways:
First, we have had to suspend classes to cover the walls, which we did 3 times during the school year, since it is done in a momentary way because we do not have the economic resources, it has been done thanks to the collaboration of the representatives, some bring a little sand, others a little bit of cement and so on....

The second is that due to the large amount of humidity, both students and some teachers have caused respiratory illnesses.
---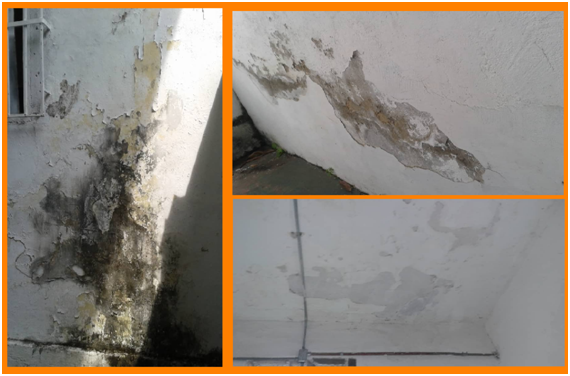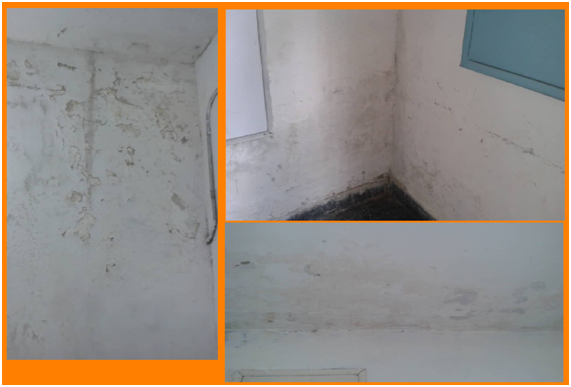 ---
Ni hablar cuando llueve, la alcaldía se le ocurrió abrir la calle donde queda el colegio para meter tuberías nuevas, solo que, no la volvieron a colocar de la misma manera, no le colocaron pavimento sino que la dejaron con tierra, cuando la lluvia hace de las suyas son mucho los que se han caído por la cantidad de lodo que ahí de deposita.
Not to mention when it rains, the mayor's office came up with the idea of opening the street where the school is located to put new pipes, but they did not put it back in the same way, they did not put pavement but left it with dirt, when the rain does its thing there are many who have fallen because of the amount of mud that is deposited there.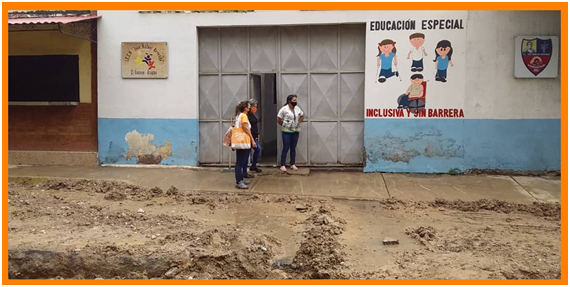 El taque de cemento que está en la parte superior de la escuela se quedó en derrumbarlo, ya que es demasiada la filtración y eso ha producido que el mismo se agriete, aumentado así el riesgo que se parta de manera completa y caiga encima de alguien.
The cement block that is at the top of the school was left to collapse, since there is too much filtration and this has caused it to crack, increasing the risk that it will break completely and fall on someone.
---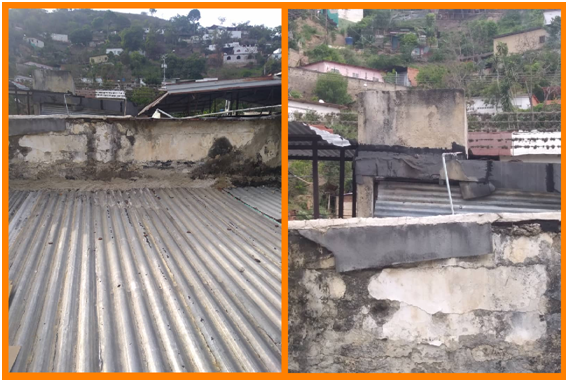 ---
El logro de este año fue para nuestro espacio de la cocina, en la escuela trabajan unas cocinera que son las que se encargan de hacerles la comida a los niños, siempre y cuando haya la disponibilidad de alimentos, realmente ellas trabajan con lo poco que se tiene, pero en este año escolar se logro la donación de 20 bloques y un saco de cemento para tapar las paredes que impedían que la llama de la cocina se mantuviese prendidas.
This year's achievement was for our kitchen space, in the school there are some cooks who are in charge of making food for the children, as long as there is food available, they really work with what little they have, but this school year we were able to get the donation of 20 blocks and a bag of cement to cover the walls that prevented the flame of the stove to stay lit.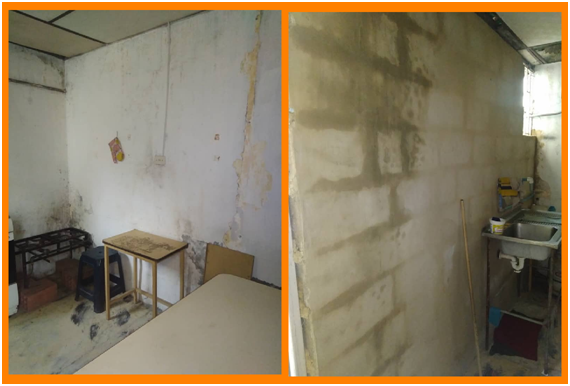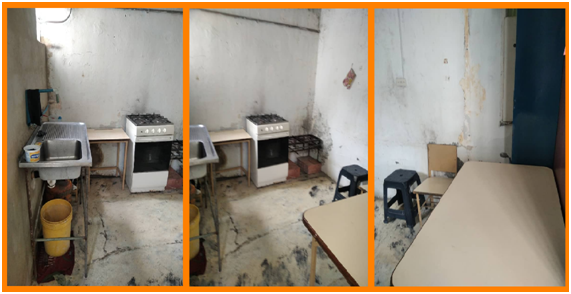 Con la cantidad de años que tengo en mi escuela basta para tener un sentido de pertenencia hacia ella, me duele ver como se ha ido deteriorando, me duele pensar que mis estudiantes se pudiesen quedar sin un sitio digno para atender las necesidades educativas que ellos merecen, me da rabia pensar que los entes gubernamentales no hace nada para solucionar este problema, se lavan las manos diciendo que no hay recursos, pero luego salen en cualquier otro evento político dando y donando hasta no que no deben.
Pienso que el inicio del nuevo año escolar debe ser sin estudiantes, se debe buscar una solución a esta problemática, los niños son los más afectados en este caso.
Realmente necesitaba desahogarme porque estoy preocupada por mi sitio de trabajo y por mis estudiantes.
With the number of years I have been in my school is enough to have a sense of belonging to it, it hurts me to see how it has been deteriorating, it hurts me to think that my students could be left without a decent place to meet the educational needs they deserve, it makes me angry to think that the government does nothing to solve this problem, they wash their hands saying that there are no resources, but then go out in any other political event giving and donating up to what they should not.
I think that the beginning of the new school year should be without students, a solution to this problem should be sought, the children are the most affected in this case.
I really needed to get this off my chest because I am worried about my workplace and my students.
---

---
Gracias por leer parte de mí

Thank you for reading part of me

Les envío un abrazo cargado de bendiciones

I send you a hug full of blessings

Fotografías y edición: propias, tomadas desde mi teléfono móvil y tomada desde mi facebook, editadas en el programa paint.

Pictures and editing: my own, taken from my cell phone and taken from my facebook, edited in paint program.
---
---