[Ger/Eng] Schaffen wir es auf unseren 12 Pfoten zu landen? | Can we manage to land on our 12 paws?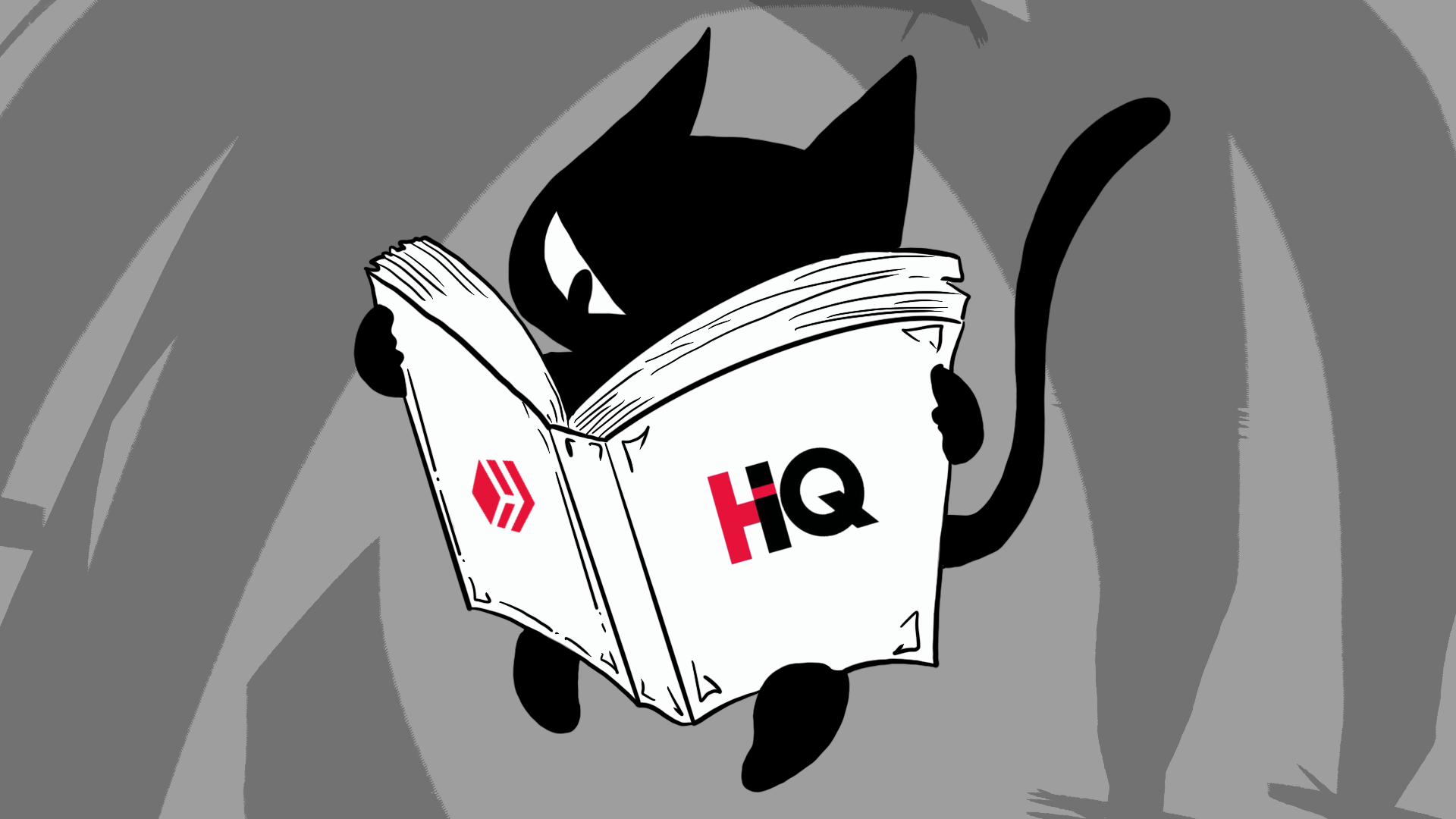 GER
Wir schmoren nicht nur wegen der Hitze, auch unsere Köpfe rauchen von der Arbeit an der physikalischen HiQ. Die HiQ-Prokrastinations-Katze kennt mittlerweile kein anderes Thema mehr.
Falls ihr es in der letzten Ausgabe der HiQ nicht gelesen habt, verkünden wir es hier erneut und machen es offizieller als es ohnehin schon ist. HiQ - The Hivestyle Magazine fährt zum HiveFest, gehört zu den Speakern UND wird dort als Print-Hivestyle-Magazin vertreten sein. Mindestens jeder Besucher bekommt eine Ausgabe zum Anfassen und Mitnehmen. Und das auch noch for free. (Anm. d. R.: Natürlich nur, falls ihr HiveFest Besucher seid. lool)
Wollt ihr mit eurem Projekt in unserer 1. stylischen Printvariante vertreten sein, könnt ihr bei uns Werbeplatz buchen. Wir haben unsere Werbeplatz-Preisliste etwas verändert. Sie hat zwar den Zweck, unseren Printauftritt zu finanzieren, aber größere Slots bekommen jetzt einen Discount. (Anm. d. R.: Und wir spenden nach wie vor einen Teil der Einnahmen ans HiveFest.)
ENG
We are not only smoldering because of the heat, our heads are also smoking from working on the physical HiQ. The HiQ procrastination cat knows no other topic by now.
In case you didn't read it in the last issue of HiQ, we're announcing it again here and making it more official than it already is. HiQ - The Hivestyle Magazine is going to HiveFest, is one of the speakers AND will be there as a Print Hivestyle Magazine. At least every visitor will get an issue to touch and take away. And that for free, too. (Editor's note: Of course only if you are a HiveFest visitor. lool)
If you want to be represented with your project in our 1st stylish print version, you can book advertising space with us. We have changed our advertising space price list a bit. It is intended to finance our print presence, but larger slots now get a discount. (Editor's note: And we still donate a part of the revenue to HiveFest).

BOOK ADVERTISING
1/4 page - 75 HBD
1/2 page - 150 HBD 125 HBD
1 page - 300 HBD 250 HBD

Wem das trotzdem noch zu teuer ist, der hat die Möglichkeit, einen 1/4 Werbeplatz in der Printausgabe zu gewinnen. (Anm. d. R.: Das ist die Verlängerung des Gewinnspiels aus der letzten Ausgabe. Ihr braucht also nicht erneut mitspielen, falls ihr das schon getan habt.)
Wollt ihr mitspielen, dann schreibt einfach
!ad warumdeinprojektWerbeplatzverdienthat
in die Kommentare. Mit Auslaufen dieses Posts endet unser Gewinnspiel. Lasst euch also nicht zu viel Zeit.
Neben hitzewallungenerzeugenden HiveFest-Printausgaben-Vorbereitungen haben wir auch unser Kurationssystem umgestellt. Unsere Trail-Accounts sind jetzt @hiq.hive (Anm. d. R.: Für generelle Kuration.) und @hiq.bee. (Anm. d. R.: Für #hive-engine Kuration.)
Falls ihr wollt, dass jemand von unseren Trails gevotet wird, staked mindestens 10 HIQS und schreibt
!hiqvote
in die Kommentare des Begünstigten. Derzeit befindet sich das Kurationssystem noch in einer frühen Testphase.
If this is still too expensive for you, you have the chance to win a 1/4 advertising space in the print edition. (Editor's note: This is an extension of the contest from the last issue. So you don't need to enter again if you already have).
If you want to play, then simply write
!ad whyyourprojectdeservesanadvertisingspace
in the comments. With the end of this post our competition ends. So don't take too much time.
In addition to heatwave-inducing HiveFest print issue preparations, we've also changed our curation system. Our trail accounts are now @hiq.hive (Editor's note: For general curation.) and @hiq.bee. (Editior's note: For #hive-engine curation).
If you want someone to be voted from our trails, stake at least 10 HIQS and write
!hiqvote
in the beneficiary's comments. Currently, the curation system is still in an early test phase.

Wo wir schon beim Thema HIQS sind: Auch diese Woche habt ihr wieder die Gelegenheit, HIQS via Commentary Discount Sale zu bekommen. Höchstens 180 HIQS könnt im Commentary Discount Sale 2/4 erstehen. Schreibt dazu einfach
!HIQS HierDeinWunschBetrag
in die Kommentare. Für 0.35 SWAP.HIVE pro HIQS könnt ihr das begehrte Gut diese Woche abstauben. Dafür habt ihr 48 Stunden bis nach Erscheinen dieses Posts Zeit. Nach der abgelaufenen Frist wird ein Post auf @hiq.shares veröffentlicht, welcher eure Bestellungen abwickelt.
Sollten mehr als 180 HIQS angefragt werden, wird der HiQ-Smart-Bot die HIQS nach der smoomsschen Regel fair verteilen. In Fällen von Missbrauch behalten wir uns vor, User vom Kauf auszuschließen. (Anm. d. R.: Was bisher immer noch NIE passiert ist.) Wollt ihr auch zukünftig keine Sales mehr verpassen und immer über unsere neuste Ausgabe infomoiert werden, dann solltet ihr uns unbedingt abonnieren und bekommt sogar die begehrte HiQ SUB Badge dafür. Schreibt schnell
+ABO
in die Kommentare.
While we are on the subject of HIQS: Also this week you have the chance to get HIQS via Commentary Discount Sale. You can buy a maximum of 180 HIQS in the Commentary Discount Sale 2/4. Just write
!HIQS HereYourWishAmount
in the comments. For just 0.35 SWAP.HIVE per HIQS, you can get your hands on the coveted item this week. You have 48 hours after this post is published to do so. After the deadline has passed, a post will be published on @hiq.shares that will process your orders.
If more than 180 HIQS are requested, the HiQ Smart Bot will distribute the HIQS fairly according to smooms' rule. In cases of abuse, we reserve the right to exclude users from purchasing. (Editor's note: What still has NEVER happened.) If you don't want to miss any future sales and always want to be informed about our latest issue, then you should definitely subscribe to us and even get the coveted HiQ SUB Badge for it. Write quickly
+SUB
into the comments.

Wenn ihr uns zusätzlich supporten wollt, dann votet unser Proposal, das für unbestimmte Zeit auf Eis liegt, auf Tribaldex. (Anm. d. R.: Während der Fomokalypse dann wohl eher unsere Posts und Spendenkommentare. [Anm. d. Anm. d. R.: Auch wenn die Votes bisher immer noch nicht mal einen Tag decken können. lool (Anm. d. Anm. d. Anm. d. R.: Und den Witnessvote für @hiq.witness nicht vergessen. Für die Faulis hier ein direkter Link.
Presst die Glocke Haut "+ABO" in die Kommentare, folgt uns auf PeakD oder einer anderen dApp eures Vertrauens: Für die deutsche Ausgaben folgt @hiq und für die englische @hiq.magazine. Umschwärmt uns auf Twitter, bejubelt uns auf Instagram oder schaut bei uns via Discord vorbei. Wer dann immer noch nicht genug von uns hat, kann auch eine kleine Spende da lassen. Und die krassesten Fomo Sapiens und Fomo Erectanten unter euch besorgen sich HIQS und/oder haben Spaß mit unserem HIQS:BEE Diesel Pool.
Und Hulk Fomogan sprach:
If you want to support us additionally, then vote our Proposal, which is on ice for an indefinite time, on Tribaldex. (Editor's note: During the fomocalypse, it's more likely to be our posts and donation comments. [Editor's note to editor's note: Even if the votes so far can not even cover a day. lool (Editor's note to editor's note to editor's note: And don't forget the Witnessvote for @hiq.witness. For the lazy here's a direct link.
Ring the bell Put "+SUB" in the comments, follow us on PeakD or any other dApp you trust: For the german issue follow @hiq and for the english version @hiq.magazine. Also idolize us on Twitter, cheer us on Instagram or check us out via Discord. If you still haven't had enough of us, you can leave a small donation. And the tightest Fomo Sapiens and Fomo Erectants among you can get HIQS and/or have fun with our HIQS:BEE Diesel Pool.
And Hulk Fomogan spoke:


Anyone who is stylish and smart has subscribed to us: @adncabrera @alucian @andy-plays @atra-aranea @balte @bananofarmer @bechibenner @beeber @bitandi @blue.rabbit @btcsam @carolinmatthie @chaosmagic23 @chappertron @chrislybear @cloudlynx @cultus-forex @danielhuhservice @dauerossi @dieradikalemitte @ditsch @ervin-lemark @failingforwards @flamo @florian-glechner @flows @fredfettmeister @ganjafarmer @hatoto @hiq @hiq.magazine @hiq.redaktion @ischmieregal @jeenger @kadna @kaeptn-iglo @kheldar1982 @klausklaus @konstice @kryptodenno @kvinna @lammbock @lauchmelder @leosoph @louis88 @mario89 @markus.light @mary-be @mary-me @miketr @mima2606 @misan @mrdalle @mryoung1979 @mwfiae @nessos @oesterreich @platuro @powerpaul @pundito @queker-bee @quekery @quelled @querdenker @r0nny @rachaeldwatson @reiseamateur @remotehorst23 @saffisara @satren @schmidi @sebescen81 @shakkei @simsibee @smooms @smoomslive @sodom @solarwarrior @solymi @stickupboys @syalla @thatcryptodave @thatgermandude @tibfox @tribemieregal @twicejoy @twinner @untzuntzuntz @vasupi @vugel @ynwa.andree @yoshi-and-family @zockerpeine

---
---