Anuncio del Ganador e Invitación al "Hive in Shorts", semana 3

Hola hivers,
Para el equipo de Hispapro es un placer anunciar que la competencia cada vez es mas reñida, en esta segunda semana declaramos como ganador nuevamente a @juantecocha. Luego de observar todas las entradas de la semana llegamos a la conclusión que esta fue la mas destacada, sin embargo queremos enfatizar todas mostraron calidad a cargo de cada uno de los creadores de contenido que se dieron la tarea de participar. El premio obtenido es, 10 Hive y 3 Hive - SBI. Felicidades Juan.
Hello hivers,
For the Hispapro team is a pleasure to announce that the competition is getting tighter and tighter, in this second week we declare as winner again @juantecocha. After observing all the entries of the week we came to the conclusion that this was the most outstanding, however we want to emphasize that all entries showed quality by each of the content creators who were given the task of participating. The prize obtained is 10 Hive and 3 Hive - SBI. Congratulations Juan.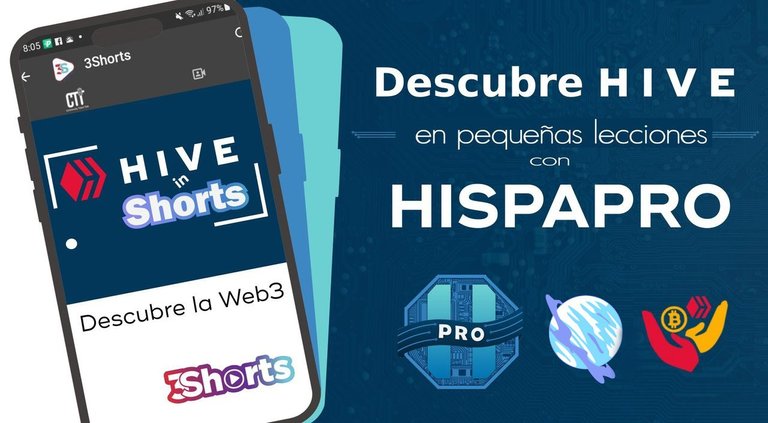 Ahora, recordarles que esto apenas esta comenzando, asi que, los invitamos cordialmente a la tercera semana de competencia en "Hive in Shorts". El tema que abordaremos esta vez es, ¿Cómo y donde hacer una cuenta de Hive?. Tenemos muchas opciones, pero sabemos que tienen el talento y el ingenio para sacar esta tarea adelante, recuerden que este contenido va ser redirigido a los proyectos de onboarding que seguiremos realizando mas adelante.
Now, remember that this is just getting started, so, we cordially invite you to the third week of competition in "Hive in Shorts". The topic we will address this time is, How and where to make a Hive account?. We have many options, but we know that you have the talent and ingenuity to pull this task off, remember that this content will be redirected to the onboarding projects that we will be doing later on.

Enhorabuena @juantecocha, tu participación ha sido excepcional y apreciamos tu contribución a la comunidad. // Congratulations @juantecocha, your participation has been outstanding and we appreciate your contribution to the community.


Concurso
Explica en un breve video, de no más de 1 minuto y 20 segundos, Cómo y donde puedes crear una cuenta de Hive. La clave como siempre es ser claro, conciso y creativo.
Para participar, simplemente sigue estos pasos:
Crea un video tutorial corto sobre el tema de la semana (¿Cómo y donde hacer una cuenta de Hive?) y asegúrate de que incluya el logo y la identidad gráfica del Testigo Hispapro para ser elegible para el premio.

Publica tu video desde la Dapp @threespeak en la comunidad Threeshorts y utiliza las etiquetas #HiveinShorts e #Hispapro para que podamos encontrar tu entrada.
Comparte el enlace de tu publicación en los comentarios de esta publicación para que podamos revisar y evaluar tu participación.
4.Comparte en Leo Theards y en twitter X, etiqueta a @hispapro.
Contest
Explain in a short video, no longer than 1 minute and 20 seconds, how and where you can create a Hive account. The key as always is to be clear, concise and creative.
To participate, simply follow these steps:
Create a short video tutorial on the topic of the week (How and where to make a Hive account) and make sure it includes the logo and graphic identity of Hispapro Witness to be eligible for the prize.

Post your video from the Dapp @threespeak in the Threeshorts community and use the hashtags #HiveinShorts and #Hispapro so we can find your entry.
Share the link to your post in the comments of this post so we can review and evaluate your entry.

Share on Leo Theards and on twitter X, tag @hispapro.
---
---
Nota: "HiveInShorts" estará vigente durante los próximos 7 días o hasta la expiración de esta publicación. // "HiveInShorts" will be in effect for the next 7 days or until the expiration of this publication.
---
---

Premios
Distribuiremos 100 Hive entre los ganadores de las primeras semanas de concurso, cortesía del testigo @aliento.

El ganador de esta semana también se lleva 3 Hive-sbi en premio.

Los amigos de @steembasiscincome de la mano de @ecoinstant nos tienen un regalo sorpresa.

Seguiremos tu cuenta y tendrás el privilegio de curación más frecuente (sin garantía de voto).

El ganador recibirá el honor de ser nombrado "Miembro Honorario del Testigo Hispapro". Sus videos serán utilizados para los programas de adopción del testigo y de @hiversbqto.
Prizes
We will distribute 100 Hive among the winners of the first weeks of the contest, courtesy of the witness @aliento.

This week's winner also gets 3 Hive-sbi in prize money..

Friends of @steembasiscincome hand in hand with @ecoinstant have a surprise giveaway for us.

We will follow your account and you will have the most frequent healing privilege (no voting guarantee).

The winner will receive the honor of being named "Honorary Member of Hispapro Witness". Their videos will be used for the Witness and @hiversbqto adoption programs.
---
Todas las entradas recibirán la curación a discreción del testigo @Aliento, nuestra cuenta curadora y la de todos los proyectos aliados. // All entries will receive curation at the discretion of the @Aliento witness, our curator account and that of all allied projects.

Recuerda que los videos deben ser originales y cumplir con las pautas del concurso. Los criterios de evaluación incluirán la claridad del contenido, la calidad del video y la relevancia del tema.
Este concurso no solo es una oportunidad para ganar premios, sino también para mostrar tu creatividad y compartir tus conocimientos con la comunidad. Además, tus videos serán considerados para el proceso de Hive onboarding que realizamos junto a @hiveresbqto y otros proyectos afiliados.
Remember that videos must be original and meet the contest guidelines. Judging criteria will include clarity of content, quality of video and relevance to the topic.
This contest is not only an opportunity to win prizes, but also to show your creativity and share your knowledge with the community. In addition, your videos will be considered for the Hive onboarding process that we do together with @hiveresbqto and other affiliated projects.
---
Esperamos ver tus increíbles videos y aprender juntos sobre Hive, buena suerte a todos los participantes y que siga la competencia. // We look forward to watching your amazing videos and learning together about Hive, good luck to all participants and let the competition begin.
---
Agradecimientos especiales a @lunaticanto, @eddiespino, @ecoinstant y a todos por el apoyo. // Special thanks to @lunaticanto,@eddiespino, @ecoinstant and everyone for the support.
---

Nota: Si deseas indagar sobre los Hive-sbi, te invitamos a revisar esta publicación. // Note: If you want to find out more about Hive-sbi, we invite you to check this publication.
---
Hispapro es ahora mismo testigo de Hive. // Hispapro is now Hive's witness.
---
---
---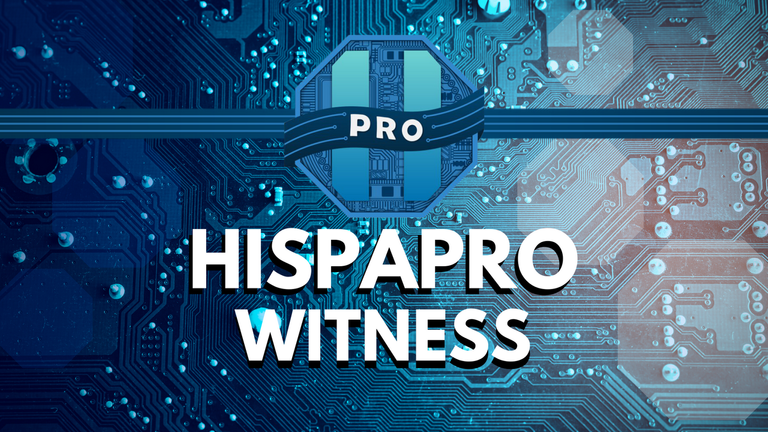 ---
Entra al servidor de Discord de HispaPro

---

DISCORD >> KOD | ShapeShift | Ecency | Crypto-shots
---
---