Hive/LEO Twitter Marketing & Report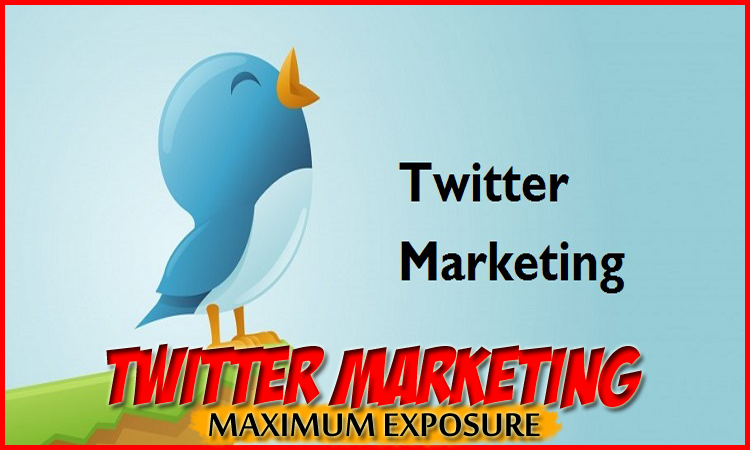 ---
Lately, I've been talking about optimized content, telling you what to optimize and I have also shared the keywords that brings most organic traffic. On top of that, I have also shared an In-Depth Organic Traffic Report With Keywords & Tips For Future Content. I do this because I believe in optimized content and organic traffic. I want everyone to know, understand and experience the potential.
As I have also talked about the importance of social signals and how we benefit from them in various ways, such as immediate bursts of traffic, exposure, Ad Revenue and rankings. I figured I would share a couple of my tweets and the reason for them.
---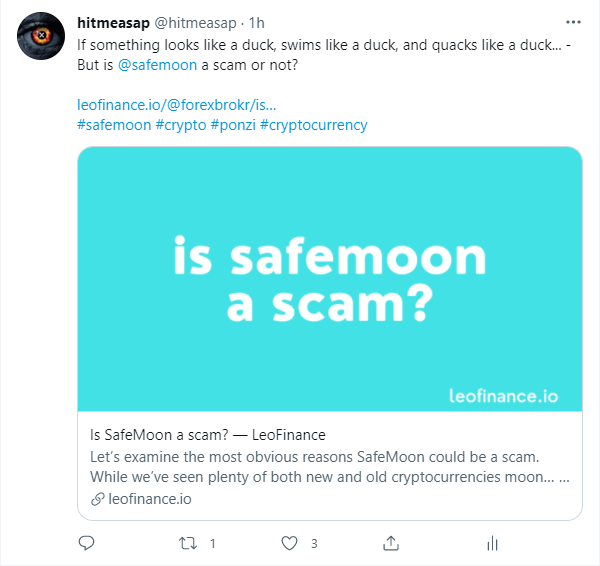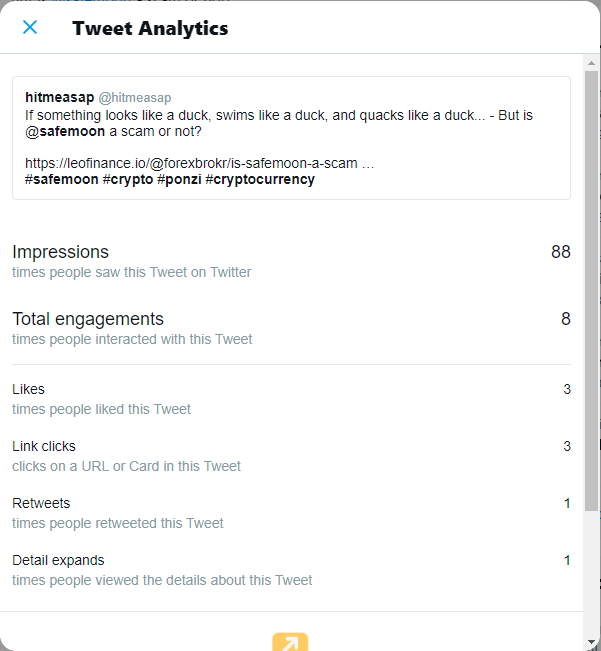 Tweet: https://twitter.com/hitmeasap/status/1415438141792661506
---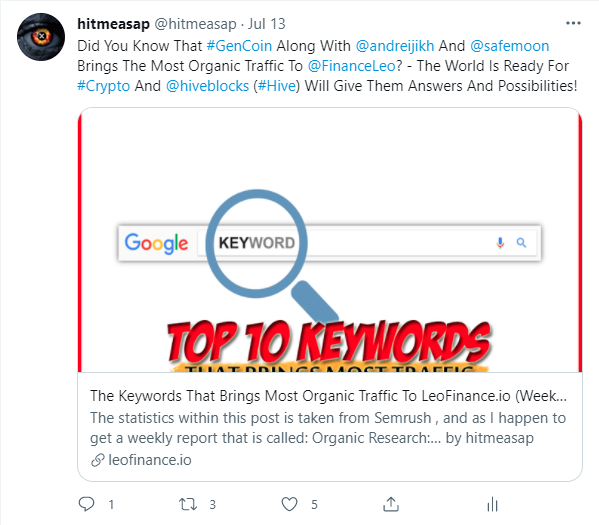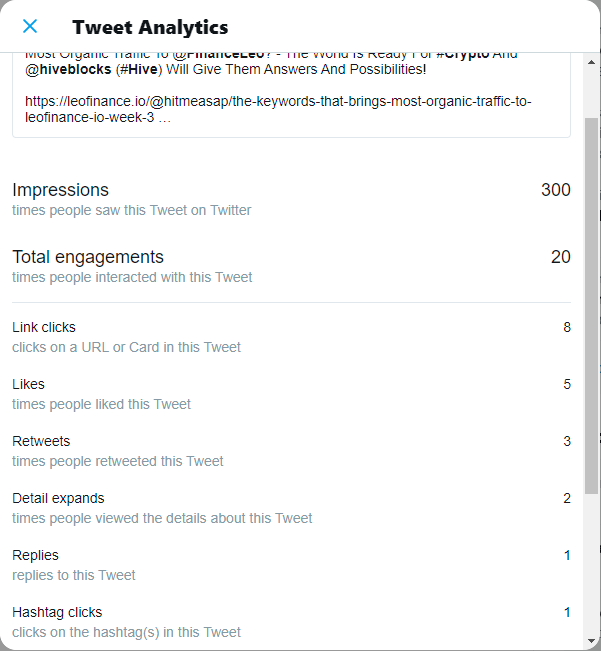 Tweet: https://twitter.com/hitmeasap/status/1414722061113741317
---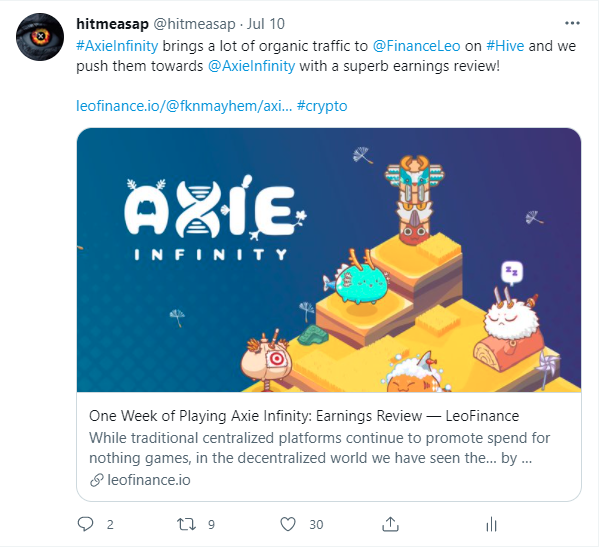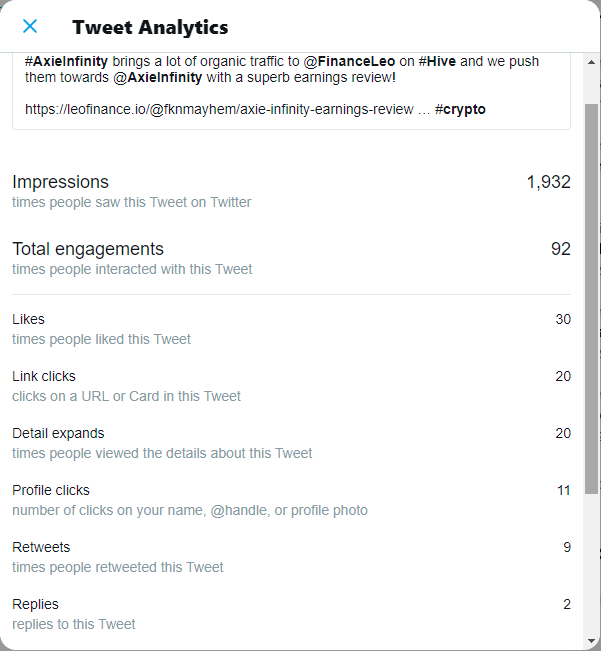 Tweet: https://twitter.com/hitmeasap/status/1413894390645501955
---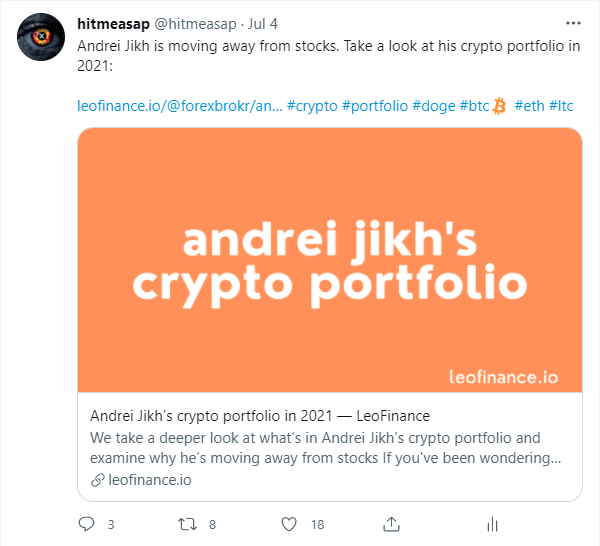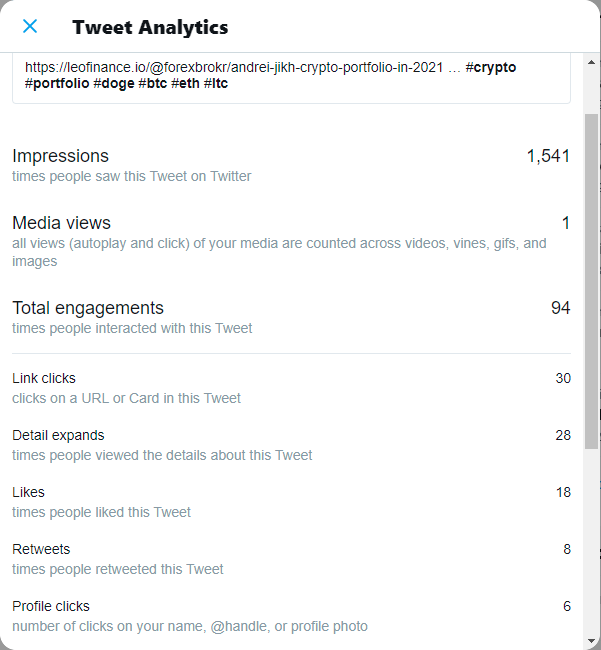 Tweet: https://twitter.com/hitmeasap/status/1411691846879920134
---
These are my 4 latest tweets. I am probably not as active as I should be, but I think I'm getting decent results. So, while the latest tweet is just ~2 hours old, we can still see a difference in the results of these tweets.
Let me tell you what I do, in case it's not clear yet. Judging by my latest keyword report, there are three keywords that brings in the most organic traffic to LeoFinance. They also have the highest search volume.
Those keywords are:
gencoin
andrei jikh portfolio
is safemoon legit
That's the reason for the second tweet. Instead of just sharing a link to the article on LeoFinance, I put in some extra effort in my tweet. I used hashtags, tagged the official accounts of the ones I talked about and, I also included a hashtag for Hive along with tagging the official account for it. Overall, a decent message.
Let's break it down even further:
By tagging the official accounts, I have a chance of getting likes/retweets from those accounts which obviously would result in more exposure. By using relevant hashtags, I increase the chances of getting more exposure.
While I doubt that Safemoon would suddenly jump onboard Hive, there's a lot of buzz lately, so people interested in that might also be interested in Hive or LeoFinance. Andrei Jikh on the other hand, I truly believe that he could end up using Hive, 3speak and LeoFinance. As he brings a lot of organic traffic to LeoFinance, it would be cool to have him around.
---
The reason for my latest tweet:
The keyword "is safemoon legit" is the keyword that brings most organic traffic to LeoFinance according to my latest report. I want to capitalize on the buzz. The message in that tweet is actually within the article itself. It's nothing I wrote myself. I simply copied the text.
Once again, using hashtags and tagging the official account. Scary to ask the official account (along with others) if they are a scam or not, don't you think? - It's actually not. This is a perfect chance for us to "lure people in", getting people to read the article I included and it will also, with time, strengthen the rankings due to the social signals.
That's my approach and mindset most of the times. About 99% of the times I do things, I am trying to think one or two steps ahead. The goal of my tweets and content I publish is to improve the overall rankings, increase organic traffic and to be rewarded in the future for my efforts. To be rewarded now for doing that is obviously awesome as well.
You can see the same thing with the other tweets:
I am using relevant hashtags, I am tagging official accounts and I am sharing links to articles that I want to rank. Axie Infinity brings a lot of traffic. Even though the article was published ~7 months ago, I made a tweet about it because it's all about buzz, hype and rankings.
That's an easy way to get more organic traffic.
Posted Using LeoFinance Beta
---
---