LeoFinance Is Where I Am Rewarded The Most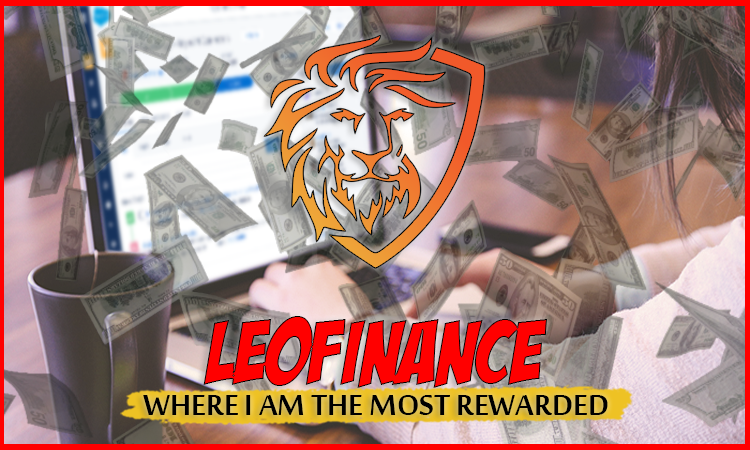 ---
Contributions Are Rewarded
I love Hive and the opportunity it gives me and the rest of the world to make something extra, to potentially make a living and to change lives all due to crypto, blockchain technology and content. I think it's a wonderful idea and concept and even though we aren't perfect in every aspect, Hive has given me far more than anything else online. Except for my brand building business.
That being said, rewards and how tokens are being distributed have always, ever since the birth of Steem been debated. We never seem to be able to satisfy everyone, and I think that's fine. We cannot please everyone at all times. Some will have more than others, just like in real life.
Some will be rewarded more, some will invest more.
Something funny though, in my personal opinion, is the fact that I seem to be rewarded more on LeoFinance than on Hive itself. At least lately.
Don't think for a second that I complain about it. It's actually amazing and I am extremely satisfied and thankful for the support. While rewards are more than just tokens and $ value, I am talking about actual tokens in this scenario. Nothing more and nothing less.
People often complain and talk about how "unfair" Hive is, and how others always earn more than them. That is probably one of the most common reasons for people to give up and leave Hive.
If we look at Hive Gaming, the gaming community on Hive, we can easily see that some people over there are making a good chunk of rewards for their contributions. Some others, including myself, doesn't seem to have the same "luck" or support when it comes to gaming content and that is okay.
We can't like or love everyone and everything. We have different taste. The majority of my followers or the ones who supports me didn't start to support me because of my gaming content. Most of them started to enjoy, like or appreciate other types of content I was publishing. Life stories, ideas, tips, tricks, tutorials. Whatever, you name it.
---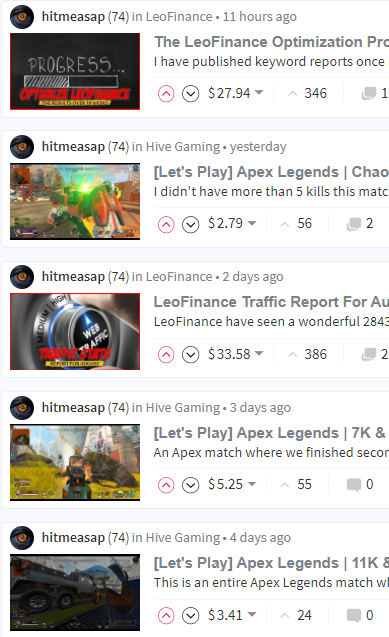 ---
If you look at the above screenshot you can easily see that my gaming content is pretty much ignored compared to content about LeoFinance. Much of that is because of the support from the official @leofinance account, or the @leo.voter account, but it's not only that. The LeoFinance content I publish is often appreciated by the LEO community and most of the users have Hive Power so it's a win/win for me whenever they decide to vote on my content.
So, simply put, my LeoFinance content gives me multiple tokens simultaneously. I earn Hive, HBD and LEO tokens for each piece of post I publish. Whenever I publish gaming content, I earn Hive and HBD, but I haven't been able to build a following for that type of content so far so I earn less compared to what I often earn from LEO-content.
Look at the Hive Gaming community. We can see some people earn as much as $150 for a video or a review. The same goes for all the communities. That's actually the beauty of Hive and the communities we have, and the communities that we will see in the future. The more successful communities we will get, the more tokens we will have. All tokens lead back to Hive and it's value.
Sure, my gaming videos take time to publish because there are multiple steps to cover before I can share it. First of all, I need to actually play games. The next step is to go through the gameplay and edit. The next step is to download the clip/video and make some more edits, include an intro and stuff like that. Then we have the rendering before I can finally upload the video.
When all of that is done, I can finally create a new post and share it with others. It takes time, just like any other content I produce. This very post I am writing right now takes time as well, but it's time I am willing to spend. Just like when I share gaming highlights.
None of my posts, gaming-related or not have been completely ignored though, and I doubt they ever will be because I've been here for years. But I am far from done. Despite being here for years, this is just the beginning. I have goals, I have dreams. Hive gives me an opportunity to fulfill those goals, but it's up to me to do all the heavy-lifting.
I have to carry myself up the ladders and towards those goals, if that is what I want. Hive is the place where I can succeed and reach some of my personal goals, but it takes time and effort.
With all of this being said, contributions are rewarded.
Posted Using LeoFinance Beta
---
---