Silver Bloggers Community refresh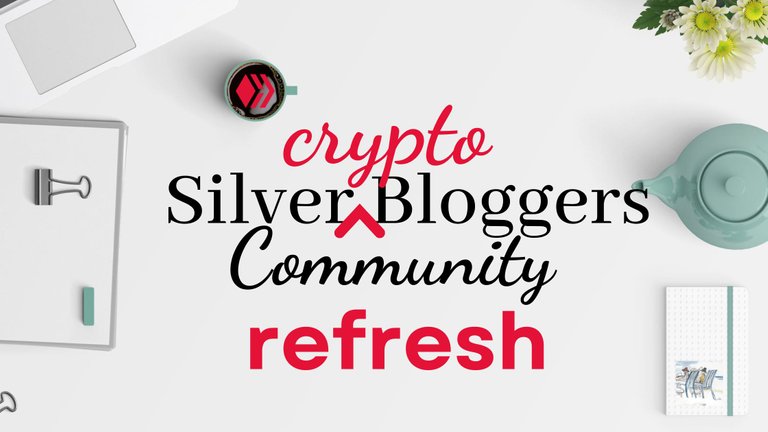 The Silver Bloggers' Community is a bit like the world – and life. Our subscribers, now nearly 1,5 thousand (who would have thought?), hail from the four corners of the globe. It's all quite marvellous.
Like life, community activity ebbs and flows; phases come and go. Over the last eighteen or so months, the Silver Bloggers' community has, as our Dude suggests, developed into a space where over 40 adults the "Wisdom-ized Crypto Blogger" can share their stories – of today and yesteryear. As we summed up in our March reflections on the community:
Silver Bloggers is a niche community for young-at-heart, kindred Silvery Souls - usually in the 40+ category. We tend to be pre-occupied with one or more of these:

Retirement planning
Semi- or fully retired
Freelancer - pre- or post-retirement; second, third, fourth or fun careers, side hustles or hobbies
Post-retirement nine-to-fivers
Seasoned (and not-so-seasoned) crypto HODLERS
The good old days

A bit of history
When Silver-Blonde Lizzie conceived the community, the idea was to have an age restriction – not as a maximum, but as a minimum. Ageism, a bit like youth discrimination, is a "thing". As communities popped up on Hive, there wasn't one for folk who are moving into new phases of their lives – whether they liked it or not. Similarly, some of the older – in years and in moons – Hiveans couldn't find a comfortable community.
And so, the Silver Bloggers' Community was born.
It's not about a number
We soon discovered that it was impossible to chase the numbers – how could we confirm – without a KYC process, which is NOT what we're about – that someone was born in or after 1892???
We listened. We dropped that restriction, and kept our content focus.
Retirement or reFirement?
Depending on one's life journey and what we wish for (ha!), retirement is a dream or a nightmare. Either way, it doesn't matter. Throughout life, we move through different phases – child to adult, parent, grandparent, spouse, working person, happy, sad, grieving, you name it.
What is also more and more evident (and we like that!) is that most of our subscribers are in the second phases of their lives. Mostly they're not pre-occupied with the wonders of retirement. Either they cannot, do not and/or will not retire. Whether that's a choice or life circumstance, it doesn't matter. The bottom line, we're moving away from retirement to reFirement. All based on at least four decades of life experience – which should have taught us something, right?
Meet the real Silver Bloggers
We, and our fellow Silvers, are an eclectic group of people from all over the world who have lived through many phases of life. Some of us are middle-aged adults, while others have even more years of worldly experience. Some of us have corporate experience, or have been gig workers since before it was a "thing"; others are house spouses or single working parents. Many of us are entrepreneurs who have had no qualms (or choice) about starting over when life throws us curved balls.
Others are a mix of all of the above and much, much more.

Admin Housekeeping
Keeping house is what we all have to do and the community is no different.
A gift for our delegators
We've been saying for a while that we've been looking at ways of saying a "proper" thank you to the folk who so generously delegate to our community account. The bigger the delegations the more meaningful the vote we can give to deserving subscribers' posts. It also helps us to build the account so that we have a decent prize pot for our Blog of the Month initiative.
As of a while ago, and some of you may have noticed, we have set up a Silver Bloggers' Fanbase where we have applied a sliding scale and set autovotes so that all our delegators will receive a certain number of votes from our account until it reaches the cap of 80%.
If you want to delegate to @hive-106316, you can do it directly from your wallet or by using the nifty table at the end of this post.
Manual curation will never stop
The auto votes don't mean that we've stopped curating posts - our fabulous curators, the mad Silver Scot and Silver Cat and occasionally helped by the other lazy three - do a sterling job. A special thank you to them for the time they spend on curation posts - the selection and the writing.
Speaking of thanks and curation, a shout out to the team @ocd for looking out for, and supporting this community from day one.
Engaging is key to crypto-social success
We are a community. Human beings are social creatures and this blockchain is a social space. That means engaging with other community members - on their posts and responding to comments. It builds relationships and rewards - in more ways than one.
Which brings me to our selection processes for #bom and for curation: we cannot help but notice who interacts a lot on posts and who doesn't. Many challenges on the blockchain make this mandatory; we're not going to do that, but when someone's taken the trouble to participate, the least we can do is leave a little something to say we've been there! You never know what you might get in return!
Please

Follow and interact with @hive-106316

Assuming you're (and even if you're not) a subscribed Silver Blogger please follow our "mother account". That way you're sure not to miss any updates (like this), challenges, curation posts as well as brilliant subscriber posts that we re-blog.

It's also this account that sponsors all the #bom contests - which we are told, offers some of the best prizes on the Hive blockchain.
It's easy to follow the mother account: here's how...
Go to https://peakd.com/@hive-106316 and check the steps in the two pictures here:




Lastly - almost
We also try to make a point of re-blogging your posts so that you get more eyes - and votes, and comments and rewards.
Please return the favour?

Finally...
If you have any questions or suggestions, please
and see you in our Coffee Corner on Discord!
---
Thank you for your awesomeness!
---
---