Luxe post-ap, et rappel fonctionnement délégation.


---
Le Luxe post-Apocalypse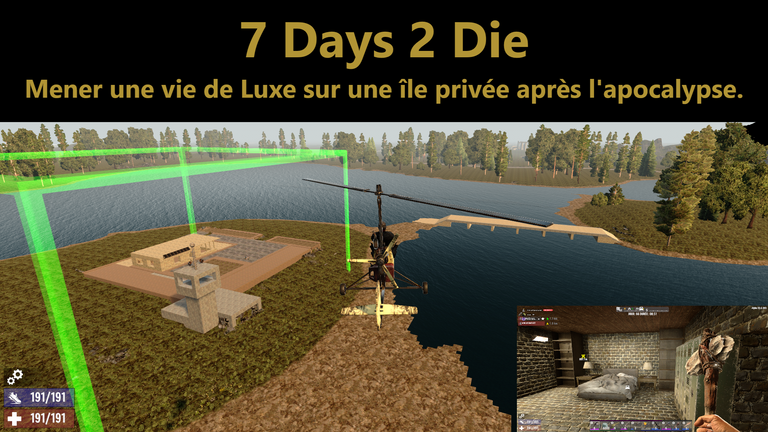 Comme Victor dans fear the Walking Dead, certains veulent le LUXE même après l'apocalypse.
C'est un peu le projet que nous menons en ce moment et sur lequel nous avons déjà bien avancé.
Comme vous pouvez le voir, notre base avance bien ...
double piste d'atterrissage,
Tour de contrôle
Habitation avec chambre tout confort
Pont privatisé pour mener vers l'île secondaire, où nous construirons la base blood perso
Nous finirons le déménagement entre deux missions, ces dernières seront parfois en solo ou même avec les copains qui seront en ligne avec nous.
Vous avez tout le loisir de nous y rejoindre.
Pour la principauté (Rappel fonctionnement délégation)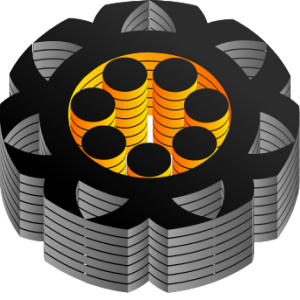 Nous profitons de l'augmentation de la délégation de @bambukah (merci à toi), pour rappeler le fonctionnement de notre système UNIQUE SUR HIVE (ou du moins dont nous avons la primeur)..
Tout personne qui voudrait déléguer des HIVE vers @hive-143869 s'en verra récompensé chaque semaine par des ECU.
L'ECU est notre TOKEN NATIONAL et de type stable ayant toujours la valeur de 1 HBD.
Le calcul des récompenses est simple, 90% de la totalité des gains de curation et de votes sont partagés entre chaque délégateur proportionnellement aux délégations de chacun.
Les 10% restants sont automatiquement placés en délégations croissantes ce qui se rajoute à plusieurs comptes qui délèguent sans réclamer de récompense afin de booster vos récompenses.
Donc oui, 100% des revenus vous sont retournés, tout en garantissant un revenu en constante augmentation avec cette délégation supplémentaire et automatique. Difficile de faire mieux, n'est-ce pas ?
Avec ce système, il est plus que probable que déléguer sur @hive-143869 rapporte plus que si vous votiez pour/par vous même.
HINT: Vu que nous travaillons, par facilité, sur les 2 premiers chiffres après la virgule, nous conseillons des délégations d'au moins 50HP pour percevoir un petit quelque chose, même si cela n'est évidemment pas une obligation.
L'argent ainsi généré permet de minter, régulièrement, de nouveaux ECU, ce qui aide à financer la principauté.
Il y a plein d'autres façons d'aider la principauté, renseignez-vous sur notre Discord communautaire pour de plus amples informations.
Nota bene: Grâce à vous nous avons déjà franchi le cap des 700 ECU ! MERCI
Rejoindre nos lives
https://www.twitch.tv/itharagaian
Merci de penser à cliquer sur Follow et d'activer la cloche, c'est totalement gratuit et vous ne manquerez plus aucune de nos émissions :) MERCI

Notre discord communautaire est également à votre entière disposition, nous y parlons du live, de crypto, de jeux et de micronations!
---


LA TAVERNE ENTR'AIDE - Where Gamers and streamers meet Crypto Adepts
Grandir ensemble... C'est notre devise.
Discord : Discuter ensemble (Oral et écrit)
ECU : https://hive-engine.com/?p=market&t=ECU
Notre site officiel : http://itharagaian.duckdns.org/index.php/but-fonctionnement
Lives : Notre chaîne Twitch
Dons en token pendant les lives: https://hivelive.me/donate/itharagaian
Monnaie Taverne : https://peakd.com/fr/@hive-143869/la-taverne-les-ducats-et-les-rangs
Delegations :
Délégations en un click: 10 HP | 50 HP | 100 HP | 500 HP |1000 HP | 5000 HP
Pour une délégation autre, copiez le texte et notez le nombre de HP à la place du mot montant.
https://hivesigner.com/sign/delegateVestingShares?delegator=&delegatee=hive-143869&vesting_shares=montant%20HP
Pour annuler vos délégations, vous pouvez remplacer montant par 0 dans la case HP, mais nous serions triste de ne plus plus vous compter parmi nos généreux délégateurs...

---
---