Valhalle au matin, zombies le soir ! Deux tests !!!

---
Deux lives tests en ce jour !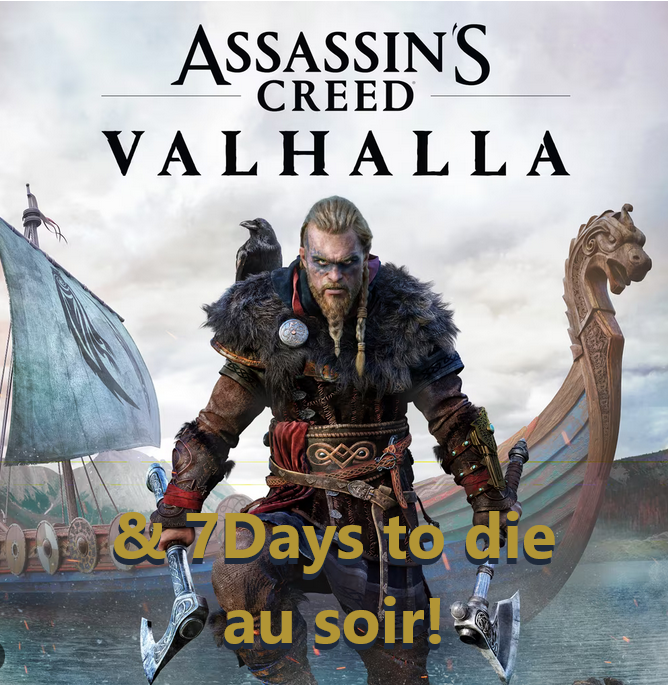 Aujourd'hui nous allons tester deux horaires, afin d'essayer de voir s'il serait mieux de continuer sur le matin ou sur le soir pour les mercredi.
Du coup, de 10 à 12 nous ferons du Valhalla et de 20 à 22 nous rejoindrons notre partie zombiesques de 7 days to die extrême.
Deux jeux qui m'amusent beaucoup et c'est tant mieux car on est toujours aussi KO, sacré virus. Rassurez-vous il y a un mieux, c'est juste très très lent...
Même si l'un ou l'autre titre vous intéresse moins que l'autre, nous vous demandons de faire présence pour le test des nombres. On pourra choisir le jeu en fonction de vos préférences une fois les tests effectués.
Qu'en pensez-vous ?
Actualité Hive/Discord
Pour ceux qui ne l'auraient pas encore observé, le discord de laruche est fermé, plutôt que d'en faire polémique sur la chaîne nous regroupons les anciens membres qui le souhaitent sur
https://discord.gg/3XGzhAM32r
Un channel y est consacré (hive-laruche) pour tous ceux qui prennent les rôles CRYPTO et BOURGEOIS.
Cela nous permet d'échanger les nouvelles, des idées, et de rester en contact, puisque comme vous le savez, sur discord, si vous ne partagez aucun serveur en commun, il est difficile voir impossible de contacter quelqu'un sans connaître son tag complet.
Nous y sommes déjà nombreux, n'hésitez pas à nous y rejoindre, ce serait dommage de se perdre de vue.
Les admins ont néanmoins promis à plusieurs personnes que les votes allaient continuer comme d'habitude.
---


LA TAVERNE ENTR'AIDE - Where Gamers and streamers meet Crypto Adepts
Grandir ensemble... C'est notre devise.
Discord | ECU | Site | Twitch | Dons/Participation Crypto | Aides Paypal/Streamlabs
Délégations en un click: 10 HP | 50 HP | 100 HP | 500 HP |1000 HP | 5000 HP



---
---