#KISS - Blogging Ideas 27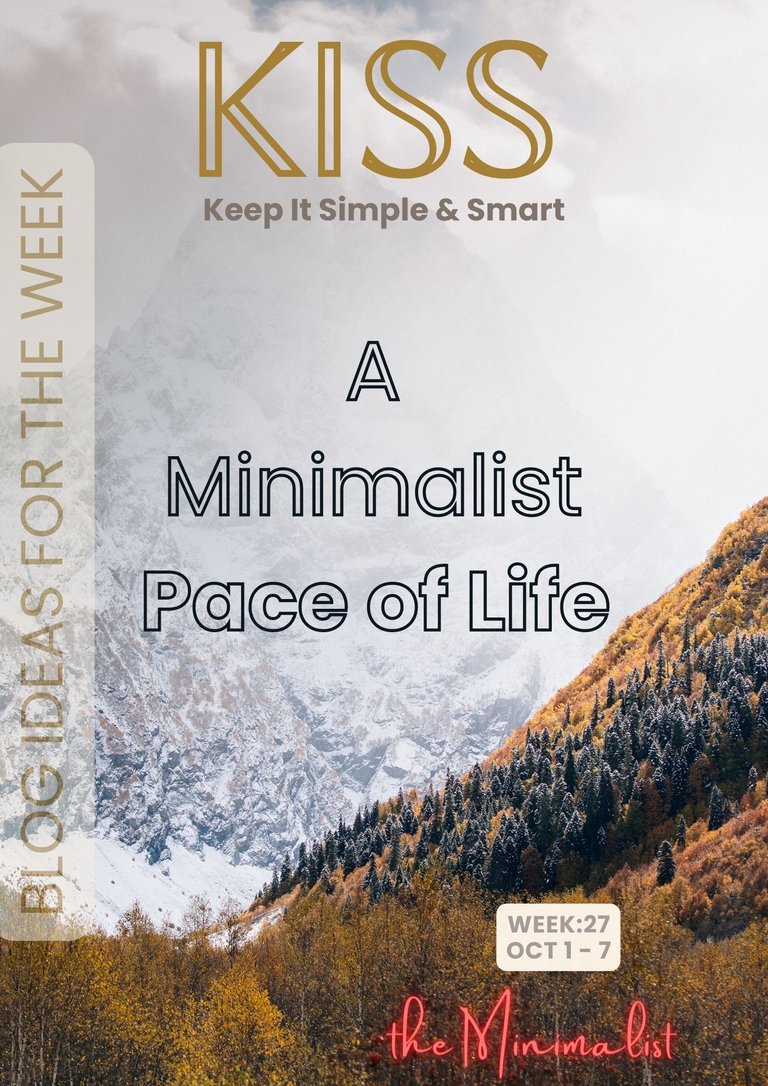 ---
Hello Everyone,
Happy 1st of October!
As we're approaching autumn in many parts of the world, I'll like for us to take a check on the pace of our life. How balanced are you? Are you happy with the pace of your life? Do you feeling like you're always falling behind schedule? Does life feel like it's slipping away from you?
I invite you all to share your views with us, by structuring your blog around the topic presented.
Have fun peeps, and I'm looking forward to reading your lovely stories:)
Please follow the guidelines.
---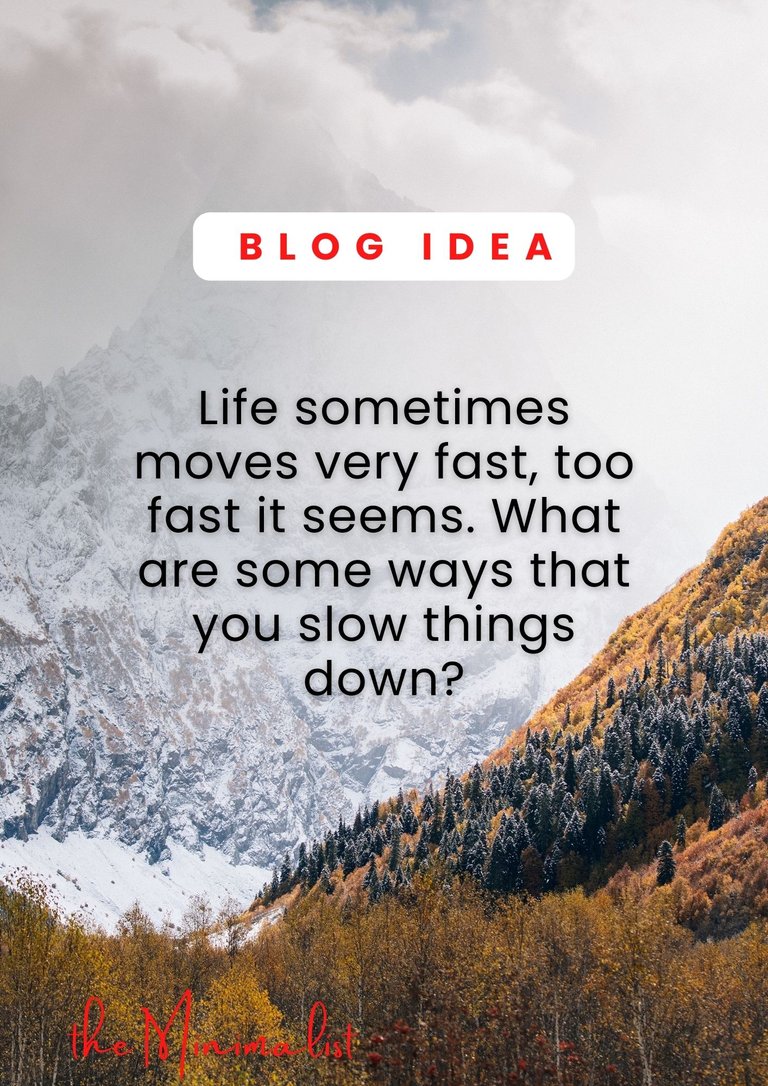 ---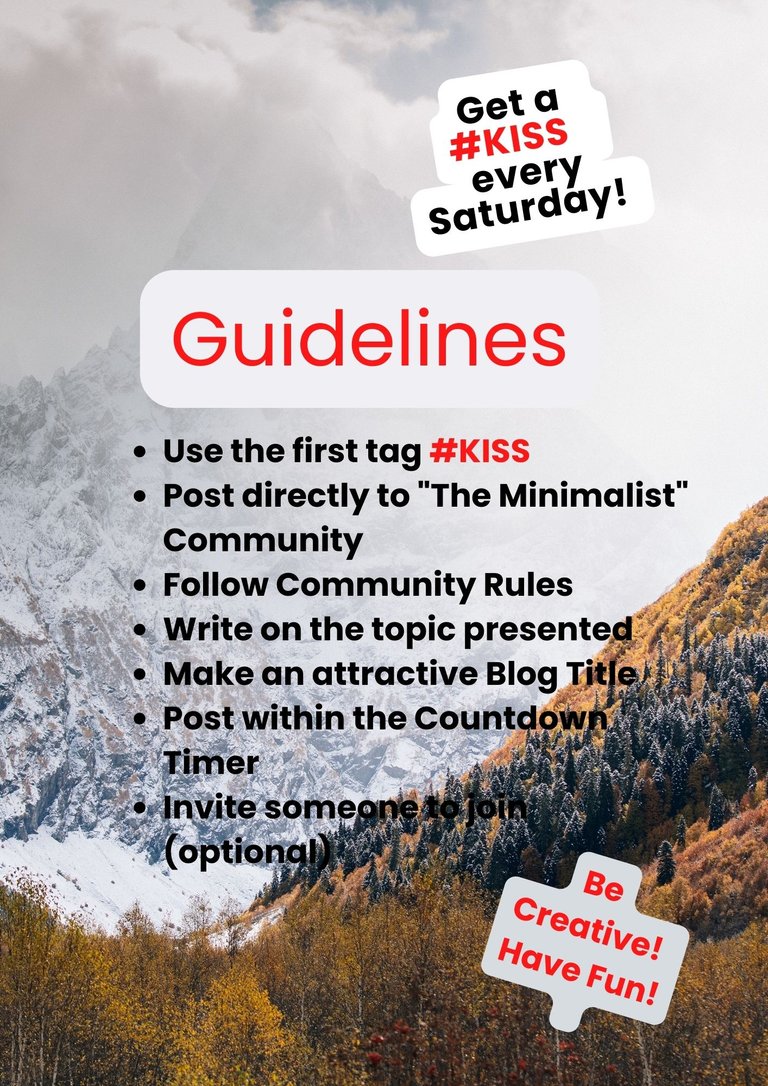 ---
---
---
PS. In case you missed previous issues of #KISS and would like to blog on any of the topics, please feel free to click on the desired week below:
Previous Weeks #KISS Topics from The Minimalist Community: ↙️
1 - Simple Living 👍 Popular Topic / Author's pick
2 - Wardrobe Choices
3 - Self Improvement
4 - Packing 👍 Popular Topic
5 - Before and After: Your Minimalist Journey 👍 Great Entries
6 - Personal Grooming 👍 Popular Topic
7 - Personal Belongings
8 - Off-grid Living 🙌Readers Choice / Author's pick
9 - Eating Well for Less
10 - Fear of Loss
11 - Living Spaces & Furnishing
12 - Self-Confidence🙌Readers Choice / Author's pick
13 - Downsizing 👍 Popular Topic
14 - Self-Care 👍 Popular Topic
15 - Hobbies 👍 Popular Topic
16 - Mood Boosting 👍 Popular Topic
17 - Emotional Baggage👍 Popular Topic
18 - Nature & You 🙌Readers Choice / Author's pick
19 - Inner Peace & Happiness 👍 Popular Topic
20 - Minimalism and Parenting
21 - Resilience
22 - Your Minimalist Lifestyle
23 - Designing and Living Your Best Life👍 Popular Topic
---
---
---
Image Source
Magazine Created using Canva and Canva Free Photos
---
---
---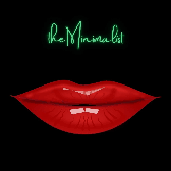 ---
lips sealed

speaking lips
---
---