🥳Happy birthday Hive 🎉📊 Daily Twitter Data Reports as of Mar 20, 2023🚀 5,728 hive tweets of the day 🚀
Our Daily Reports in all the tweets related to #Hive, hope you will enjoy what you see here as we are trying to boost Hive's popularity especially on a big social media #Twitter. We are inviting you to join our Hive Twitter community on Telegram.
As a long believer of the Hive protocol since 2017, there is a necessity to attract more attention in what can we offer here as Fast, Scalable, Powerful, The Blockchain for Web 3.0. Twitter is a great platform to bring awareness on Web 3.0, I made a post on how Twitter may play an important role for us. Our google spreadhseet is available for public viewing.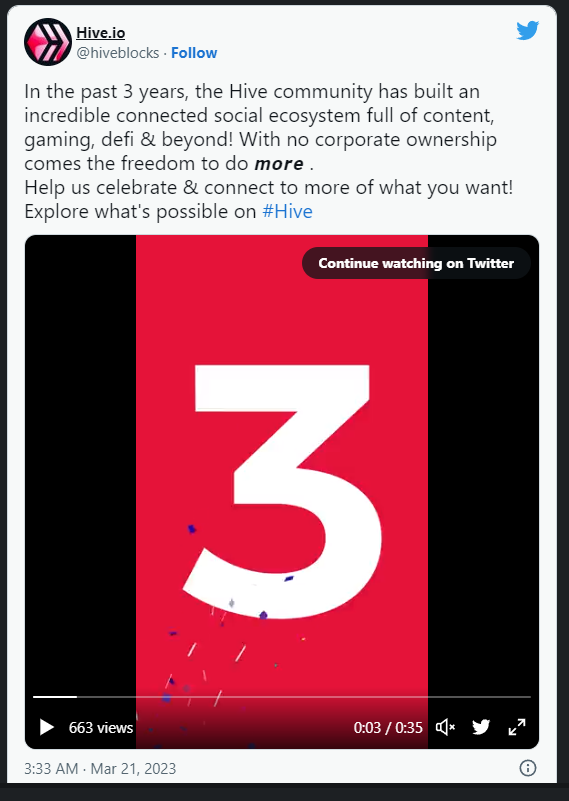 🎈🥳 It's Hive's 3rd birthday, and we're buzzing with excitement! 🐝🎉 Thank you for being part of our journey, pushing boundaries, and fostering a hive of creativity and collaboration. Here's to the next chapter of thriving together! Highlighted tweet of the day by @hiveio.
If you love promoting Hive on Twitter and want to earn Hive at the same time. We want to invite you to our regular Call to Action posts on the accounts @hiro-hive. Tweets with a minimum #Hive tag will get a daily #POSH airdrop (@poshtoken), we can check this post. It's our pleasure to work with such a great community.
1. Daily number of Tweets & Retweets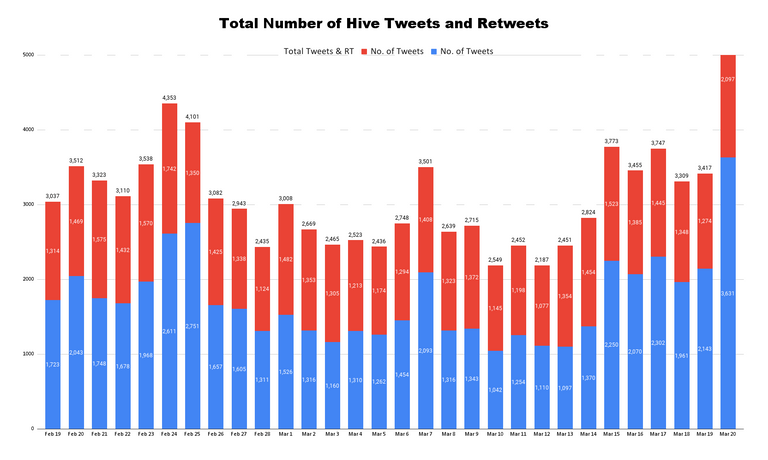 | Date | No. of Tweets | No. of Retweets | Total No. Tweets & Retweets |
| --- | --- | --- | --- |
| Mar-20-2023 | 2,097 | 3,631 | 5,728 |
| Mar-19-2023 | 1,274 | 2,143 | 3,417 |
| Mar-18-2023 | 1,348 | 1,961 | 3,309 |
| Mar-17-2023 | 1,445 | 2,302 | 3,747 |
| Mar-16-2023 | 1,385 | 2,070 | 3,455 |
| Mar-15-2023 | 1,523 | 2,250 | 3,773 |
| Mar-14-2023 | 1,454 | 1,370 | 2,824 |
2. Top 30 Daily Active Hive Owners
(Note: These are the total Orignal Tweets, Retweets, Retweets with comments, replies(comments) with our hashtags and links.)
3. Top 30 Influencers (Mar 18 - 20)
(Note: All tweets that have hashtags and links will be included. We considered all tweets in the past 3 days for the reason that tweets are continually being liked & retweeted by people.)
4. Top 30 Most Influential tweets (Mar 18 - 20)
5. Tweets of the Day
https://twitter.com/ubani_ariba/status/1637631762854543361
HiveKeychain / @keychain

https://twitter.com/TheycallmeDan_/status/1637616054481436673

TheycallmeDan_ / @theycallmedan

https://twitter.com/hiveblocks_ve/status/1637921881239040000

https://twitter.com/eddiespinod/status/1637614226431680512

eddiespinod / @eddiespino

https://twitter.com/TheArcange/status/1637801227374264322

TheArcange / @arcange
6. Tweets that we don't want to miss out
https://twitter.com/hiveblocks/status/1637900118782541833
https://twitter.com/hive_data/status/1618260700601933825
hiveblocks / @hiveio
---
We have gathered the data to show to you how we are doing of promoting Hive this past few days. We have all our Twitter Data publicly available for your review to verify the activity we have on Twitter that relates to our hashtags. This post is created manually, if you think we made a mistake of dropping some names from your Twitter to your Hive account, please kindly comment it down below so we can fix it. If you do not want to be mentioned on this Twitter data, kindly comment so we won't notify you in your Twitter performance.
https://docs.google.com/spreadsheets/d/1EBlRTqtI8K0N3sjXWAgXZdof074yNrWWIlTri0Jrlvc/edit?usp=sharing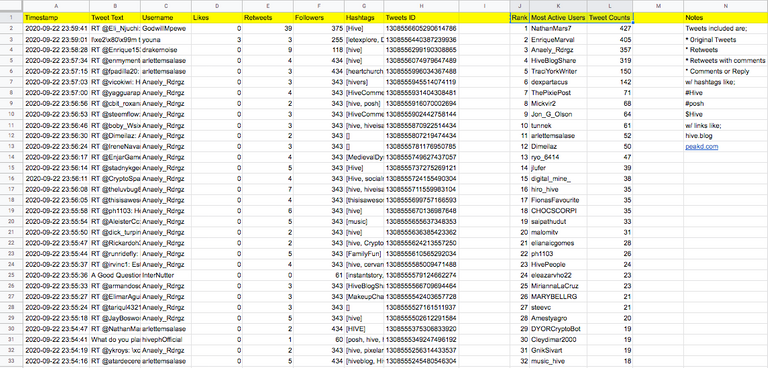 All data reported above are based on the data from Twitter API related to Hive. Please include #Crypto on our #Hive tweets to reach a much larger audience and eyeballs.
We want to recognize our great people on Twitter we always see every day. I am grateful to God to have you guys in our Hive Family. We love all of you, I am praying to God that He take good care for all of you and your family. <3
---
---