Game week 4 Match Preview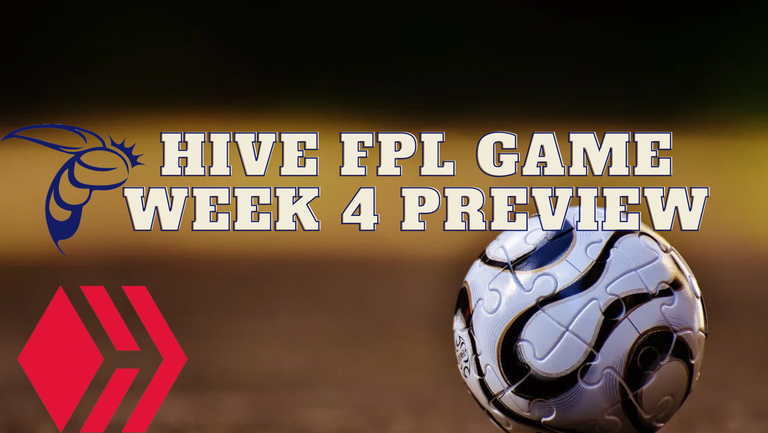 The 4th game week is almost upon us and footballically speaking, we're in for even more mouth-watering showdowns. This means that there's no time for FPL managers to rest on their laurels, and with the season still so young, why should you even bother?
Much like the current Premier league table, we have a tentative table in Hive FPL table but one thing for sure is, that things are starting to take shape. I wouldn't say we have a runaway leader but with top spot currently having a whole 12 point lead on second at the top of the log, we might all be chasing very soon.
So, without further ado, let us take a brief look at all the fixtures that will determine our fate for this game week.
Southampton vs Manchester United

All eyes will be on our early kick-off on Saturday as Manchester United will be facing the Saints at St. Mary's. There will certainly be a lot of attention on the Manchester United team after their very impressive showing against Liverpool on Monday evening.
Of course, questions will persist about the mettle of the United squad, especially after that impressive performance against Liverpool. Was it a one-off showing or has the penny finally dropped for this United squad?
Speaking of the United squad, there were some familiar faces on the pitch and on the bench the other day. We got to see a very fluid and energetic young side decimate Liverpool with pure pace and at the thick of proceedings were both Marcus Rashford(6.3) and Jadon Sancho(7.3)
Both midfielders helped themselves to a goal each and were involved in virtually every attacking move that Manchester United mustered. If United are going to get anything out of the game, they will almost certainly be involved. As for differentials, Elanga(4.9) looks an interesting option as he contributed one assist in the 45 minutes he was on the pitch.
For the saints, it is service as usual with James Warde Prowse(6.5) being an ever-present and reliable outlet for the team. After a rocky start to the season, the team clawed their way back from a losing position to grab a winner at the King Power Stadium. Joel Aribo(4.9) is one midfielder that you should keep an eye on as well in the Saints midfield.
Brentford vs Everton

Brentford's impressive mauling of Manchester United was followed up by a late-minute heartbreak against Fulham and they'll be looking to bounce back against an Everton side that is there for the taking. You can expect Ivan Toney(7.2) to be amongst the proceedings as the forward has contributed 2 goals and 2 assists in just three games.
Mbueno(6.0) is also another forward that is somewhat in the periphery but should absolutely not be underestimated. Toney may hog all the spotlight but Mbuenno that is in only 3% of teams offers the potential to catch some points against a leaky Everton defence that hasn't kept any clean sheet this season.
It is difficult to see where the goals are going to come from for Merseyside Blue and things don't look good at the back either. I'd avoid Everton defenders for this fixture and I'd consider Demarai Grray. Pickford grabbed an assist in the last game but that's a one-in-a-blue moon occurrence and with such a leaky defence, adding him to your team might not be such a nice idea.
Brighton vs Leeds

Brighton and Leeds are the two surprise packages of the season so far, holding spots in the top 5 of the table. They are among the two unbeaten sides in the league, with Leeds only edging the Seagulls out on goal difference.
After an amazing performance at the weekend that saw Rodrigo(6.3) grab a goal and assist against Chelsea, the Leeds attacking midfielder will definitely be on everyone's watchlist. He has been one of the most in-form players this season and all his owners have been getting a decent return.
Leeds prioritises free flowing high pressing attacking football and that tactic means that there will be openings at the back that Brighton can exploit. Brighton is more methodical in their approach, preferring to control games with a lot of passes in midfield and then pick their moment.
I reckon we will see a glut of chances created at both ends and numerous opportunities for forwards and attacking midfielders. Expect Danny Welbeck(6.5), and Trossard(6.5) to be involved in the goals for the Seagulls. For Leeds, we will see Jack Harrison(6.0) and new boy, Aaronson(5.5) buoyed by his Chelsea performance and looking to make a mark in the game.
Chelsea vs Leicester

The foxes are still winless in the season and they will be looking to bounce back from a late heartbreaker in the previous week. The only problem is they're facing a team with an ego that I dare say has a much more bruised ego after a 3-0 humbling at the hands of Leeds United.
Leicester has an attacking threat evident in the fact that they've scored in every game and if a goal is going to come around, you know that James Maddison(8.0) and Drewsbury-Hall(5.0) might be involved in the buildup. In this fixture, I'd lean towards Hall on account of his lower price to enable you to have funds for other parts of your squad.
Chelsea needs no introduction but their mauling at the hands of Leeds will definitely warrant a response and Leicester with one of the leakiest defences in the league looks like the perfect remedy. In attack, things haven't really been clicking, especially when you consider the fact that defender ** Reece James(6.1)** offers the most attacking threat for the Blues.
In any case, despite Chelsea's loss last week, Raheem Sterling(9.9) looked quite lively and could have bagged a goal or more on a different day. His profligacy in front of goal is perhaps one of his most frustrating features and that seems to be something Chelsea has in abundance with Kai Havertz(7.9) also not delivering.
When you look around the Chelsea squad, it is difficult to see where the goals will come from but considering how generous the defence of the Foxes has been, it is not out of the question to expect some fireworks. I mean, it's not like Chelse has been a close shop either after conceding 5 goals after three games.
Liverpool vs Bournemouth

Just like Chelsea, Liverpool is another sleeping giant that will be looking for a spark to ignite their season and Bournemouth look like the designated candidates to feel the fury of the Reds.
Both teams offered a toothless performance in the previous game week with Liverpool bound to be feeling it more, as they dropped point to their perennial rival while Bournemouth lost a game that no one was really expecting them to win. Unfortunately for the cherries, it seems they are going to get popped once more with the ever-reliable Mohammed Salah(13.0) looking to continue in his usual fashion.
The Merseysiders have been ravaged by injuries and Darwin Nunez compounded their misery with a sending-off, so all the attacking support will be on the shoulders of Luiz Diaz(8.0) and Bobby Firminho(8.0). The biggest disappointment so far has been Trent(7.5) who has failed to deliver any return for such an expensive defender. Another bad week will almost certainly see the 48.3% ownership drop.
For the Cherries, it is difficult to see where the opportunities will come from and a clean sheet is highly unlikely so neither of Kelly(4.5) or Mepham(4.5) will be able to offer much and with only two goals scored against Villa this season, we know Moore(5.5) will be toothless, barring a miracle.
Manchester City vs Crystal Palace

Manchester City clawed their way out of a very precarious situation against Newcastle United and this match was a brilliant showcase of how competitive the Premier League can be. City, for the most part, was stifled by an inspirational Newcastle team that looks like a team that will be competing at the top end of the league.
The Citizens will have their work cut for them as they face yet another potential banana slip in a well-drilled Palace side that almost nicked a victory off Liverpool at Anfield. All eyes will be on Wilfred Zaha's(7.1) combination with Eze(5.5) as I expect them to use a similar counterattacking approach used on Liverpool.
For city, there is a glut of individuals capable of hurting the opponent, and the top striker Haaland(11.7) who contributed yet another goal with relatively fewer participation in build up. The Norwegian forward has already contributed 3 goals and an 1 assist in three games, it is safe to say that he will be involved in the goals.
Another familiar name is Kevin Debruyne(12.1) who has been in his usual creative form by contributing 3 assists and a goal in just 3 games so far. His price might be a deterrent, and it is very unlikely that you will own both him and Haaland, so Gundogan(7.6) could be an option if the Pep roulette doesn't send the german midfielder to the bench.
Arsenal vs Fulham

Arsenal remains the only team with a 100% win record but they're up against a very strong Fulham side that hasn't lost any match this season. Despite coming from the championship, Fulham looks like they never left and have taken the premier league in their stride.
Gabriel Jesus(8.2) has continued his strong start to the season and you can expect him to offer the goods at home as more FPL continue to add him to their team. It is the kind of game where you just make him your captain and rest.
Arsenal has recently shown some newfound resilience but I reckon that Mitrovic(6.6) will be looking to test that resolve. Mitrovic has never scored against Arsenal but on his current form and also being on penalties, it is not out of the question to think he will be amongst the goals.
Martin Odegard(6.4) grabbed a rare brace in Arsenal's previous match but one player that's been on everyone's rear is Granit Xhaka(5.0). The Swiss midfielder has taken a different role this season, trying to push forward more often and that has led to a relatively impressive haul of 1 goal and two assists in three matches.
Arsenal tends to attack more when playing at home, so you can expect fireworks in the early stages of the fixture. Arsenal defenders will most likely not be too bothered today but you can expect more input from Zinchencko(5.2) as Arsenal will look to take the game to the opposition.
Aston Villa vs West Ham

The hammers have had a rough start to the season with three losses and they currently sit rock bottom of the table. The London outfit is still goalless this season. The Londoners have continued their struggle to find goals since last season despite the addition of additional firepower in Scamacca(6.9) that has had to be relegated to substitute appearances.
The season has only been slightly better for Aston Villa who have managed 1 win and lost the other two games. Villa snatched one win against Everton and have found the net 3 times this season. Ollie Watkins(7.4) has been instrumental for the Villans and he will most likely be involved in this home game against West Ham.
This is an opportunity for both teams to spark life into their season, so I reckon it will be a fast-paced, end-to-end encounter between both teams. Defenes might not have a good day but both Fabianski(5.0) and Martinez(5.0) should be very active.
Wolves vs Newcastle

Newcastle got their season off to a flier as they looked to dominate the champions in that tensed and exciting encounter that ended 3-3. The magpies can be disappointed after letting a two-goal lead slip from their grasp after dominating the Citizens.
Allan Saint-Maximin(6.4) was a constant threat on the left-hand side of the Magpies' attack as he constantly created space. He had the City defence on strings for large spells and this created space for Almiron(5.0) and Wilson(7.4) to operate. If Newcastle are going to get any goal in this match, these three players and Joelngton(6.0) will almost certainly have a say in it.
Wolves are no pushovers though with one of the best defences in the league and a team that could have easily nicked a victory away at Spurs. Grabbing a victory at the Molineux will require you to get past Jose Sa(5.0) and then survive the trickery of Guedes(6.0) in front.
Nottingham Forrest vs Tottenham Hotspurs

The final game of the season will see high spenders, Nottingham Forest host Spurs on Sunday evening. Dean Henderson(4.6) has been heavily involved in games and I reckon the presence of Harry Kane(11.4) in a very strong Spurs attack will ensure the goalkeeper continues his very active start to the season.
Son(11.9) ownership has dropped significantly with more people tending towards Kulusevski(8.2) and another poor showing by the Korean international will see the number of owners reduce.
Perisic(5.5) got his first start in a 75 minute showing that ended with an assist. The Croatian looks set to hold his place over Sessegnon and will be heavily involved in attack from the defence.
So which games are you looking forward to and which players are you expecting a big performance from? Who will be your captain? Join the conversation in the comment section.
All logos are shared via a non-free rationale under the fair usage doctrine
---
---