Hive FPL Cup - The Final
Welcome back to the Hive FPL cup update where we've got results from the semi finals as well as a preview of the final itself!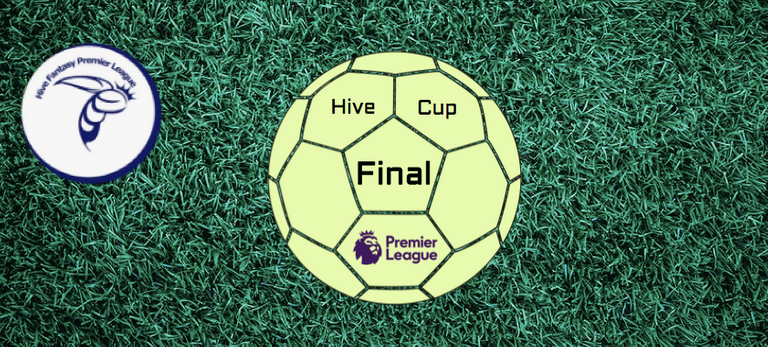 It's all come down to this in the final game week of the season. Two sides who have risen to the challenge and vanquished all opponents will go head to head for the title of inaugural Hive FPL Cup winners. As the late great Tina Turner would so say...
Thanks Tina.
If only they'd have booked you to take that penalty during the opening ceremony of the 1994 World Cup instead of Diana Ross - top corner, no doubt!
Semi Final Results
The good news is that @thoth442 has defeated our last remaining non-Hive account making it an all Hive final!
Both sides got hit by the fact that City rested Ederson, safe in the knowledge that Arsenal's title challenge would go out with a whimper rather than a roar. However, thoth442FC did at least have Kepa on the bench for 3 points while Tope's Red Devil's reserve keeper in Danny Ward was also unavailable. The lesson here is to always have a squad of 15 who are at least playing and able to contribute something to the total.
Elsewhere, the decision to have 2 Liverpool defenders also cost Tope's team - obviously as a Liverpool fan himself, @thoth442 knows better!
Otherwise, it was the consistency of thoth442's midfield who all delivered a goal involvement in game week 37 that became the difference and delivered them a place in the final.
We didn't really expect the 2nd semi-final to be that close but credit to "The conquerors" who still managed to deliver 62 points despite having the handicap of only 10 available players.
Conversely, MasterG FC's primary issue was leaving points on the bench with the likes of Trippier, Botman and Raya all out-scoring players who were selected for the final XI.
The Final
The analysis below considers each team's current rank in the Hive FPL classic league, their most recent 3 GW total scores, who they've selected as captain in those game weeks and the differentials between each squad.
The differentials are based on the squads that each side picked for GW36 with the exception of anyone who used their free hit where I've instead considered their side from GW35. Players marked as unavailable (red) have been excluded from the analysis.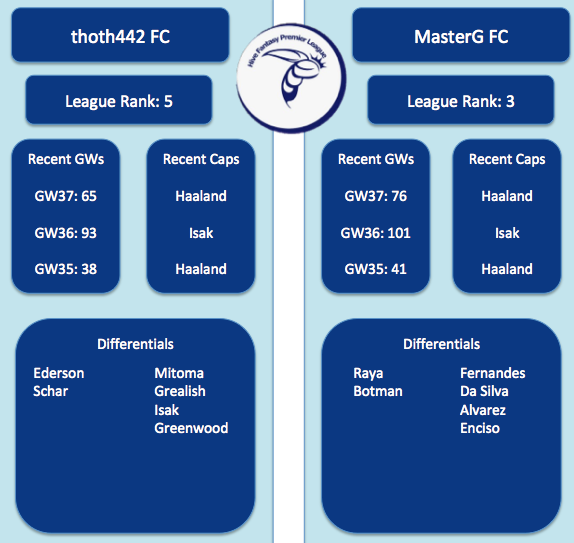 The first thing to say is that we definitely have 2 worthy finalists ranked 5th and 3rd in the league respectively. MasterG FC are currently ranked 38,670 in the world with thothFC just outside the top 100k. Across the space of an entire season (and this has been one loooong season) that is an incredible achievement.
It does mean that MasterG FC start as favourites in the final not just due to their higher ranking but also the recent form of their squad. In fact, MasterG FC have outscored thoth442 FC in each of the last 6 game weeks.
Still, when we move to look at the differentials, we can see that these are 2 very similar and very strong squads!
Out of the 7 defensive options, only 2 players on each side are different. Both sides have Kepa as a goalkeeping option or thoth442 FC could take the risk that Ederson will return, while MasterG FC could bring in Raya albeit that Brentford host the champions City on the final day of the season.
Otherwise, the defensive differentials could come down to very fine margins between Newcastle's centre-back pairing of Schar and Botman. The former is the more likely to gain points via a goal involvement but the later is less likely to be booked (Schar has 7 yellow cards this season vs Botman's 2).
In midfield, again there is very little to choose between the sides but you'd have to say that United's home fixture against Fulham looks more appealing than Brighton's away trip to Villa and in that sense you'd expect Fernandes to be a better option than Mitoma. That being said, this is the last day of the season and you will often get some crazy, high-scoring games. There is more on that fixture for Villa who need to match or better the Spurs result to finish 7th, while whatever happens won't impact the Seagull's top 6 spot meaning that they may just come out and have some fun!
Up front, you'd have to say it's advantage again to MasterG FC with Alvarez and Enciso essentially up against Isak.
The other big question is who do you pick as captain for this gameweek? Again, picking a City player i.e. Haaland, could pose a risk with Guardiola likely to continue to rotate players ahead of cup finals over the next 2 weekends. Rashford's return to fitness makes him a viable option again against a Fulham side whose season fell apart after their last visit to Old Trafford.
Transfer wise, teams could decide to go completely off-piste and take a chance in one of the fixtures where sides really have something to play for!
Everton realistically just need a point to be safe at home against Bournemouth, there emphasis then is very much on keeping a clean sheet and maybe knicking a goal from a set-piece. Would bringing in an Everton defender be such a bad call? Could Dominic Calvert-Lewin keep his team up?
How about Leeds, they know they need to win and ideally by a 3 goal margin to put pressure on the teams above them. They are not winning many games at the moment but they have scored in all of their last 12 Premier League fixtures. It's difficult to really pick out a single player who you'd back to get them the goals and of course, in going for the win, they are likely to leave themselves open to the likes of Kane and Son at the other end!
If you are looking for a more consistent FPL performer to do the business for his relegation threatened team then how about James Maddison? Since missing Leicester's win against Wolves in GW32, the England midfielder has contributed 4 goal involvements in his last 5 appearances and is ranked 6th amongst midfielders for threat on the ICT over the last 5 game weeks. Leicester face a massive home fixture against a West Ham side who are safe and are perhaps thinking more about their European Cup Final to come!
---
Good luck to both sides in the final and commiserations to those who fell by the way side. However, don't let it be said that we here at Hive FPL don't wish to encourage all of our members.
@acidyo @ajcardib @amirtheawesome1 @Asqgod @b0s @belemo @beyondhorizonmm @blanchy @BlockchainFPL @borran @carita-feliz @chidubem26 @cjlugo @Ckole @dante31 @Dapomolaaaa @deadman1 @dealhunter @deniskj @deraaa @desiigner @diikaan @doombot75 @dumnebari @elmose @elroi1 @emeka002 @Emeka4 @favudom @gentleshaid @George-dee @goldendash @gone-hive @GvKanten @Happyboy1 @iamchuks @Iec @imarios @Ipalibo @jeanlucsr @jmehta @joromi @joseph23 @kenechukwu97 @khaleesii @Kraken99 @Lensworld @macten @Martinlazizi @Marvel1206 @McKane @metaboy21 @millerava @Moquero @myanmarkoko @nasfyneboy92 @nonsowrites @officialrosh1 @Olawalium`@pacoandujar @pacobeta365 @pappyelblanco @patricksenkovic @Presh @Pvmihalache @racibo @reservedsingle @Richgang @Samostically @shamzy @sholex94 @Sinochip @skanderh @stuartcturnbull @talesfrmthecrypt @tengolotodo @teofilex11 @thelonegreywolf @unais @valchiz @vickoly @wolfgangsport @yagman01 @yeckingo1
While you don't get a Tina Turner solo like our above finalists, we've organised a motivational speaker along the same lines to make sure that you know how much we appreciate your participation in the first Hive FPL and that we're looking forward to seeing you again next season.
p.s. don't forget to look out for your end of season rewards coming to your wallet shortly!
---
---