Hive FPL Game Week 10 Preview: Form Over Fixture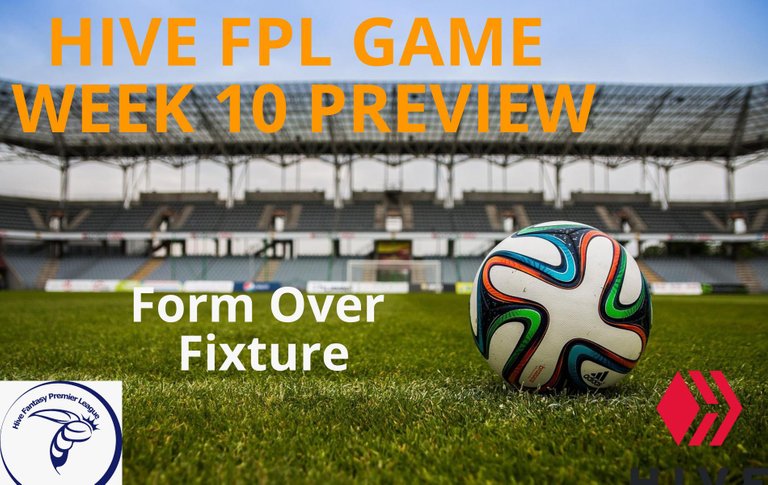 If you had doubts that the Hive FPL's inaugural season would be fiercely contested, it's probably safe to say that you are living in a bubble about to burst. It's only Gameweek 10 and the true nature of the league is beginning to show the men are gradually being separated from the boys(or perhaps it's just dumb luck) with 25 managers out of the 114 in the league already on 500 points and @skanderh on top of the pile at the moment.
It becomes crucial, if not essential, for managers in the league to sit up and consider employing winning strategies now in order to avoid finishing at the bottom of the pile come May 2023.
Gameweek 9 was an absolute buzz with too many talking points ranging from the mind-racking derby games, hattricks from Haaland, Foden and Trossard, the poor showing from premium defenders in the big 6 teams etc.
If Gameweek 10 is anything like its predecessor (Gameweek 9) then there are many lessons to be learnt if you want your team to thrive this weekend.
Some important points to be considered and players to be carefully watched this week in setting up the winning team are as follows;
Ones to Watch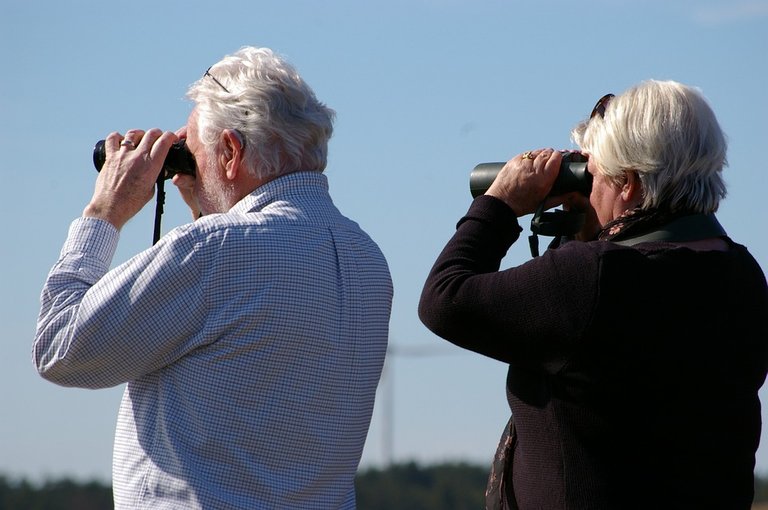 Source
Arsenal and Manchester City are having the forms of their lives, which means if you do not already have assets from these sides then I wonder what you have been doing. However, it is wise to gradually reduce the number of players you have on these teams as they have a blank on Gameweek 12 so as not to be heavily reliant on them when the blank gameweek comes around for these two teams.
Mohamed Salah has been the best FPL asset for more than 2 years and normally teams without Salah seem incomplete, but that doesn't seem to be the pattern this year at all as he seems to be having one too many off games and comes with a price tag almost as large as Jupiter(£12.7). So, it might be wise to invest those funds on bargain midfielders like James Maddison, Phil Foden, Jared Bowen, Leandro Trossard etc.
In Gameweek 9 all the teams in the Big 6 shipped in goals and made the defensive backlines of most managers who own these supposed "premium defenders" a nightmare with players like Trent Arnold, Cancelo and Reece James who are heavily owned by many managers all giving very little or no returns. Contrarily, bargain defenders like Trippier were putting forward better returns and making the whole idea of premium defenders seem like a farce especially considering they come at very hefty price tags that could be put to better use in the midfield.
James Maddison of Leicester City and Leandro Trossard of Brighton FC seem to be two men on a mission this season racking up points as they go. Trossard after his amazing showing last weekend against Liverpool has been the most transferred player this Gameweek with almost 600k managers giving him the nod to be a part of their team. James Maddison has been electric in the Leicester team and with a good run of games for Leicester, it would seem like having him in your team is such a good move.
Kevin De Bruyne seems to be the only "premium" midfielder at the moment doing well with the likes of Salah and Son not being at their best. However, managers need to be aware that he has a blank in Gameweek 12 so that you do not bring him in ad hurriedly take him out again in a couple of weeks.
Raheem Sterling is Chelsea's top scorer at the moment and in this gameweek he will be playing Wolves FC, a club in which he has an average of 6.25 points per game and has had returns in the last 4 meetings he has had with them albeit with his former team.
Zaha is looking like a player that has the potential of doing very well in the coming game weeks as they are not as tough as the ones they've had to play this season and also because he is the focal point of his team as well as the spot kick taker on the team. All this just points out that if Crystal Palace perform well in the league then there is a strong chance that Wilfred Zaha would play a part in it,
Connor Gallagher after a brilliant season with Crytal Palace last season has moved back to his parent club Chelsea, his 90th-minute goal in GW9 saw Chelsea win the game. This could make new Chelsea manager Graham Potter put some more faith in him and give him more playing time which could bring about FPL point returns.
Heung-Min Son is arguably one of the best midfielders in the Premier League and is still very much capable of putting down enormous FPL points. He has had a rough start to the season with injury concerns and playing in positions he doesn't necessarily feel at home. Hopefully, all of his present woes are a thing of the past and he gets back to the height we all know he can attain.
Gameweek 10 Fixtures
Bournemouth vs Leicester

Bournemouth have had a decent start to the season and presently sits 13th in the table with 9 points from as many games playing a very compact and defensive game. With premium defenders not necessarily performing at the moment, Bournemouth defenders like Zamura or Mepham could come in at a bargain buy. Forward Solanke is still a threat to any defensive line and could come good any day now.
Leicester FC are coming back from a strong showing against lowly Nottingham Forest who seem to be having a torrid time themselves. Leicester put them through the sword with James Maddison and Harvey Barnes putting up a brilliant performance and the team also kept a clean sheet. James Maddison is in such fine form and will be a great addition to any manager's team with his impressive 47 points in 9 games. Harvey Barnes would also make a great addition as he seems to be among the goals at the moment and comes at a bargain buy of £6.9.
Chelsea vs Wolves

Chelsea Fc seem to be back to winning ways as they beat Crystal Palace in the 90th minute last week before annihilating AC Milan at Stamford Bridge during the week in the UEFA Champions League. Hopefully, they can continue in this form against a Wolves FC that is going through very difficult times, sitting 18th in the league and having just sacked their manager Bruno Lage and with almost no attacking option as their attacking options all seem injured or not match fit.
Chelsea are playing with a bit of confidence in the attacking department since they bolstered their attacking options with the signing of Pierre-Emerick Aubameyang. He scored last week against Crystal Palace and once again against Milan in midweek. Aubameyang playing as the focal point for Chelsea FC could bring in attacking returns in goals or assist.
Chelsea's midfield seems to come with many FPL options with Raheem Sterling being the obvious one being Chelsea's top scorer and his amazing form against Wolves FC. Nonetheless, Mason Mount, Jorginho and Connor Gallagher are also Chelsea midfielders capable of influencing the game and good be useful assets to managers willing to bank on them.
Reece James is already hot property in the FPL and if his performance against Milan in the week is anything to go by then he will be a perfect fit for a defender capable of bringing attacking returns.
Wolves FC seem to be a team rediscovering themselves and with their manager gone it would seem like everything that could go wrong in that team is going wrong especially when you consider that they've played the best part of this season without an attacker as Jimenez and Kalazdjic being injured.
Man City vs Southampton

Firstly, if you do not have Haaland in your team you are doing something wrong that needs immediate correction. The Norwegian according to Fantasy Football Scout has a 63% chance of scoring in Gameweek 10 having already scored 14 goals and 3 assists in 8 games this season.
Man City also have great FPL attractions like** Kevin De Bruyn**e, Phil Foden, Jack Grealish, Cancelo etc. Manchester City are one of those teams that make managers sometimes wish they can use more than 3 players from the same time. However, it is important to note that City would have a blank Gameweek 12 and as such heavily relying on them could adversely affect the performance of managers when that week comes around.
Southampton has been given another difficult fixture in City and would normally be expected to lose the game due to the form it is in, but Southampton could have some differentials like Ward-Prowse, Aribo and Che Adams that could probably get rewards against Man City.
However, it is worth noting that Southampton fixtures are about to get better, so planning on investing in some of their talents is a great plan for future game weeks.
Newcastle vs Brentford

Newcastle are beginning to perform like a team that could be challenging for major titles in England in years to come. Callum Wilson is back playing games and seems to be fit enough to be among the top strikers in the Premier League. Miguel Almiron is having his best season in the premier league yet with 37 FPL points and 3 goals,
Brentford are having a good season as well as they currently sit 10th. Ivan Toney is a great addition to any FPL team as he has already amassed an amazing 47 points. Brentford's Ben Mee and Mathias Jensen are also perfect differentials that could easily bolster the score of any manager.
Brighton vs Spurs

Brighton's draw at Liverpool last weekend ensured they retained 4th position in the league and would play Spurs this weekend who are 3rd in the league.
Trossard at the moment is playing with so much attacking confidence in this Brighton side which tends to allow him to get to positions where he is an attacking threat. Midfielder Gross is also in top form with 44 points already to his name with 3 goals and 2 assists in the last 6 games.
Tottenham would be without Emmerson Royale who got a red card in the North London derby, Lucas Moura and very likely Kulesevsky. Fortunately, Spurs possess a large team with personnel capable of filling all of these voids. Harry Kane is one of the best strikers and doesn't need a second invitation whenever he is clear on goal, Heung-Min Son is available to play and very capable of inflicting damage on any defence.
The problem with Spurs at the moment is that they haven't found a proper rhythm as a team as they seem to be constantly switching formations which sometimes affects the gameplay and the rhythm of the game.
Crystal Palace vs Leeds

Crystal Palace suffered another unfair defeat in the 90th minute against Chelsea last weekend but played really well with Oliseh, Eberechi Eze, Edouard and Ayew performing brilliantly.
Wilfred Zaha is one to look out for as he has hauled 33 points this season amidst the very difficult opponents they've had to play. This might be a good time to buy Wilfred Zaha as they have very interesting fixtures in the coming weeks in which he will most likely perform brilliantly.
Leeds seem to be performing very well with a draw against Aston Villa last weekend and are facing stiff competition in Crystal Palace. Leeds midfielder Rodrigo is having an excellent start to the season with 40 FPl points, 4 goals and 1 assist already to his name. He is one to watch and could be a great addition to any manager's team.
West Ham Vs Fulham

West ham and Jarrod Bowen had an excellent outing last weekend against Wolves last weekend that saw them put two goals past them and eventually led to the sacking of their manager Bruno Lage.
Hopefully, the result against Wolves would lift their spirits and have them playing at the level they were playing last season, with players like Bowen, Scamacca, Antonio and Soucek.
Fulham suffered a heavy defeat against Newcastle last weekend and are without their talisman Mitrovic who is out with an injury. Bobby De-Cordova Reid has been playing well this season when playing alongside Mitrovic. It will be interesting to see if he can replicate that exact form.
Arsenal vs Liverpool

Arsenal are still top of the table and playing in very fine form. It would be absurd not to have Arsenal assets at this point in the season when it is obvious all they touch turn to gold.
They face a very tough opponent in Liverpool who do not seem to be having the kind of form we have associated with them these past years. However, they are a very good side that outperforms any opponent at any point in time.
Arsenal assets like Saka, Jesus, Martinelli, Saliba etc. are ones to watch as they have all been performing very well that has seen them top of the table.
Liverpool's Salah hasn't been performing as we all know him to be which has led some FPL pundits to advise that he is taken off teams at the moment to make room for midfielders that would actually perform. The same can be said about Trent Alexander-Arnold who hasn't performed up to the standards we know he can get to. Luis Diaz seems to be the only spark in the team so far alongside Roberto Firminho.
Everton vs Man Utd

Everton Fc are just off a hard-fought win over Southampton and are doing their best to steady the ship, taking part in cagey games with few goals scored but also showing true grit defensively by not conceding many also. Everton takes on Man Utd which was recently humiliated by their neighbours' City.
Everton will be without Defender Nathan Patterson who was putting up a good showing. I believe he will be properly deputized by Tarkowsky. Everton also has brilliant midfielders like Gray and Gordon that could easily be differentials if they put up a good showing.
Although they were beaten by Man City, Manchester United are playing great football as a team and although it would seem like there isn't a marquee player at the moment, Martial, Rashford, Ronaldo and Fernandes are still important players in that team that can immediately change the fortunes of the game.
Nottingham Forest vs Aston Villa

Nottingham Forest is a decent side with decent players like Neco Williams, Jesse Lingard, Brennan Johnson and Taiwo Awoniyi. These players could be amazing differentials to any manager's team.
Ason Villa has had its share of difficult fixtures and seems to be getting improved fixtures that could see players like Ollie Watkins play at their very best to keep his head above water and carry the team with him. He has 1 goal and 2 assists already this season.
Gameweek 10 Chips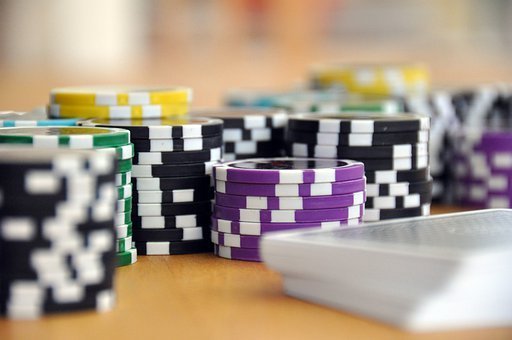 Source
If you haven't already used your wildcard it could be a good idea to keep it a while longer as there will be a blank Gameweek on GW12 which would see managers selling off the very important Arsenal and City assets you have. My counsel is you wait till after the blank GW so that you replace your City and Arsenal players sold without taking a major hit.
Captaincy
it could all go south, but until it does I would continue to advise that we keep faith with Haaland whose form is electric at the moment and when such a time comes when we would need to pick another captain we would, but at the moment the Captain band remains with Haaland.
Hive FPL Standing
At the moment it would seem like @skanderh is on top of the table and leading the manager in second place with just 5 points. I can foresee another rearrangement of the table at the end of this gameweek.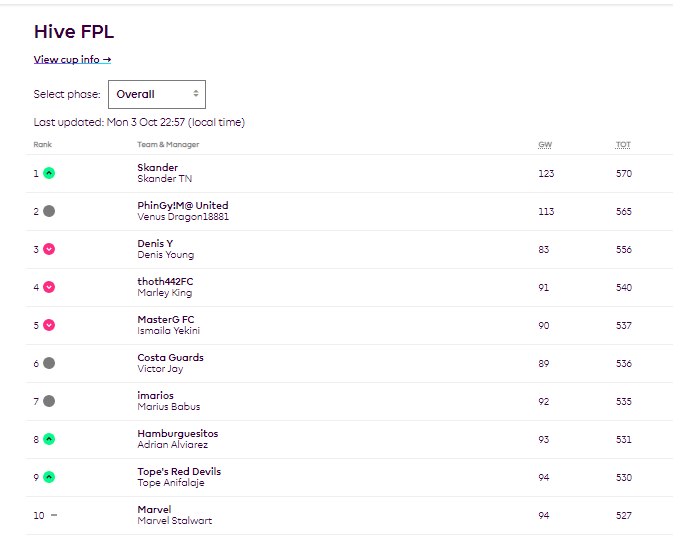 I wish you all good luck this week and may the best man or woman win.
---
---