Hive FPL - Game Week 3 Match Analysis & Key Stats
It's been quite a savage game week for many managers as big name players failed to fire and usually tight defences were breached with relative ease. Who would have predicted that last season's top 3 sides would win just a point between them and concede 8 goals in the process? But hey, that's the Premier League and that's why we love it!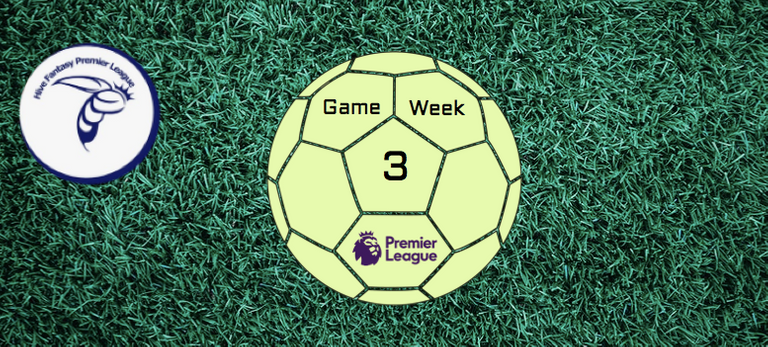 In many ways these are the weeks that separate the wheat from the chaff even if it is a case of just managing to scrape together 50 points.
Whatever your score was in GWK3, the table within the Hive FPL mini-league remains very very tight. A good week could see you flying towards the top 10 while a poor one could consign you to the bottom half.
That being said the dynamics of the game are about to change significantly as teams grapple with mid-week fixtures from here on out but we'll leave that talking point for our next preview as we round-up week 3's results and consider the key stats and facts to be aware of.

A fairly insipid first half performance from Spurs who up until the 42min mark had an expected goals tally of precisely 0.00 as they struggled to gain any kind of momentum against a well drilled Wolves side.
Antonio Conte obviously had some harsh words during the interval with Spurs looking by far the better side and hitting the wood work twice before Harry Kane (FWD) scored for the 2nd time in as many games (remember he doesn't score in August). Ivan Perisic (DEF) provided an assist and generally looked a threat down the left hand side as he created 2 big chances in his full debut for the club. He had proved a popular pick early on and if he can stay fit then there's reason to believe he's worth looking at again based on today's performance.
There will however be concerns among FPL managers on the early season form of Heung-min Son (MID) who delivered a 200+ point season last time round but is looking a little off the pace at the moment. Expectations are obviously very high for the South Korean and you get the feeling he could do with a nice tap in to get his season up and running.
For Wolves, it was very much a similar story as it has been for the last 18 months. Lots of nice build up play and no end product! The fact that Raul Jimenez (FWD) came off the bench though should give FPL managers something to think about and at just £6.9 million he could yet prove a bargain if he can rediscover his form and fitness.

When Palace play at home they are worth taking a look at as an FPL Manager. Wilf Zaha (MID) continued his fine form at the start of the season to equalise for the home team after Ollie Watkins (FWD) had given Villa an early lead.
For Villa, Leon Bailey (MID) had proved a popular pick early on in the season but a lot of managers moved to transfer him out after he was benched for the Everton game. Similarly Phillipe Coutinho (MID) was in many players early squads but he didn't make the starting XI this time. The former got an assist to reward those who had stayed loyal but in general it looks as though Steven Gerrard is unsure on the shape he wants his team to take at the moment and the fact that they've failed to keep a clean sheet in their opening 3 games probably means they'll be further changes making the selection of any Villa player at the moment quite high risk.
For Palace, Eberechi Eze (MID) continues to look like a player to monitor. He's created 2 big chances so far this season and has an expected goals per 90 mins of 0.22 so for £5.5 million he could be a really good signing especially once Palace get out of what is a difficult early run of matches.

Dean Henderson (GK) looked like he would be the hero once again for Forest until a late Demarai Gray (MID) goal ruined his clean sheet. Still the former United keeper has managed 18 saves in his 3 matches to date and at the very least should be considered as a rotational option.
The difficulty with picking many other Forest players in your fantasy team at the moment continues to be the sheer number of transfers they are making which means that team selection could well change on a match by match basis. This game however once again saw FPL favourite Nico Williams (DEF) make a few attacking runs from the RB position leading to him having 3 shots and playing 2 Key Passes.
Of course, Everton themselves have a £4.0 million defender in Steven Patterson (DEF) who has started all 3 games. Having the likes of Patterson and Williams in your squad certainly frees up funds for other areas of the squad.
Everton's primary goal threats this season appear to be match saviour Gray and Anthony Gordon (MID) with the later having taken more shots (10) than any other player yet to score in the Premier League this season. As with Wolves above, the addition or return of a quality centre forward is essential to their season!

What a difference a week makes! From battering United 4-0 in the opening half, the Bees found themselves on the wrong side of a Fulham team who ran riot in the opening 20 mins of this game.
Despite that, it took a late Aleksandar Mitrovic (FWD) goal to seal Fulham's first win of the season. The big Serb is still the question of much debate amongst FPL managers after a brace on the opening day, followed by a penalty miss in GWK 2. Mitrovic has scored 3 times this season but also has also missed 5 big chances, more than anybody else so far this season in the Premier League.
The argument for having Mitrovic in your team would surely be that providing the Fulham midfield can keep providing him with those chances he's going to score even if his conversion rate isn't great! Chief architect for Fulham in this match with 4 key passes was Andreas Pereira (MID) with the former United man on set-piece duty which makes his price even more appealing!
For Brentford, Ivan Toney (FWD) continues to look like a good option up front both for his goal scoring and all-round play. Lots of managers rushed in on Josh Da Silva (MID) after his performances in the first 2 weeks of the season but will be disappointed that he provided 0.00 expected goals and assists in this game despite it being a relatively open match.

Southampton showed some fight once again to come from behind, this time to claim victory against a Leicester team in all sorts of trouble. At 2-0 down against Leeds last week the knives seemed to be out for Ralph Hasenhüttl but while his side are clearly still struggling, particularly at the back, it doesn't appear that he's lost the changing room yet. Given those defensive frailties it was perhaps surprising that Leicester managed just 0.24 expected goals in this game!
The Foxes themselves have now conceded 8 goals in 3 games and with several key players potentially leaving before the end of the transfer window this looks like it will be a very tough season for the former league champions. Their one ray of hope remains James Maddison (MID) who has delivered either a goal or an assist in each of their first 3 matches and is certainly one of many attractive midfield options around the £8 million mark.
Of course, Southampton themselves weren't really setting the world on fire until Che Adams (FWD) introduction late on. The Scottish forward has never been a prolific goal-scorer in the Premier League but then again he's usually operated in the role of a 2nd striker alongside the likes of Ings or Broja. Without that type of player this season, could he get himself into more goal-scoring positions?

It's difficult to remember a Premier League game that has been so one sided. Arsenal, as they have done all season, started with an intensity to their play that the Cherries just couldn't match and unfortunately for Bournemouth they lacked the quality to ever look likely to get back in the game after those early goals - at half-time their expected goals remained 0.00!
It does seem somewhat unfair that a newly promoted side has to play City, Arsenal and now Liverpool in consecutive games and no doubt Scott Parker won't have expected much from these 3 fixtures but it is still going to be difficult to turn things around for a squad that is largely made up of the players who gained promotion. It's admirable to have kept faith with those players but on the basis of their last 2 showings, Bournemouth do still look like a Championship side!
As for Arsenal, 20% of FPL managers still don't have Gabriel Jesus (FWD) in their squad and it's difficult to imagine why. In this match, it was his general link-up play that caught the eye with 2 key passes and an assist. Fellow Brazilian Gabriel Martinelli (MID) has certainly benefited most from the arrival of the former City man. While the winger didn't get on the scoresheet in this match he continued to put up good numbers with 4 shots and 0.53 expected goals. Martin Ødegaard (MID) meanwhile belied statistics to just be in the right place at the right time on 2 occasions which is of course a nice habit to have!

An old rivalry that saw a classic Premier League performance from the home side to blow away their West London visitors. To a man, Leeds outfield players ran on average over a kilometre more than their Chelsea counterparts with the Blues simply unable to cope with the pace that their hosts set. That being said Chelsea's lack of a proven goalscorer was once again very evident as was their lack of real options off the bench as a change in personnel for the final 24 mins yielded expected goals of 0.05.
Pierre-Emerick Aubameyang continues to be linked with a move to the Bridge alongside Leicester's Wesley Fofana and it seems likely that both transfers will be given extra importance following this result. From an FPL perspective managers would surely be happy to see an additional CB to ensure that Reece James (DEF) gets more time at wing back where he can really do some damage and it will be interesting to see what price Aubameyang might come in at and whether managers view him as a decent buy.
For Leeds, the combination of Jack Harrison (MID) and Rodrigo (MID), both players I suggested you keep an eye on pre-season, continues to pay dividends. The Spaniard is the current top-scorer in the league while the Englishman is the joint highest assist provider. With home fixtures against the likes of Everton, Forest and Villa to come over the next 5 weeks then there's no reason to suspect those 2 won't continue to deliver points particularly if the Elland Road faithful get behind this team.

While it's still very early days, there will be genuine concern for Hammers boss David Moyes about his sides performances to date. Pre-season, West Ham were likely to be targeting a spot in the top 6, right now they'd just like to find the back of the net! The problems however aren't just up front with the Hammers having expected goals against for the season so far of 6.39, the worst of any team in the league.
What made today's match even more of a challenge was the fact that the Hammers had to play midweek but this is about to become the norm for all teams with the EFL Cup, Premier League fixtures and of course European competitions about to start up and adding an extra consideration for squad and team selection in the FPL!
Brighton meanwhile continue their early season form. Before getting too excited by the Seagulls, it's worth remembering that they did something similar last season before fading away in the Autumn. Still Leandro Trossard (MID) once again unlined his value as an FPL player, taking 5 shots and scoring with one of them from his wing-back position. As a manager, perhaps the big question to ask is why he's listed as a midfielder when the likes of TAA, Perisic, etc. who essentially play the same position get the added bonus of being listed as defenders?
In fact, for Brighton it was their midfield and wing-backs who look the most likely scorers at this point in time. Wellbeck, Lallana and Gross didn't register a shot or an expected goal between despite the dominance of their overall performance!

Neither side had conceded a goal going into this match but that stat ended early in what was undoubtedly the game of the season to date. The fact remains, that if you have pace upfront and you can beat the City press and/or transition from defence to attack quickly then you can score goals against the reigning champions.
Allan Saint-Maximin (MID) gave a reminder of why he's been linked with bigger clubs in the past. It's probably his lack of consistency that has prevented that move from materialising and is also why he's not been picked up by many FPL managers - his value actually dropped after GWK 2 but will almost certainly bounce back now!
Elsewhere, I was very tempted to bring Miguel Almirón (MID) into my side for this GWK but thought I'd wait until after Newcastle had played the defending champions. Remember Almiron is a player that City's Jack Grealish slagged off at the end of last season so no doubt it was a sweet moment for the Newcastle forward with his City counterpart left watching the entire 90mins from the bench.
As for City, those invested in Erling Haaland (FWD) will be happy with the goal but will probably hope for more from the big Norwegian. His expected goals this season are currently 3.90 so he's now getting service but just needs to sharpen up a little to really hit the big numbers. If I could fit Kevin de Bruyne (MID) into the side then I would. He has created more big chances (5) than anyone else in the league but I guess the question mark with him is how many minutes will he get as September roles on and City's priorities expand to Europe? I get the feeling that Pep will wrap him up in cotton wool!

United have been the butt of plenty of jokes following their abject performances in the first couple of weeks and many were predicting a blood bath against a Liverpool side that has enjoyed itself against their old rivals in recent seasons.
However, it wasn't to be, with United putting in the kind of commitment and team work that has been absent for so many matches in recent years. Marcus Rashford (MID), a player whose value had already dropped £0.2 million over the first couple of weeks, popped up with his first goal in 18 games while Diogo Dalot (DEF) continues to look a threat going forward from full-back. The Portugal international registered 2 key passes and had an expected assists figure of 0.49 in this match.
Liverpool meanwhile looked shambolic in defence and were short of options going forward. Mo Salah (MID) and Luis Diaz (MID) were their best chances of getting something from the match, with the former making 4 key passes and the later looking the most likely to score with 0.68 expected goals.
The injury crisis and the fact that Liverpool (like most) will now need to play midweek fixtures will really stretch their squad. A couple of youngsters did impress in **Harvey Elliot **(MID) who was involved in most good things that Liverpool did higher up the pitch and Fabio Carvalho (MID) who looked lively and got off a couple of shots in the 18 mins he played. At £5.0 and £5.4 million respectively they could be tempting additions despite Liverpool's lack of form.
So should you rush out and add a couple of United players to your team after this performance? It's tempting but risky and I wonder if United will be able to maintain these performance levels when they're not playing a big rival at home and when they're also required to have mid-week matches in between.
All logos are shared via a non-free rationale under the fair usage doctrine
---
---