Hive FPL Game Week 5 Match Review Analysis & Key Stats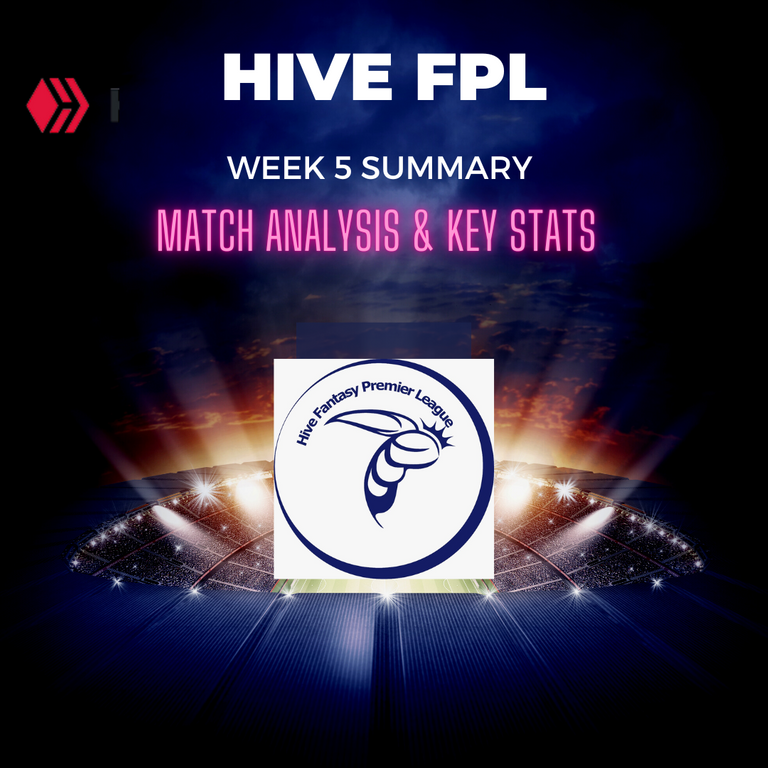 Source
Gameweek 5 was the first week that FPL players were scrambling to edit their team in time for the first group of fixtures on Tuesday night. Many toggled their mouse over Mo Salah and sweated over taking him out of their team. Liverpool scored 9 goals against Bournemouth last weekend and Mo wasn't even on the scoresheet. The trick to game week 5 was to pick the players that was not prone to squad rotation. Every team will play 3 games in the space of a week so the FPL player has to make sure that his players all play. So lets start off reviewing Tuesday nights fixtures.

Southampton 2 - 1 Chelsea
Chelsea look to be in trouble with a shock defeat to Southampton. Raheem Sterling opened up Chelsea's account. He seems to be getting goals but this was never in doubt as he is a quality player. Not many people have picked Sterling in their team. Something to look at. He scored 8 points last night. It was not going to be Chelsea's evening however as Southampton battled back and equalised with a goal from Romeo Lavia [MID](6 points) and then got another just before half time by Adam Armstrong. (9 points). Southampton held out in the second half and got a valuable 3 points against a team that should be winning these games. Tomas Tuchel came out after the game and criticised his players for being soft demanding they toughen up. Chelsea fans are starting to ask questions around their manager. If Abramovich was still in charge would Thomas Tuchel be still in a job. With some top players disappointing such as Kai Havertz, Mason Mount, Loftus Cheek, Tuchel needs to make some changes as these players have been weak since the start of the season. Chelsea have a hard game against West Ham on Saturday. Not an easy game but is there ever any easy games now in the Premiership.

Leeds 1 - 1 Everton
Everton needed a win badly at Elland Road and they got a goal early on from the in demand attacker Anthony Gordon [MID](8 points). FPL players are now contemplating putting Gordon in their team but rumours of a transfer to Chelsea are delaying the picks. One for the future however.
Leeds did not lie down however and a goal from Luis Sinisterra [MID] (9 points) leveled the game. Leeds have been surprising good of late with Jesse Marsch instilling his methods. He said that his players were too fit so he cut back training and increasing on the tactical side. It seems to be working. As one commentator said it still looks like Bielsaball but better. Everton languish in 15th place and Frank Lampard knows he has a mountain to climb. 1 point is 1 point but Frank will see it as 2 points lost.

Fulham 2-1 Brighton
Brighton could have went top of the table on Tuesday night if they defeated Fulham. This was not to be however as Alexsander Mitrovic had other plans. They say he can't score in the Premier League but he seems to be doing a good job so far already equaling his previous premier league record and it is still only the start of September. Mitrovic got the first goal in this game scoring another 9 points. This is 34 points so far since the start of the season. Are players scrambling to put this guy in their team. Well if they are not then they should be. The argument is that he will wane unless Fulham sign more attackers to support him. A Lewis Dunk own goal put Fulham two ahead until Alexis MacAllister [MID] (10 points) scored a penalty. It finished 2-1 here at Craven Cottage. A great 3 points for Fulham. With a few more signings this team might actually stay up.

Crystal Palace 1 - 1 Brentford
You rarely get boring games now in the Premier League but the first half of this game was atrocious. Wilfried Zaha [MID](7 points), who else... scored to put Palace in Disney land. Palace looked like they were home and dry until Yoane Wissa [MID](7 points) popped up with the equaliser for the bees. Vitaly Janelt [MID](8 points) was the highest points earner here. A player who would not be popular among the FPL Leagues.

Liverpool 2 - 1 Newcastle
This game was the test for Liverpool. It was all well and good getting 9 against hapless Bournemouth but this is a strong Newcastle team and a totally different proposition. The 9 - 0 victory was quickly forgotten about when Newcastle scored in the 38th minute. A goal from Alexander Isak [FWD](8 points). Newcastle were 7/1 to win at Anfield but it wasn't to be when Firmino [FWD](9 points) equalised with a Salah assist. At least this was something for players that have Salah in their team. He scored 10 points yesterday. Not a bad return. The game was heading for a draw but there was 8 minutes injury time and in the final seconds Salah played in Carvalho [MID](6 points) scored and the Kop went mad. There was even a melee on the touchline when some of the Newcastle backroom staff did not like the shiny white glare coming from Klopps smiling teeth. A massive win for Liverpool here which will no doubt get their season up and running finally.


West Ham 1-1 Tottenham Hotspur
If there is one thing around the West Ham and Spurs derby , no matter how bad West Ham have been whether it is in the relegation zone or having lost 5 in a row, they always turn up for the Spurs game. Many say it is their cup final and they always come out all guns blazing. However Spurs were too strong for them starting out on Wednesday evening and Spurs opened the scoring when Kane played it in for Son. West Ham's new German Centre Half Kehrer who is having a baptism of fire in the Premiership kicked it into his own net but it was going in anyway. After this there was a VAR decision which denied Spurs a penalty when Creswell decided to handball it in the box. However if you looked closely it came off Creswell's head and not his arm so the penalty was not given. The delay and the subsequent penalty rejection royalled the West Ham stadium and gave West Ham the momentum. After Loris kicked the ball out of play from being under pressure all night, Hojbjerg was caught chatting to the ref. Soucek [MID](10 points) left him behind and went up and scored the equaliser. West Ham had more chances late on and Spurs got out of jail. The draw was a fair result.

Manchester City 6- 0 Nottingham Forest
For anyone that doesn't have the abomination in their team yet, I think Wednesday night was a good indicator that Haaland [FWD](17 points) is going to rip up the Premier League for the next 5 years. This is his second hat-trick in a month for city. He would have had more but Pepe had to start telling his midfielders to change their tactic and start passing it more directly. Kevin De Bruyne must think it is too easy with this guy running onto his passes. Haaland makes the largest Centre Halves look small towards him and when he starts running he is like a freight train . Defenders are just bouncing off him. His distance over 50 metres must be up there with a running athletes stats. He just breezes past people.He put Forest to the sword with 3 goals before half time. None spectacular but he was in the box when they needed him. Cancelo [DEF](12 points) got the 4th which puts the defender high up the table on points for round 5. New Signing Julian Alvarez [FWD](12 points) then scored 2 to give Man City the top three players in the Fantasy League round 5. You do not see that very often.


Arsenal 2 - 1 Aston Villa
Arsenal continued their 100% win rate on Wednesday night when they put an ailing Villa to the sword. And who else was going to score other than new boy Gabriel Jesus [FWD](6 points). Villa got back into it with a goal from Douglas Luiz who is rumoured to be leaving the club. But more pressure now mounts on Steven Gerrard when Brazilian sensation Martinelli [MID]( 10 points) came up with the winner. Arsenal go into Man United at the weekend with 15 points in 5 games. That is some going. United will be their first major test but it is looking good for Arteta's team.


Bournemouth 0 - 0 Wolves
"Wolves are the best football team in the world except when it comes to scoring goals." @talesfrmthecrypt
Our own @talesfrmthecrypt has a valid point. Wolves are actually good. Really good. But they can't score for love nor money. And if you cannot score against Bournemouth then you have a problem. No score here at the Vitality stadium.

Leicester City 0 - 1 Manchester United
The most anticipated game of the week and not for the match itself but the politics surrounding Man United all of the time. Who will ETH pick this week? Will Anthony get his first start? Will Casemiro play? Nope . Will Ronaldo be on the bench again? Of course. From the opposite side it looks like Rodgers is not happy at Leicester as the owners have tightened their belts big time and told Rodgers the news after he returned to pre season.
Leicester who have always been close to their fans told the fans in their programme notes around the situation. So at the moment the club is in transition and there is not much money there. You could see it was all doom and gloom on the field as well when Leicester defenders went missing and Jadon Sancho [MID](8 points) scored his second goal of the season. Sancho is not playing too bad under ETH AND finally United look to be improving. Well they would want to be with Ronaldo , Casemiro and Mcguire on the bench. Ronaldo and Casemiro came on in the second half to try and get United a second. That did not happen and United went on to win. The best part of the game was United fans singing to Jamie Vardy
"Jamie Vardy, your wife is a grass." That gave me a right giggle.
Top 3 Hive FPL Managers During Game Week 5.
@menoski 107 points.
FC McKane 96 points
Suffragette City 96 points
The top 3 Hive FPL managers get a percentage of this posts earnings.
So that is all from Game Week 5. We are only two days away from Game Week 6 so get your teams selected quick smart.
Look out for the game week 6 preview to give you some hints and tips around who to select this weekend. Like I said earlier, the players that are not prone to rotation are the key at this time of the season. Best of luck in game week 6 and drop into our discord for some football discussion and banter here.
---
---