Hive FPL - Game Week 9 Match Analysis & Key Stats
The year of Haaland continued into gameweek 9 with the Norwegian delivering his third home hattrick of the season to prop up many managers point scoring this week. Remember when there was talk about whether he'd be able to adapt to the Premier League or indeed whether City would be able to change their style of play to suit him?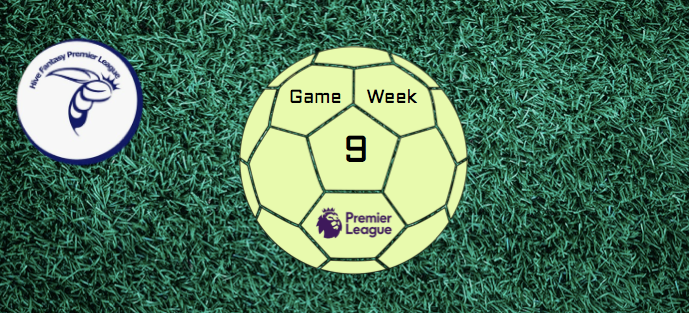 Clean sheets were the real challenge this week, with none of the 'big 6' clubs defenders or goalkeepers contributing on that front. In fact, most were losing you points on that front instead!
In general, it's been a tricky year to extract full value from your defenders and goalkeepers and with the likes of Son and Salah not hitting the high notes from 2021/22, it does beg the question as to what is the best formation to play in FPL 22/23?
In previous years, you might have gone for just one big name forward and packed the midfield but at the moment 5 of the top 9 point scorers in this year's FPL are forwards suggesting you need at least 2 prime players in that position if not 3!

Arsenal overcame their North London rivals courtesy of a cheap 2nd goal and soft red card to keep top spot in the league.
Spurs formation continues to cause issues not least of all for FPL managers who had banked on Heung-min Son (MID) delivering again. The South Korean's hattrick off the bench against Leicester had tempted many players to bring him back following his lean spell earlier in the season but Son once again found himself playing in a withdrawn role with defensive responsibilities to ensure that Spurs 2 man midfield was not overrun.
As the image below shows, Son's average position was inside his own half and he recorded expected goals of 0.00. Given the room that Arsenal offered in behind their back line, it's somewhat surprising that Son wasn't given further opportunities to get in behind. Until that starts to happen again, then he doesn't appear a viable FPL option.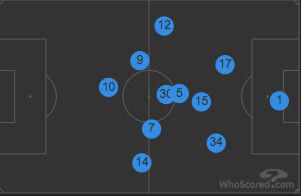 Son's (no. 7) average position v Arsenal
As far as positional changes are concerned, one man enjoying a far more advanced role this season is Granit Xhaka (MID). The Swiss international has already delivered 40 points from his first 8 games this season having not surpassed 73 points in any of his last 3 seasons in the EPL. He has also played every minute of every EPL game for Arsenal this season (you've got to be on the pitch to score points) and so represents a good value for money option.

Were you unlucky enough to watch this game?
Bournemouth will be happy with a clean sheet based on their defensive frailties earlier in the season but the question is now can they offer enough going forward to win games? 5 of their 8 matches this season have seen them draw a blank which means from an FPL perspective their are few attractive options available.
For Brentford meanwhile, Ivan Toney (FWD) continues to be the main threat and a very worthwhile consideration to transfer in. He took 6 shots in this match and was unfortunate not to get on the score sheet. He is ranked 13th overall on the ICT ranking and with Brentford having some attractive fixtures prior to the World Cup might rise even higher.

Graham Potter won his first league game in charge of Chelsea with a hard fought and somewhat fortuitous victory away at Palace. Personnel wise there were no great surprises but Pierre-Emerick Aubameyang (FWD) did give the Blues more of a focal point to their attack than they've had in previous matches.
Perhaps the biggest beneficiary was Raheem Sterling (MID) who looked far more of a threat in a slightly more withdrawn role than he has at previous stages this season.
Palace meanwhile aren't quite living up to expectations this year. In recent seasons, Selhurst Park has been a fortress but with just a single victory in 4 matches at home this season they don't seem quite such a threat to date.
Main attacking threat for the Eagles, **Wilf Zaha **(MID) was successfully pushed back by the ever impressive Reece James (DEF) in this match to such an extent that Zaha was forced to make more tackles (5) than any other player on the pitch! The problem for Palace is if Zaha doesn't fire then they really don't have many other options. Odsonne Edouard (FWD) got his first goal of the season in this game but alongside Zaha he is the only player Palace have in the top 80 players in the ICT ranking for goal threat.

For all the promise that Newcastle have shown this season, this was only their second win and an empathic one at that. For Fulham, a heavy defeat has been on the cards all season and they now have the highest expected goals against (17.9) of any team in the Premier League.
Miguel Almiron (MID) is having by far his most impactful season in the Premier League to date. The Paraguayan has never scored more than 4 Premier League goals in a season but has 3 already this year and he is ranked 8th in terms of threat on the ICT.
Joe Willock (MID) was also very impressive in this game with 2 assists and expected goals of 1.39. He played in and around Callum Wilson (FWD) in this match and if he can continue to get into those attacking areas on a regular basis then £4.9 million looks like a decent price.
Wilson himself might also be worth a look if he can stay fit! His expected goals per 90 minutes is 0.94, 2nd only to Haaland in terms of players who have played 300 minutes or more of EPL football this season.

Liverpool's title challenge is now surely over in 2022/23. They've managed just 2 clean sheets all season and look likely to concede soft goals every time they take to the pitch. Conceding first has also been a problem for the Reds not just this season but last year as well and they found themselves 2 down early on against Brighton.
If you're an idiot like me, you'll have transferred out Leandro Trossard (MID) on the basis that you weren't sure how the Seagulls would react to the loss of their manager or indeed where a player like Trossard might play in the new regime. As it turns out, it looks like he'll be given a far more central and advanced role than he did under Potter where he general played as a left sided wing-back and that being the case, you'd expect him to get on the score sheet more often.
In general Brighton were entertaining under their new manager if not a bit error prone. Danny Wellbeck (FWD) got his 3rd assist of the season but is yet to hit the back of the net despite working incredibly hard on and off the ball.

Frank Lampard's Everton are certainly a work in progress but are now 6 games unbeaten in the league with back to back wins for just the 2nd time since the former Chelsea midfielder took over as a manager at the beginning of the year.
The front 3 are beginning to click and with a few more players coming back from injury, Everton's options suddenly look a little better. It's also worth noting that in a season where finding a clean sheet for your defenders has been difficult that Everton have conceded fewer goals than any other team.
If that stat gets you thinking about investing in an Everton defender then you might consider Connor Coady (DEF) . The former Wolves man offered just 1 goal involvement (goals or assists) in his first 3 seasons in the Premier League but has managed 6 in his last 38 EPL appearances a figure comparable with any of the bigger name, bigger money centre backs available.
For Southampton, they'll be disappointed to have let a lead at home slip. Che Adams (FWD) continues to be the main threat for them and could be a good option as a 3rd choice forward in a season where some of the big money midfielders are failing to fire.

It'd be fair to say that West Ham have had a disappointing start to the season following an impressive 2021/22 campaign. This was just their 2nd win of the year and pulled them away from the foot of the table while simultaneously leading to the exit of Wolves manager Bruno Lage whose now former side slipped into the bottom 3 themselves.
Jarrod Bowen (MID) had a stellar FPL season last year but alongside several of his teammates has struggled to hit those highs in the first 8 games of this season. This was his first goal involvement of 2022/23 and he ranked 6th overall on the ICT for this game week.
West Ham play Fulham, Bournemouth, Southampton and Liverpool in their next 4 league matches so you'd expect further opportunities for a few of their failing forwards to turn their seasons around and of course their values have now slipped - Bowen for example is down at a more realistic £8.1 million having started the season at 8.5.
Unfortunately for all their good build-up play, Wolves just haven't been able to get the ball in the back of the net, not just in this fixture but for a significant period of time. It doesn't help that their number 9 position seems to be cursed by freakish injuries, leaving the side without a real focal point of attack. Collectively, Wolves expected goals this season (7.42) is second worst behind only Bournemouth with the club having failed to score in 5 of their 8 Premier League games this season.
From an FPL perspective, their is still value to be found in their defence and goalkeeper options but it'll be interesting to see how a new manager changes the balance of the side in a hunt for more goals and points.

Erling Haaland (FWD) is now owned by over 82% of FPL managers, is ranked number 1 overall in the ICT which includes being the top ranked player for both influence and threat and even as a creative force he is ranked number 9. If you are one of the 18% who doesn't currently have him in your squad then the chances of you putting big points on the board at the moment seem slim to none.
The Blues do seem to enjoy not just beating their city rivals but humiliating them with Erik ten Haag's celebration at being named manager of the month coming to an abrupt halt.
Playing both Fernandes and Eriksen in midfield has always looked like a potential recipe for disaster at some point this season and while United matched City for possession that stat is far less relevant now that the champions have an out and out centre forward in their ranks who can hurt opposition with a minimal number of touches.
It remains to be seen whether opposition sides can nullify the threat of Haaland but even if they somehow do, you'd fancy that this will just create space and opportunities for others within the City side which was very much the case for Phil Foden (MID) in this game as defenders were drawn to the big Norwegian leaving the midfielder with ample time and space in the box to score a hattrick of his own.
Despite the 3 goals, United's starting XI looked fairly toothless with Rashford, Sancho and Fernandes collectively recording expected goals of 0.02 between them. Ten Haag did well to rally his troops following a poor start to the season and he'll need to do the same again after this mauling with some tough fixtures for United coming up for the rest of the month and of course the Ronaldo saga still rumbling on in the background.

From an FPL perspective, both of these teams have a couple of individuals worthy of consideration for selection but as teams, neither has shown the kind of consistency to suggest that they'll challenge any higher than mid-table at best.
Luis Sinisterra's (MID) red card inside the hour mark left the door open for Villa to push on for their first away win of this season but Ollie Watkins (FWD) lacked the killer instinct to get them over the line.
This was of course Leeds' first Premier League game in a month, so you can perhaps forgive them for being a little short of competitive match practice and that showed as they created very little even with the full complement of players on the pitch.

Things are unraveling pretty quickly for Notts Forest who have now lost their last 6 in a row, conceding 18 goals in the process.
OK, you'd expect newly promoted teams to cop the occasional hammering from the likes of Man City (who account for 6 of those goals) but defeats against Bournemouth, Fulham and now a struggling Leicester side while shipping 10 goals in the process is cause for serious concern.
Forest of course spent big in the summer to bring in significantly more players than any other EPL team and it shows! These guys don't look like they've met before, let alone played together! They have crucial games coming up at home to Villa and then away to managerless Wolves which could go a long way to defining the remainder of the season.
As for Leicester, this was a much needed win that took them off the bottom of the table but from an FPL point of view, regardless of their league position, their forward players are always worth taking a look at given that they have now scored in 18 of their last 20 league games.
James Maddison (MID) continues to be a reliable source of points and once again, in a season where some of the big name midfielders are struggling to hit the heights of previous years then his £8 million price tag still looks very appealing and could free up funds to go after a third forward.
---
---