Splinterlands Battle weekly challenge!Snares of Dragons!
Dragon challenges are nothing new in the Splinterlands Community, and to be honest, I haven't liked using the dragon element since I started Splinterlands in August 2021Bold. Now that we've entered the new year, I'm growing fond of the dragon element.
Stay tuned in this blog to know how I liked my dragon line-up.
I have a challenge before using drake of arnak yet a different line-up. Now my line-up is basing on the low mana battle.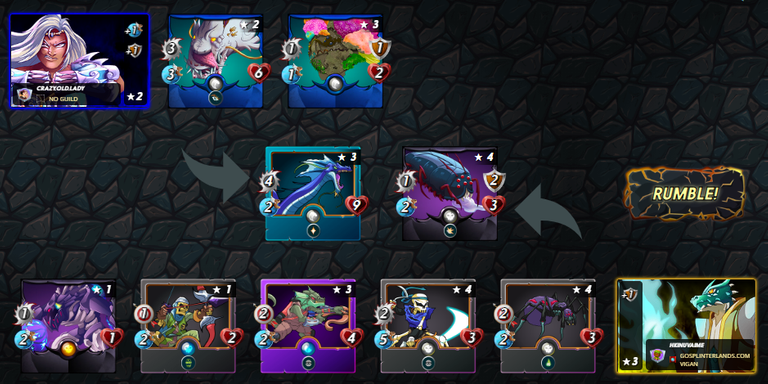 BATTLE RULES

MY LINE UP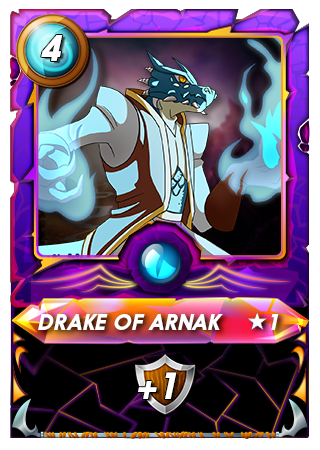 SUMMONER
| CARD NAME | ABILITY | STRATEGY |
| --- | --- | --- |
| CRYPT BEETLE | Shield - Reduced damage from Melee and Ranged attacks | With low mana, I often use crypt beetle because of his shield ability, a level 4 card would have increased health and shield as well as its melee attack, it will be the best tank in a low mana battle. |
| HAUNTED SPIDER | Poison- Attacks have a chance to apply poison, which does automatic damage to the target at the beginning of each round after the poison is applied. | Level 4 haunted spider has a poison attack, with a common card like this is cheap in the market or in rents and we can utilize and give the best support to the team. It's poison attack damages the enemy through out the round even heal have difficulty in dealing with it. |
| SKELETON ASSASSIN | Sneak - Targets the last Monster on the enemy Team instead of the first Monster | Skeleton Assassin is one of my favorite in low mana sneak ability card. In level 4, there is additional melee attack that would give higher damage to the back line. |
| DRAGONLING BOWMAN | Sneak - Targets the last Monster on the enemy Team instead of the first Monster | Like, Skeletal Assassin, he had sneak attack too and with 2 ranged attack, it is more damaging than 1 attack. |
| UNDEAD ARCHER | Affliction - When a Monster with Affliction hits a target, it has a chance of applying Affliction on the target causing it to be unable to be healed | This is perfect with his low mana, it would prevent the monsters to heal themselves in case the enemy will use a tank with healing ability. |
| CORPSE FIEND | No specific ability for this monster. | This helps in luring the opportunistic abilities and sneak attackers of the enemy. |
ROUND 1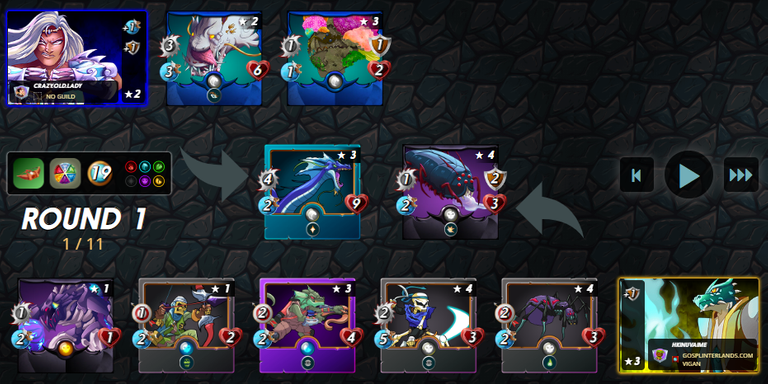 In comparison with the enemy's line up, my monsters are lower in speed compared to my enemy's because of his summoner, Kelya Frendul. I utilized the 19 mana of the battle rules and I chose Drake of Arnak over other summoners because I could pair it with other element especially to the death element which have the lowest mana I can use during the game. Skeleton Assassin was the first to attack the Hardy Stonefish but because of his shield, he was saved and now Deeplurker attacked my Corpse Fiend and like Hardy Stonefish he was saved with my summoner's additional defense. Dragonling Bowman's sneak ability ended the enemy's last tank. Now that Undead Archer hits Seamonster his healing ability is disabled and will be easier to defeat.
ROUND 2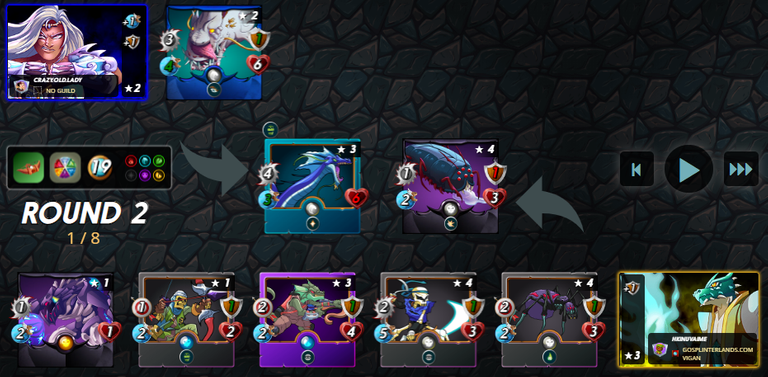 Deeplurker fall into my trap to attack Corpse Fiend first.Then my Sneaks attacking him will make him vulnerable. Now that affliction has taken effect, Sea Monster cannot heal anymore and with poison ability of Haunted Spider it will give a passive damage to the tank of the enemy.
ROUND 3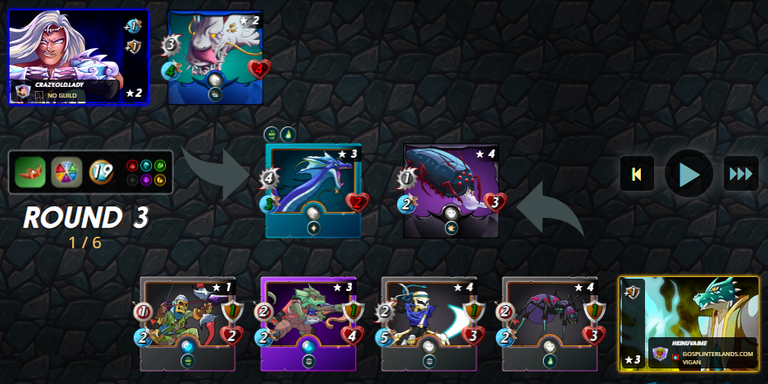 This round started with poison affecting Seamonster and killing him, removing him from the deck. Now that Deepluker is the tank of the enemy all of my attacks will be directed to him which will surely bring honor to my account Hkinuvaime!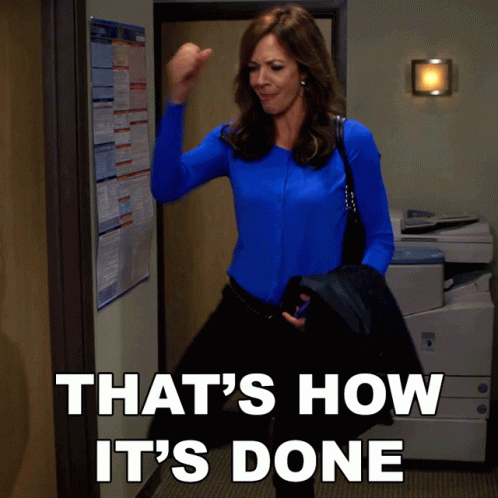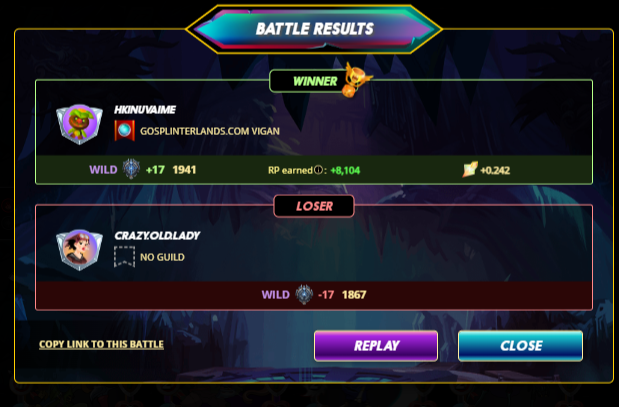 Did your strategy work? What will you try differently next time?
Yes, it worked and I did not expect much of my win since all of it is low mana cards that are common but the advantage is that it is in high level with special abilities. Next time I will use Selenia Sky because I used mostly of the ranged attacks, with Selenia Sky it will give additional damage by increasing ranged attacks with 1.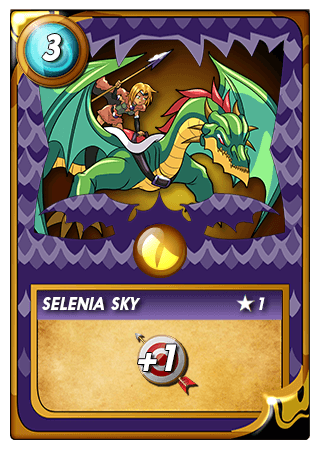 Do you like DRAGONS? Why or why not?
As I have said earlier in this blog, I did have a hard time using dragon summoners but the long run I have taken into liking to them especially with the monsters available in this element. It may be a high mana card but the damages it will give to the enemy is worth it.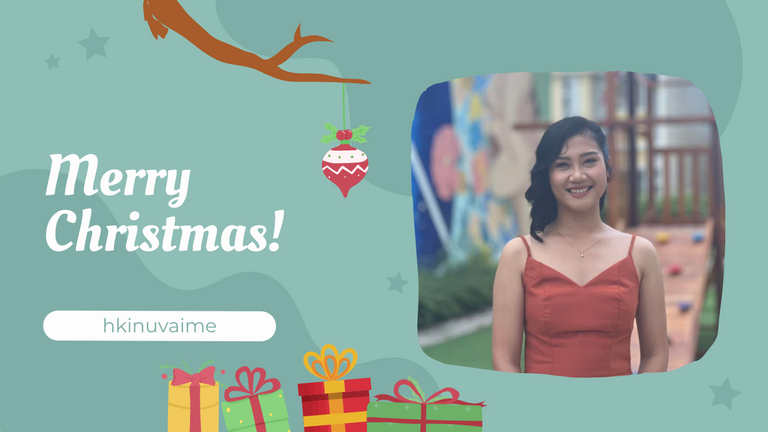 Have fun and spread good vibes!
What's up Hivers! How is your splinterlands gaming? If you happened to scroll here in my blog but don't have an account yet you can click this here , for the referral.

---
---