holoz0r's A-Z of Steam - A Complete Archive to date

Since April 28, 2018, I resigned myself to tackling my Steam game library the only way I knew possible. This was to take it one game at a time, one letter of the alphabet at a time. The following posts are in reverse chronological order, and represent every game review I've written as a part of my A-Z of Steam project.
Nearly four years on, I didn't realise what a majestically large task this would be. I'm not giving up,but look how things have changed...

2018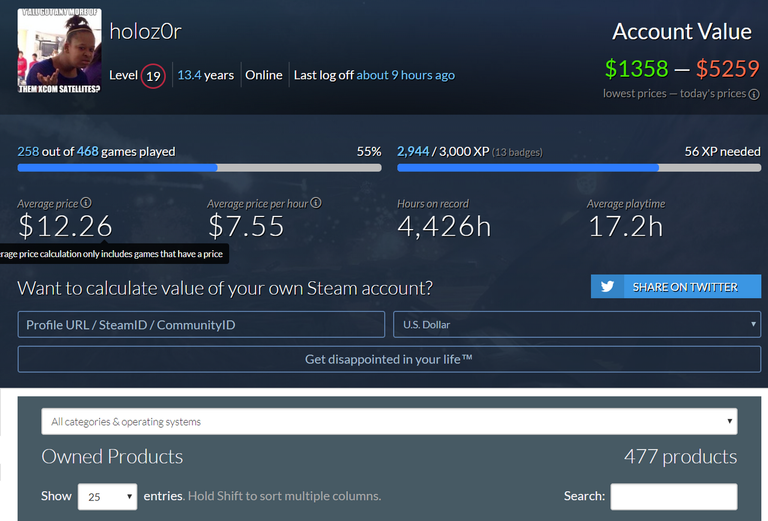 2021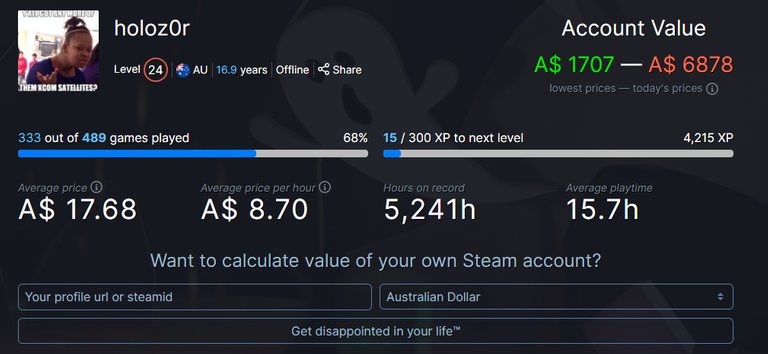 The collection you see below is the work of over 815 hours of gameplay over three years. This will continue to grow as I delve deeper into my game library on Steam.
Thirty three days of gameplay over 1304 days, not counting the hours racked up playing titles on other platforms that I own on Steam. Just over half an hour per day... and a lot longer than that to research, write, format, present all these reviews.
It is fair to say that gaming is a large part of my life.
I was once a full time video game reviewer, but this is the first time I've really tried to collate all my work into a single place.
BEHOLD, holoz0r's A-Z of Steam, through to January 22, 2022
https://peakd.com/hive-140217/@holoz0r/holoz0rs-a-z-of-steam-final-fantasy-x-2-remastered
https://peakd.com/hive-140217/@holoz0r/holoz0rs-a-z-of-steam-final-fantasy-x-hd-remaster-a-loved-well-aged-classic
https://peakd.com/hive-140217/@holoz0r/holoz0rs-a-z-of-steam-final-fantasy-9-the-end-of-the-ps1-era-final-fantasy-titles
https://peakd.com/hive-140217/@holoz0r/final-fantasy-viii-remastered-a-complete-review-nintendo-switch
https://peakd.com/hive-140217/@holoz0r/final-fantasy-7-nintendo-switch-2021-review-part-of-my-a-z-of-steam-series
https://peakd.com/hive-140217/@holoz0r/how-final-fantasy-vii-advent-children-makes-the-final-fantasy-vii-remake-make-more-sense
https://peakd.com/hive-140217/@holoz0r/this-was-pretty-fun-ff7-remake-intermission-dlc-review
https://peakd.com/hive-140217/@holoz0r/holoz0rs-a-z-of-steam-final-fantasy-vi-at-last
https://peakd.com/hive-140217/@holoz0r/holoz0rs-a-z-of-steam-final-fantasy-v-more-crystals-more-jobs-more-rpg
https://peakd.com/hive-140217/@holoz0r/holoz0rs-a-z-of-steam-final-fantasy-iv-the-after-years
https://peakd.com/hive-140217/@holoz0r/holoz0rs-a-z-of-steam-final-fantasy-iv-a-timeless-masterpiece-of-game-design-full-review
https://peakd.com/hive-140217/@holoz0r/holoz0rs-a-z-of-steam-final-fantasy-iii-charming-challenging-and-cherished
https://peakd.com/hive-140217/@holoz0r/holoz0rs-a-z-of-steam-fiends-of-imprisonment
https://peakd.com/hive-140217/@holoz0r/holoz0rs-a-z-of-steam-fearless-fantasy-a-mobile-game-finding-its-way-on-pc
https://peakd.com/gaming/@holoz0r/holoz0rs-a-z-of-steam-fallout-new-vegas
https://peakd.com/hive-140217/@holoz0r/how-to-install-fallout-3-in-2021-a-product-you-paid-for-on-steam-but-probably-doesnt-work
https://peakd.com/hive-140217/@holoz0r/holoz0r-s-a-z-of-steam-fallout-moving-out-of-the-vault-of-ignorance
https://peakd.com/hive-140217/@holoz0r/holoz0r-s-a-z-of-steam-fahrenheit-indigo-prophecy
https://peakd.com/hive-140217/@holoz0r/holoz0r-s-a-z-of-steam-f-e-a-r-2-project-origin
https://peakd.com/hive-140217/@holoz0r/holoz0r-s-a-z-of-steam-euro-truck-simulator-2-learning-to-drive
https://peakd.com/hive-140217/@holoz0r/holoz0r-s-a-z-of-steam-etherlords-ii-i-change-my-mind-i-was-wrong
https://peakd.com/hive-140217/@holoz0r/holoz0r-s-a-z-of-steam-etherlords-half-heroes-of-might-and-magic-half-magic-the-gathering-all-awesome
https://peakd.com/hive-140217/@holoz0r/holoz0r-s-a-z-of-steam-eternity-s-child-a-fitting-name-for-a-generic-platformer-that-launched-something
https://peakd.com/hive-140217/@holoz0r/holoz0r-s-a-z-of-steam-enslaved-odyssey-to-the-west-an-early-prototype-of-horizon-zero-dawn-hive-140217
https://peakd.com/hive-140217/@holoz0r/holoz0r-s-a-z-of-steam-endorlight-why-do-i-have-this
https://peakd.com/hive-140217/@holoz0r/holoz0r-s-a-z-of-steam-enclave-an-action-role-playing-game
https://peakd.com/hive-140217/@holoz0r/holoz0r-s-a-z-of-steam-emily-is-away-a-text-based-branching-story
https://peakd.com/hive-140217/@holoz0r/holoz0r-s-a-z-of-steam-elven-legacy-one-part-civ-one-part-homm-all-parts-challenging
https://peakd.com/hive-140217/@holoz0r/holoz0r-s-a-z-of-steam-the-elder-scrolls-oblivion-a-game-i-can-be-forever-lost-in
https://peakd.com/hive-140217/@holoz0r/interview-with-albert-elfstein-oblivion-s-newest-adventurer
https://peakd.com/hive-140217/@holoz0r/holoz0r-s-a-z-of-steam-the-elder-scrolls-oblivion-part-1-mods-first-impressions-and-character-creation
https://peakd.com/hive-140217/@holoz0r/holoz0r-s-a-z-of-steam-why-i-won-t-be-playing-any-more-morrowind
https://peakd.com/hive-140217/@holoz0r/holoz0r-s-a-z-of-steam-the-elder-scrolls-iii-morrowind-journeys-in-getting-the-basic-mods-working-in-2020
https://peakd.com/hive-140217/@holoz0r/holoz0r-s-a-z-of-steam-earth-2150-lost-souls
https://peakd.com/hive-140217/@holoz0r/holoz0r-s-a-z-of-steam-dungeons-of-dredmor-roguelike-reading
https://peakd.com/hive-140217/@holoz0r/holoz0r-s-a-z-of-steam-dungeons-surprisingly-entertaining-and-well-executed
https://peakd.com/hive-140217/@holoz0r/dungeon-siege-iii-a-sad-blight-on-what-was-a-brilliant-series
https://peakd.com/hive-140217/@holoz0r/holoz0r-s-a-z-of-steam-dungeon-siege-2-broken-world-how-to-get-it-running-and-a-short-review
https://peakd.com/hive-140217/@holoz0r/holoz0r-s-a-z-of-steam-dungeon-siege-2-a-classic-action-rpg-how-does-it-hold-up-in-2020
https://peakd.com/hive-140217/@holoz0r/holoz0r-s-a-z-of-steam-dungeon-siege-the-foundations-of-something-amazing
https://peakd.com/gaming/@holoz0r/holoz0r-s-a-z-of-steam-dungeon-hearts-an-impressive-surprise
https://peakd.com/gaming/@holoz0r/holoz0r-s-a-z-of-steam-dungeon-defenders
https://peakd.com/hive-140217/@holoz0r/holoz0r-s-a-z-of-steam-duke-nukem-the-manhattan-project
https://peakd.com/hive-140217/@holoz0r/holoz0r-s-a-z-of-steam-duke-nukem-forever-the-biggest-disappointment-ever
https://peakd.com/hive-140217/@holoz0r/holoz0r-s-a-z-of-steam-duke-nukem-3d-played-for-the-first-time-in-2020-what-s-it-like-today
https://peakd.com/hive-140217/@holoz0r/holoz0r-s-a-z-of-steam-duke-nukem-2
https://peakd.com/hive-140217/@holoz0r/holoz0r-s-a-z-of-steam-duke-nukem
https://peakd.com/hive-140217/@holoz0r/holoz0r-s-a-z-of-steam-dragon-age-origins-ultimate-editon
https://peakd.com/hive-140217/@holoz0r/holoz0r-s-a-z-of-steam-dollar-dash
https://peakd.com/hive-140217/@holoz0r/holoz0r-s-a-z-of-steam-ashes-of-the-singularity
https://peakd.com/gaming/@holoz0r/pc-review-devil-may-cry-5-boy-meets-sword-sword-meats-demon
https://peakd.com/hive-140217/@holoz0r/devil-may-cry-4-complete-review-continuing-the-good-form
https://peakd.com/hive-140217/@holoz0r/devil-may-cry-4-complete-review-continuing-the-good-form
https://peakd.com/hive-140217/@holoz0r/devil-may-cry-3-special-edition-pc-review-of-the-hd-remaster
https://peakd.com/hive-140217/@holoz0r/devil-may-cry-2-a-review-of-the-hd-remaster-version
https://peakd.com/hive-140217/@holoz0r/revisiting-the-past-via-the-devil-may-cry-original-game-hd-remaster
https://peakd.com/hive-140217/@holoz0r/holoz0r-s-a-z-of-steam-dmc-devil-may-cry-the-complete-review-of-an-origin-story
https://peakd.com/hive-140217/@holoz0r/holoz0r-s-a-z-of-steam-a-complete-review-of-divinity-original-sin-ii
https://peakd.com/hive-148441/@holoz0r/i-finished-final-fantasy-vii-remake-in-34-hours-here-s-my-spoiler-free-mega-review-exclusive-to-hive-hive-148441
https://peakd.com/hive-140217/@holoz0r/a-z-of-steam-doom-2016-pure-pc-fps-gaming
https://peakd.com/hive-140217/@holoz0r/a-z-of-steam-disciples-iii-i-wanted-nostalgia-i-got-something-else
https://peakd.com/hive-140217/@holoz0r/a-z-of-steam-deus-ex-mankind-divided-a-lavish-world-an-unpolished-game
https://peakd.com/hive-140217/@holoz0r/holoz0r-s-a-z-of-steam-deus-ex-the-fall-a-mobile-game-ported-to-pc
https://peakd.com/hive-140217/@holoz0r/a-z-of-steam-deus-ex-human-revolution-director-s-cut-classic-post-humanism
https://peakd.com/hive-148441/@holoz0r/holoz0r-s-a-z-of-steam-deus-ex-invisible-war
https://peakd.com/hive-140217/@holoz0r/holoz0r-s-a-z-of-steam-deus-ex-a-superb-classic-a-game-that-keeps-getting-better-especially-with-the-revision-mod
https://peakd.com/hive-140217/@holoz0r/holoz0r-s-a-z-of-steam-defy-gravity
https://peakd.com/hive-140217/@holoz0r/holoz0r-s-a-z-of-steam-deathspank-thongs-of-virtue-yes-they-made-a-sequel
https://peakd.com/hive-140217/@holoz0r/holoz0r-s-a-z-of-steam-games-deathspank
https://peakd.com/hive-140217/@holoz0r/holoz0r-s-a-z-of-steam-deadlight
https://peakd.com/hive-140217/@holoz0r/holoz0r-s-a-z-of-steam-deadcore
https://peakd.com/hive-140217/@holoz0r/black-mesa-the-half-life-source-engine-remake-is-now-feature-complete-and-reviewed
https://peakd.com/gaming/@holoz0r/holozor-s-a-z-of-steam-dead-space-2
https://peakd.com/hive-140217/@holoz0r/holoz0r-s-a-z-of-steam-dead-rising-3-how-could-this-be-even-better-than-the-second
https://peakd.com/hive-140217/@holoz0r/holoz0r-s-a-z-of-steam-dead-rising-2
https://peakd.com/hive-140217/@holoz0r/holoz0r-s-a-z-of-steam-dead-bits-a-game-that-should-die-hive-140217
https://peakd.com/gaming/@holoz0r/holoz0r-s-a-z-of-steam-day-of-defeat-and-day-of-defeat-source-games-that-changed-my-life
https://peakd.com/gaming/@holoz0r/holoz0r-s-a-z-of-steam-darksiders
2019
https://peakd.com/gaming/@holoz0r/darkest-dungeon-the-final-post-mortem
https://peakd.com/gaming/@holoz0r/holoz0r-s-a-z-of-steam-dark-souls-prepare-to-die-edition
https://peakd.com/gaming/@holoz0r/holoz0r-s-a-z-of-steam-cthulhu-saves-the-world
https://peakd.com/gaming/@holoz0r/holoz0r-s-a-z-of-steam-crysis-warhead
https://peakd.com/crysis/@holoz0r/holoz0r-s-a-z-of-steam-will-it-run-crysis
https://peakd.com/gaming/@holoz0r/holoz0r-s-a-z-of-steam-crusader-kings-ii
https://peakd.com/gaming/@holoz0r/holoz0r-s-a-z-of-steam-crimzon-clover-world-ignition
https://peakd.com/gaming/@holoz0r/holoz0r-s-a-z-of-steam-counter-strike-css-and-csgo
https://peakd.com/gaming/@holoz0r/holoz0r-s-a-z-of-steam-costume-quest
https://peakd.com/gaming/@holoz0r/holoz0r-s-a-z-of-steam-consortium
https://peakd.com/gaming/@holoz0r/holoz0r-s-a-z-of-steam-conflict-denied-ops
https://peakd.com/gaming/@holoz0r/holoz0r-s-a-z-of-steam-commander-conquest-of-the-americas
https://peakd.com/gaming/@holoz0r/holoz0r-s-a-z-of-steam-civ-city-rome
https://peakd.com/gaming/@holoz0r/holoz0r-s-a-z-of-steam-the-chosen-rpg
https://peakd.com/gaming/@holoz0r/holoz0r-s-a-z-of-steam-chronology
https://peakd.com/gaming/@holoz0r/holoz0r-s-a-z-of-steam-chivalry-medieval-warfare
https://peakd.com/gaming/@holoz0r/holoz0r-s-a-z-of-steam-catan
https://peakd.com/gaming/@holoz0r/holoz0r-s-a-z-of-steam-carmageddon-2-carpocalypse-now
https://peakd.com/gaming/@holoz0r/holoz0r-s-a-z-of-steam-call-of-cthulu-dark-corners-of-the-earth
https://peakd.com/gaming/@holoz0r/holoz0r-s-a-z-of-steam-burn-zombie-burn
https://peakd.com/gaming/@holoz0r/holoz0r-s-a-z-of-steam-breath-of-death-vii
https://peakd.com/gaming/@holoz0r/holoz0r-s-a-z-of-steam-break-into-zatwor
https://peakd.com/gaming/@holoz0r/holoz0r-s-a-z-of-steam-borderlands
https://peakd.com/gaming/@holoz0r/holoz0r-s-a-z-of-steam-blood-of-old-the-rise-to-greatness
https://peakd.com/gaming/@holoz0r/holoz0r-s-a-z-of-steam-bit-trip-beat
https://peakd.com/gaming/@holoz0r/holoz0r-s-a-z-of-steam-bioshock-remastered
https://peakd.com/gaming/@holoz0r/holoz0r-s-a-z-of-steam-bioshock-2-remastered
https://peakd.com/gaming/@holoz0r/holoz0r-s-a-z-of-steam-besiege
https://peakd.com/gaming/@holoz0r/holoz0r-s-a-z-of-steam-ben-there-dan-that
https://peakd.com/gaming/@holoz0r/holoz0r-s-a-z-of-steam-bejeweled-3
https://peakd.com/gaming/@holoz0r/holoz0r-s-a-z-of-steam-beat-hazard
https://peakd.com/dlive/@holoz0r/f954bb80-ad00-11e8-9c9f-0242ac110003
https://peakd.com/dlive/@holoz0r/1f0133ae-a6c1-11e8-9740-0242ac110003
https://peakd.com/gaming/@holoz0r/holoz0r-s-a-z-of-steam-battleranch
https://peakd.com/gaming/@holoz0r/mzju4rio
https://peakd.com/gaming/@holoz0r/an-alphabetical-approach-to-my-steam-games-library-post-10
https://peakd.com/dlive/@holoz0r/f95a85eb-7cea-11e8-8d78-0242ac110003
https://peakd.com/dlive/@holoz0r/480f45e4-79f3-11e8-b1ec-0242ac110002
https://peakd.com/gaming/@holoz0r/an-alphabetical-approach-to-my-steam-games-library-post-9
https://peakd.com/gaming/@holoz0r/an-alphabetical-approach-to-my-steam-games-library-post-8
https://peakd.com/review/@holoz0r/a-brief-post-mortem-xcom-2-war-of-the-chosen
https://peakd.com/gaming/@holoz0r/an-alphabetical-approach-to-my-steam-games-library-post-5
https://peakd.com/gaming/@holoz0r/an-alphabetical-approach-to-my-steam-games-library-post-4
https://peakd.com/gaming/@holoz0r/an-alphabetical-approach-to-my-steam-games-library-post-3
https://peakd.com/gaming/@holoz0r/an-alphabetical-approach-to-my-steam-games-library-post-2
https://peakd.com/gaming/@holoz0r/an-alphabetical-approach-to-my-steam-games-library-post-1
---
---