holoz0r's A-Z of Steam: Ragnarock - a VR warship drumming experience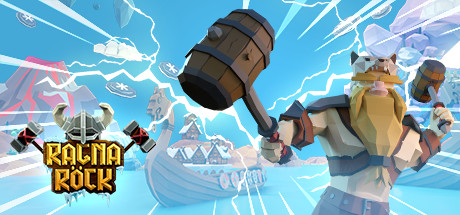 Have you ever imagined what it would like to be a Viking? I'm sure many of us transform a daily commute or banal modern task like showering into a dramatic pre—enactment of flaying enemies apart in a wild skirmish.
Contrary to popular belief, not all Vikings were mighty warriors, blood drenched upon magnificent battlefields. Won't someone take a moment to consider an enormous part of Viking transportation - that being the humble longship; and the brave souls who had to coordinate a gang of bloodthirsty warriors - the drummer who kept their rowing in time?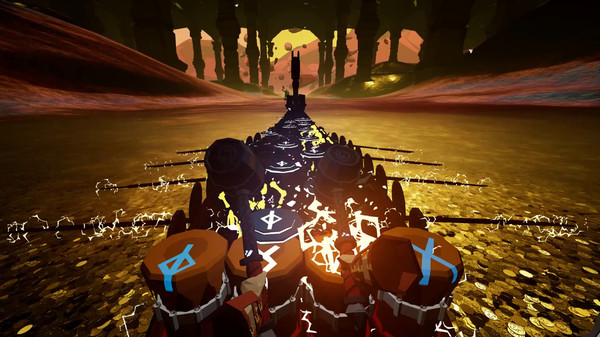 In the game Ragnarock you play this drummer on a Viking longship, destined to travel where ever the beating drum takes it. At its core, Ragnarock is a simple rhythm game, taking place in VR; where you play the role of drummer. There's four beats to it, and you use do it in time with the music.
What made Ragnarock incredibly appealing to me is the fact that the included soundtrack is a bunch of stuff I absolutely adore in its own right - metal (with the sub genres of pirate, folk, and symphonic metal overly represented here) - and a delightfully large and healthy dose of custom, community created tracks to download and play through native custom music support.
It is at this stage that you probably question why I still haven't played Beat Saber, and why I shouldn't just get on board that ship (get the pun) - it is because I want to give some time and effort to other games in this musical VR genre, and boy am I glad that I decided to give Ragnarcok an audition.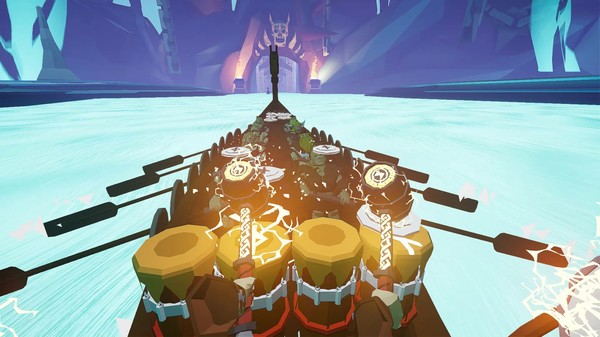 Bias toward the music genres represented in the game aside, is this actually a good, fun and engaging game? My answer to that is yes - if you can get it on sale. The foundation for a game like Ragnarock was built way back in the times of things like Guitar Hero and Rock Band; except here you have a single instrument to participate in.
On the bright side, you get three different difficulty levels for all official songs, but it made sense to me to start on the highest settings, as it feels weird flailing your arms around for percussion at a different tempo to the actual music. The hardest difficulty setting therefore becomes the "Easiest" to become competent at complex arrangements of snares, cymbals and toms.
The massive elephant in the room is the absence of a bass pedal - which makes up a large part of drumming, and in particular, drumming in metal. Therefore, it can be quite jarring when you're confronted with a song that has double bass kicks throughout, with nothing for your for to do.
So, it isn't a perfect simulation of playing the drums - but is it really meant to be? As someone unlikely to become a professional musician at any point in the next century; it doesn't matter. The arcade nature of this game does two things - it allows me to feel empowered, as though I am at the helm of a viking war ship, looking over a dozen or so mighty warriors who turn their oars at my command, provided, of course, my haphazard air drumming is kept in time with the runes flying toward my vision.
It really does feel like you're playing the drums, with the exception of the kickback you'd get from a real set - and the noise complaints that come from simply owning a drum. Though, that's only the case if you have neighbours who are unable to appreciate your pursuit of percussive perfection at all hours of the morning.
The other bonus is that Ragnarock and a VR headset probably both, combined, cost less than a decent drum kit, and certainly less than the going rate for a room in which in to encase a set of pearly white drum skins, some sticks and a daggy old carpet to stop things flying around or from damaging the floor.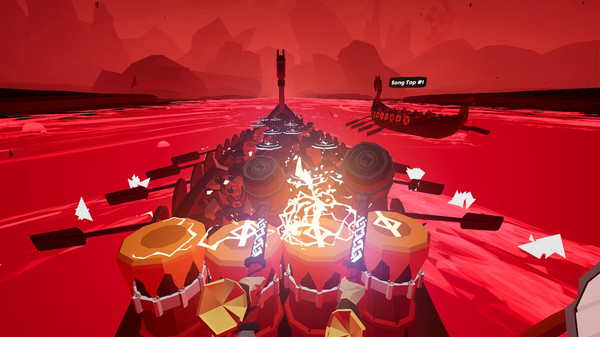 As a result, Ragnarock gives you a fairly unique gaming experience. If you're a fan of metal's eclectic sub genres, it makes it an even more compelling purchase, owing to the additional content both in the form of paid DLC and custom, community mods.
While I still thing that Snyth Riders remains my favourite VR rhythm game, quickly surpassing Audio Shield, Ragnarock is often used as a warm up to a Synth Riders session, and it is perfect in bursts of 25-40 minutes of gameplay.
I'd recommend this as a good foray into what can be done with rhythm games. Additionally, if you want to get into making levels yourself, the level editor is a lot more straightforward than that provided with Synth Riders, but it has come to my attention that most of these rhythm games have level files that work in very similar ways.
---
Want more content from me?
Witness my futile efforts to play my Steam Game collection in alphabetical order.
Are you aware that I love photography? Check out my work in a collection.
---

If you haven't started playing Splinterlands, you should do that immediately. It's very good fun.
If you want to see my Splinterlands antics and rants live, Find me on Twitch

If you prefer sleeping in your designated time zone, go watch replays on YouTube.
---
Thanks as always for your time!
---
---