Photographic Works and Ramblings of holoz0r

I hold a Masters Degree in Visual Art and Design - that may be hard to fathom given the amount of time I spend playing video games and living in a fantasy land; but these things inspire and enrich my creative muscles, along with my love of Pre-Raphaelite painting, and the philosophical implications of capturing images using photons from a distant star, or conversely, photons that are generated from electrical and chemical energy.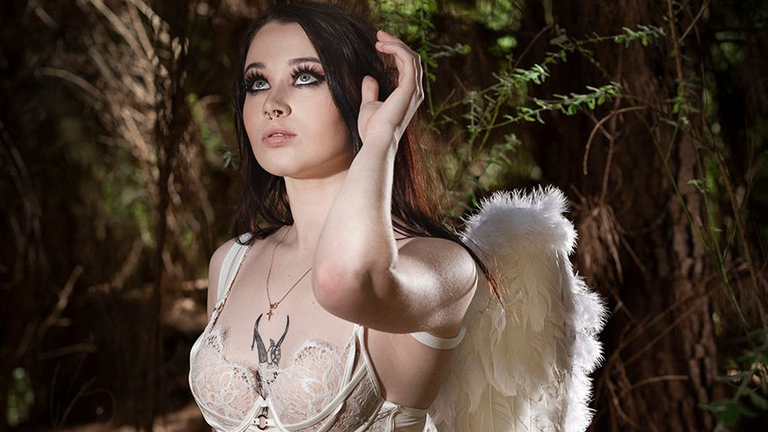 In any case, forgive my rambling, and please, let my photographic archives from the HIVE blockchain speak for themselves. Afterall, each image is worth at the very least, a thousand words. What they don't tell you is that it is probably comprimised of several hundred billion photons, or something like that.
If you are in Adelaide, Australia, and want me to take your portrait, reach out, say hello, and I'll be happy to so. :)
https://peakd.com/hive-194913/@holoz0r/new-work-tali-in-the-forest-10-images-within
https://peakd.com/hive-194913/@holoz0r/lost-in-the-forest-with-shak-and-lakeisha-a-photographic-series-with-a-penchant-for-the-dramatic-20-images-within
https://peakd.com/hive-194913/@holoz0r/the-colour-images-from-my-home-studio-test-shoot
https://peakd.com/hive-194913/@holoz0r/testing-the-new-home-studio-with-shak-images-in-black-and-white-5-images-within
https://peakd.com/hive-194913/@holoz0r/the-first-shoot-in-a-long-time-introducing-heidi-to-my-blog
https://peakd.com/hive-194913/@holoz0r/images-of-a-friends-bird-ali
https://peakd.com/proofofbrain/@holoz0r/new-lens-alert-ive-added-the-nikkor-z-105mm-f28-macro-to-my-collection
https://peakd.com/art/@holoz0r/my-photographic-artwork-soon-to-appear-in-a-local-exhibition-in-adelaide-australia
https://peakd.com/hive-194913/@holoz0r/winter-nymph-with-flick-a-series-of-11-images
https://peakd.com/hive-194913/@holoz0r/various-portraits-with-zee-zee-shot-in-my-home-studio
https://peakd.com/hive-194913/@holoz0r/female-portrait-contest-entry-a-fantasy-ruin-with-holly-a-collection-of-9-images
https://peakd.com/photography/@holoz0r/amber-as-poison-ivy-a-series-of-9-cosplay-portraits
https://peakd.com/hive-194913/@holoz0r/nsfw-my-first-real-boudoir-photo-shoot-with-sarah-15-images
https://peakd.com/hive-194913/@holoz0r/holly-at-the-beach-photography-using-an-external-off-camera-flash-and-umbrella-10-images
https://peakd.com/hive-194913/@holoz0r/music-without-words-images-of-the-shadow-casters-live-at-the-jade-in-adelaide-south-australia
https://peakd.com/hive-181964/@holoz0r/into-the-forest-with-greenie-9-images-inside
https://peakd.com/hive-194913/@holoz0r/portraits-of-bec-captured-in-my-home-studio-7-images-within
https://peakd.com/hive-145690/@holoz0r/the-matt-clarke-tokenised-on-lensy
https://peakd.com/hive-175538/@holoz0r/shroud-featuring-holly
https://peakd.com/hive-175538/@holoz0r/shooting-with-gels-for-for-the-first-time-home-studio-session-with-holly-10-images-inside-plus-explainer
https://peakd.com/hive-194913/@holoz0r/he-died-on-the-dancefloor-with-a-beer-in-his-hand-my-first-time-restoring-an-old-photograph-for-a-friend
https://peakd.com/hive-181964/@holoz0r/photography-gear-update-september-2020
https://peakd.com/hive-194913/@holoz0r/a-year-not-to-be-wasted-photoshoot-in-the-sun-with-holly-and-jess-7-images-within
https://peakd.com/hive-175538/@holoz0r/more-images-of-holly-in-the-australian-countryside
https://peakd.com/hive-194913/@holoz0r/shooting-up-the-countryside-with-holly-a-hidden-location-and-a-modified-style
https://peakd.com/hive-194913/@holoz0r/boho-holly-shot-in-adelaide-south-australia-by-holoz0r-part-two-12-more-retouched-images
https://peakd.com/hive-194913/@holoz0r/boho-holly-shot-in-adelaide-south-australia-by-holoz0r-part-one-6-images-plus-behind-the-scenes
https://peakd.com/hive-194913/@holoz0r/how-i-use-flash-outdoors-to-take-portraits-featuring-rebecca-10-images-in-post
https://peakd.com/hive-175538/@holoz0r/kelsey-in-the-studio-with-diamonds-10-image-series
https://peakd.com/hive-175538/@holoz0r/descend-a-15-image-photo-story-about-a-fallen-angel
https://peakd.com/hive-174578/@holoz0r/one-hour-of-photographic-retouching-with-commentary-holly-as-a-fallen-angel
https://peakd.com/hive-175538/@holoz0r/holly-the-fallen-angel-yet-another-image-before-and-after-plus-retouching-video
https://peakd.com/hive-175538/@holoz0r/holly-the-fallen-angel-another-image-before-and-after-plus-retouching-video
https://peakd.com/hive-175538/@holoz0r/holly-the-fallen-angel-before-and-after-plus-retouching-video
https://peakd.com/creativecoin/@holoz0r/go-betweens-a-new-photographic-lighting-technique-to-me-at-least
https://peakd.com/photography/@holoz0r/the-rest-of-the-images-from-justine-s-shoot-nine-more-images
https://peakd.com/hive-175538/@holoz0r/retouching-some-golden-hour-portraits-of-justine-video-stills
https://peakd.com/hive-181964/@holoz0r/more-shots-from-the-shoot-with-justine-including-retouch-video
https://peakd.com/photography/@holoz0r/the-outcome-of-location-scouting-a-sneak-peak-of-the-shoot-with-justine
https://peakd.com/locationscouting/@holoz0r/photography-location-scouting-south-australia-anstey-hill-recreation-park-in-july-2020
https://peakd.com/hive-174578/@holoz0r/the-morning-light-casts-the-best-shadows-more-musings-on-light-and-photography
https://peakd.com/hive-174578/@holoz0r/photography-narrative-moments-and-light-how-can-you-use-story-to-take-better-pictures
https://peakd.com/hive-181964/@holoz0r/rose-and-her-violin-a-series-of-seven-images
https://peakd.com/hive-174578/@holoz0r/first-out-of-isolation-photoshoot-bree-including-full-lighting-tutorial-and-break-down-7-images
https://peakd.com/hive-152232/@holoz0r/beard-selfie-lost-in-tangled-hairs-and-reflected-light-rays
https://peakd.com/photography/@holoz0r/photography-and-data-journeys-in-learning-analytics-and-discovering-new-datasets
https://peakd.com/hive-181964/@holoz0r/the-final-images-from-holly-s-pre-raphaelite-shoot-original-photography-by-me-hive-181964
https://peakd.com/hive-174578/@holoz0r/the-final-images-from-holly-s-pre-raphaelite-shoot-original-photography-by-me
https://peakd.com/hive-156509/@holoz0r/pre-raphaelite-photography-with-holly-a-portrait
https://peakd.com/hive-175538/@holoz0r/goth-sara-black-and-white-environmental-portraits
https://peakd.com/hive-175538/@holoz0r/a-shoot-with-kelsey-original-portrait-photography-on-location-hive-175538
https://peakd.com/photography/@holoz0r/what-are-your-opinions-on-time-for-print-tfp-in-photography
https://peakd.com/photography/@holoz0r/behind-the-photo-november-10-2019-candid-portrait-of-a-food-truck-vendor
https://peakd.com/photography/@holoz0r/a-bright-sunny-photoshoot-capturing-friendship-samantha-and-becky
https://peakd.com/photography/@holoz0r/so-all-that-photographic-work-means-something-now
https://peakd.com/photography/@holoz0r/making-the-city-of-adelaide-light-up-with-samantha-a-series-of-9-images
https://peakd.com/photography/@holoz0r/the-ice-queen-7-more-images-from-the-set-with-holly
https://peakd.com/photography/@holoz0r/the-ice-queen-original-photography
https://peakd.com/photography/@holoz0r/my-2019-in-photographic-images
https://peakd.com/photography/@holoz0r/original-photography-in-the-home-studio-with-kelsey
https://peakd.com/photography/@holoz0r/halestorm-live-at-the-gov-december-9-2019-adelaide-south-australia-original-live-music-photography-and-gig-review
https://peakd.com/nsfw/@holoz0r/pictures-of-jamie-testing-the-home-studio-on-the-male-form
https://peakd.com/oc/@holoz0r/more-shots-with-rose-six-images-from-the-fairy-themed-shoot
https://peakd.com/oc/@holoz0r/rose-in-a-fairy-garden-5-images
https://peakd.com/oc/@holoz0r/bree-the-fallen-angel-7-image-post-original-photography
https://peakd.com/photography/@holoz0r/ella-s-little-red-riding-hood-inspired-shoot-original-photography-four-images-inside
https://peakd.com/photography/@holoz0r/morticia-and-wednesday-an-addams-family-inspired-original-photoshoot-7-images
https://peakd.com/oc/@holoz0r/original-photography-holly-velvet-gravestones-and-sunshine
https://peakd.com/photography/@holoz0r/more-images-from-rapture-five-image-post
https://peakd.com/photography/@holoz0r/the-moments-that-guide-how-i-ended-up-taking-these-astrophotogrpahy-images
https://peakd.com/photography/@holoz0r/my-original-photography-art-deco-themed-inspired-by-elizabeth-from-bioshock-and-getting-better-at-light-4-image-series
https://peakd.com/photography/@holoz0r/bree-in-the-city-employing-off-camera-flash-and-a-lambo-3-picture-set
https://peakd.com/photography/@holoz0r/bree-in-the-city-colour
https://peakd.com/photography/@holoz0r/black-and-white-bree-in-the-city-set-of-6-photos
https://peakd.com/photography/@holoz0r/in-the-studio-with-alex-pdntmv1s
https://peakd.com/portraitphotography/@holoz0r/capturing-kerry-photos-in-green-with-some-red-6-photos-inside
https://peakd.com/photography/@holoz0r/clowning-around-part-3-the-portraits
https://peakd.com/photography/@holoz0r/clowning-around-part-2-balloons
https://peakd.com/photography/@holoz0r/clowning-around-part-1
https://peakd.com/portraitphotography/@holoz0r/shooting-sarah-part-3
https://peakd.com/photography/@holoz0r/shooting-sarah-part-2
https://peakd.com/portraitphotography/@holoz0r/shooting-sarah-part-1
https://peakd.com/portraitphotography/@holoz0r/bree-in-fantasy-land
https://peakd.com/photography/@holoz0r/bree-in-black-and-white
https://peakd.com/photography/@holoz0r/bree-head-shots
https://peakd.com/photography/@holoz0r/shooting-outside-the-arcade
https://peakd.com/photography/@holoz0r/shooting-photos-in-an-arcade
https://peakd.com/photography/@holoz0r/taking-a-professional-selfie
https://peakd.com/photography/@holoz0r/photos-with-james-black-and-white
https://peakd.com/photography/@holoz0r/photos-with-james-colour
https://peakd.com/portraitphotography/@holoz0r/blue-photoshoot-part-3
https://peakd.com/photofeed/@holoz0r/blue-photoshoot-part-2
https://peakd.com/photography/@holoz0r/blue-photoshoot-part-1
https://peakd.com/photography/@holoz0r/single-photo-post-the-news
https://peakd.com/photography/@holoz0r/zombie-photoshoot-on-the-rocks-final
https://peakd.com/photography/@holoz0r/zombie-photoshoot-daybreak
https://peakd.com/photofeed/@holoz0r/zombie-photoshoot-part-3-brains
https://peakd.com/photofeed/@holoz0r/zombie-photoshoot-part-2-black-and-white
https://peakd.com/photofeed/@holoz0r/zombie-photoshoot-part-1-rising-from-the-grave
https://peakd.com/photocircle/@holoz0r/stephanie-s-street-style-shoot-on-steem
https://peakd.com/photofeed/@holoz0r/photo-shoot-in-a-car-park-part-7
https://peakd.com/photography/@holoz0r/photo-shoot-in-a-car-park-part-6
https://peakd.com/photofeed/@holoz0r/photo-shoot-in-a-car-park-part-5
https://peakd.com/photofeed/@holoz0r/photo-shoot-in-a-car-park-part-4
https://peakd.com/photography/@holoz0r/photo-shoot-in-a-car-park-part-3
https://peakd.com/photofeed/@holoz0r/photo-shoot-in-a-car-park-part-2
https://peakd.com/photofeed/@holoz0r/photo-shoot-in-a-car-park-part-1
https://peakd.com/photofeed/@holoz0r/pre-raphaelite-photoshoot-with-kelsey-part-11
https://peakd.com/photofeed/@holoz0r/pre-raphaelite-photoshoot-with-kelsey-part-10
https://peakd.com/photofeed/@holoz0r/pre-raphaelite-photoshoot-with-kelsey-part-9
https://peakd.com/creativecoin/@holoz0r/pre-raphaelite-photoshoot-with-kelsey-part-8
https://peakd.com/photofeed/@holoz0r/pre-raphaelite-photoshoot-with-kelsey-part-7
https://peakd.com/photography/@holoz0r/pre-raphaelite-photoshoot-with-kelsey-part-6
https://peakd.com/portraitphotography/@holoz0r/pre-raphaelite-photoshoot-with-kelsey-part-5
https://peakd.com/photography/@holoz0r/pre-raphaelite-photoshoot-with-kelsey-part-4
https://peakd.com/photography/@holoz0r/pre-raphaelite-photoshoot-with-kelsey-part-3
https://peakd.com/photography/@holoz0r/pre-raphaelite-photoshoot-with-kelsey-part-2
https://peakd.com/photography/@holoz0r/pre-raphaelite-photoshoot-with-kelsey-part-1
https://peakd.com/portraitcontest/@holoz0r/portrait-photography-contest-week-89-outdoor-portrait
https://peakd.com/photography/@holoz0r/what-is-in-your-camera-bag-what-s-in-your-past-camera-bags-show-and-tell-time
https://peakd.com/photography/@holoz0r/getting-my-photographic-stuff-back-on-track
https://peakd.com/photography/@holoz0r/tragic-asylum-a-portraiture-series-part-10-10-fear-and-guiling-copesmate-death
https://peakd.com/photography/@holoz0r/tragic-asylum-a-portraiture-series-part-9-10-final-destination
https://peakd.com/photography/@holoz0r/tragic-asylum-a-portraiture-series-part-8-10-heretique
https://peakd.com/photography/@holoz0r/tragic-asylum-a-portraiture-series-part-7-10-pale
https://peakd.com/art/@holoz0r/tragic-asylum-a-portraiture-series-part-6-10-destination-departure
https://peakd.com/art/@holoz0r/tragic-asylum-a-portraiture-series-part-5-10-the-truth-beneath-the-rose
https://peakd.com/photography/@holoz0r/tragic-asylum-a-portraiture-series-part-4-10-a-rose-for-the-dead
https://peakd.com/photography/@holoz0r/tragic-asylum-a-portraiture-series-part-3-10-beyond-the-veil
https://peakd.com/photography/@holoz0r/tragic-asylum-a-portraiture-series-part-2-10-interlunar-dreams
https://peakd.com/photography/@holoz0r/tragic-asylum-a-portraiture-series-part-1-10-mourning-tree
https://peakd.com/camera/@holoz0r/just-a-bit-of-camera-gear-drbdqlz3
https://peakd.com/photography/@holoz0r/lord-howe-island-a-world-heritage-listed-location-travel-photography
https://peakd.com/photography/@holoz0r/capri-island-italy-travel-photography
https://peakd.com/art/@holoz0r/on-the-pointlessness-of-funerary-sculptures-denied-eternity-memorials-and-monuments
https://peakd.com/photography/@holoz0r/just-some-contemplation
---
---