Shortlisting Judgement
I am constantly feeling like the end is nigh for the Tarot card deck that I am producing, but I am very, extremely happy with the candidates for Judgement. This is a card that is meant to be about the purgatory between life and death; among other things.
The judgement card represents an image of a woman playing an instrument, with bodies rising (and maybe writhing) from the grave. The dark subject matter suits my aesthetic preferences, and my vocabulary, so it is clear that I'm going to thoroughly enjoy this one.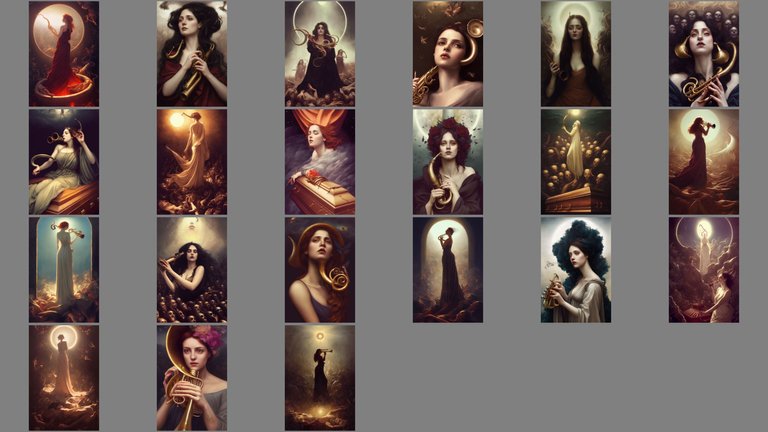 I did not produce an enormous amount of images for this one; but the ones that I did were all of EXCEPTIONAL quality.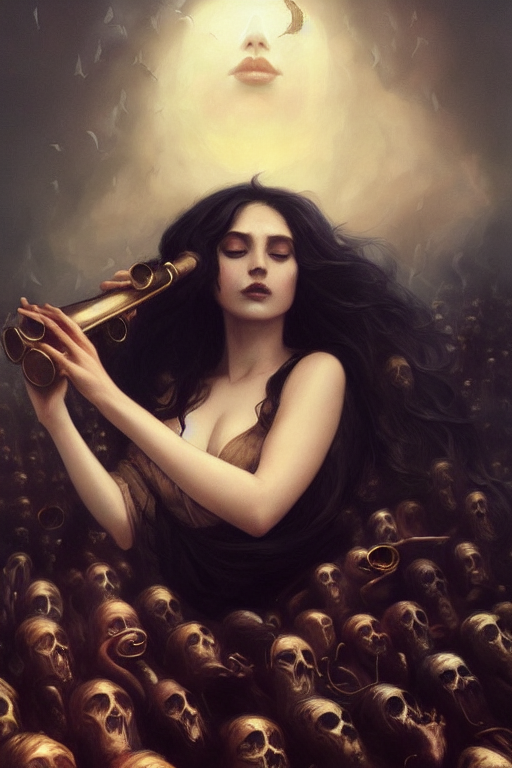 This is a bizarre shaped instrument, held in the three hands of a character who has good proportions, apart from the fact that there's three hands. The woman's face at the top of the composition is also mysterious, even if it is lacking eyes - it gives the impression of an omnipotent goddess in the background. The skulls and sea of faces all around the image also give the image a very dark undertone. I like it a great deal.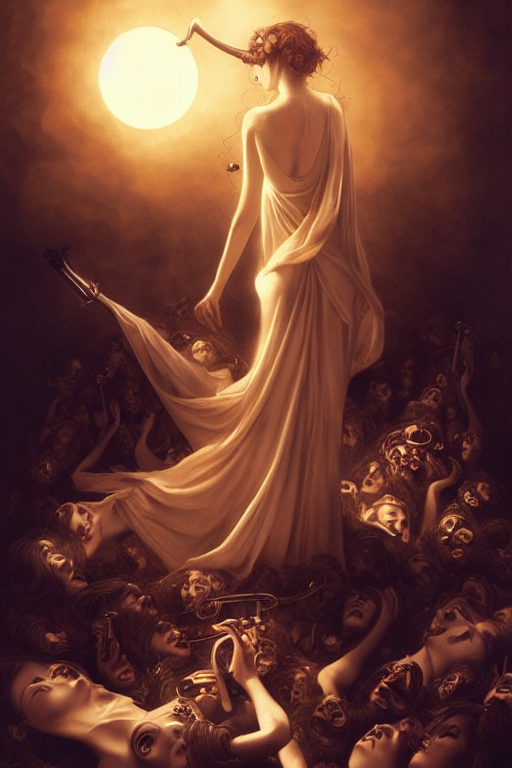 This is another image down the same path as the first; with a powerful form, among a sea of poorly rendered faces. There's an absence of instruments; so this makes this image not very suitable for judgement. It's a striking gown, however.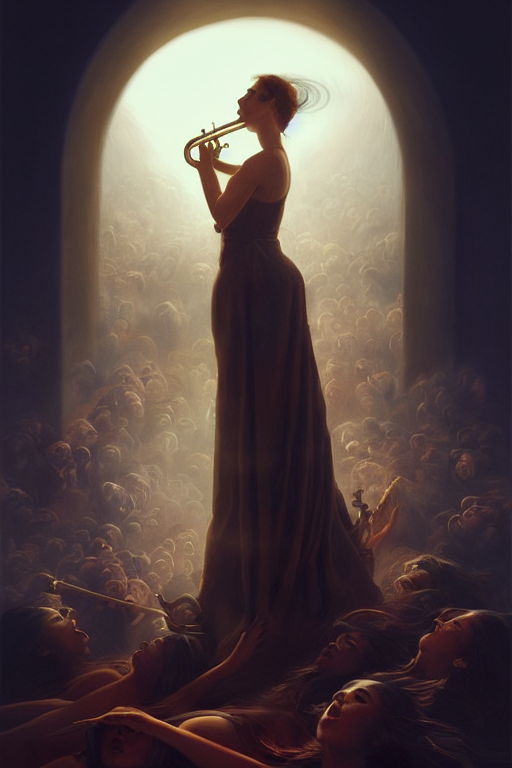 This trumpet is one that is being consumed; but the foreground is pretty dramatic. Were it not for the incorrect use of the instrument, it would probably be a lot better than what the result was.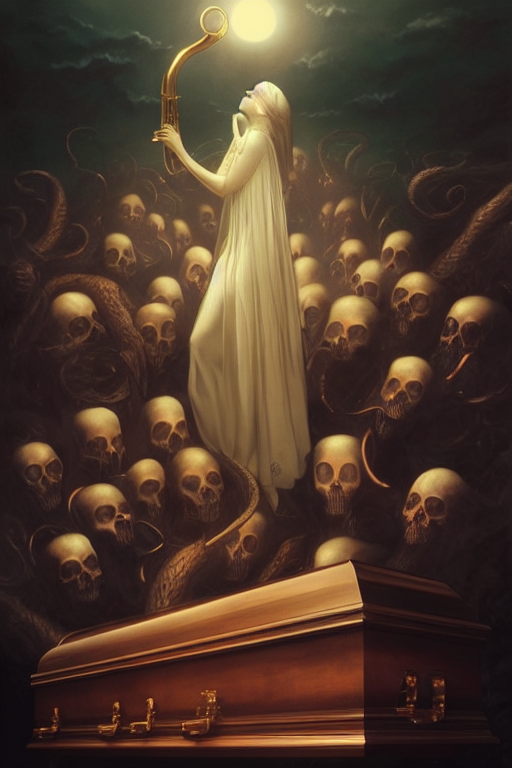 This image is a bit more abstract; with a casket in the foreground, a brass instrument; some lovecraftian tentacles; and a whole bunch of skulls. The moon and dramatic clouds in the background are also pretty; and there's some great colour theory between the green and brown tones. Unfortunately, the subject matter leaves me wanting more.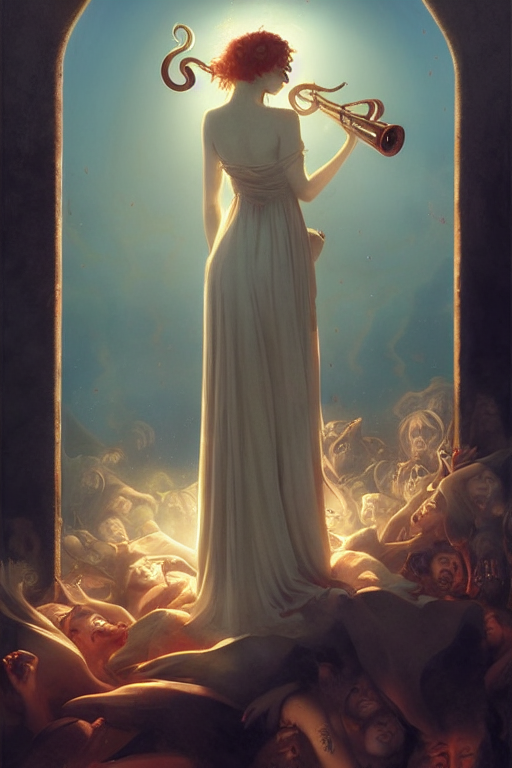 This image is a much brighter representation of Judgement. It's got blues and yellows, and a nice glow going on. The brass instrument is well presented, but the sea of writhing bodies isn't very well rendered. As a result, I don't like this as much as the others, but what I do like is the archway that is including in the background.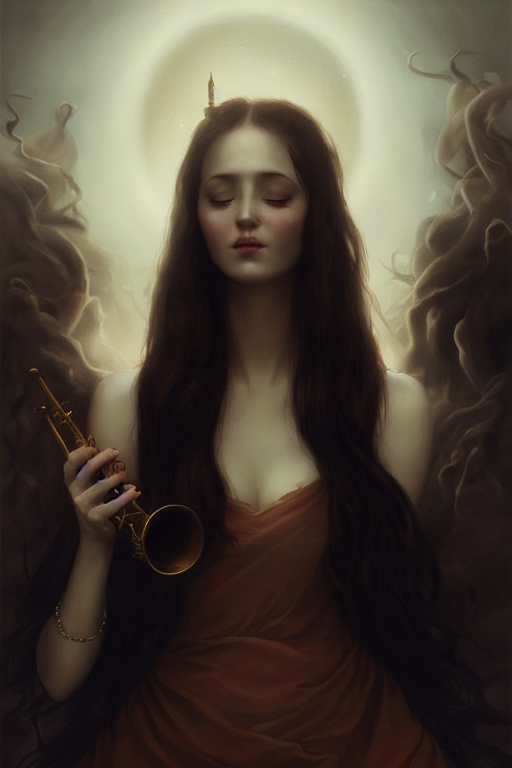 This is a representation of a pretty miserable looking woman; and the instrument held within her hand is surprisingly held well; and looks like a real instrument. The wisps in the background are interesting but this doesn't appeal to my aesthetic that I am looking for in terms of Judgement.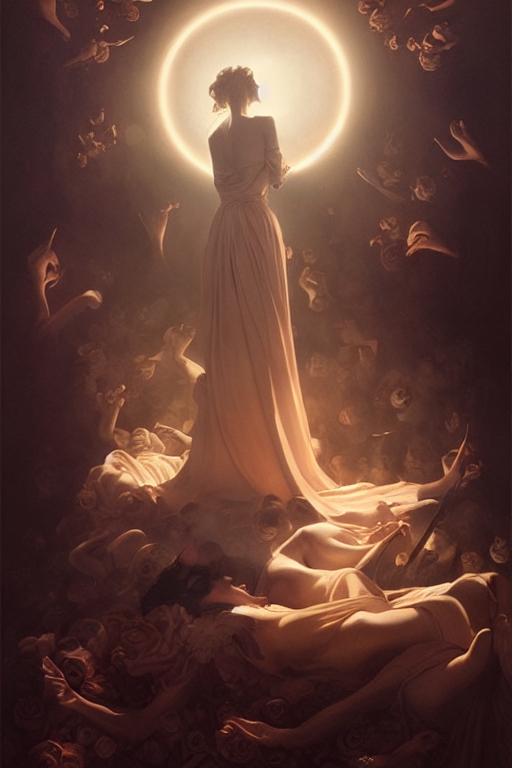 I am enjoying the monochromatic nature of this image; and the colour selected. This is a golden hour portrait of what I would consider to be an autumnal representation of Judgement. There's limbs flying everywhere; a bed of flowers, and an elegant gown containing a woman; with a halo. However, this is a bit too crude in terms of its representation for me to accept this as a final image.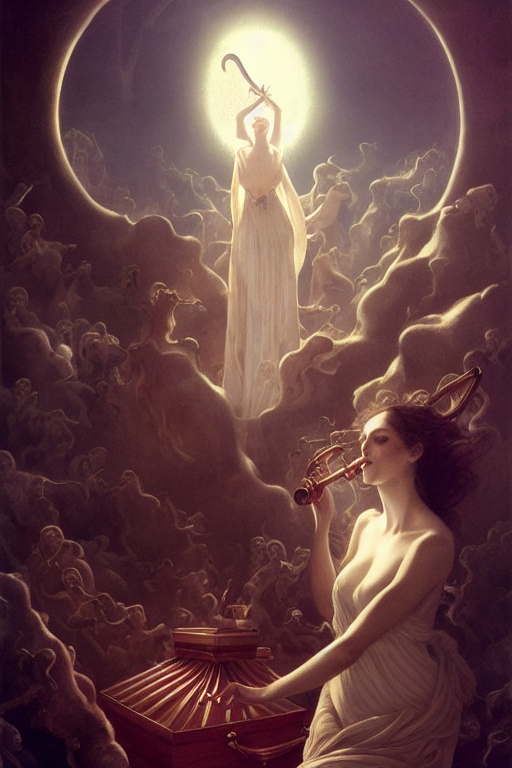 This image is a serious contender, and I like the fact that there are two figures telling a story here. One with a sickle, one with a brass instrument; but the foreground is a confusing element in the composition. I'm in love with the ghoulish figures that make up the remaining parts of the composition. There's one more image to assess, however; and I am feeling like this is one that I'm going to enjoy.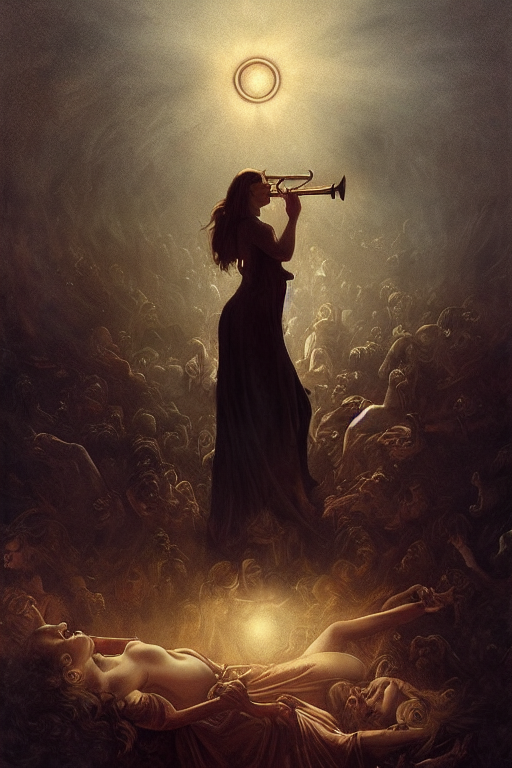 In this image; we have a better, more obvious representation of a brass wind instrument; and the figure playing it sits amid an absolute litany of ghoulish, writhing figures. It is painterly in the background, and a halo hovers in the background, belonging to no one. This image is both confronting, and evocative; which means that I want to work this one further into a final state. There will be quite a bit of work to do on the image; but I'm not afraid of a bit of Photoshop! :)
---
Want more content from me?
Witness my futile efforts to play my Steam Game collection in alphabetical order.
Are you aware that I love photography? Check out my work in a collection.
---

If you haven't started playing Splinterlands, you should do that immediately. It's very good fun.
If you want to see my Splinterlands antics and rants live, Find me on Twitch

If you prefer sleeping in your designated time zone, go watch replays on YouTube.
---
Thanks as always for your time!
---
---