Thoughts on iRacing: Rambling words about the best sim-racer out there and why it is not for me
With the recent (though you've not seen many posts about it recently, I won't lie) obsession that I've had with Sim-Racing (and the F1 season now over) - I figured that I need something else racing related to fill the void of time that will be left empty.
Placing this post and these rambling words in the Hive Gaming community feels sort of wrong, but iRacing can be seen as a game. You run it on a gaming PC, and well, the sport of racing is merely nothing more than a game...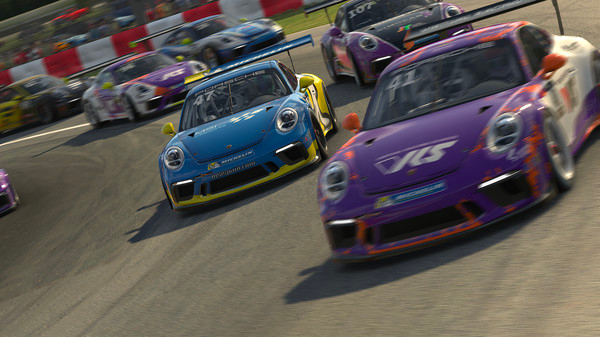 I decided to sign up for a month long subscription to iRacing, and after having thrown myself into the circuits of the world, I'm here to share my thoughts.
First, I want to start with the value proposition. I took advantage of the Black Friday special that iRacing was offering, half price for a month, so I think I paid 6.5USD for a month's worth of access.
Break that down to a thirty day period, and that's 21 cents a day. Not a bad deal. What feels like a bad deal, is that even though this is a subscription fee to licence a bunch of cars and tracks, the good stuff (like Spa, Monza, and a few of the other circuits used by F1 cars) are behind $12 paywalls, that you lose access to if you do not renew your monthly subscription to iRacing.
It is a tedious business model that would see you pay (At the normal rate) $100/USD a year for the game, plus more for individual pieces of content as you want to explore the rest of the game. I would much rather a slightly higher subscription fee month to month, with all items, tracks, and new content included, instead of a mixture of cars and tracks being one time purchases, with the access to the platform being a subscription.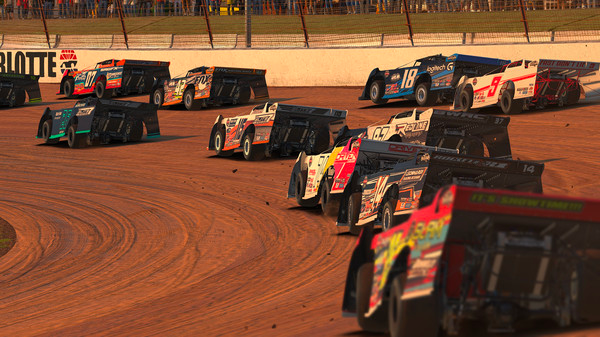 My gaming set up has three monitors, a VR headset, and a 4090. I wanted to experience iRacing on the flat screen (I wasn't really feeling like VR) - and the game wanted to run on my tall monitors (yes, I'm strange and have two portrait monitors, and one landscape monitor) - and it was a struggle to get the correct screen mapped, as this for some reason did not match the Windows Display Properties monitor settings as every other app does.
So, before I even get into racing, a few issues - the economic model of the game is complicated, and not fun; and getting the simulation to run on the monitor of your choosing when monitor count is greater than one, was also an issue.
What of the actual experience in terms of getting into a car and having a blast around a track, then?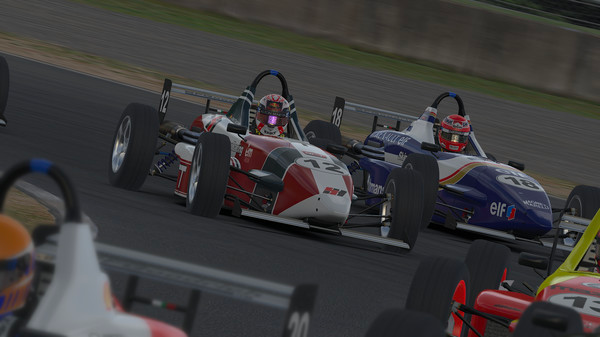 There's a disturbing lack of filters when you want to go out for a test session. You'll see a whole bunch of dollar signs next to tracks you don't own, and cars you don't own, with no option in the test session to simply filter it by "stuff I own" (well, stuff I licence, but whatever).
This is fixed in the actual ranked racing leagues, which has sliders to show you things that you're eligible to enter (based on the licence system) and things you're able to race (based on what you've licensed).
Once you get on track, the experience is much like any other driving simulator or racing game, with the exception of everything under the hood. iRacing is lauded for its realistic, laser scans of both cars and tracks, and a top-notch simulation engine that takes into account the tyre pressures (and how they change through cornering and at speeds), aero, track temperature, tyre degradation, damage, and so many other variables that you can modify and tune that you could quite possibly become a race-engineer by studying how these all link to one another.
Lucky, there's default set ups for people who want to get into a car and put their foot down, and that's exactly what I opted to do, and use, when I decided to waltz out into the Pit Lane with some sort of virtual fire-suit and helmet on, and stuff my decaying sack of flesh through a roll cage and into the body of a Mazda MX-5, which was some sort of cup model, modified for the track, with a racing tachometer, and sequential shifting, accompanied with an automated clutch.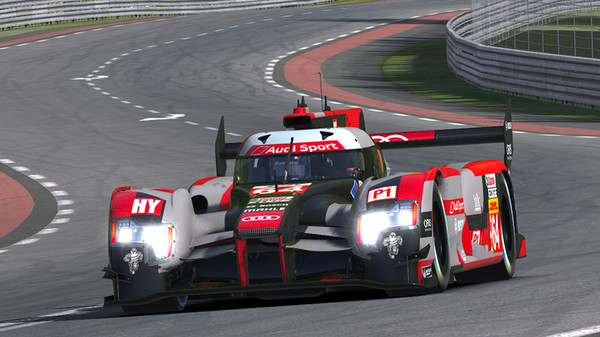 True race spec stuff. I floored it out of the pits, and was very impressed as I hit the brakes (too hard) for the first corner. They felt very effective, but the slightest hint of steering input under braking meant that I started to skid instead of cleanly halt. Clearly, a simulation you'd expect from stomping on the brakes in a race car that does not have an anti-lock braking system.
This was good, and the display of the racing line showed braking points in a way that encouraged gentle application of the brakes, followed by harder braking, followed by an ease off, before returning to throttle, exactly how a real world racer would brake. I think this is called "trail braking" in the real world - and there's a reason why it works in racing. It keeps all four tyres moving without locking, introducing only the problems of the difference in the rotational speed of the inner and outer wheel when it comes to corners.
I could tell all of this was working under the hood in iRacing in just my first corner. I've driven a car on a race track a total of one times, and I didn't do that very fast at all, but since March this year, I've played probably about a hundred hours of Gran Turismo, Assetto Corsa, Project Cars, and F1 21, and F1 22. I've learned an awful lot about cars this year in my day to day life, and it has been a very interesting year in that regard.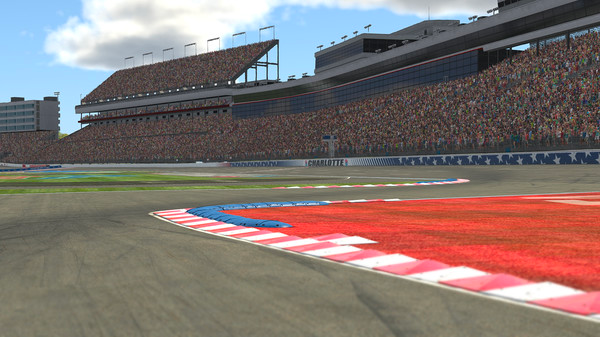 These skills even allowed me to not die in my car on a rural property at least once. :)
In any case, back to the world of iRacing. I stomped back down on the accelerator to exit the corner (albeit with a terrible racing line, and ... it felt fine) The next corner came up, and it was in the opposite direction. Then the next, and the next. I spun at the hair pin, being way too overzealous on my braking point, and turning under braking which caused the car to break traction and end up going nose after tail round and round.
It was fun. It was education. It was realistic. It was also exhausting, and I was only one lap in. This experience reminded me a lot of League of Legends, which with its toxic community sees people blame everyone except for themselves when things go wrong.
In iRacing, you need to blame no one but yourself when things go wrong, because you are the only one in control. Sure, another car may interfere with your racing line, or collide into yours; but everything is your fault.
It is your fault because you chose to sign up to the service. It is your fault because you chose to drive that car on that track. It is your fault because you didn't qualify as well as they did (or vice versa), and most importantly, it is your fault for putting your car where you put your car on the track.
All the while, you were in control. At least, until the point where you lose traction and you're a passenger, stomping on the brake pedal, applying opposite lock, and hoping that you don't put the car into a wall, or worse still into that of another racer.
At this point, I've written almost 1300 words about a single race event. With the base level subscription, you get more than just the Miata. You also get some Indy car (but, it is a legacy model). The Indy car, I took to Laguna Seca raceway, a track I spent so many hundreds of hours in Gran Turismo 3 on the PS2, and a track that is a challenging, horrible combination of elevation changes and bends that leads to complete chaos.
I made no such chaos, but quickly learned that in the transition from first to second gear, it is unwise to stomp the accelerator pedal too hard when departing from a corner, or you will spin.
The sounds were incredible, however; these are the most immersive sounds I've heard in a racing game ever. The levels of all the stuff you hear are entirely appropriate, and you can make out the sounds of all the important bits - engine, transmission, exhaust, tyres, and the rattling of body components if you happen to leave the track.
I did leave the track. A lot. I'm not proud of that fact, but it is exactly what it is, a fact. They can't be disputed, unless you want to use the "Protest" functionality in iRacing, which lets you challenge whether or not you left the track, whether you truly lost control, or whether you should've won that race where you were in last position for the whole time, due to guess what - an issue being entirely your fault, like not being a good enough driver.
And you'll get a lot. My next experience in iRacing was to take to the real world, real life of an experience on a track with other human beings, online. The soonest event that my base pack of the game was eligible for was a rally cross event, and I found myself racing against six other cars. I ended up finishing fourth, after qualifying last, as a yellow flag event saw a double DNFs on lap two or three of the ten lap race.
The great thing about iRacing is that it follows racing rules very seriously, and I was quite surprised to not see a FiA logo anywhere in the game's menus or marketing material. The use of yellow, black (I got a few black flags due to dodgy lines in and out of the "joker" lap during Rally Cross) is accurate, and instantaneous.
This is backed up by solid voice commentary about the location of other cars on the track, with a race engineer constantly jabbering at you about car to the left, car to the right, and other events on tracks that you must be acutely aware of, or risk the pain of twisted metal and ruined bodywork.
All of this might sound like a deliriously good time if you enjoy uncompromising realism and have a sadistic urge to better yourself in a skill every single day. iRacing is a truly magnificent simulation, but its accessibility, its business model, its price point and its laser focus on being a true simulation puts it beyond the accessibility of a title like Assetto Corsa Competitionize or Project Cars 2.
iRacing is the best thing in the world in terms of car physics, steering, and it is a delight to drive around tracks in super cars at a pedestrian speed, experiencing 60-70% of the performance that these cars are truly capable of. It is in the last 40% of performance where iRacing makes a lot more sense.
Don't go looking for victories here unless you're winning online races in other titles by 12 seconds after a 3 lap race. The deltas here are very competitive, and due to the underlying frequency of the simulation running under the hood, every single minute movement and input that you provide to the game is something that makes a difference.
Like I said earlier, if you find yourself languishing within the world of iRacing, you've only got yourself to blame. I do not think I am ready for a full time sim-racing career, so for the time being, I will stick to more accessible titles.
That's the only benefit of the pricing model of iRacing - I only spent US$6.5 in order to get a month's worth of access to a small selection of what is the best racing sim in the world. It just feels like it is too hardcore for me. That's okay. I've only got myself to blame.
---
Want more content from me?
Witness my futile efforts to play my Steam Game collection in alphabetical order.
Are you aware that I love photography? Check out my work in a collection.
---

If you haven't started playing Splinterlands, you should do that immediately. It's very good fun.
If you want to see my Splinterlands antics and rants live, Find me on Twitch

If you prefer sleeping in your designated time zone, go watch replays on YouTube.
---
Thanks as always for your time!
---
---