Will I find the right star in the night sky?
It is time to make a selection for what will become the final star in the night sky of my Tarot Card deck, which is generated by AI. The curation process is certainly done by a human (that would be me) - and additional retouching and other bits and pieces such as these rambling introductions are also me, again.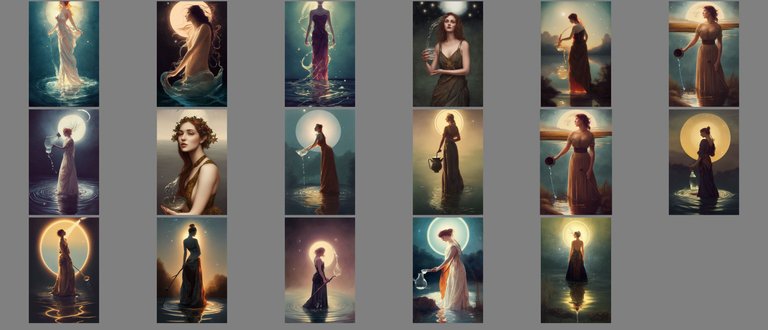 You'll also notice that there is, in this set of thumbnails; the Temperance card is present. This was a happy accident, where I managed to generate perfect Temperance instead of the Star.
In any case, allow me to examine the remaining images that are candidates for The Star.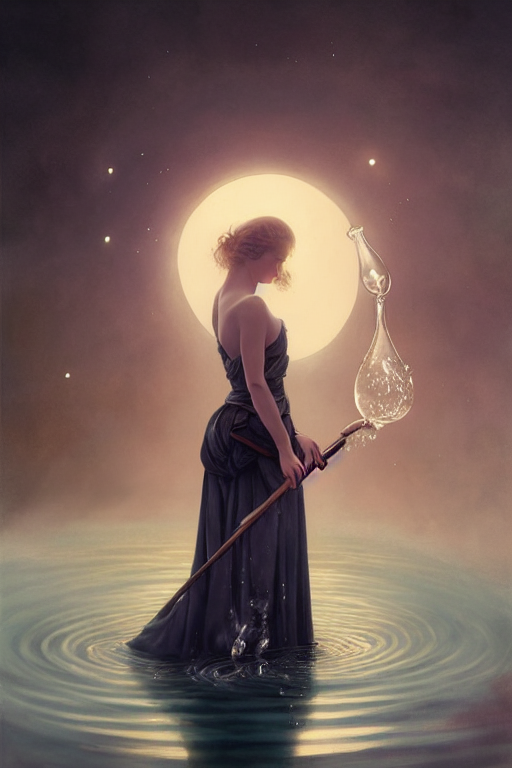 The dress in this image looks to be made of a combination of denim and nice drapery-inspiring fabrics; and the pose of the character depicted is good, too; however the vessels on the end of the staff are truly bizarre, and this makes it an unsuitable image. There's also not a great deal of representation of "The Star", with there being more of a moon in the background.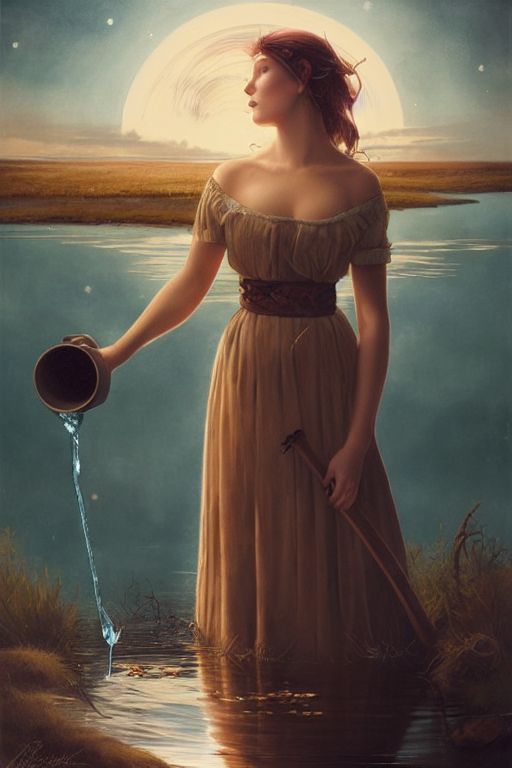 This image ended up becoming Temperance, as I reviewed images.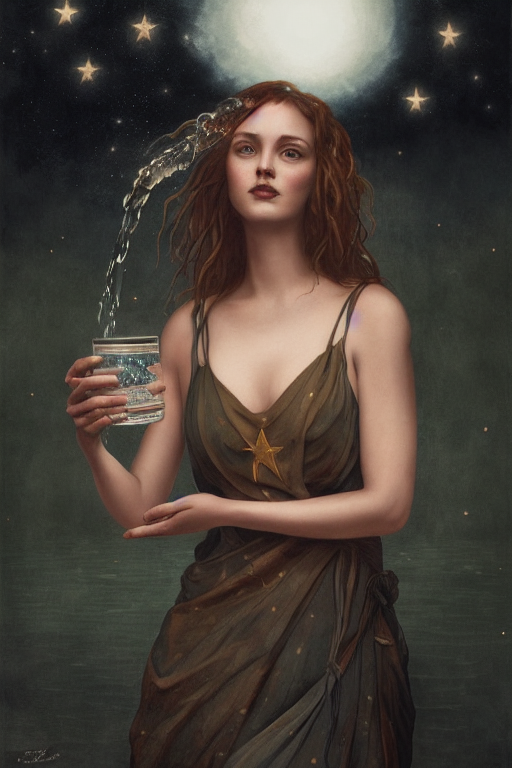 I like this image. There's hands, decently represented, (or at the very least, easy to Photoshop into a fix) - and nicely detailed "stars" that give this a sort of "Christmas tree" theme. The fact that the gown the character is wearing has a star on it as well, and the way in which water leaps into the glass she is carrying coalesces into something that I think I will use as a final image. It will require a fair bit of work in Photoshop, but I am not afraid of that.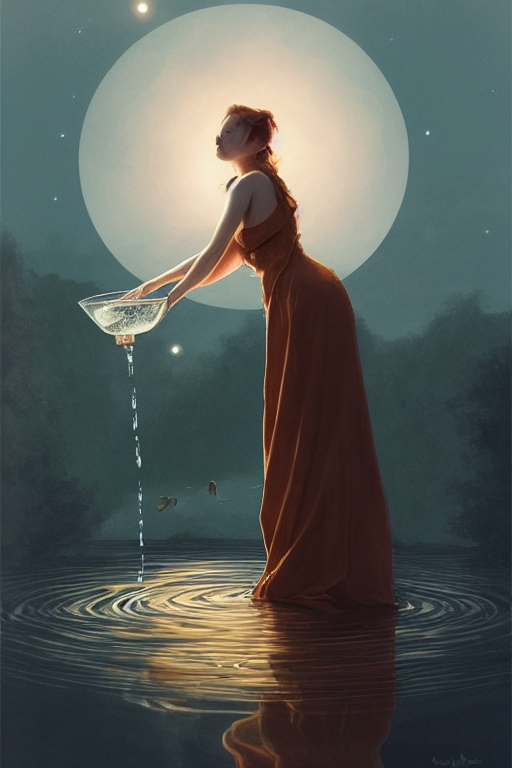 This looked decent as a thumbnail; but enlarged, there's so much wrong, from the face, to the pose, and the background - there's a complete lack of thematic accuracy.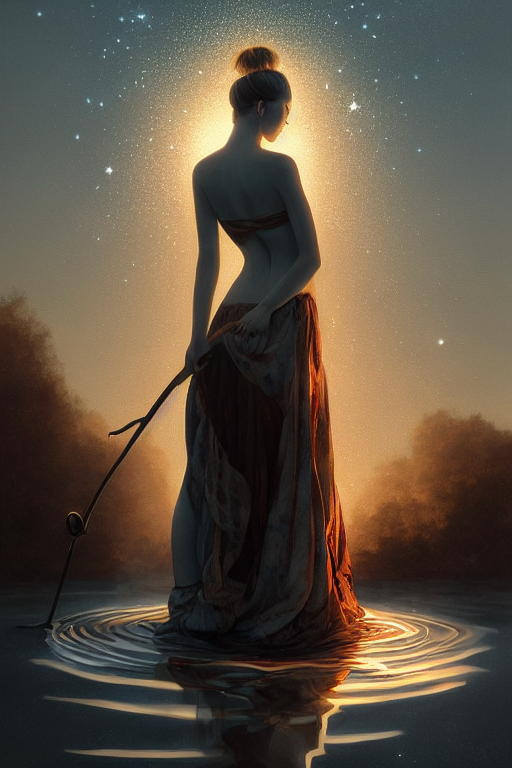 Finally, another candidate, with an incredible pose and composition, and of course, as always, amazing drapery of fabrics. My mind, at this point is made up: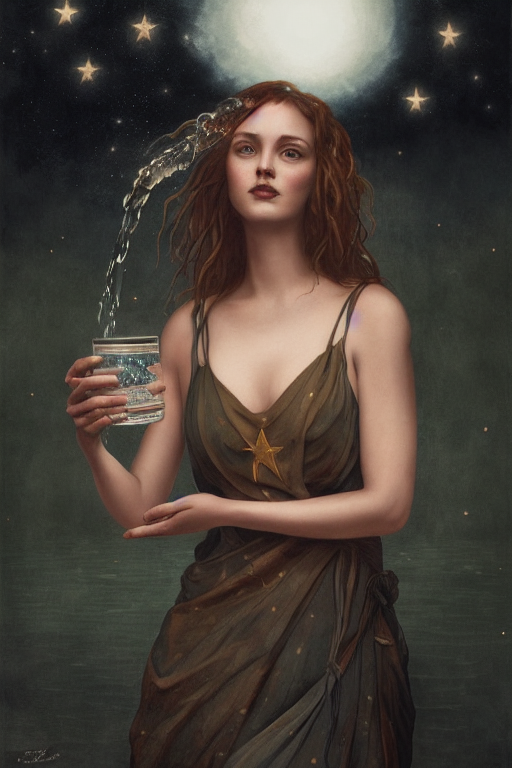 I will need to do some work in Photoshop to perfect the image, but I'm keen to see what will come of this image.
---
Want more content from me?
Witness my futile efforts to play my Steam Game collection in alphabetical order.
Are you aware that I love photography? Check out my work in a collection.
---

If you haven't started playing Splinterlands, you should do that immediately. It's very good fun.
If you want to see my Splinterlands antics and rants live, Find me on Twitch

If you prefer sleeping in your designated time zone, go watch replays on YouTube.
---
Thanks as always for your time!
---
---