Keep skating and let rainbow in.
Keep skating and let rainbow in.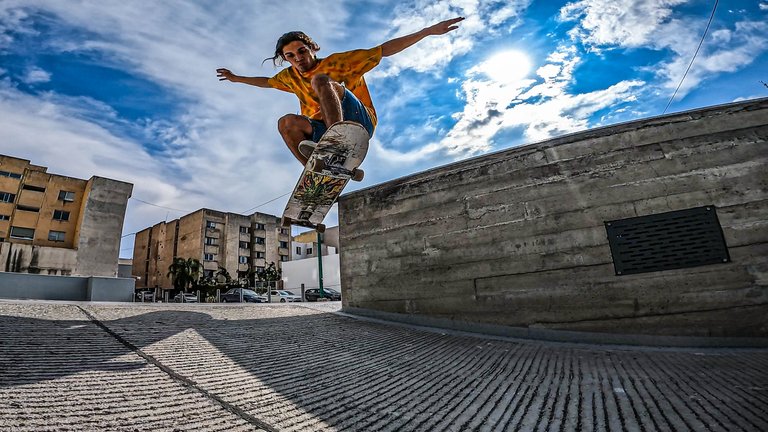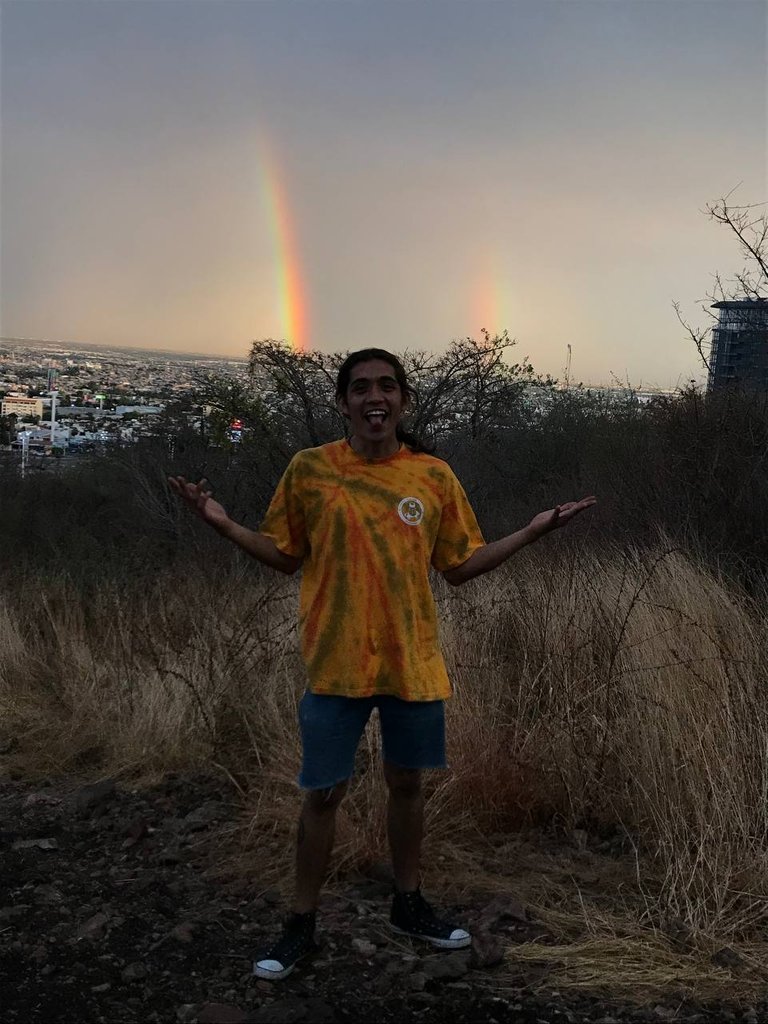 | [EN] | [ESP] |
| --- | --- |
| Wallie and hippie jump, another creative clip by Jorge Alcalá for community edit #4, where a photograph could also be rescued to promote the Salado skateboards tie dye t-shirts. The tricky thing about this line was how close the chain is to the wallie, there is not even 4 seconds of distance between these 2 obstacles, so you have to react very quickly with the possibility of getting your feet stuck in the chain, risky, right? Luckily the chain was a bit low so it wasn't a problem for our G, who had to do it twice as the first attempt succeeded the camera man @viviendolibre screwed up the shot lol😂. The trick was accomplished considerably quickly and the tribe went very stoked to a small iconic mountain in our city located near this spot. We finished the day with a couple of beers, some weed, and a beautiful landscape where we saw two super crazy and colorful rainbows. | Wallie y hippie jump, otro clip creativo de Jorge Alcalá para el edit #4 de la comunidad, donde también se pudo rescatar una fotografía para promocionar las camisetas tie dye de Salado skateboards. Lo complicado de este truco fue lo cerca que está la cadena del wallie, no hay ni 4 segundos de distancia entre estos 2 obstáculos, por lo que se tiene que reaccionar muy rápido con la posibilidad de que se te atoren los pies en la cadena, riesgoso, ¿verdad? Por suerte, la cadena estaba un poco baja, por lo que no fue un problema para nuestro hombre, que tuvo que hacerlo dos veces, ya que el primero intento logrado el hombre de la cámara @viviendolibre jodió la toma jajaja😂. El truco se logró considerablemente rápido y la tribu se fue muy animada a una pequeña montaña icónica en nuestra ciudad ubicada cerca de este spot. Terminamos el día con un par de cervezas, algo de marihuana, y un hermoso paisaje donde vimos dos arcoíris super locos y coloridos. |
(Unsupported https://lbry.tv/$/embed/Wallie-and-Hipie-jump-Bsides/71a265a0a97d3a228f1c6a1199d050626e286753?)
---
Salado's promo poster done by the one and only, @kike.adventure.
(Click on image to catch his full promo article.)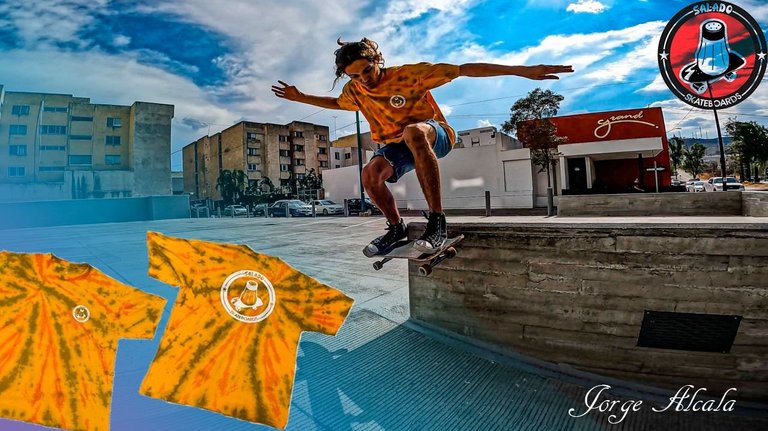 You can also catch more about this amazing day with the crew at this great @keepskating420's blog. (Click on image to catch the full blog.)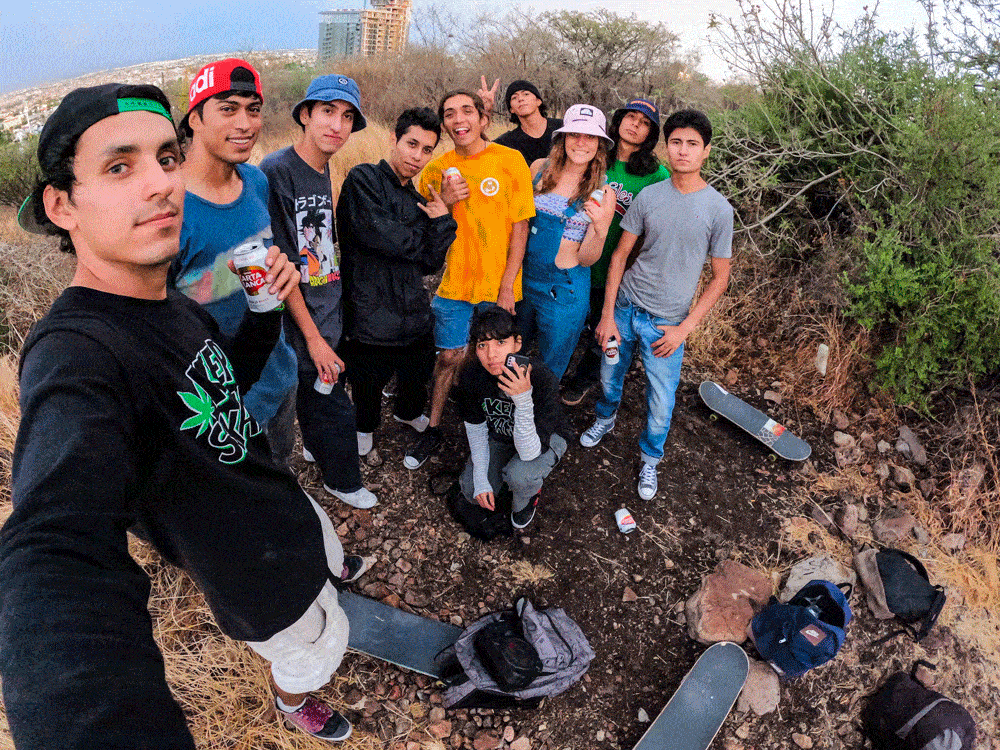 [EN]
Hope you all hivers have a great week and continue to explore and share more about you and your projects this first week of october, halloween month. 👻
[ESP]
Espero que todos los hivers tengan una gran semana y continúen explorando y compartiendo más sobre ustedes y sus proyectos esta primera semana de octubre, mes de Halloween.
Let the good times roll.


---
Join the Stoken/Skatehive Discord

---
What STOKEN plans to bring to Hive 🍯

Unique name, and meme-ified branding that will stand out above the hard to find Hive brand.

Real world events tied to web3 content creation.

Attracting non crypto content creators, into web 3.0

Exciting content to bring in non crypto audience.

Focus on onboarding large, existing communities i.e: Reddit skateboarding: 385k members, and Redbull: 10 million YouTube subscribers.

NFTs. Plans include real world utility, fund raising, and future gamification.
DTF ( Decentralized Token Fund )

Stoken DAO: Decentralized voting system to allow the community to sponsor athletes, content creators, influencers, and real world events.

A new token for you to earn for doing Hive stuff!

Possibility of future airdrop of governance tokens. 

---
---
---