A BETTER FUTURE WITH WEB 3.0

About a year ago, I always wondered what web meant but I never really tried searching what it meant neither did I asked what it meant 🤦‍♀️, wait! are you like me? I'm sure there are some like me . Not that I wasn't interested in knowing what it meant, I just thought there was no need for me to worry about knowing what it is because I thought I did not and would not use it for anything. Oh! how ignorant I was. Well, WEB - world wide web in simple terms can be said to be a medium through which we get data/information that are stored in the internet.
Over the years, the internet has had different stages of web which at every point felt better to those that have developed it and also some users. We have had two different stages of web and now we are moving to the third which we are still finding it hard to accept in total and one of the reasons for that is because of the previous web. The web for the future is called WEB 3.0. This new development is a combination of both web 1.0 and web 2.0 and many more features.
Web one and web two (the likes of Facebook, Twitter, Instagram and many others) were built in a centralized way thereby giving someone the power to be able to control the actions of others, they have so many restrictions, although we still find them okay but not until the introduction of the third web. The invention of web 3.0 has helped so many see the deficiencies of the previous webs which we have always appreciated because most of us never saw beyond that picture but fortunately some did and that was what lead to the invention of web 3.0.

Web 3.0 is still yet to be accepted completely but it is going to be accepted whether or not we want it to because it has so much benefits that are even yet to be discovered because it was built on a blockchain and that means it has no restrictions at all. I have read through some post by different authors and they have said so much and when I finished analyzing everything, I've come to accept that web 3.0 is the future of the internet because it has the ability to evolve unlike the other web.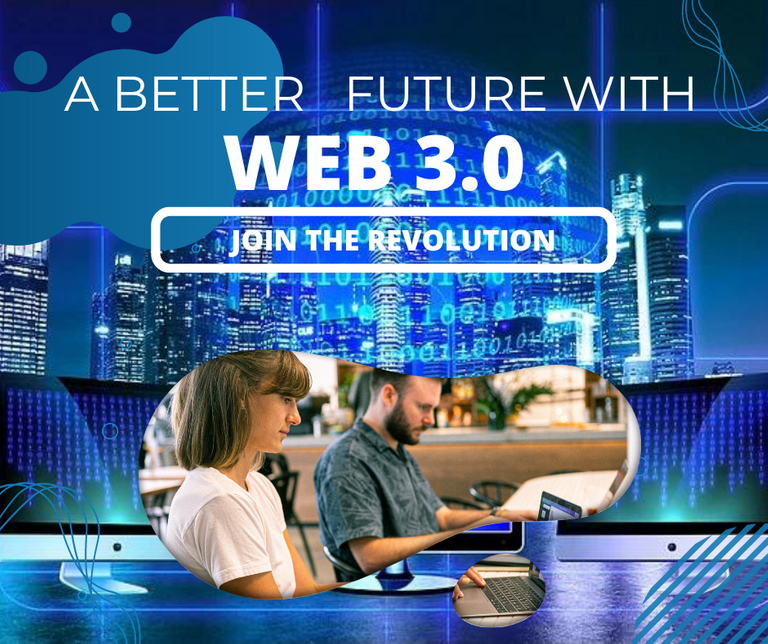 A few good features of web 3.0 with Hive as a focus;
YOU GET TO BE IN CHARGE
Having an access to any platform like Hive that operates on web 3.0, gives us the responsibility of being in control of our world on the internet. We do not have to be worried of getting suspended or banned, you are your own boss when it comes to web 3.0. However, if you are more interested in earning, you have to be ready to follow some rules or else you might not gain visibility and some other benefits. From what I have just said, you will observed I said something about earning, yes! Web 3.0 gives us the opportunity to also earn, superb! 👌
HEART - TO - HEART INTERACTIONS

In web 3.0 we get the opportunity to create strong relationships with others. Web 3.0 has given us the opportunity to communicate and relate well with the people we meet on the blockchain on which it is built and fortunately for you and I are part of one. Hive is one of those blockchains that make use of web 3.0, it is a decentralized platform so we get to enjoy these benefits.
HIGH SECURITY
As a user on Hive, each of us are given some keys which can also be referred to as password. These keys given to us are very important because it's the thing that gives us complete control over our account, so it must be kept very well because you are the only custodian of it, except you have someone who you trust really well to help you keep them. These keys are very unique keys and every account created is given a unique key, so you cannot have more than one account with same keys.
GIVES ROOM FOR GROWTH

Operating with web 3.0 gives us room to improve on ourselves, it helps us grow every day no matter how small it may be. A platform like Hive that operates on web 3.0 has proven this to be true and even more that I did not mention but it is very evident that web 3.0 has a really promising future for the internet world.
For now I will categorically say WEB 3.0 IS THE FUTURE, but like @ksam has said, we are leaving in a world that keeps changing so there might be even better upgrades but from the few features of web 3.0 I have come to know, I don't really think this generation needs anything more than this, at least for now.
Thank you for visiting my blog 🙏.

Gif by @doze/ line divider by @khaleelkazi

First image designed using canva Image source

Posted Using LeoFinance Beta
---
---