HIVE OPEN MIC WEEK 137 || HOSANNA IN THE HIGHEST COVER
---
Hello everyone, this is my entry for the Hive open mic week 137 and I'm truly grateful and happy to have you stop by to see what I have for you. According to the theme which was chosen by our amazing spotlight artist @jaydr, I will be performing a worship song by a popular band named HILLSONG and the title of the song is HOSANNA IN THE HIGHEST.
---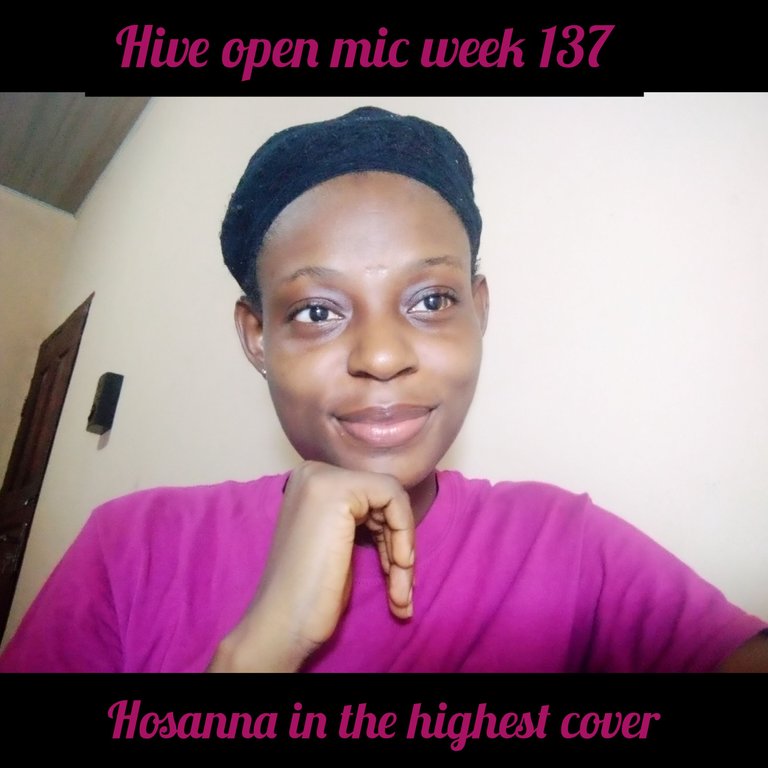 ---
Image is mine
---
The theme, HEALING, to me it is something that everyone and everything needs at one point in their life and duration but then I will focus more on us as humans and also living things in general. We often go through some hurts in life, it might be physically, emotionally, spiritually or even psychologically and at this point we will be desiring that thing or someone to come to our aid and we might either find it or not.
The more we go through life we will see and experience these things but then there is one who is always ready to help us if we are willing to call on him and draw near to him and that one person is Jesus Christ. He said in his words that we should cast our cares on him for he cares for us and he also told us to resist the devil and we should draw near to him. I have been in situations when I felt that it would be impossible for me to get healed of a hurt but then the moment I communicate this hurt to God through his son Jesus Christ, I quickly get myself back and at that point I just feel free.
We all will get hurt at some point in life, but be wise and careful to know who to run to, to seek for healing and remember that there is one always ready to welcome you with open arms.
Lyrics
I see the King of glory
Coming on the clouds with fire
The whole earth shakes
The whole earth shakes
I see His love and mercy
Washing over all our sin
The people sing
The people sing
[Chorus]
Hosanna
Hosanna
Hosanna in the highest [x2]... You can find full lyrics 👉 Hosanna in the highest lyrics

So with all that said, I hope you enjoyed my entry, if you do, please leave a comment below and also reblog if you can, until next time, stay AWESOME!!!

Español

Hola a todos, esta es mi entrada para la semana 137 de micrófono abierto de Hive y estoy realmente agradecido y feliz de que pasen a ver lo que tengo para ustedes. De acuerdo con el tema elegido por nuestro increíble artista destacado @jaydr, interpretaré una canción de adoración de una banda popular llamada HILLSONG y el título de la canción es HOSANNA IN THE HIGHEST.
---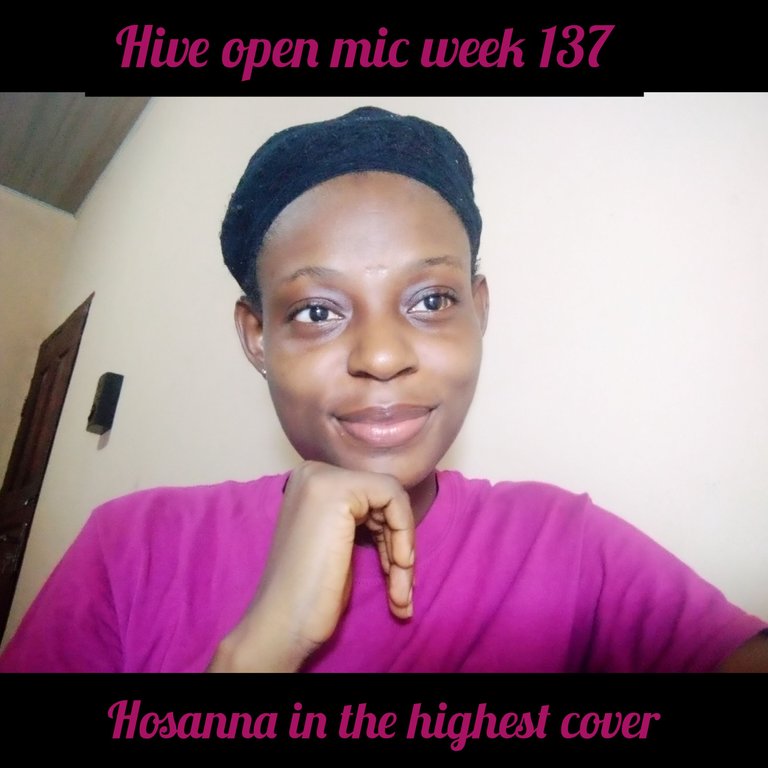 ---
La imagen es mía
---
El tema, SANAR, para mí es algo que todos y todo necesita en un momento de su vida y duración, pero luego me enfocaré más en nosotros como humanos y también en los seres vivos en general. A menudo pasamos por algunas heridas en la vida, ya sea física, emocional, espiritual o incluso psicológica y en este punto estaremos deseando que esa cosa o alguien venga en nuestra ayuda y podemos encontrarlo o no.
Cuanto más pasemos por la vida, veremos y experimentaremos estas cosas, pero hay alguien que siempre está listo para ayudarnos si estamos dispuestos a invocarlo y acercarnos a él, y esa persona es Jesucristo. Dijo en sus palabras que debemos echar nuestras preocupaciones sobre él porque él se preocupa por nosotros y también nos dijo que resistamos al diablo y que nos acerquemos a él. He estado en situaciones en las que sentí que sería imposible para mí curarme de una herida, pero luego, en el momento en que comunico esta herida a Dios a través de su hijo Jesucristo, rápidamente me recupero y en ese momento simplemente me siento libre. .
Todos saldremos lastimados en algún momento de la vida, pero sé sabio y cuidadoso para saber a quién acudir en busca de curación y recuerda que siempre hay uno listo para recibirte con los brazos abiertos.
Letras
Veo al Rey de la gloria
Viniendo en las nubes con fuego
toda la tierra tiembla
La tierra entera tiembla
Veo Su amor y misericordia
Lavando todo nuestro pecado
la gente canta
La gente canta
[Estribillo]
Hosanna
Hosanna
Hosanna en lo más alto [x2]... Puedes encontrar la letra completa 👉 Hosanna en lo más alto

Así que con todo lo dicho, espero que hayan disfrutado mi entrada, si es así, por favor dejen un comentario abajo y también reblogueen si pueden, hasta la próxima vez, ¡manténganse IMPRESIONANTES! !!

---
▶️ 3Speak
---
---