[Fotowalk] The golden autumn - Der goldende Herbst
Hallo zusammen,
da ist er, der goldende Herbst mit seinen bunten Farben. Schön leuchten und farbenfroh ist nur der Herbst. Kaum zu glauben ja das habe ich selber fotografiert. Einfach schön wie das Licht durch das Blatt scheint und jede Konturen zu sehen ist. Doch bald steht der Winter vor der Tür.
---
here it is, the golden autumn with its bright colors. Beautiful shine and colorful is only autumn. Hard to believe yes that I have photographed myself. Just beautiful as the light shines through the leaf and every contour can be seen. But soon the winter is just around the corner.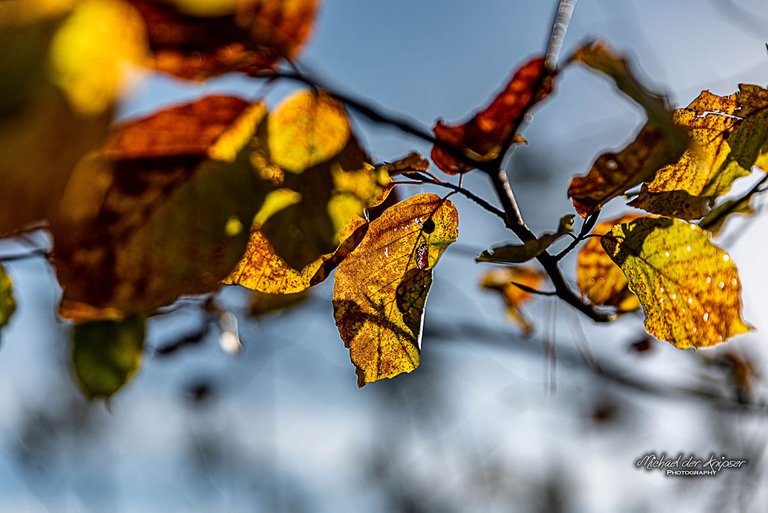 (70 mm; f/2.8; 1/1600 sek.; ISO 50)
Kamera: Nikon D750, Objektive: Tamron Tamron 24-70 mm f2.8
Gerade bei einem Waldspaziergang kommen mir doch einige Ideen zum Fotografieren. Hier gibt es viele Möglichkeiten sich auszuprobieren und wenn es nicht gefällt, dann kann man es einfach noch einmal probieren. Es ist schon nicht einfach, die ganze Farbenpracht einzufangen, manchmal ist weniger mehr.
---
Especially during a walk in the woods I get some ideas for photography. Here there are many opportunities to try out and if you do not like it, then you can just try again. It is already not easy to capture all the color splendor, sometimes less is more.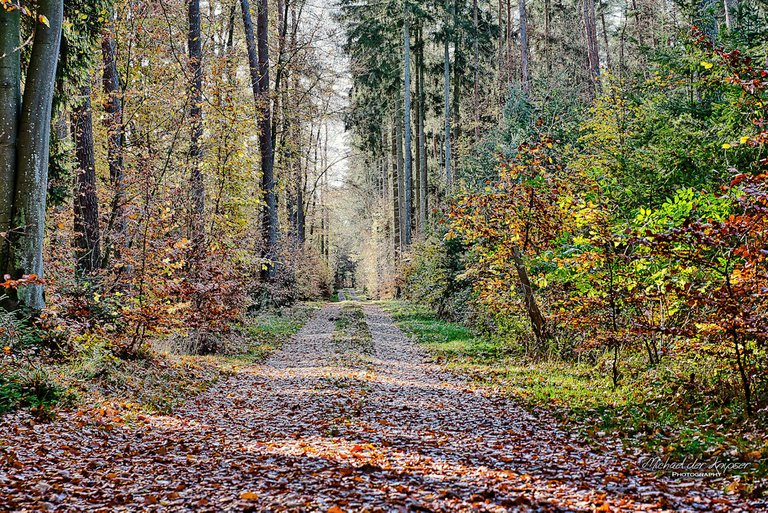 (70 mm; f/8; 1/60 sek.; ISO 320)
Kamera: Nikon D750, Objektive: Tamron Tamron 24-70 mm f2.8
Die Sonne steht bei dieser Jahreszeit schon recht tief, dann kann man mit der Blende spielen, um einen Sonnenstern entstehen zu lassen. Meine Kameraeinstellungen stehen unter dem Bild, aber auch welches Objektiv ich genutzt habe.
---
The sun is already quite low at this time of year, then you can play with the aperture to create a sun star. My camera settings are under the picture, but also which lens I used.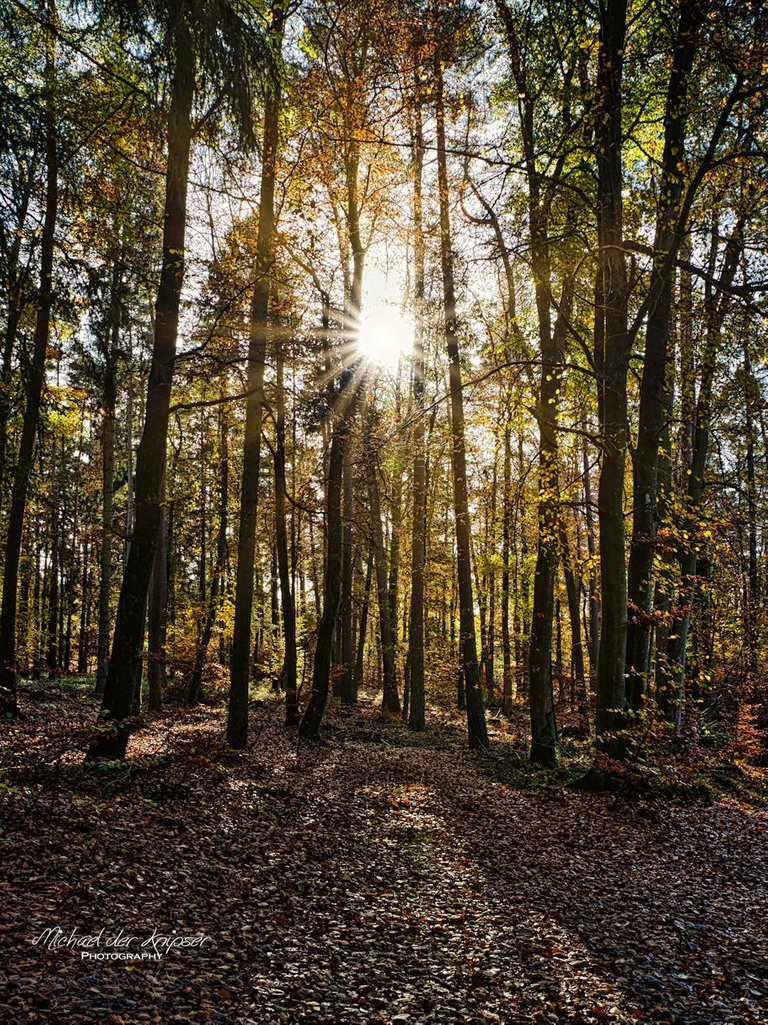 (26 mm; f/18; 1/50 sek.; ISO 800)
Kamera: Nikon D750, Objektive: Tamron Tamron 24-70 mm f2.8
Doch leider sieht man auch Stellen, wo der Wald nicht mehr so dicht bewachsen ist, dass man doch Angst bekommt. Viele sind dort durch Stürmer um geknickt oder entwurzelt. Aber auch der Borkenkäfer macht den Bäumen echt zu schaffen. Doch ein Stück weiter sieht man auch, dass neue Bäume gepflanzt werden, um den Wald wieder aufzuforsten.
---
But unfortunately you can also see places where the forest is no longer so densely overgrown that you get scared. Many have been bent over or uprooted by storms. But also the bark beetle makes the trees really create. But a little further on, you can see that new trees are being planted to reforest the forest.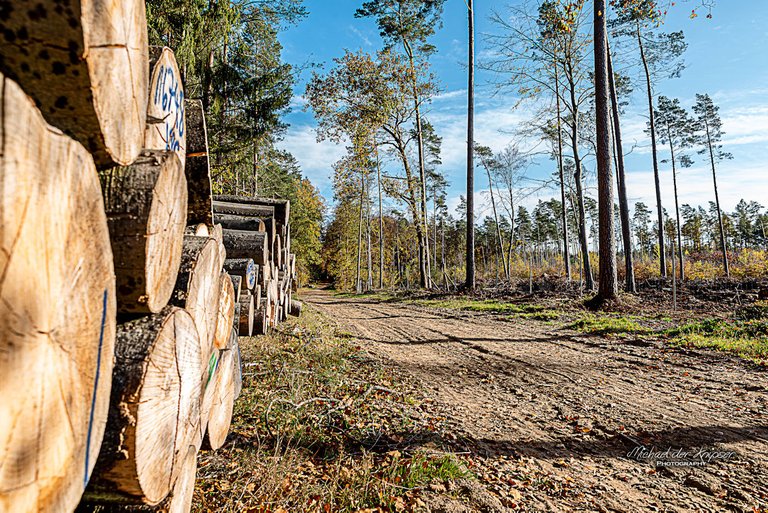 (24 mm; f/8; 1/100 sek.; ISO 50)
Kamera: Nikon D750, Objektive: Tamron Tamron 24-70 mm f2.8
Bedauerlicherweise sind meine Bilder mit den anderen Objektiven nicht so scharf, na dann beim nächsten Mal. Schon ist ein kleiner Beitrag fertig geschrieben. Wie sieht bei euch der Herbst so aus? Bis zum nächsten Mal.
---
Unfortunately, my pictures with the other lenses are not so sharp, well then next time. Already a small contribution is written. What does autumn look like for you? See you next time.
Gruß
Hornet on Tour
Instagram: https://www.instagram.com/hornet_on_tour/
Twitter: https://twitter.com/OnHornet
Photo: Hornet on Tour (Michael der Knipser)
Translated with www.DeepL.com/Translator (free version)
---
---