A book for two ETH - Un libro por dos ETH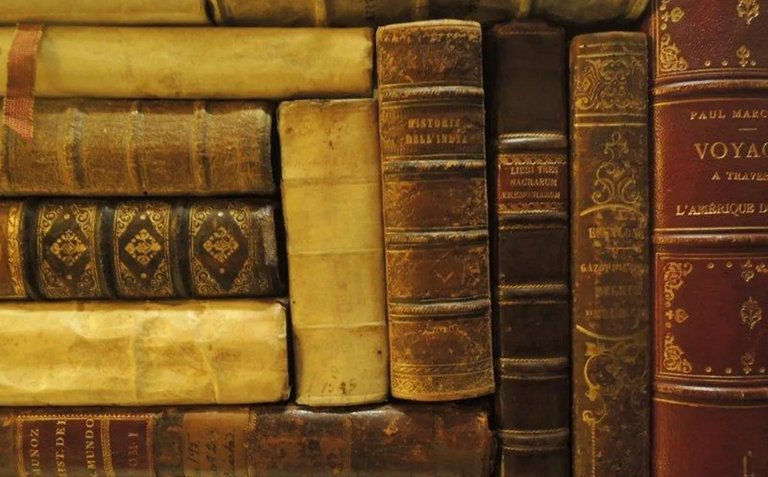 I know a town in the suburbs of Buenos Aires called San Francisco Solano, it is a very humble town with countless semi-precarious houses, without plaster on the walls and no paint, and most of the dirt streets turn into a sticky and impassable quagmire in the Rainy days; to complete the panorama, a filthy stream full of garbage divides it in the center.
That's what I remember about the place, where I went once many years ago invited by a co-worker, I don't know if the place is still like this, it has probably improved somewhat, although I don't have too many illusions.
That co-worker with whom we built a good friendship was an excellent soccer player who had his moment of glory by participating in the first division championship for a year, but after a reality checks his team returned to the categories of Ascent, and he spent most of his life there, first as a player and then as technical director. His time as an employee at the bank where I met him was ephemeral, he was barely a little longer than his permanence in the first category of Argentine soccer.
The town was named in that way in honor of the Peruvian-born saint Francisco Solano, who traveled throughout America evangelizing the indigenous people in times of Spanish colonization and for whose task he was canonized in the 16th century.
In a publication hidden among the enormous tangle of notices on social networks, practically invisible to anyone except for those who are looking for specific things, a first edition of the book El Sol y Año Feliz del Perú was offered, written by the friar Pedro Rodríguez Guillén and published in 1735 as part of the tributes for the canonization of Solano. Its price was two ETH or 4000 euros.
The aforementioned volume had been denounced as stolen by Peru; Unfortunately for its owner, not only those interested saw it, but also someone in the neighboring country who notified the Ministry of Culture from where the money laundering and customs crimes division of the federal police of my country was summoned. There was a raid on a house in the Recoleta neighborhood where a book dealer had a huge collection of old books, some incunabula, and also historical documents whose possession caused great surprise.
The place was closed and a deeper investigation is awaited to later determine its elevation to trial.
Cryptocurrencies have also reached the trade of old books, as long as they are of legal origin there should be no problems.

Conozco una localidad del conurbano bonaerense llamada San Francisco Solano, es una población muy humilde con infinidad de casas semi precarias, sin revoque en las paredes y nada de pintura, la mayoría de las calles de tierra que se convierten en lodazales pegajosos e intransitables en los días de lluvia; para completar el panorama, un arroyo inmundo lleno de basura la divide al centro.
Eso es lo que recuerdo del lugar, donde fui una sola vez hace muchos años invitado por un compañero de trabajo, no sé si el lugar sigue así, probablemente haya mejorado en algo, aunque no me hago demasiadas ilusiones.
Ese compañero de trabajo con el cual construimos una buena amistad era un excelente jugador de fútbol que llegó a tener su momento de gloria participando un año en el campeonato de la primera división pero que luego de un baño de realidad su equipo volvió a las categorías de ascenso, allí se desempeñó casi toda su vida, primero como jugador y luego como director técnico. El paso como empleado en el banco donde lo conocí fue efímero, apenas estuvo un poco más que su permanencia en la primera categoría del fútbol argentino.
La localidad fue denominada de esa manera en honor al santo de origen peruano Francisco Solano, que recorrió toda América evangelizando a los indígenas en épocas de la colonización española y por cuya tarea fue canonizado en el siglo XVI.
En una publicación escondida entre la enorme maraña de avisos en las redes sociales, prácticamente invisibles para cualquiera menos para los que buscan cosas específicas, se ofrecía una primera edición del libro El Sol y Año Feliz del Perú, escrito por el fraile Pedro Rodríguez Guillén y publicado en 1735 como parte de los homenajes por la canonización de Solano. Su precio era de dos ETH o 4000 euros.
El mencionado volumen había sido denunciado como robado por el Perú; lamentablemente para su poseedor no solo los interesados lo vieron, también alguien en el vecino país quien dio aviso al ministerio de cultura desde donde a su vez se convocó a la división lavado de activos y delitos aduaneros de la policía federal de mi país. Se produjo un allanamiento en una vivienda del barrio de Recoleta donde un anticuario de libros tenía una enorme colección de ejemplares antiguos, algunos incunables, también documentos históricos cuya posesión causó gran sorpresa.
El lugar fue clausurado y se está a la espera de una investigación más profunda para luego determinar su elevación a juicio.
Las criptomonedas también han llegado al comercio de libros antiguos, mientras los mismos sean de origen legal no debería haber problemas.
---
Las fotografías son de mi propiedad excepto las que menciono la fuente.
The photographs are my property except those mentioned by the source.
Héctor Gugliermo
@hosgug
---
---